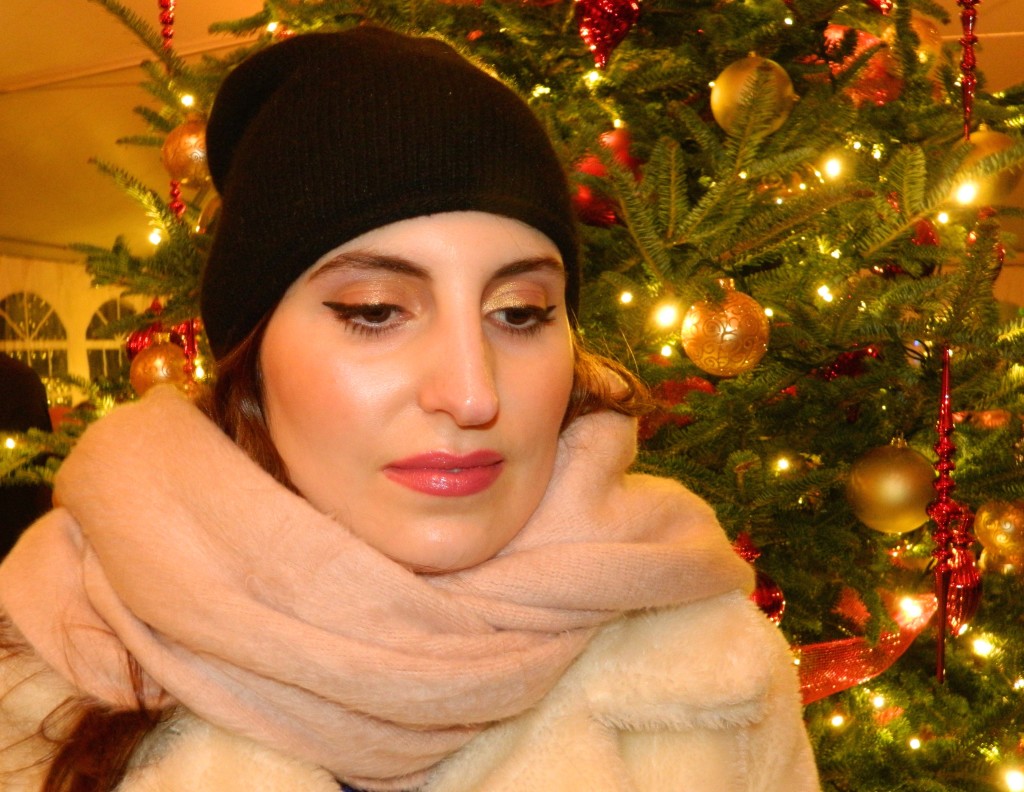 I hope everyone celebrating had a wonderful Christmas! In just a few short days is another holiday, that you all know I dread…New Years. It is usually a frigid day followed by an even chillier night, ungodly crowds, and a time of reflection on all that you have accomplished and sadly, all that you have not.
On a lighter note, however, I do have some tips for a beautiful makeup look no matter how you spend your evening. Last month, I featured products from Sisley-Paris, one of which was the shimmering Phyto-Ombre Glow Eyeshadow in gold. Each one of the four colors would be the perfect choice for the holiday. The shadow applies smoothly and evenly leaving a wake of pearlescent sparkle. In the photo above, I am wearing the gold over my entire eyelid and socket. I lined my top lashes with the liquid liner side of NYX two-timer in black. My bottom lashes are lined with a bronzed copper, Skorpios Shadow pencil from NARS. The focus of this look are the eyes. Keep lips simple in a nude, rose, neutral color. I am wearing the Sophia Loren lipstick by Dolce & Gabbana.
This past weekend was sunny and warm, perfect for a cozy sweater without a heavy coat. I love my Lysse leggings and have been wearing them multiple times just changing up the top and shoes. They are so versatile and let's face it comfortable, how could I resist? I wore a soft and fluffy sweater from the Jennifer Lopez collection at Kohls. The drop shoulder sweater is available in a few colors, but the marshmallow has flecks of gold, which is so pretty for the holiday season.
The light color is a wonderful backdrop for a dark and dramatic makeup look. I wanted to try the NYX Jumbo Eye Pencil and absolutely loved it! I purchased Rust, a beautiful rich merlot color. I blended the creamy pencil onto my lids and accentuated the eyes using Laura Mercier satin matte eye colour in plum allure only on the sockets. I applied Laini Cosmetics Ballerina Bronze blush to the hollows of my cheeks and finished the look with Mademoiselle lipstick by Chanel. 
Try this beauty combo at your next holiday party!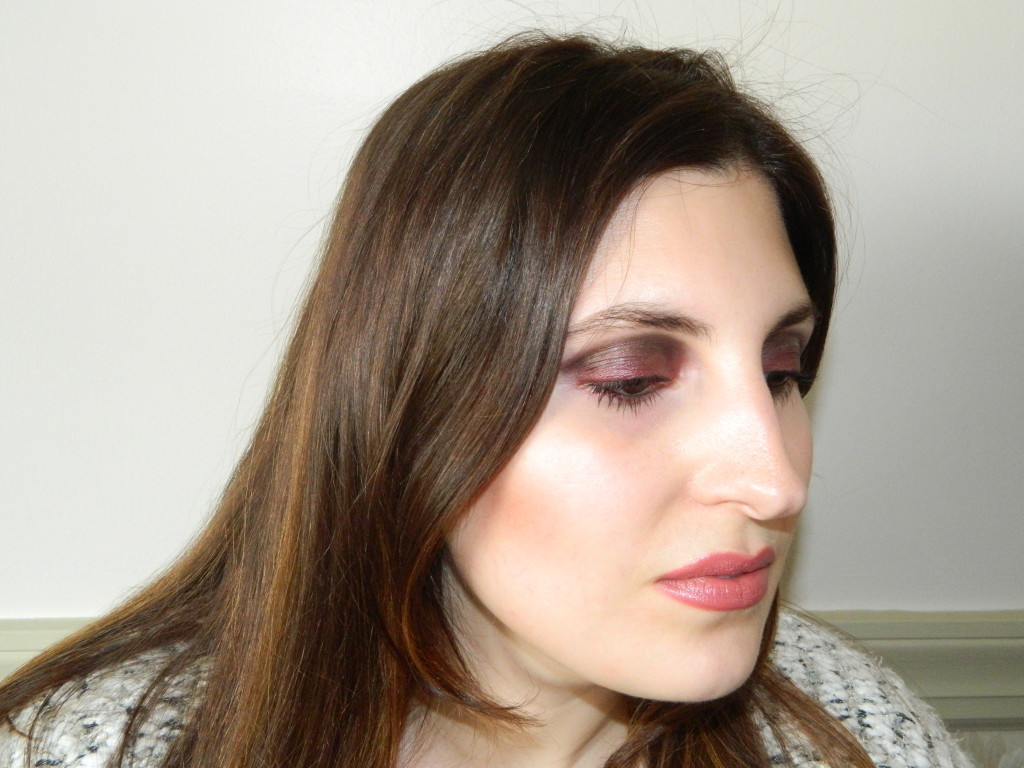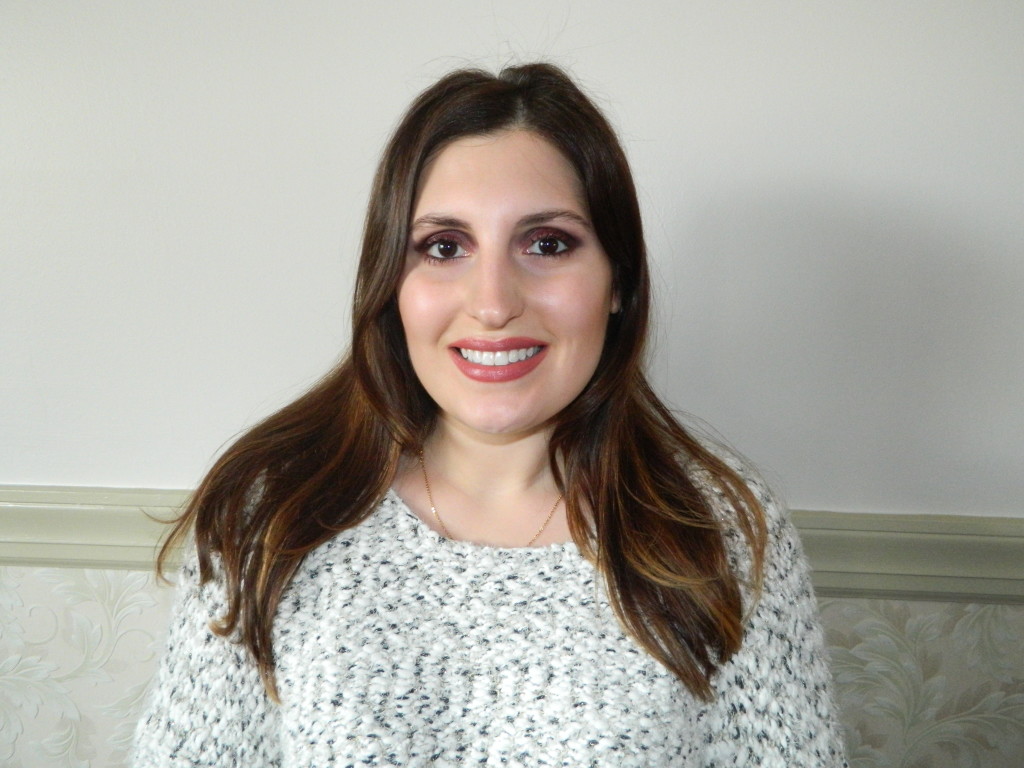 Sadly, I needed to cover a few unwanted grey hairs over the weekend. After my mane was back to looking its old self, I felt ready to take some photos of a classic look that I wear quite often. The air was crisp this weekend with beautiful sunny days. I am originally from Upstate New York and by now I probably sound like a broken record telling you this, but I am used to seeing spectacular fall weather. The leaves are one of my favorite parts of a NY fall. The colors are breathtaking. I have lived in PA long enough to have seen some stinkers when it comes to the autumn season- brown, shriveled leaves fallen to the ground without even changing color. Not this year! Must have something to do with the way we have abused the environment for so long, but the trees are vivid and bright and still intact until they inevitably cascade along the trunk. It was the perfect time to break out this ensemble.
I am wearing black ponte pants from Ann Taylor– a wardrobe staple in my opinion, a black lace 3/4 sleeved top from a quaint boutique in Paoli called Polka Dots, an older pair of Vera Wang for Kohl's biker booties, and topped the whole look with a faux leather biker jacket from H&M. This is such a versatile outfit that can be worn casually, as I have done, or dressier with a clutch and heels. If you were wearing this look in the evening you could swap my pinky colored lipstick for a red or deep plum. I chose to keep my makeup pretty simple and tried my hand at liquid eyeliner, which was an exercise of skill for me. My hand is steady as a rock and then just as I begin to apply eyeliner I shake like a leaf (multiple idioms included). This time I had no problems at all. I used Two Timer- a dual ended eyeliner by NYX Cosmetics, which I absolutely love.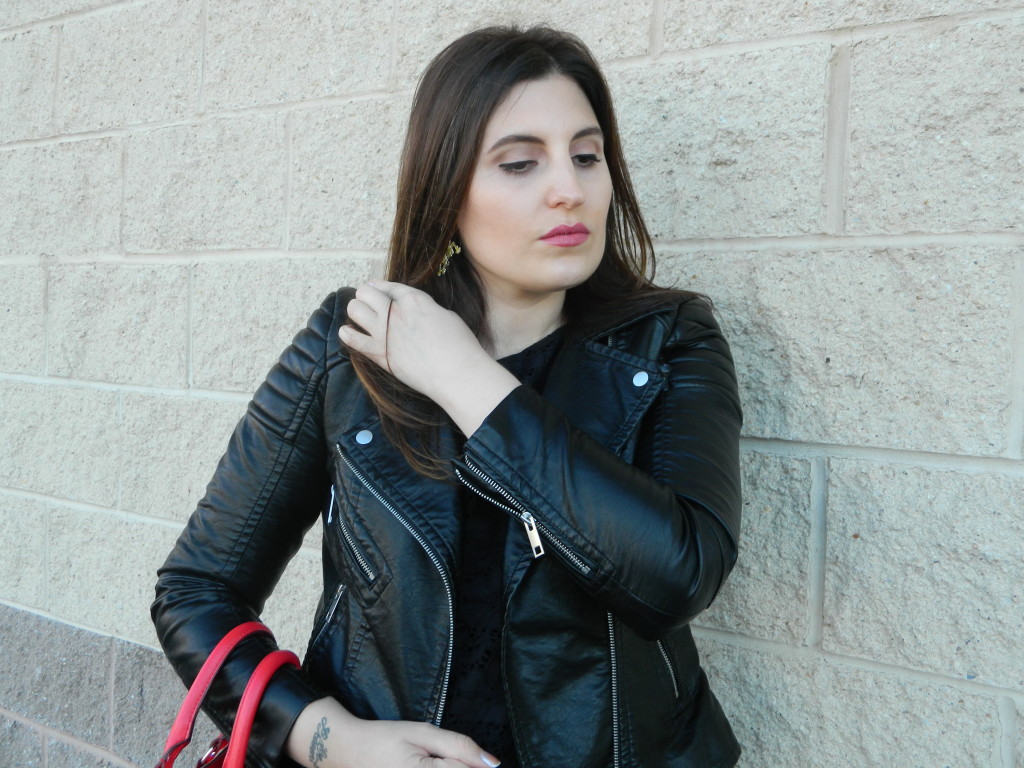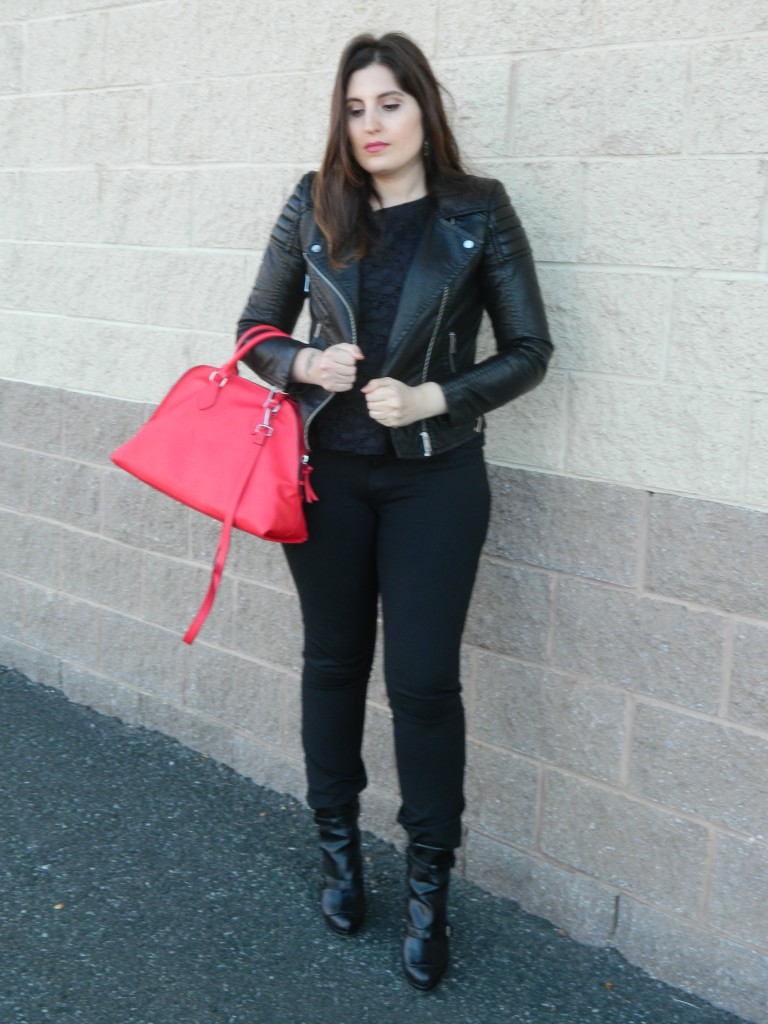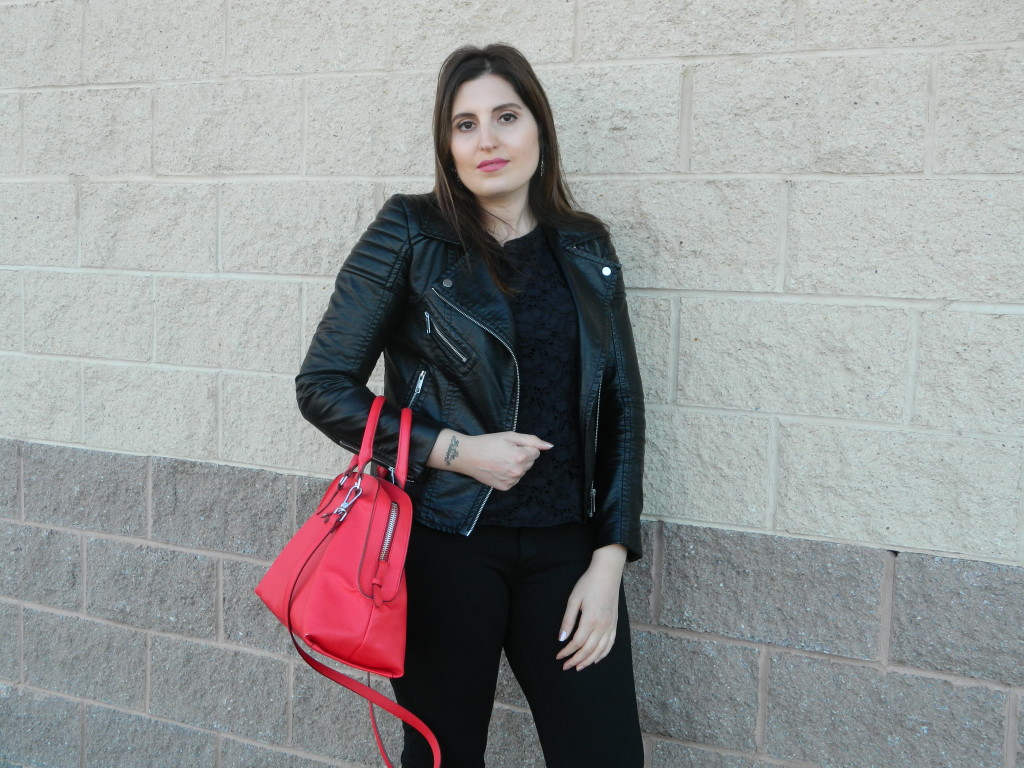 Fall is my favorite season. The weather is sunny and brisk, perfect for wearing cozy layers. The air is fragrant with dried leaves and wood burning. Pumpkin spice, cinnamon, apples, Halloween! The only part that makes me sad about this fabulous season is the fact that it is way too short. This year the farmer's almanac is predicting serious snow so I am going to enjoy every minute of Autumn, starting with the beauty and fashion. I put together some makeup looks for you that I think are fantastic for the season and throughout winter.
Red lips all year round is my signature look. Choosing the right color for the season is important. Try wearing deeper shades in the colder months. In this look I primed my face with Camera Ready Primer at Laini Cosmetics. Contoured my face with Contour Palette light from Laini Cosmetics. Eye brows were defined with The Brows Have It palette by Laini Cosmetics. I used Maybelline Lash Sensational in Blackest Black mascara. For eyeshadow, I chose Maybelline The Nudes Palette and lined the top of my lids with NARS Soft Touch Shadow Pencil in Skorpios and then smudged it into the lid. My cheeks needed some shimmer so I applied Laura Mercier Shimmer Bloc in Pink Mosaic. As for my favorite part…the red lips. NYX Soft Matte Lip Cream in Monte Carlo completes this look.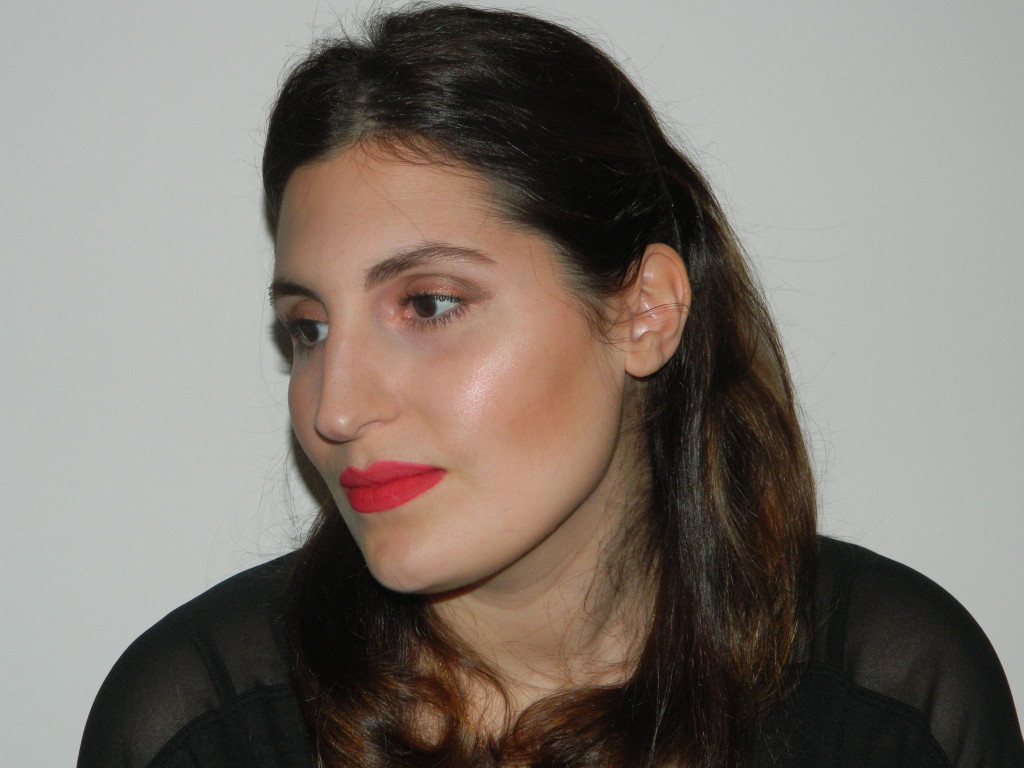 Deep berry lipstick look. I am a huge fan of plum shades for fall. In high school one of my favorite lipsticks was Vamp from Chanel, which has since been discontinued (insert sad face). My skin is very fair and on any given day I have dark circles. If your face is fair like mine it is important to thoroughly cover those circles. I applied Clinique Airbrush concealer, which is lightweight and full coverage. Also, keep in mind that your cheeks should have slightly more color to avoid looking gothic. I added Mineral Fusion Berry Glow 3-in-1 color stick to my cheeks to create a deeper color. For my eyes, I applied Mineral Fusion Eyeshadow Trio in Density to complement the dark lipstick with a lighter violet. The lipstick I chose was NYX Matte Lipstick in Siren.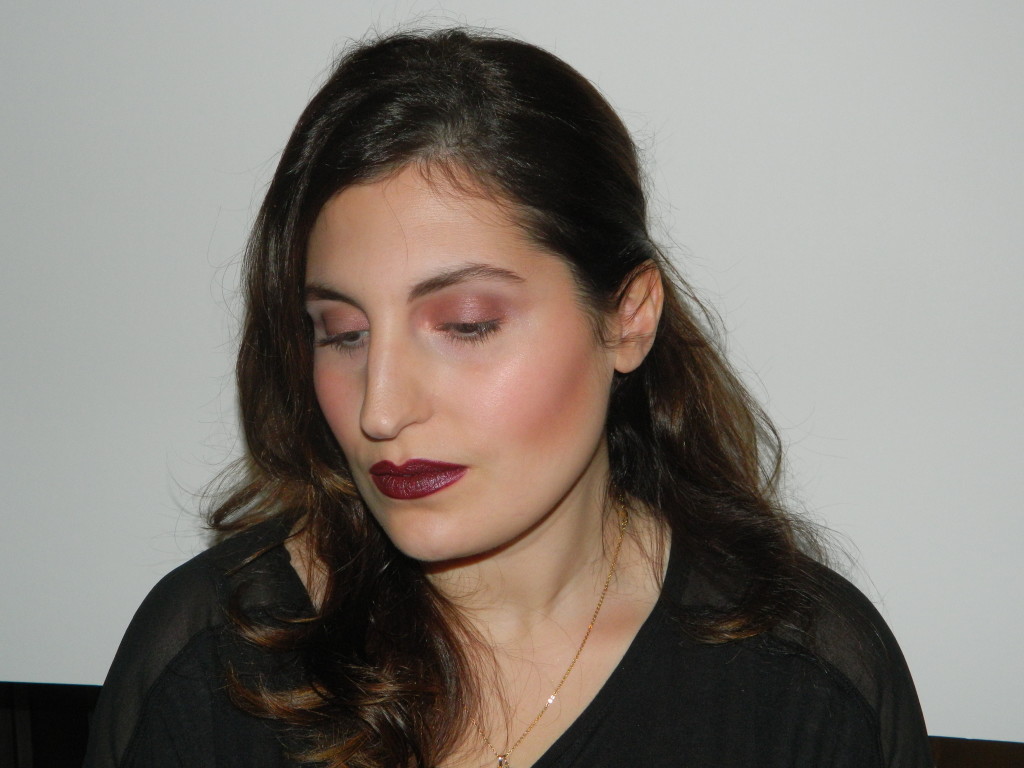 The metallic bronzed look that can be worn all year round. Last month, I posted a video tutorial using Laini Cosmetics products. This look is gorgeous for Autumn, adding a little glam using rich metallic shades. Here is the link to my video tutorial.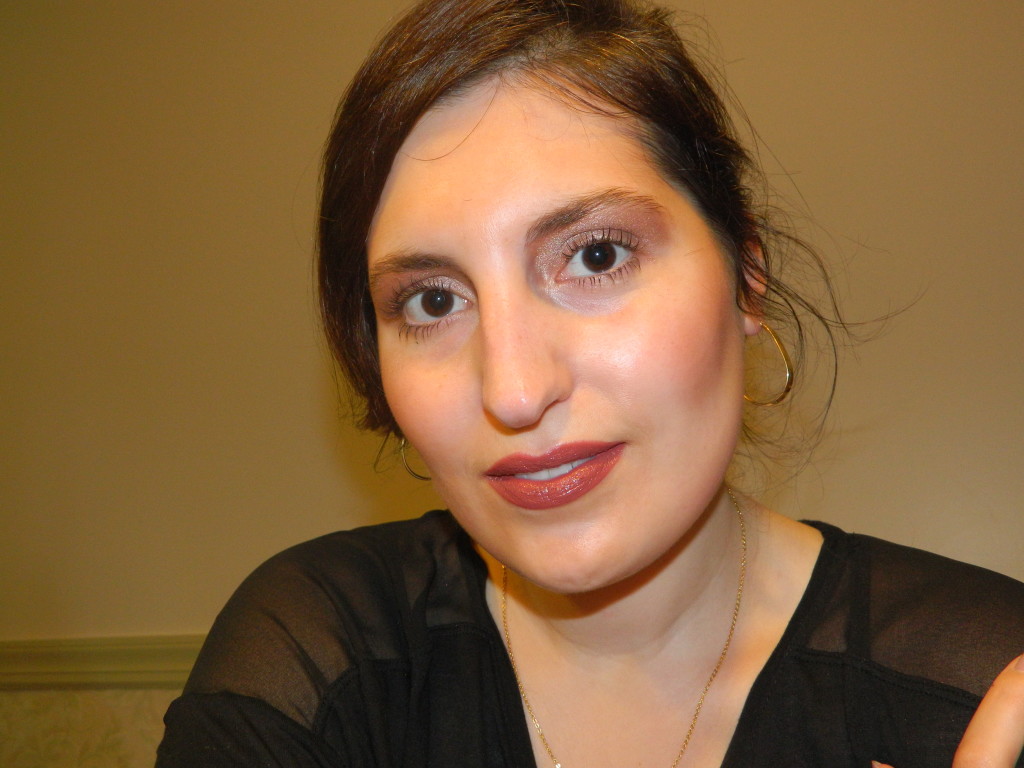 Finally, the 90's inspired brown lipstick look. Traditionally, if my lips are very bold, I tend to keep my eyes simple. I chose Bare Minerals Eyeshadow duo in The 15 Minutes, a gorgeous burgundy shade was applied to my eye socket and the light pink was applied all over my lid. I am wearing an older lipstick from YSL Rouge Pur Couture 34. Similar lipstick shade here. Keep in mind that I built on each one of the layers of makeup. I kept the contour, blush, and mascara the same for each look.
Let me know what you think! Which look will you try this season?
I have assembled some of my favorite lipsticks for summer. These pink, peach, coral, and berry shades are perfect with sun kissed skin and vibrant clothing shades.
3 in 1 stick by Mineral Fusion in both Terra Cotta and Berry Glow. This product is multi- purpose and creates a beautiful sheen of color- soft and long lasting.
NARS Velvet Matte Lip Pencil is a non drying lipstick that is smooth and creamy. I love two particular shades in this collection, a classic blue base red called Dragon Girl and a red orange called Red Square.
Clinique Long Last Lipstick in Runaway Color is incredibly rich in texture and luxurious. The color is a vibrant peachy coral and incredibly long lasting.
Clarins Multi-Blush in Grenadine can be used as blush or lipstick. It is a powdery soft finish with a bright rose color.
Nyx cosmetics has a wonderful selection of Matte Lipstick that is still very silky and hydrating. Street Cred is a beautiful raspberry coral.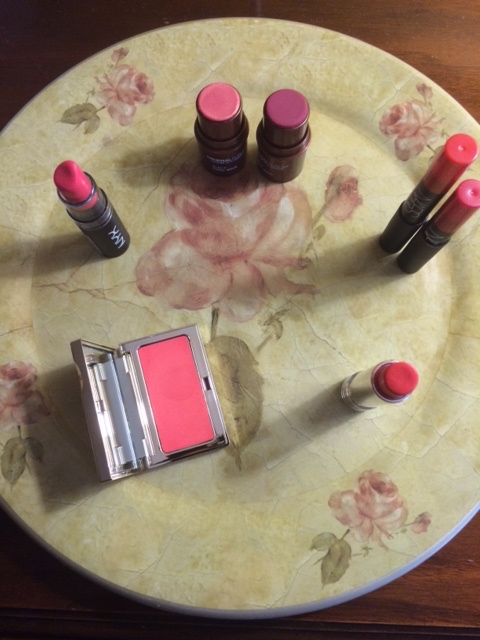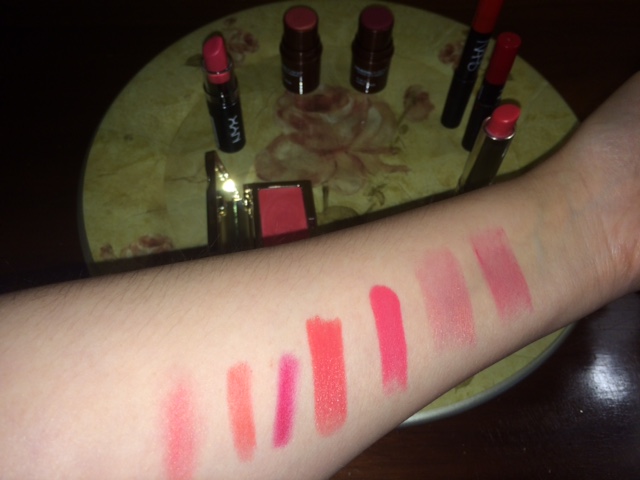 Wearing another one of my fabulous finds from Walmart. I just could not pass up this maxi dress- cinched waist, detailed top, side slit- what more could you want from a $10 dress?! I paired the look with one of my favorite shoes, simple black mules purchased at Zara last summer. With a dress this affordable, you can spend a little more on the accessories. I am wearing my Alex and Ani Fortune's Bliss Sweet Pea Charm Bangle.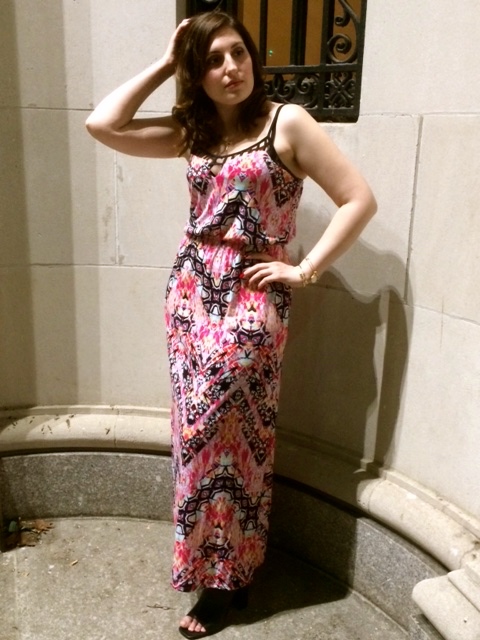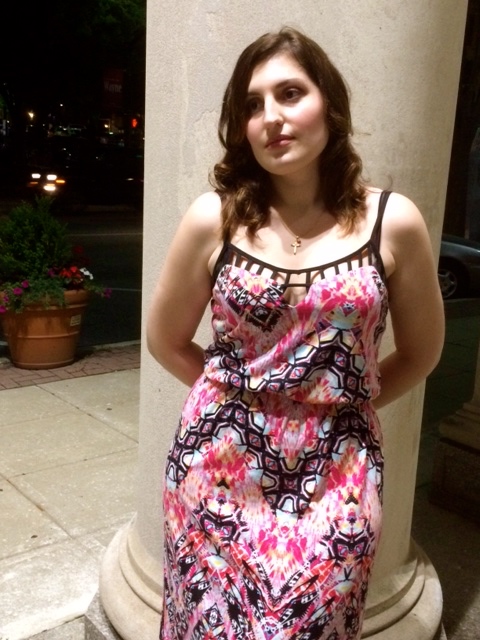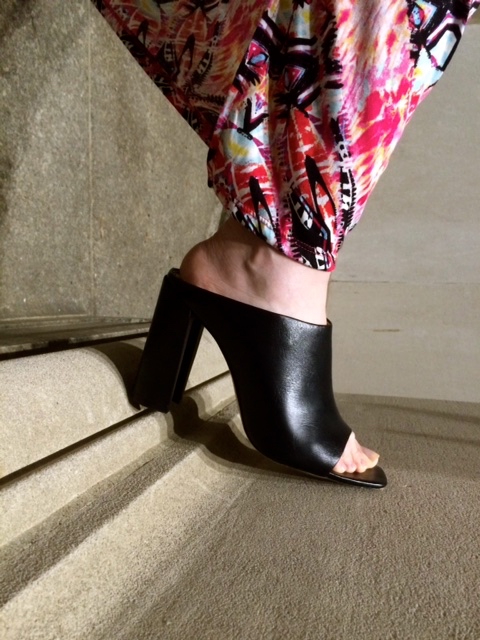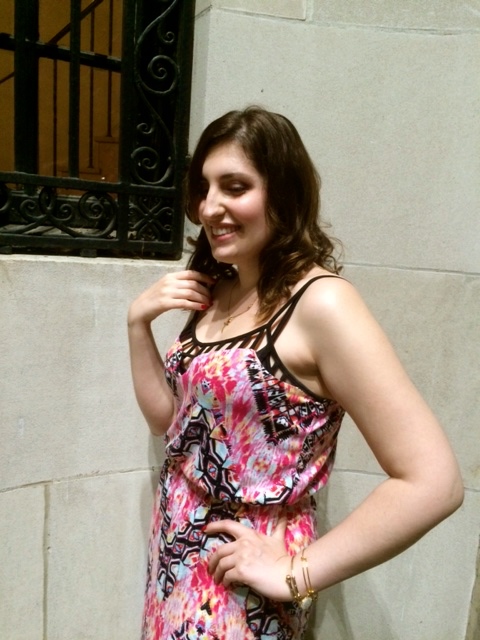 I kept my makeup look simple, with jewel tones. I wore the Density eyeshadow trio and 3 in 1 stick in Berry Glow by Mineral Fusion. My lips needed a little moisturizer so I wore the Black Honey Almost Lipstick. It is my eyelashes that were really impressive. I tried for the first time last night the Za Za Zu mascara from Nyx cosmetics. This mascara lengthened and created volume, did not drop any black under the eye, and stayed on all night looking flawless. One of the best drugstore purchases!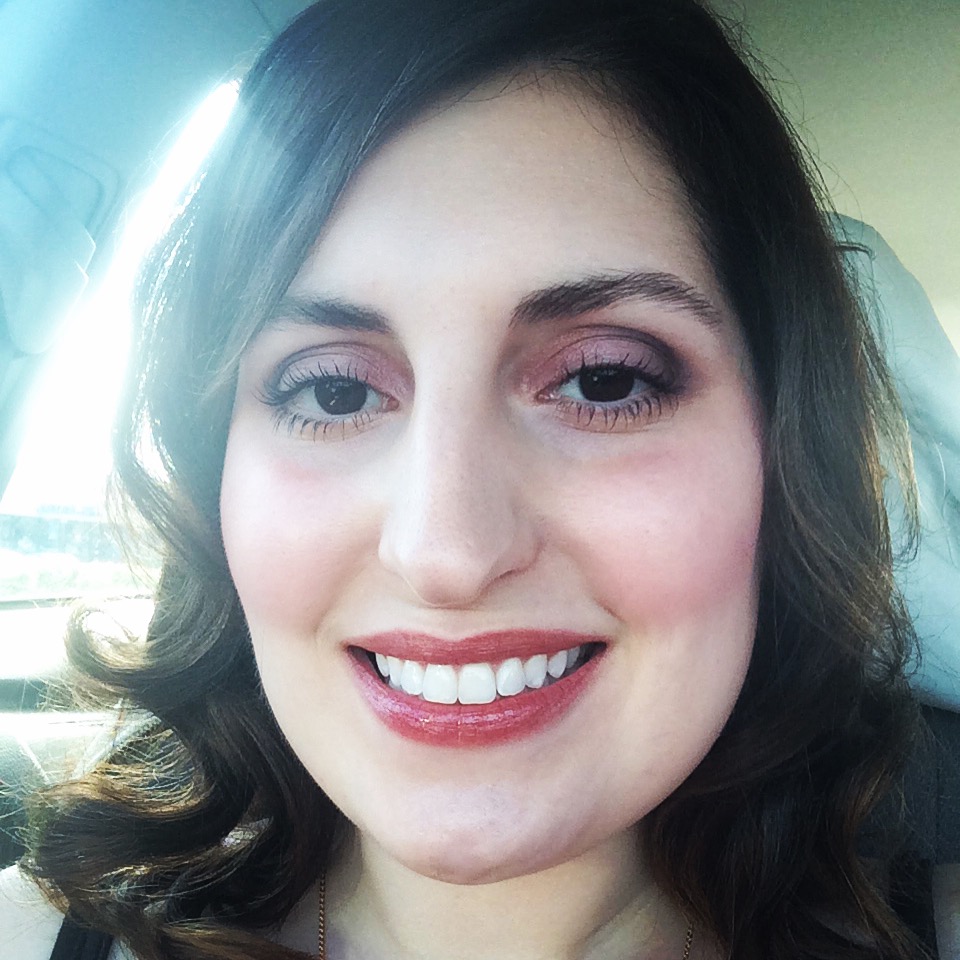 Here is the look I created for my vibrant outfit in a previous post. I decided to wear a neutral eye and chose a bold lip that was complimentary, but not the exact match of the look. I applied The Nudes collection from Maybelline on my eyes. I applied a taupe color for my lids and a slightly darker shade for my crease just to give definition on my socket. I applied this look using amazing brushes from it for Ulta. A sales associate introduced me to the collection after I could not find a particular brush. Once I felt the brushes I knew they would be perfect. I cannot even describe how soft the cruelty free bristles are and how beautiful a job. These brushes deliver on results. Just to add some contour to my cheeks I wore a creme blush in Praline by Laura Mercier.  Now for the lipstick. I am traditionally a matte girl. I am under the impression that matte always makes my lips look fuller. It is important to find a matte lipstick that does not dry out your lips however. I chose Street Cred from NYX cosmetics. The color is more on the coral side as opposed to pink. I did not want my lipstick to match identically with the colors in my skirt, rather compliment the outfit. Keep brows soft looking, no need to define with such bold lips. I also applied two coats of mascara from NYX, which I mentioned in a previous post.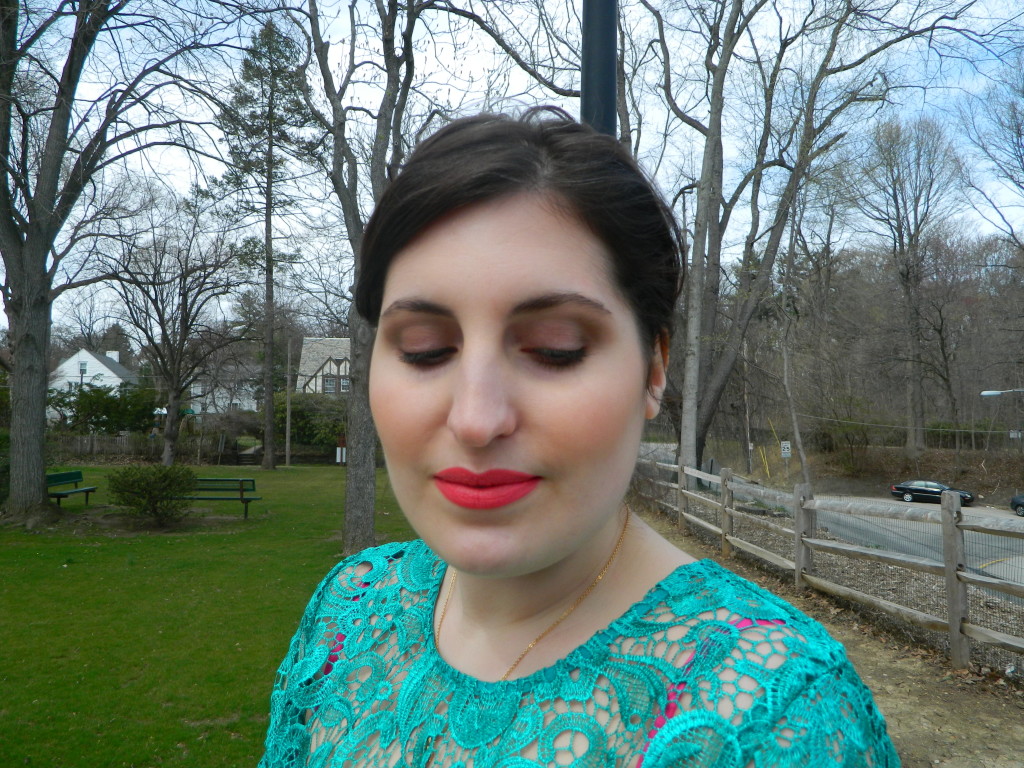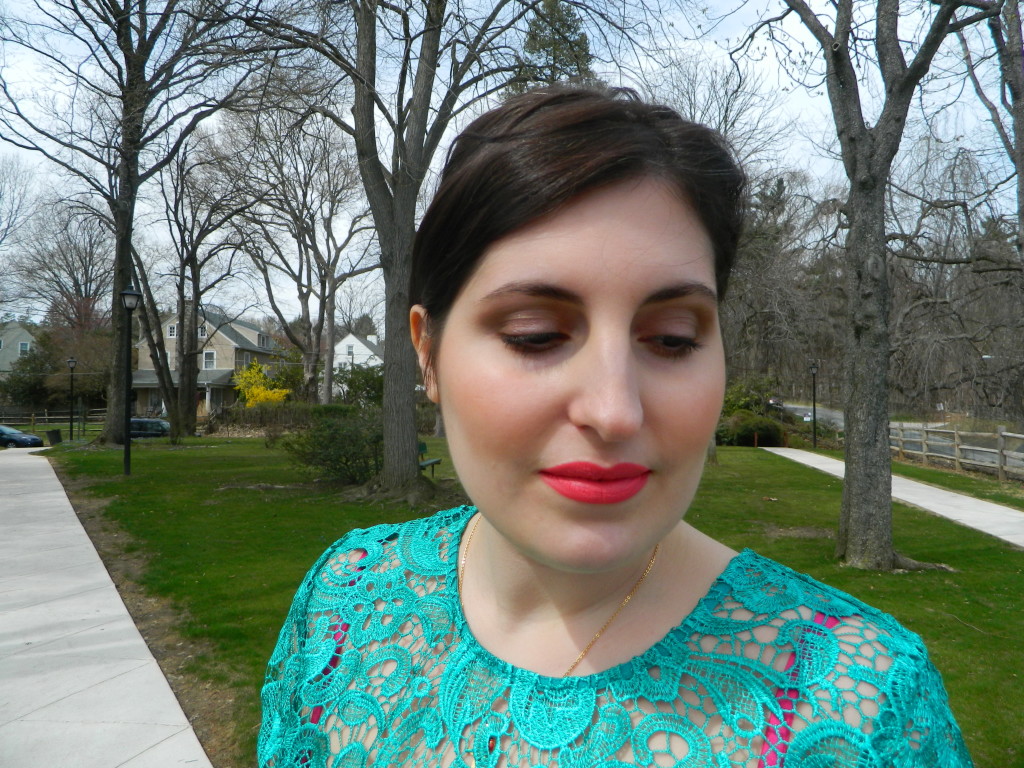 I have trouble finding flake free mascara. I usually find and buy one that I love entirely, except for the fact that it flakes. My perpetual dark circles are then exasperated and I need to carry my foundation brush just to clean the under eyes. It was time for action. I did a little digging and found a list of the best, specifically flake free mascaras and decided on NYX cosmetics. The entire cosmetic collection is a wonderful and effective brand, so I was confident that I would be happy with the results. Of course, Ulta was having a buy one get the other 50% off so I could not resist also purchasing a two in one eyeliner. The mascara was as I read, flake free. Now there are several different types, according to your desired effect. I chose the Le Frou Frou for length and volume. My lashes were long and luscious with the mascara and even with multiple coats- NO flaking! The Two Timer Dual Ended Eyeliner contains both a felt tip liquid liner and crayon. The liner trend currently is graphic. Check out Lisa Eldridge for the perfect liner tutorial. Let me know what you think!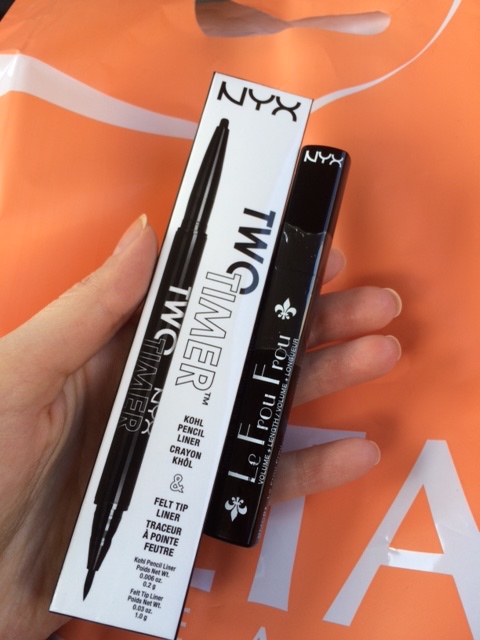 Copyright © Dandelion by Pexeto