Previously, I featured posts on Mineral Fusion, a vegan, gluten, and sulfate free brand that can be purchased online or at Whole Foods. This cruelty free brand sells a full range of products including cosmetics, hair care, body care, nail, and skincare. Mineral Fusion is committed to delivering effective and gentle results using only the finest and natural ingredients such as aloe, rosemary, and orange oils each utilized for a specific concern and need.
I have featured the cosmetics and nail care, but want to focus on the wide range of hair care products, which would make a beautiful gift this holiday season! Mineral Fusion offers hair care products that address needs including dandruff, color treated, and damaged hair as well as products for all types of hair- fine, dry, curly. Shampoos and conditioners are not the only products available. Specialty balms like the Volumizing beauty balm provide a lift from the root using sunflower oil and biotin.
During the season, the last thing you want to worry about is gray hair.  Unfortunately, since everyone feels the same way, hair salons are packed and an appointment may be difficult to acquire. In the meantime, between touch ups, try the Mineral Fusion Gray root concealer offered in black, dark brown, medium brown, and light brown. The wand on this concealer is similar to a mascara wand, only grasping fine hairs including the difficult temples and covering grays entirely. There is no off putting odor to the product, the color glides over hairs covers completely and dries quickly.
Make sure to visit the Mineral Fusion site of purchase at your local Whole Foods. This brand would make a beautiful and thoughtful gift this season.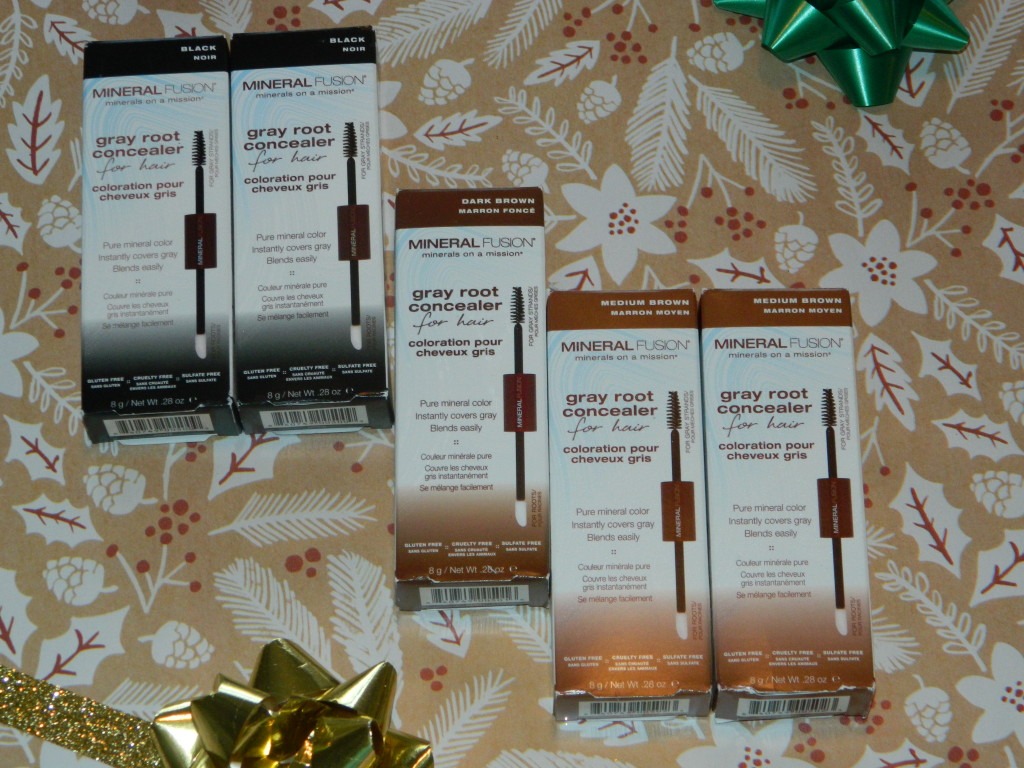 Fall is my favorite season. The weather is sunny and brisk, perfect for wearing cozy layers. The air is fragrant with dried leaves and wood burning. Pumpkin spice, cinnamon, apples, Halloween! The only part that makes me sad about this fabulous season is the fact that it is way too short. This year the farmer's almanac is predicting serious snow so I am going to enjoy every minute of Autumn, starting with the beauty and fashion. I put together some makeup looks for you that I think are fantastic for the season and throughout winter.
Red lips all year round is my signature look. Choosing the right color for the season is important. Try wearing deeper shades in the colder months. In this look I primed my face with Camera Ready Primer at Laini Cosmetics. Contoured my face with Contour Palette light from Laini Cosmetics. Eye brows were defined with The Brows Have It palette by Laini Cosmetics. I used Maybelline Lash Sensational in Blackest Black mascara. For eyeshadow, I chose Maybelline The Nudes Palette and lined the top of my lids with NARS Soft Touch Shadow Pencil in Skorpios and then smudged it into the lid. My cheeks needed some shimmer so I applied Laura Mercier Shimmer Bloc in Pink Mosaic. As for my favorite part…the red lips. NYX Soft Matte Lip Cream in Monte Carlo completes this look.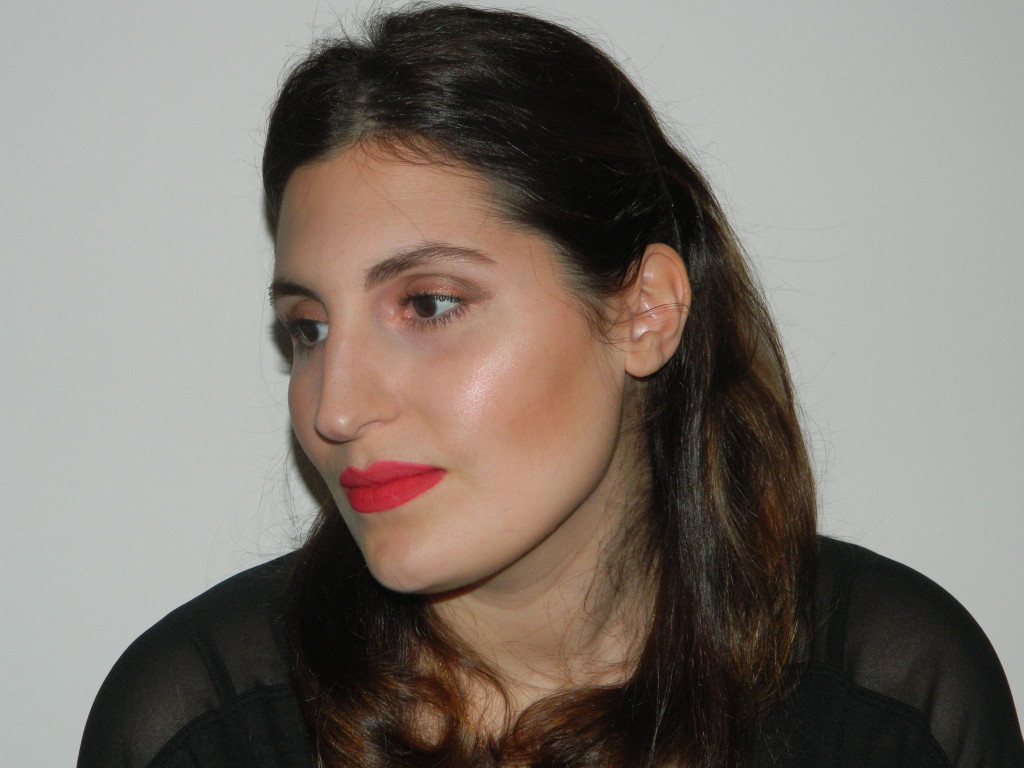 Deep berry lipstick look. I am a huge fan of plum shades for fall. In high school one of my favorite lipsticks was Vamp from Chanel, which has since been discontinued (insert sad face). My skin is very fair and on any given day I have dark circles. If your face is fair like mine it is important to thoroughly cover those circles. I applied Clinique Airbrush concealer, which is lightweight and full coverage. Also, keep in mind that your cheeks should have slightly more color to avoid looking gothic. I added Mineral Fusion Berry Glow 3-in-1 color stick to my cheeks to create a deeper color. For my eyes, I applied Mineral Fusion Eyeshadow Trio in Density to complement the dark lipstick with a lighter violet. The lipstick I chose was NYX Matte Lipstick in Siren.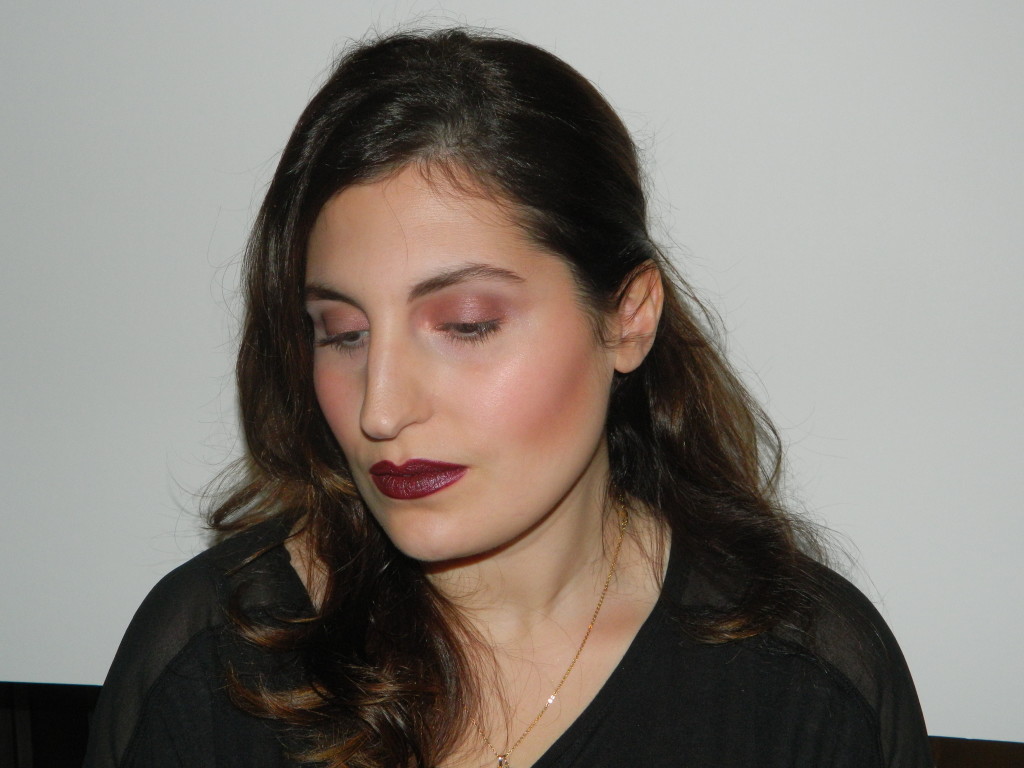 The metallic bronzed look that can be worn all year round. Last month, I posted a video tutorial using Laini Cosmetics products. This look is gorgeous for Autumn, adding a little glam using rich metallic shades. Here is the link to my video tutorial.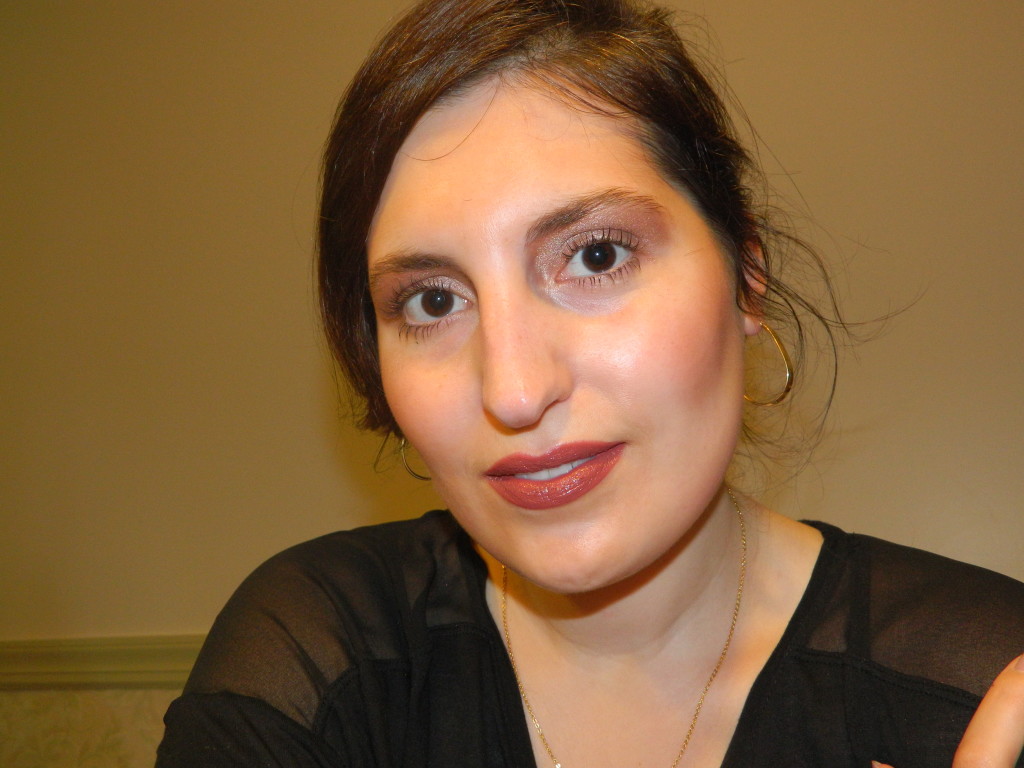 Finally, the 90's inspired brown lipstick look. Traditionally, if my lips are very bold, I tend to keep my eyes simple. I chose Bare Minerals Eyeshadow duo in The 15 Minutes, a gorgeous burgundy shade was applied to my eye socket and the light pink was applied all over my lid. I am wearing an older lipstick from YSL Rouge Pur Couture 34. Similar lipstick shade here. Keep in mind that I built on each one of the layers of makeup. I kept the contour, blush, and mascara the same for each look.
Let me know what you think! Which look will you try this season?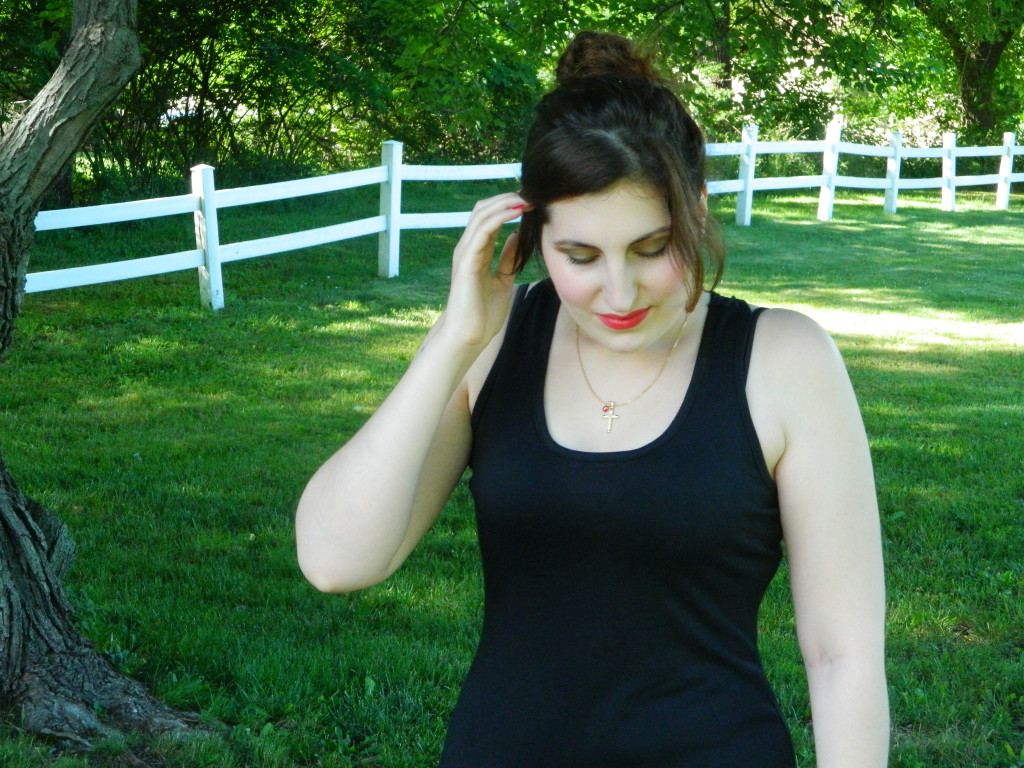 Another day, another maxi. I love a good tank dress. It is unbelievably comfortable and very lightweight, making it the perfect choice for these hot days. I wore this outfit to see Jurassic World over the weekend. I can remember waiting for the the first film, Jurassic Park to come out on VHS and running home from school to watch it. I was terrified, those raptors, that blood curdling roar of the T.rex, that poor goat! For those of us who saw the entire franchise it is a no brainer to see the latest stand alone Jurassic World. I enjoyed it tremendously- it paid homage to the originals and still offered a fresh perspective.
Anyway back to my look. I chose to wear my Candie's platforms with this black tank top dress, however this dress would be perfect with a pair of slip on sneakers as well.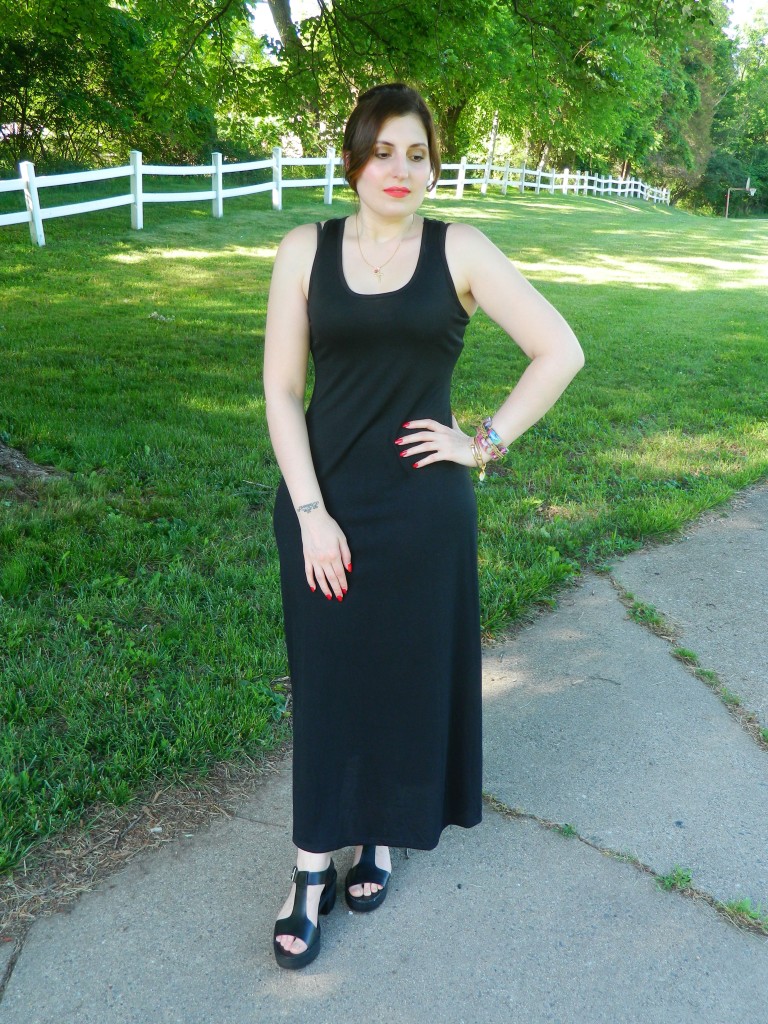 As for accessories, I am wearing multiple bracelets, a Kara Ross bangle, an Alex and Ani bangle, and a gold bangle that I received as a gift from my godmother years ago.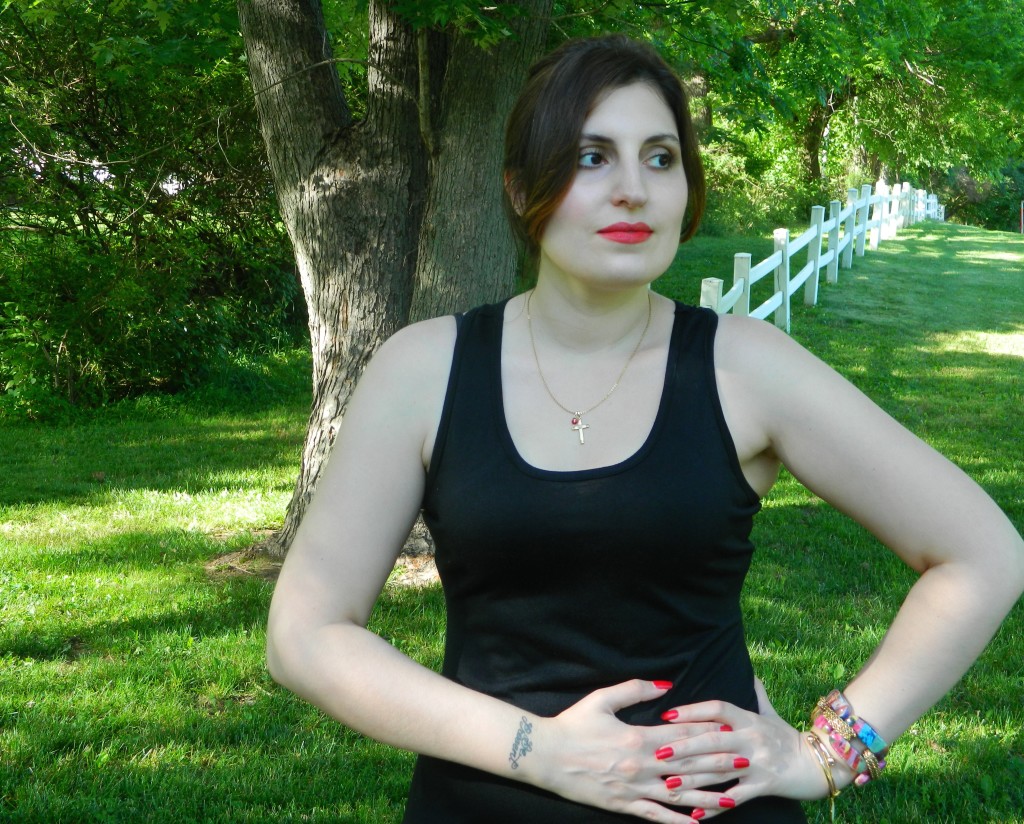 I chose red as my makeup look- a classic duo with an all black outfit. I am wearing vegan and cruelty free, Crimson Clay red polish and Future Red from NARS limited edition Guy Bourdin collection. A similar color would be the Laura Mercier Creme Smooth Lip Color in Red Amour.
I have assembled some of my favorite lipsticks for summer. These pink, peach, coral, and berry shades are perfect with sun kissed skin and vibrant clothing shades.
3 in 1 stick by Mineral Fusion in both Terra Cotta and Berry Glow. This product is multi- purpose and creates a beautiful sheen of color- soft and long lasting.
NARS Velvet Matte Lip Pencil is a non drying lipstick that is smooth and creamy. I love two particular shades in this collection, a classic blue base red called Dragon Girl and a red orange called Red Square.
Clinique Long Last Lipstick in Runaway Color is incredibly rich in texture and luxurious. The color is a vibrant peachy coral and incredibly long lasting.
Clarins Multi-Blush in Grenadine can be used as blush or lipstick. It is a powdery soft finish with a bright rose color.
Nyx cosmetics has a wonderful selection of Matte Lipstick that is still very silky and hydrating. Street Cred is a beautiful raspberry coral.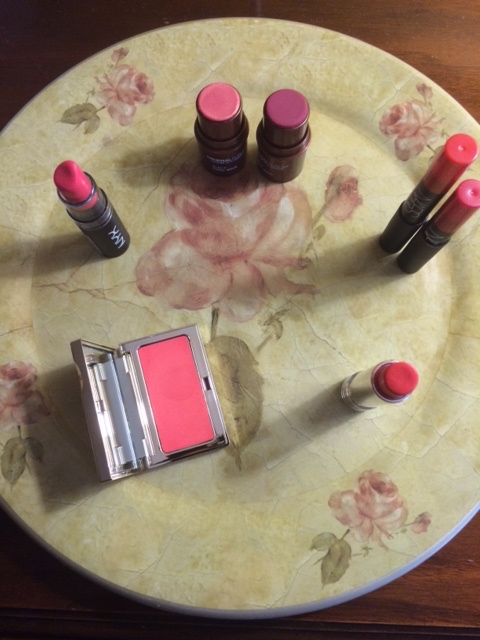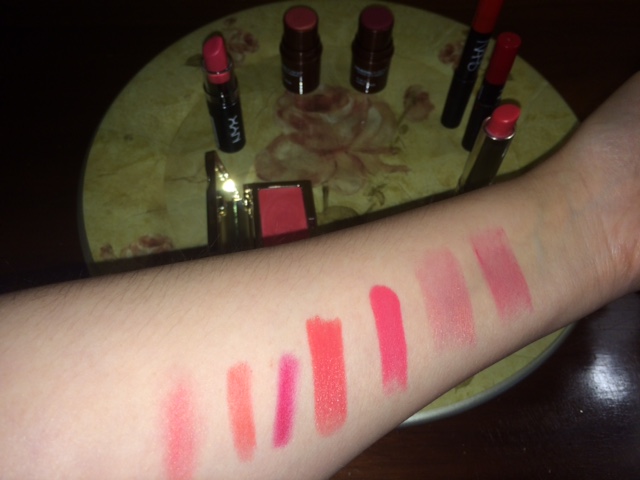 Wearing another one of my fabulous finds from Walmart. I just could not pass up this maxi dress- cinched waist, detailed top, side slit- what more could you want from a $10 dress?! I paired the look with one of my favorite shoes, simple black mules purchased at Zara last summer. With a dress this affordable, you can spend a little more on the accessories. I am wearing my Alex and Ani Fortune's Bliss Sweet Pea Charm Bangle.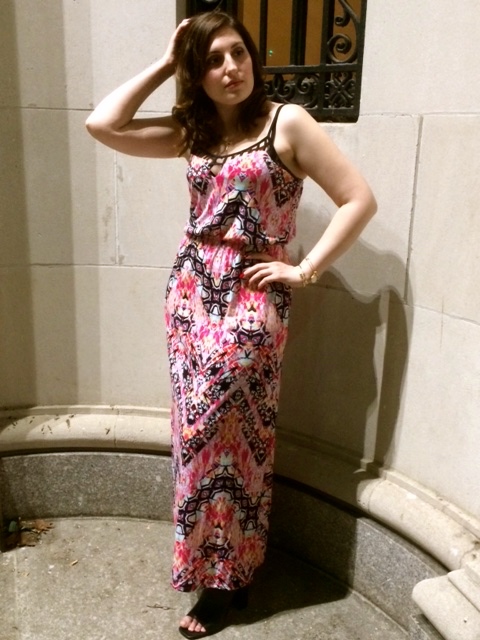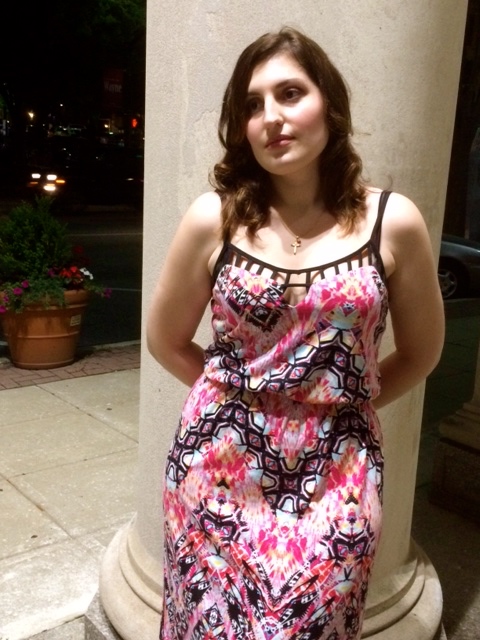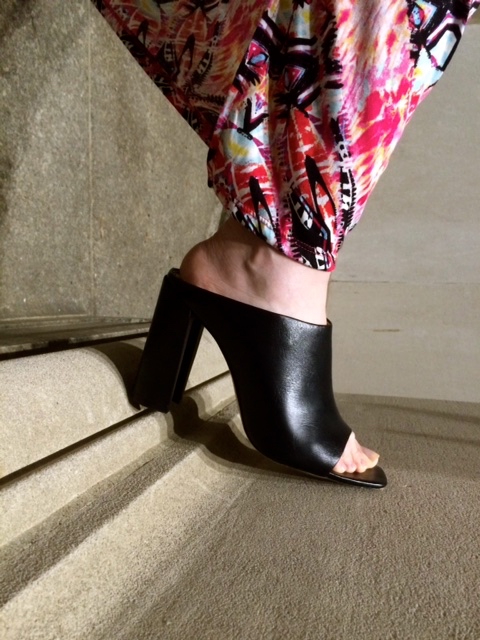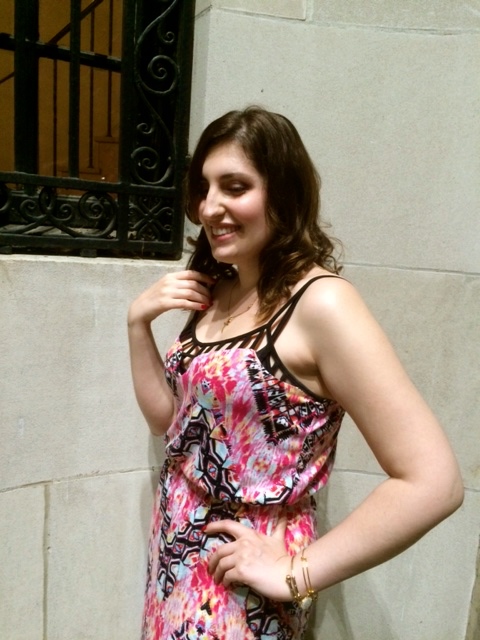 I kept my makeup look simple, with jewel tones. I wore the Density eyeshadow trio and 3 in 1 stick in Berry Glow by Mineral Fusion. My lips needed a little moisturizer so I wore the Black Honey Almost Lipstick. It is my eyelashes that were really impressive. I tried for the first time last night the Za Za Zu mascara from Nyx cosmetics. This mascara lengthened and created volume, did not drop any black under the eye, and stayed on all night looking flawless. One of the best drugstore purchases!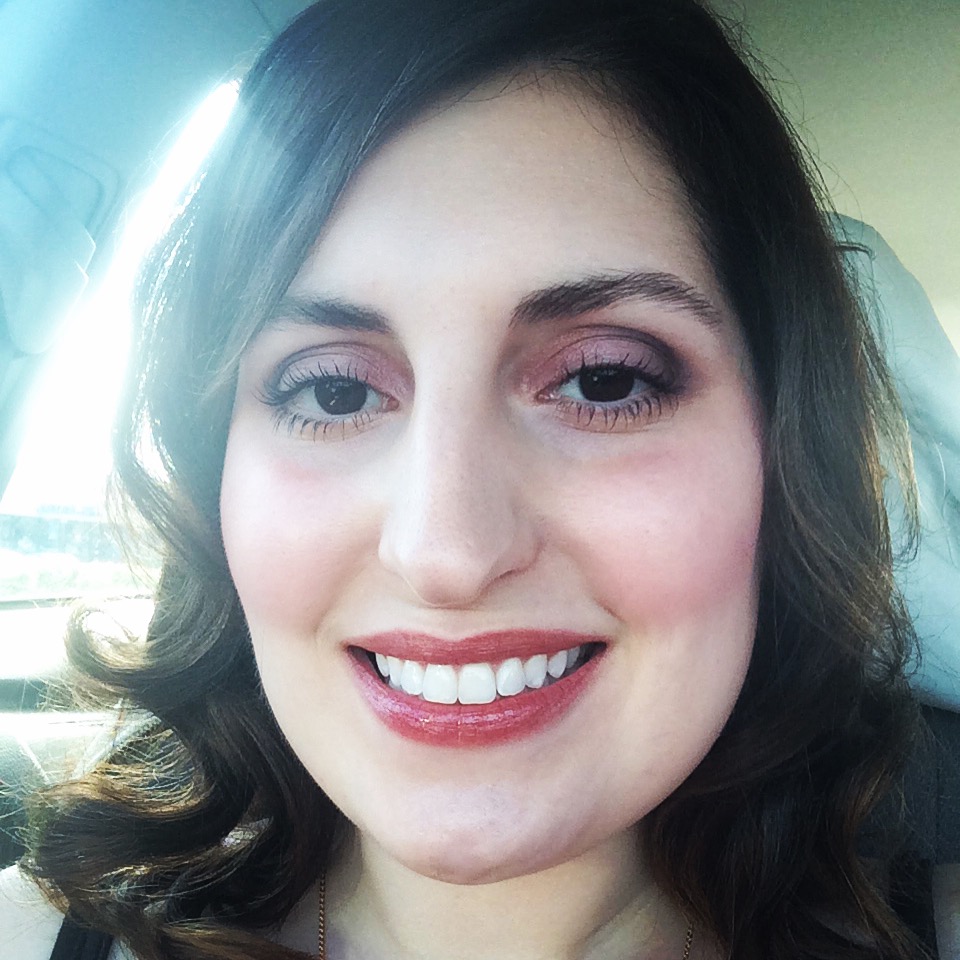 Last weekend was Mother's Day and what better way to spend it than to take Mom to see a risque musical?! One of our favorite films is Kinky Boots based on a true story (and book) of a man trying to save his father's shoe factory. Kinky Boots was turned into a play featuring all new original music by the one and only Cyndi Lauper.
I will not spoil the show for you. All I can say is it is worth seeing! High energy, lovely message, amazing music, wonderful performances, and the costumes were fabulous. I was able to see this beautiful show at the Forrest Theater in Philadelphia from the Kinky Boots tour. This weekend was sadly the last in Philly, but tickets are still available for Broadway.
I wore an all black jumpsuit that I bought for a steal at the Ann Taylor Philadelphia Premium Outlets with a pair of Vera Wang platforms from Kohl's, similar here.
For my makeup, I wanted to create a berry kissed look. I am wearing the lightest shade in the Mineral Fusion eyeshadow trio from the Density palette. This gorgeous peachy bone shade is long lasting and crease free, with age defying ingredients like pomegranate and white tea. For my cheeks, I wanted a flushed stained look. I chose the Mineral Fusion 3 in 1 color stick in Berry Glow. I applied a small amount with my fingertips and kept on building the color. The consistency is smooth and creamy, incredibly lightweight, and easy to blend. As with all of the cosmetics from this line, it is talc, paraben, gluten, and cruelty free!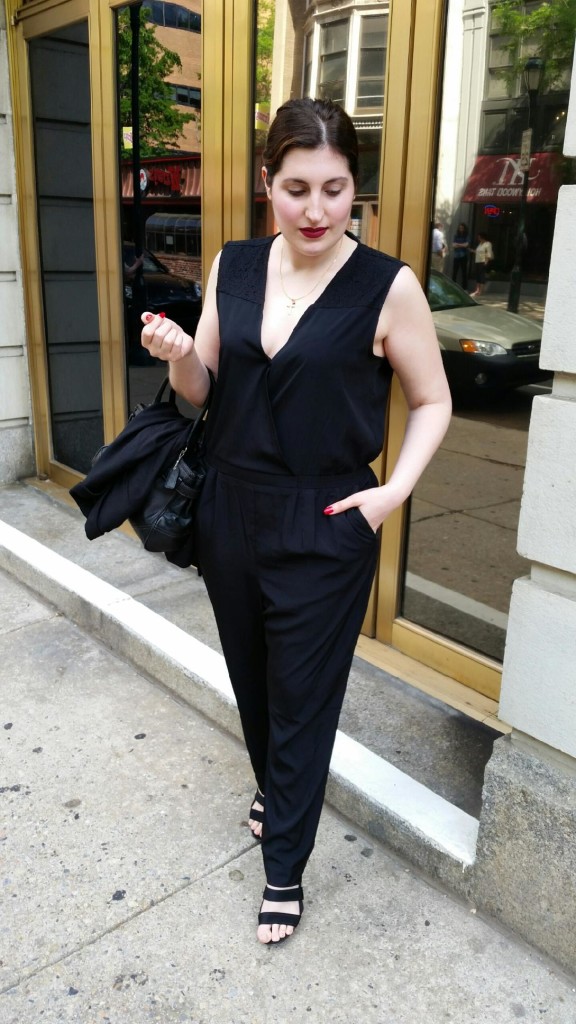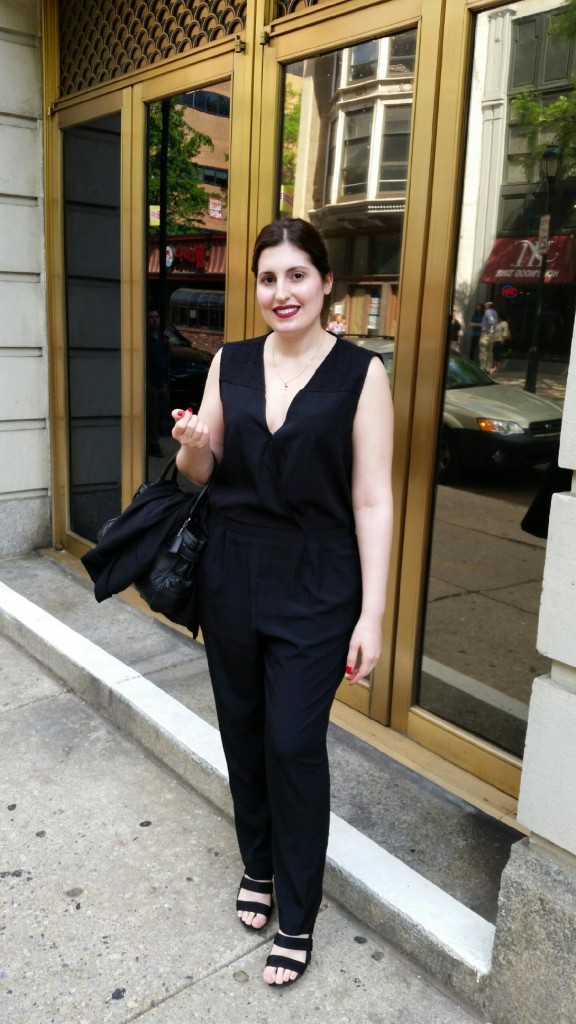 This past weekend was definite spring weather, warm, sunny, and blue skies. Friday night I attended a party with some of my old friends and decided to keep it cool and comfy. I wore a quilted peplum cream top from H&M with a pair of boyfriend jeans from the Gap, (similar here) and a new pair of slip on sneakers from Steve Madden.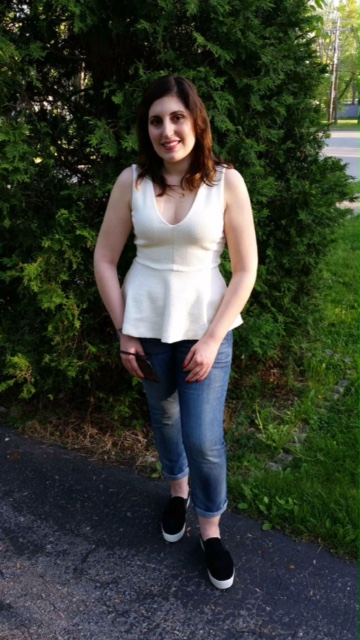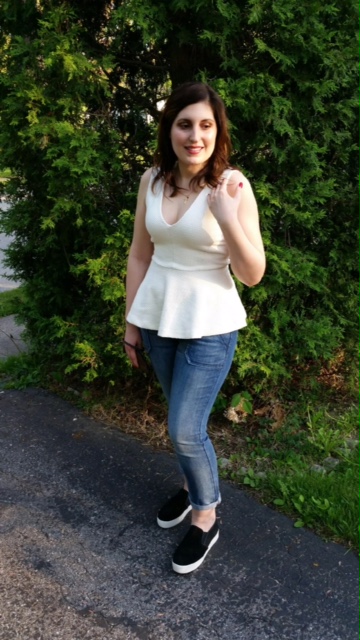 I must mention my nails though. I am wearing a gorgeous red shade, Crimson Clay from Mineral Fusion. The polish is chip resistant and glides on perfectly, it evenly coated each nail and remained glossy even after it dried.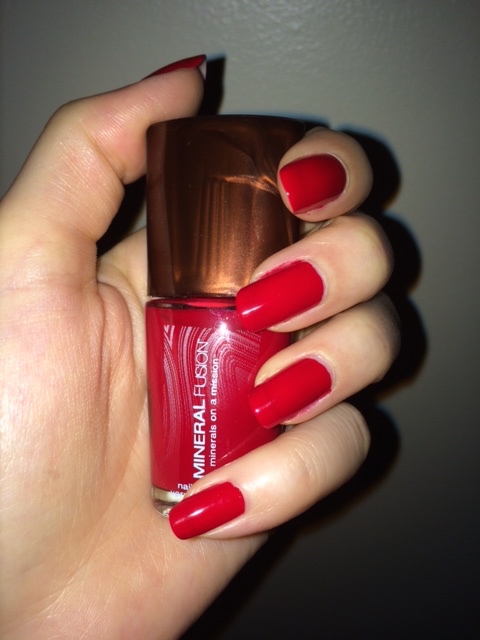 Mineral Fusion is a natural cosmetic and personal care brand that is eco-friendly, 100% vegetarian and most products are 100% vegan as well. This gluten and paraben free beauty line is sold at Whole Foods and is offering an excellent special. Now until May 25th the Cherry Hill Whole Foods Market (1632 Kings Hwy North Ellisburg Shopping Ctr Cherry Hill, NJ 08034) is offering a whopping 40% off of all of the products as well as complimentary makeovers!
Copyright © Dandelion by Pexeto