Over Christmas my Aunt and Uncle bought me a beautiful black and white Marilyn Monroe printed scarf. I absolutely love it; the style, size, and of course the very modern almost pop like print of a classic beauty. They are such generous and thoughtful people, always finding unique gifts.
When choosing the right outfit for the scarf, I focused on creating a simple look to place the emphasis on Marilyn. Today, I am wearing a peplum Karl Lagerfeld for Lord & Taylor (similar here) blazer with silver zipper detail, a plain pair of  black joggers, and my Sam Edelman flats (earlier post). There are numerous ways to wear a scarf, but I kept it draped simply over one shoulder to allow the print to shine!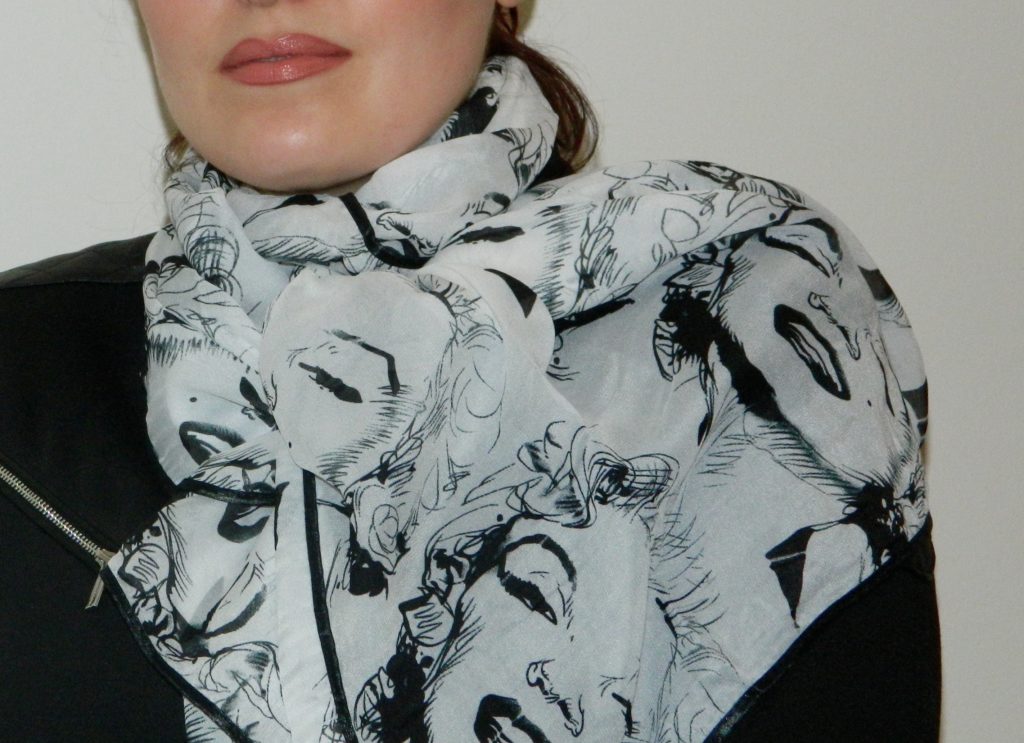 Ordinarily, I do not tend to purchase ripped jeans. I might have a couple of pairs in my closet, but as a rule, I shy away. Partly because I can hear my Mom saying in my head, "why would you pay for ripped jeans?!" I tend to agree. However, such is the trend that I happen to like. I caved, I can't help it. Lord & Taylor was having a pretty significant after Christmas sale with a $20 doorbuster that I took advantage.
Paige, 7 For All Mankind, Hudson; all good quality jeans and the obvious trendy brands, but give me my Calvin's any day of the week. The fit is always perfect, they last forever, and look terrific. On this occasion, I wore a Bardot keyhole top with a white hot pair of Sam Edelman loafers with silver studs.  I found these vegan beauties at Neiman Marcus Last Call at the Philadelphia Premium Outlets and I was under the assumption that they would ring up 30% off at the register. To my surprise and excitement they were 50% off. If you have time and a store near you try to visit a Last Call. You can really find some unique items and excellent deals.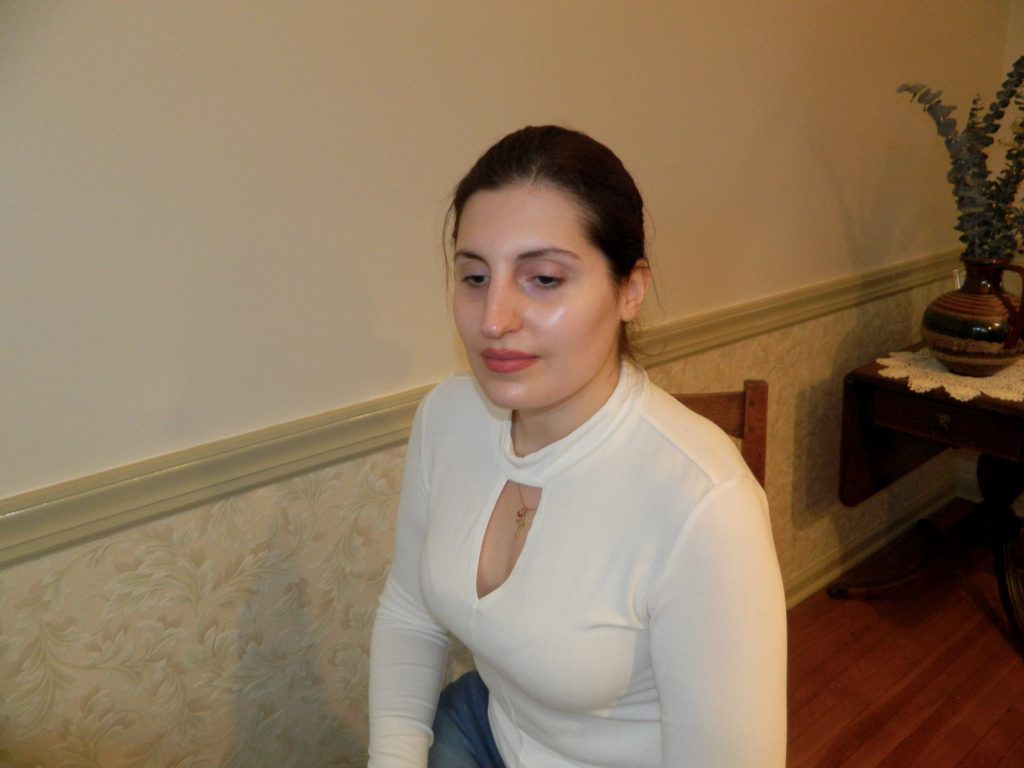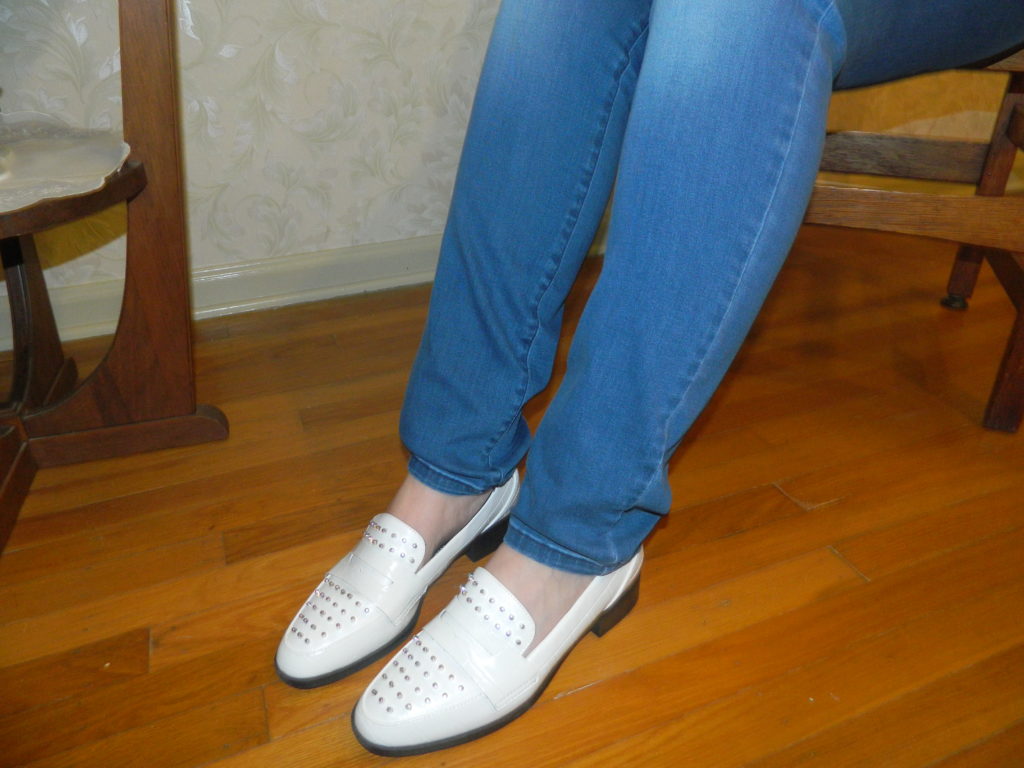 On Black Friday in addition to purchasing a few presents for others, I bought some items for myself. I just could not resist some of the fabulous deals. This faux suede skirt in particular, reminded me of a skirt I once had in middle school. Have you ever stumbled upon an article of clothing or an accessory that brought you right back to a childhood memory? I find that so exciting. In my younger years it might be embarrassing to wear anything that resembled anything from childhood, but I now have an appreciation for nostalgia.
This outfit is perfect for visiting with a friend over a cup of hot chocolate or attending a low key holiday get together. Mixing patterns and textures is a fantastic way to add interest to the overall look. The striped gold and black mock turtleneck is a BCBG Max Azria piece is incredibly lightweight and form fitting. I tucked this top into my BCBG Max Azria faux suede skirt with a subtle flare towards the bottom. My leopard print booties are quite a few years old, but you can find a similar pair here.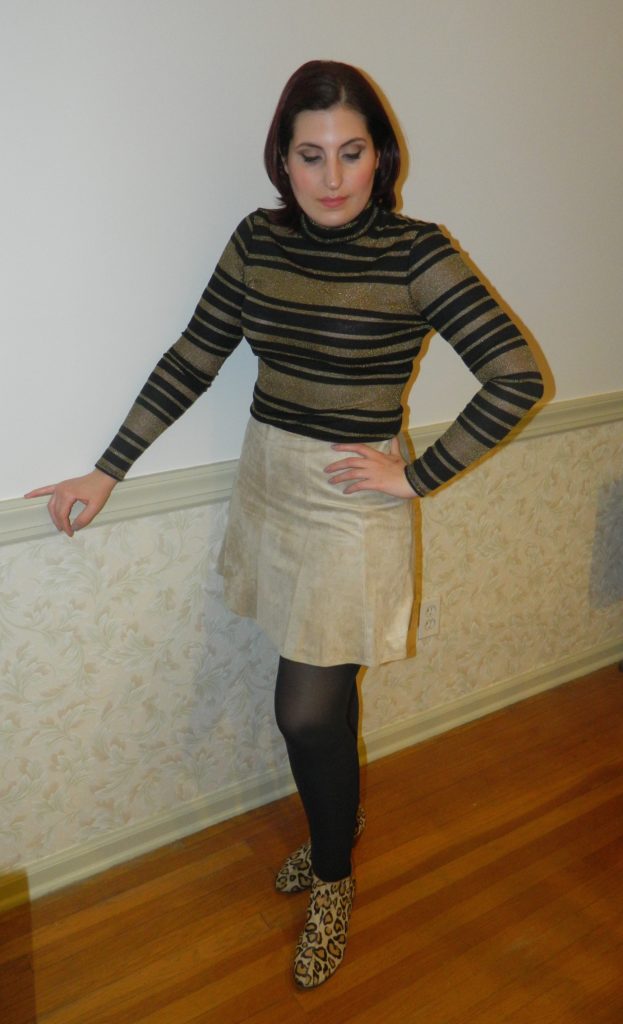 My makeup look was achieved by using the Veluxe Pearlfusion Shadow in Amberluxe from M.A.C.
NARS Eyeliner Pencil in Black Moon
NARS Blush in Torrid
NARS Velvet Gloss Lip Pencil in New Lover
Laini Cosmetics The Brows Have It palette 
YSL Volume Faux Cils Mascara in Black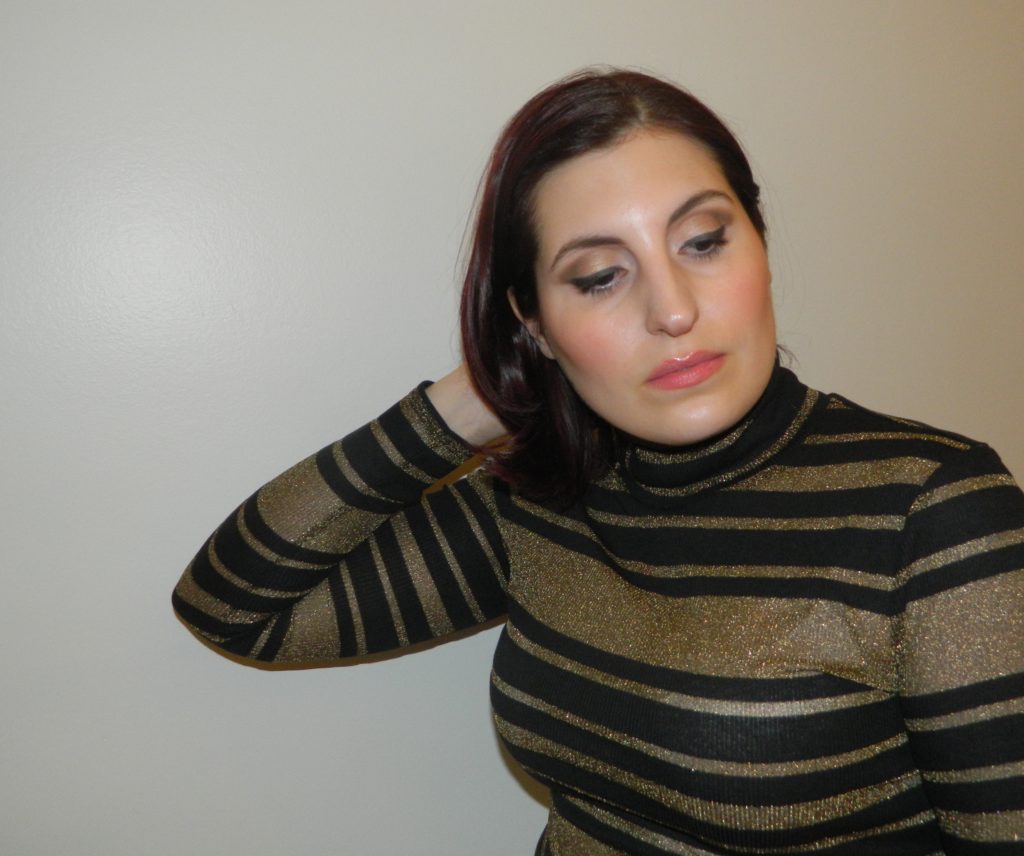 Really the winner of this ensemble is my lipstick. I hate to be biased because I absolutely love this Calvin Klein dress, but I felt confident and lovely wearing this Limited Edition Classic Lip Collection by Laini Cosmetics. This fabulous lip collection includes a lip liner, lipstick, and lip gloss in bold magenta. I wore this trio to the Einstein Healthcare Network 150th Anniversary and I did not even need to reapply! The combination of the three created a richly pigmented color that is incredibly long lasting. The matte lipstick is creamy and moisturizing. Adding the gloss on top gives the lipstick extra shine. Also, check out the packaging! How gorgeous is this gift box?
I love the combination of a chic and simple black attire with a bright pop of color. The contrast is quite the show stopper. This Calvin Klein sweater dress with faux belt was on the sales rack at Lord & Taylor. One of my favorite places to shop and home of some of the best deals. Black heels and opaque tights finished my look, but I still needed a hair accessory.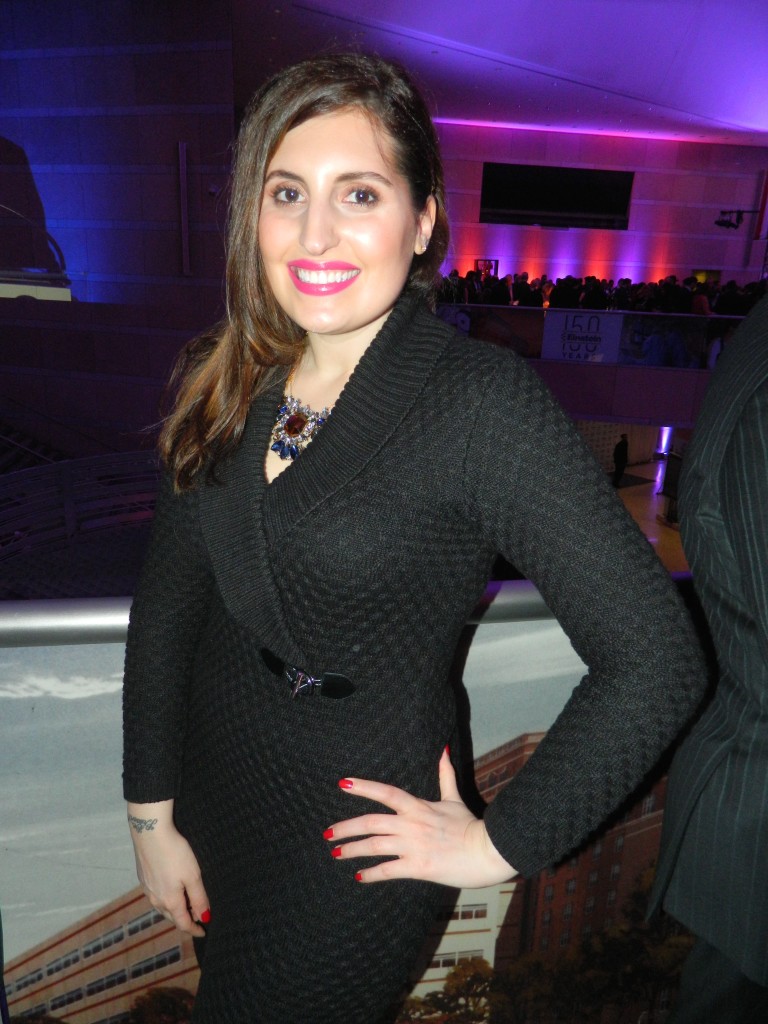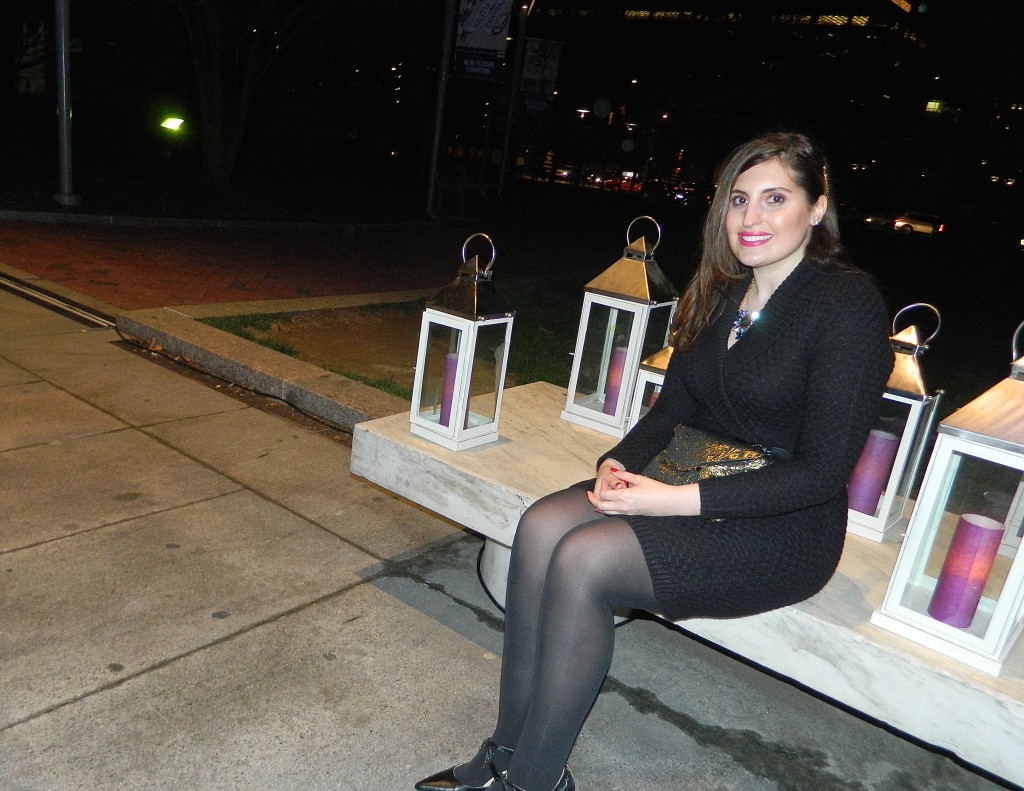 My hair was down and even though I love wearing my hair straight, I wanted to add a little bling. I created a deep side part and fastened my hair with a Tasha black and gold hair clip.  Usually, this type of hair accessory slips and I end up fixing multiple times. I was impressed however, with the grip. I went the entire night without fixing.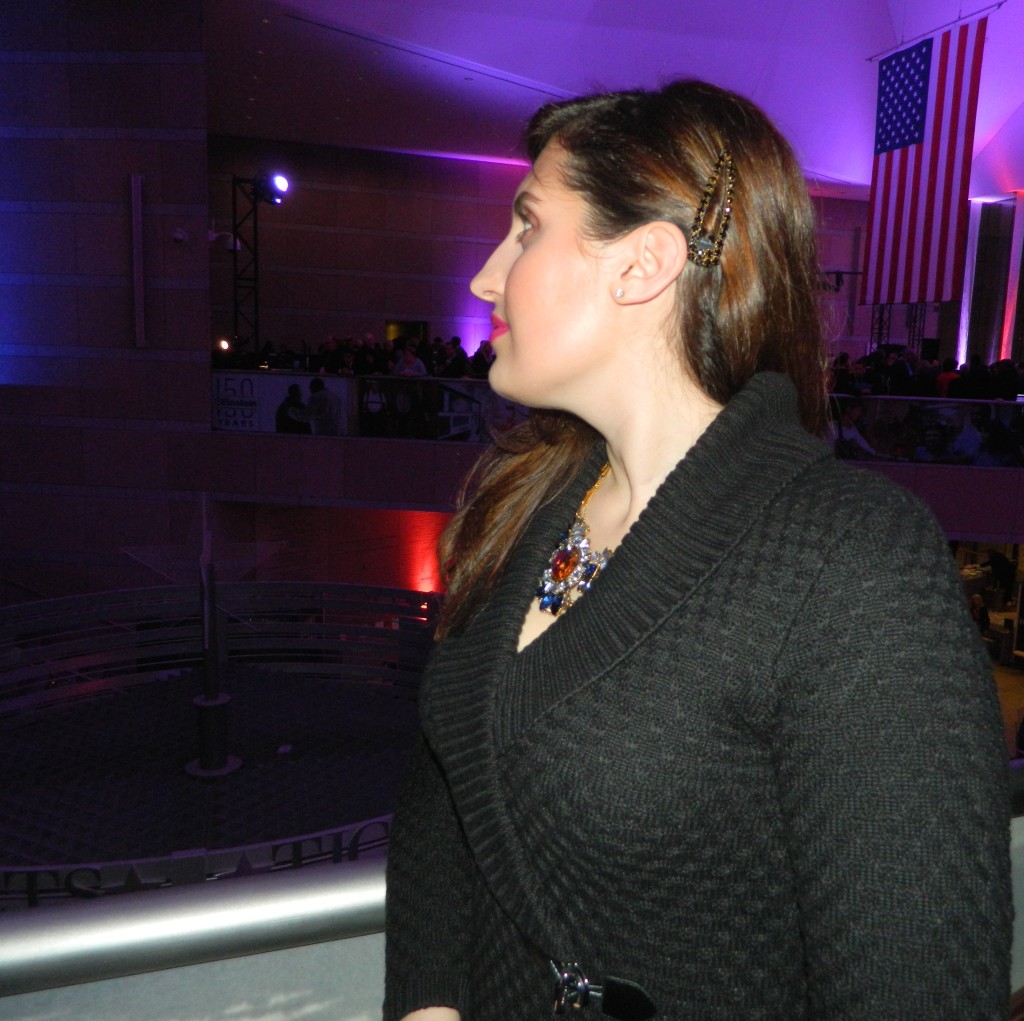 I have been wearing Vera Wang perfume (the original fragrance) since I was 16 years old. On a leadership conference to NYC my junior year of high school, we took a break to do a little shopping. What better NYC landmark to shop than Saks Fifth Avenue? Walking through the first floor to all of the exquisite beauty counters was quite the experience for such a makeup addict as myself. A bottle of Vera Wang caught my eye. I am a fan of the stunning Vera Wang ready to wear and bridal collection, but at the time did not know that she created perfume. I had to smell it. Her signature perfume, Vera Wang was designed to capture all of the emotion on your special wedding day. This spicy floral intoxicating perfume contains notes of lily, mandarin blossom, rose, gardenia, iris, lotus flower, stephanotis, floral accord, woods, and musk. This may have originally been developed for the blushing bride, but everyone can enjoy this complex and lovely fragrance. For 14 years, this has been my signature scent. I feel absolutely naked without it and positively confident wearing it. This is the true testament of a signature scent. One that is simply an extension of you, one that when others smell it they think of you.
I needed an image that truly represents the special place in my heart for this fabulous fragrance. That may sound a little strange, but scent is such a powerful sense and I have worn this perfume through many occasions. It has become a part of me and I wanted to do it justice. Instead of taking a flat photo of the bottle or using the traditional over sexualized image of a scantily clad model spritzing herself, I decided to have my friend, the very talented Wendy Buiter, create an image that fully encompasses and expresses the essence of Vera Wang perfume. We designed this beautiful illustration depicting a woman in ecstasy with the fragrance, smelling from the bottle all of the complex notes. This image captures the emotion behind the product.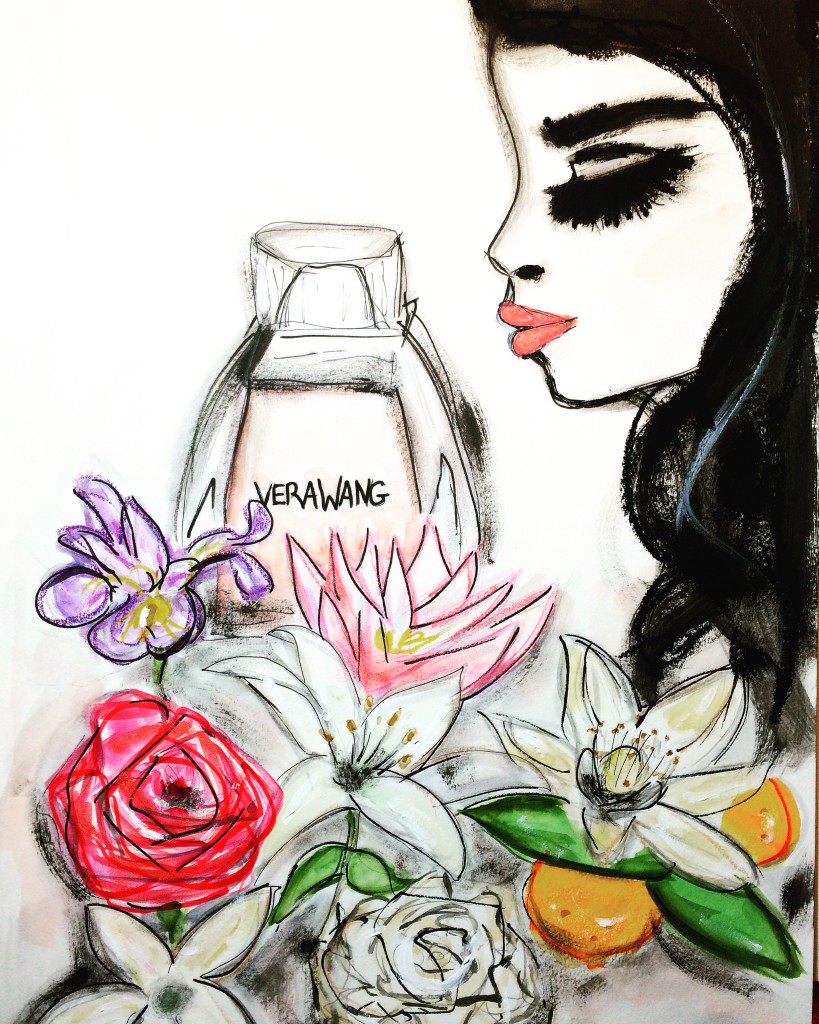 Every once in a blue moon it's nice just to feel completely comfortable in clothing and wearing pajamas all day long is not always possible or recommended for that matter. I am intolerant to the winter chill and am cold most of the time. The winter is difficult to get through without freezing. It is important to wear the proper clothing if you have the same problem. Pants can be too thin and sweatpants are not universally appropriate for all occasions. Loungewear can be the solution. A pant set is tailored slightly as opposed to traditional sweatpants, which avoids a sloppy appearance and provides more warmth.
Lord & Taylor has exceptional sales and over the years I have found some amazing deals. My Mom reminded me of the year that I needed a dress last minute to a dance in high school. I found a beautiful scarlet red strapless gown that fit perfectly. The tag read $300 and when I brought the gown to the register it rang up a mere $40! I cannot even begin to tell you how exciting the experience and this has not been the only time throughout the years. The coupons are worth using as they save a significant amount of money on most designers and brands.
A 25% off coupon arrived in the mail and of course I took advantage. I was not looking for anything in particular, just hoping to find a good deal. Then I stumbled upon the Calvin Klein loungewear with mix and match separates. Since I usually wear black I opted for the sapphire blue set, which is soft and luxurious with an asymmetrical zippered jacket with double pockets and ankle elastic banded pants. The silver accent details match my faux leather booties with silver zippers and a warm, comfortable, and casual outfit was born.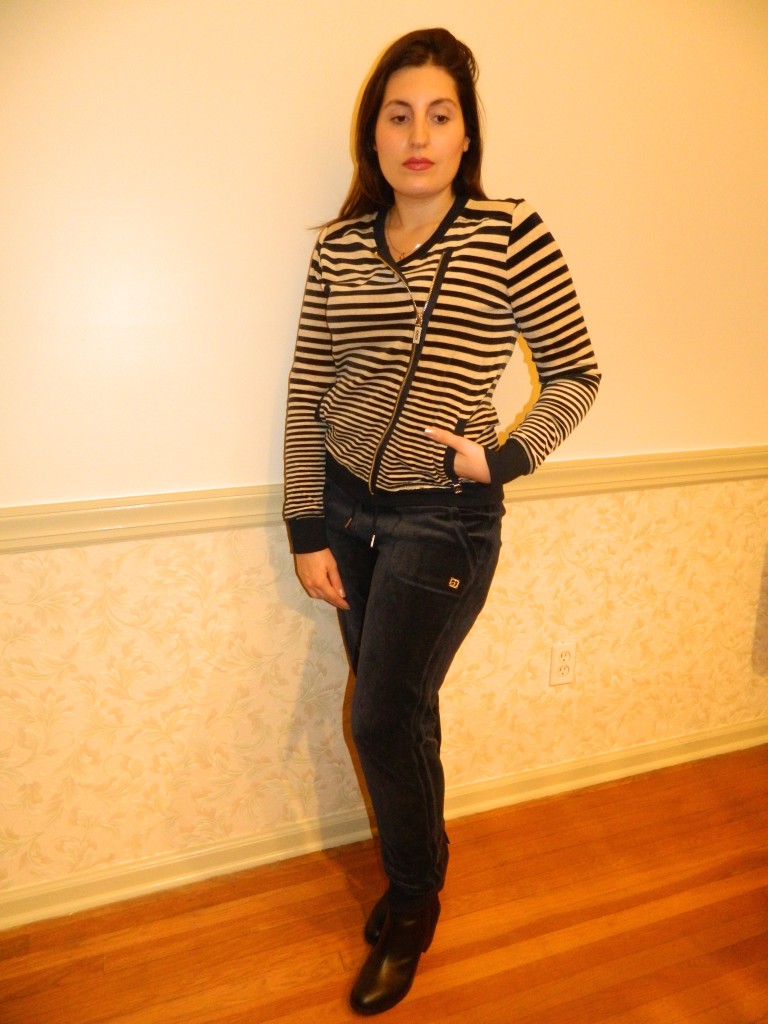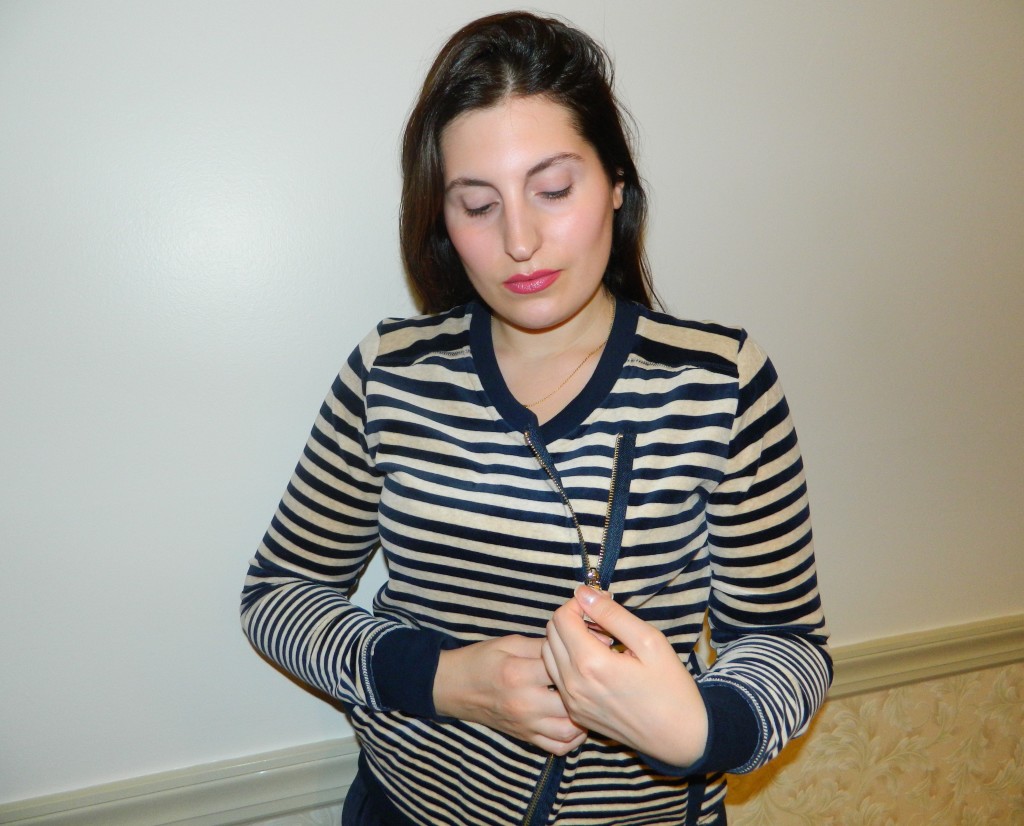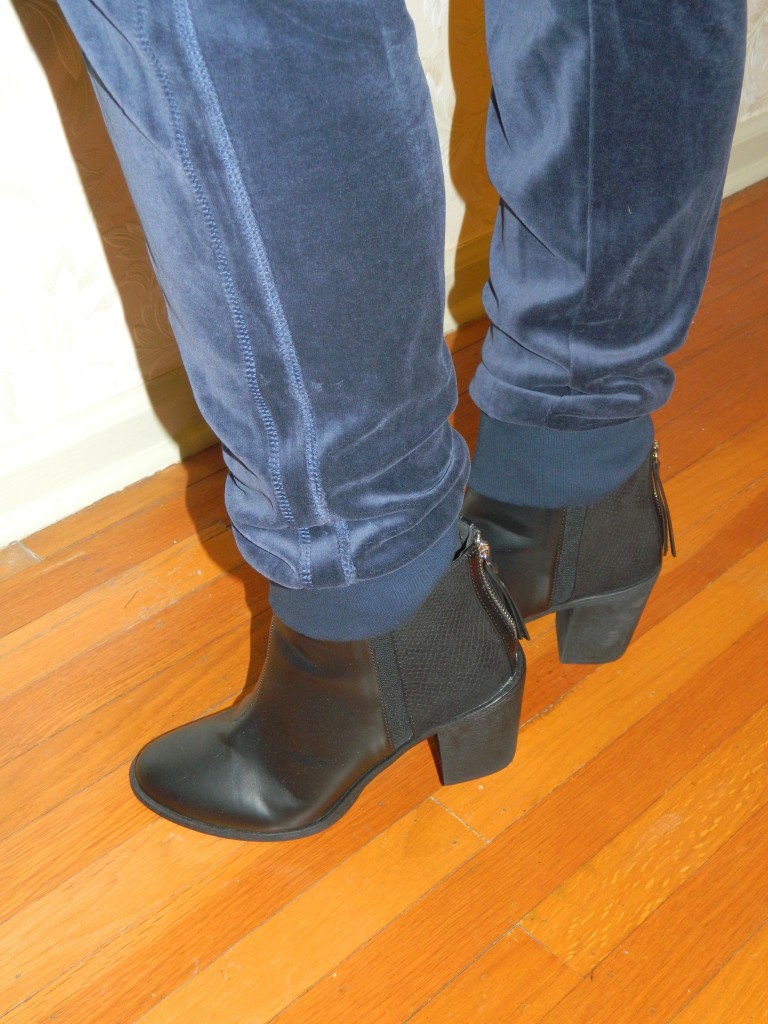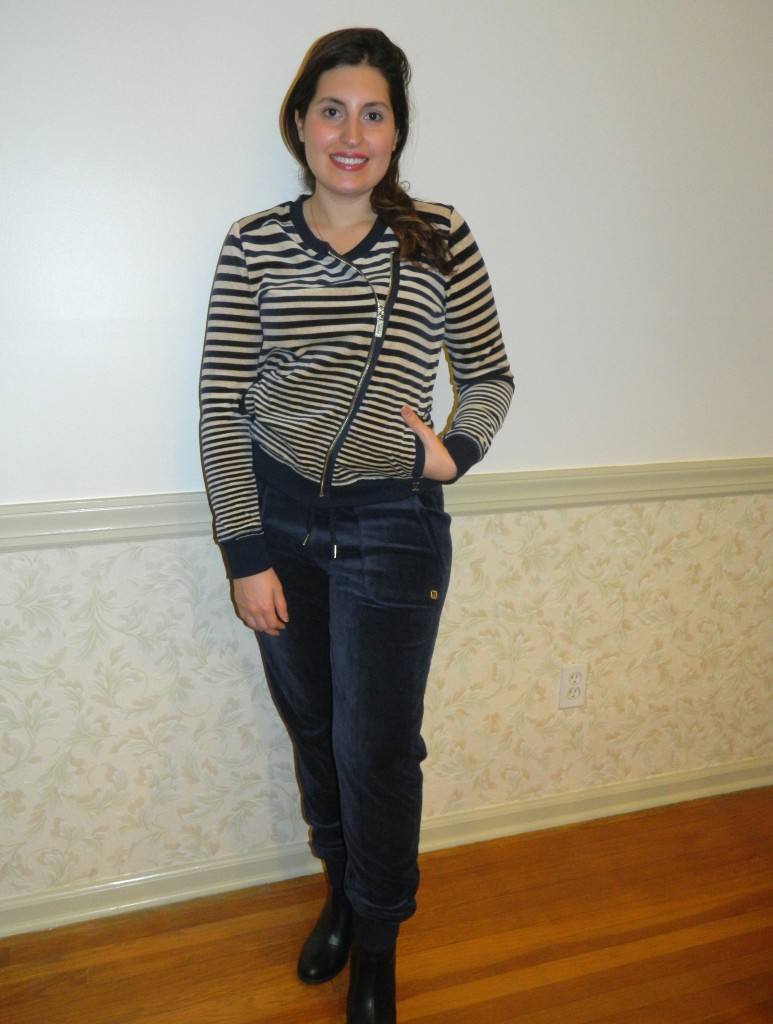 Sometimes you just need to add a little color to your wardrobe. It has been a drab winter, which is expected, but it seems to have invaded the spring as well. I wanted to wear bright and cheerful colors and surprisingly enough the sun was shining on this particular day. My outfit is complete Bisou Bisou from JCPenney. The lace top is so intricate and pretty. You could wear a camisole underneath, but I chose to wear a pink lace bra.
The pencil skirt is flattering and comfortable, which is always a plus. The color hues in the skirt make it very simple to choose a spring makeup palette. You could really be creative and choose bold colors or you could stay neutral and let the outfit stand out.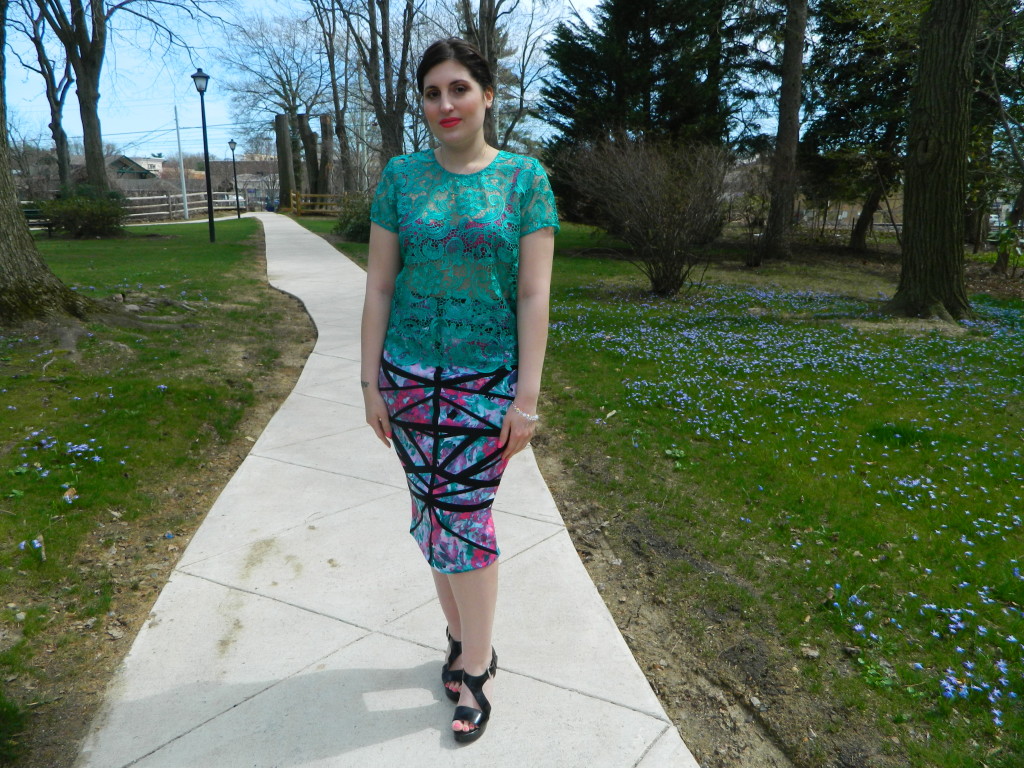 On a shopping trip to Lord & Taylor, I spotted these platform heels from Nine West.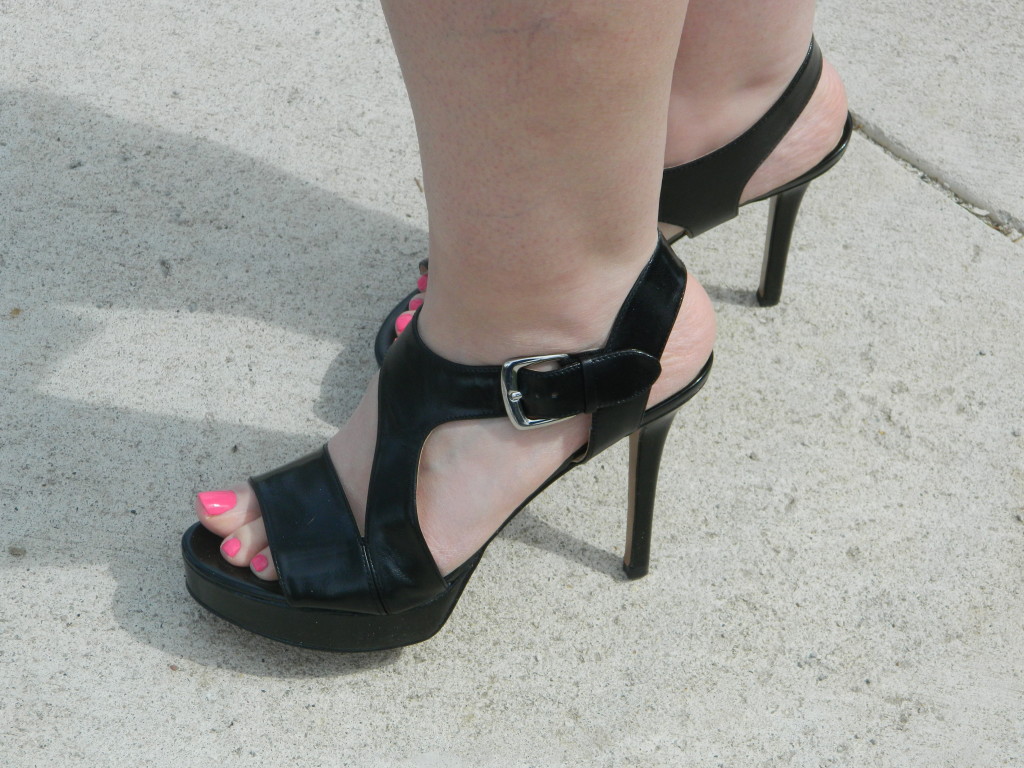 I will say even though they are very high they are still doable without breaking your feet. Keep jewelry minimal for this look. A little bling will go a long way. I am wearing a Swarovski crystal bracelet and that's it.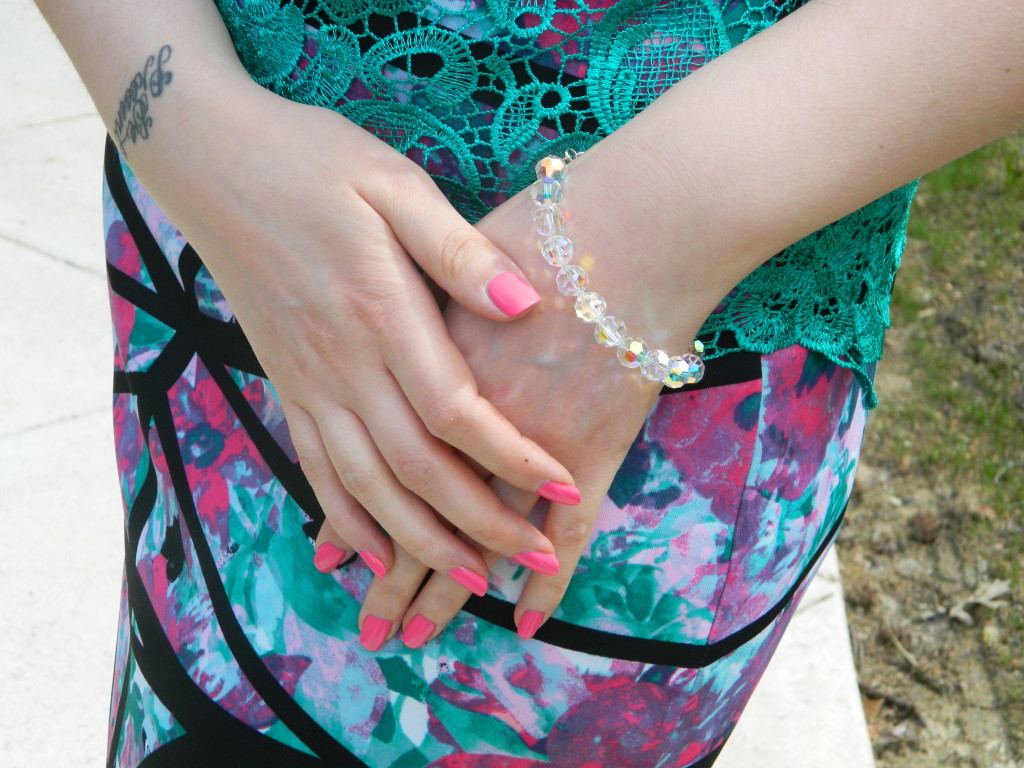 Stay tuned for my post featuring the makeup I wore on this day.
Full disclosure, I am a Vegan and just posted a Vegan sample menu. These leather pants are vintage and sentimental. I purchased these pants when I was 15 years old and kept them in the back of my closet for all these years. I bought them at the Banana Republic outlet in Lancaster, PA for $100! They were quite the steal and I could not part with them. I wore them only one time to my sophomore dance with a white button down and heels, inspired by Sharon Stone's look to the Oscars in 1998. Actually this entire look was a great deal. My Aldo black flats were $19.99, Ralph Lauren leopard top from Lord & Taylor was $29, and a $75 vintage faux fur coat that I purchased at a Philadelphia flea market. The city was unbearably, painfully cold this past Saturday so layering was essential. If it was not for the recent gray skunk streak in my hair I would have stayed home in pajamas, but I needed a good dye job. Immediately after taking pictures in Rittenhouse park, I walked over to the Barnes & Noble Starbucks for a much needed hot tea.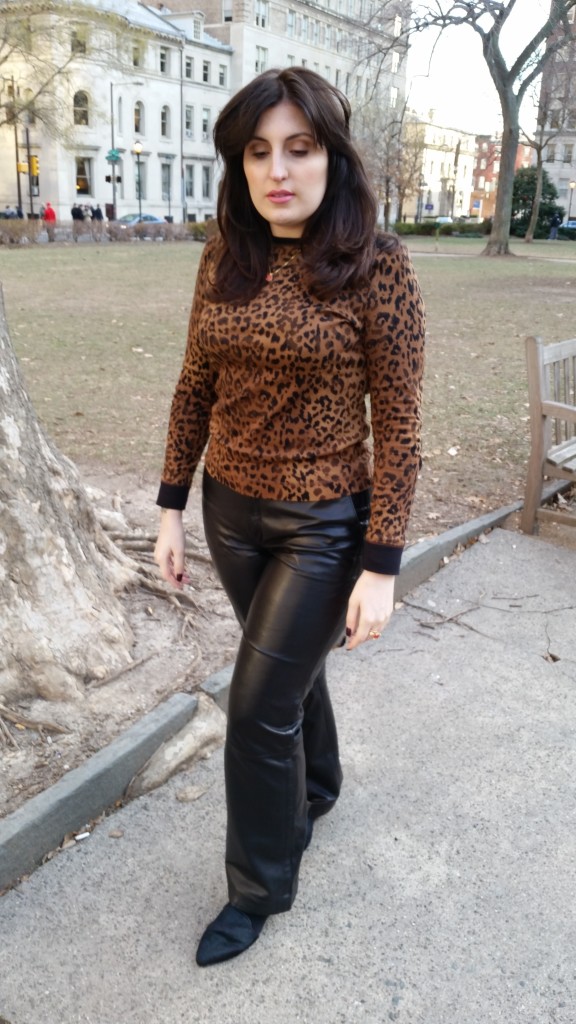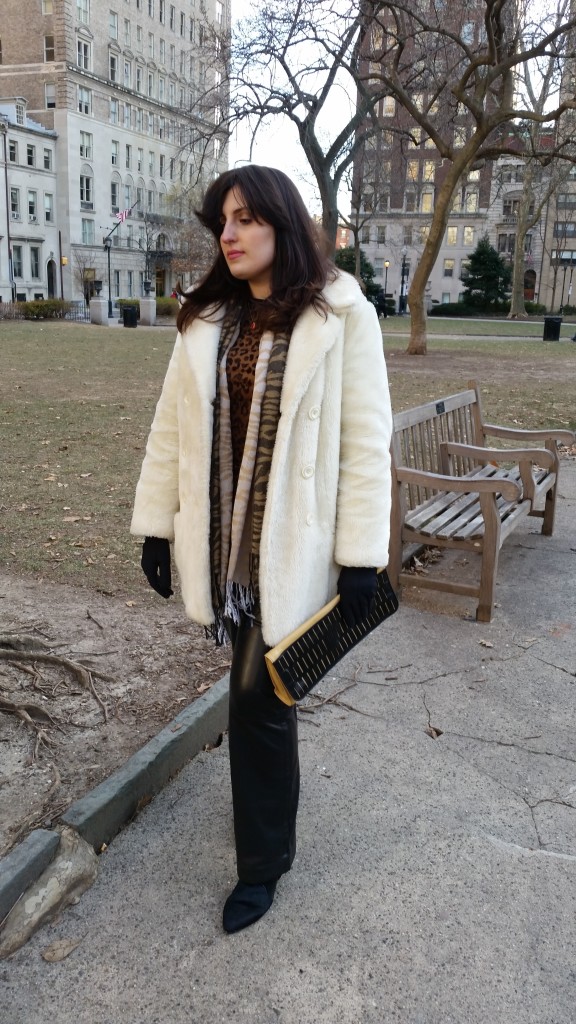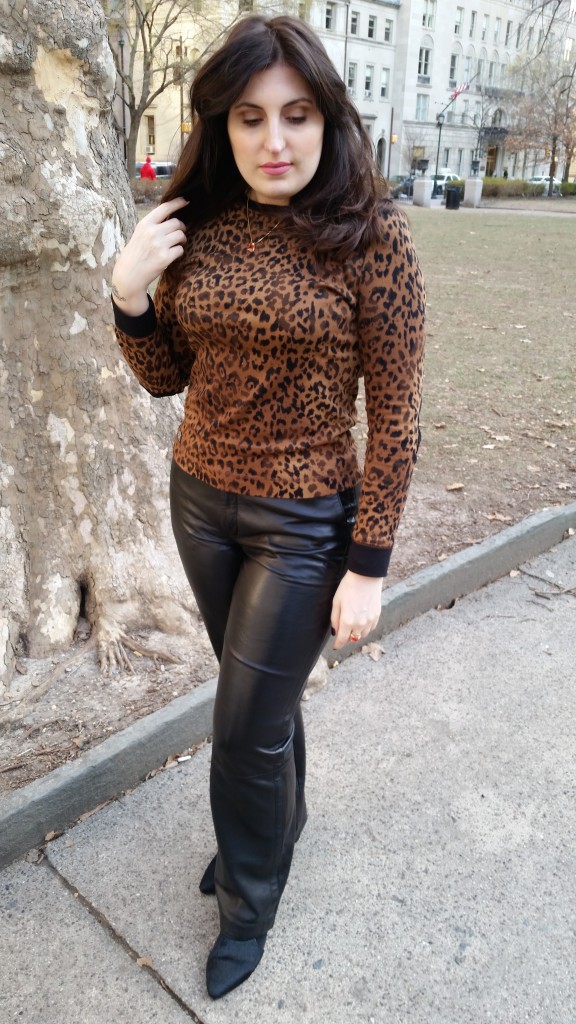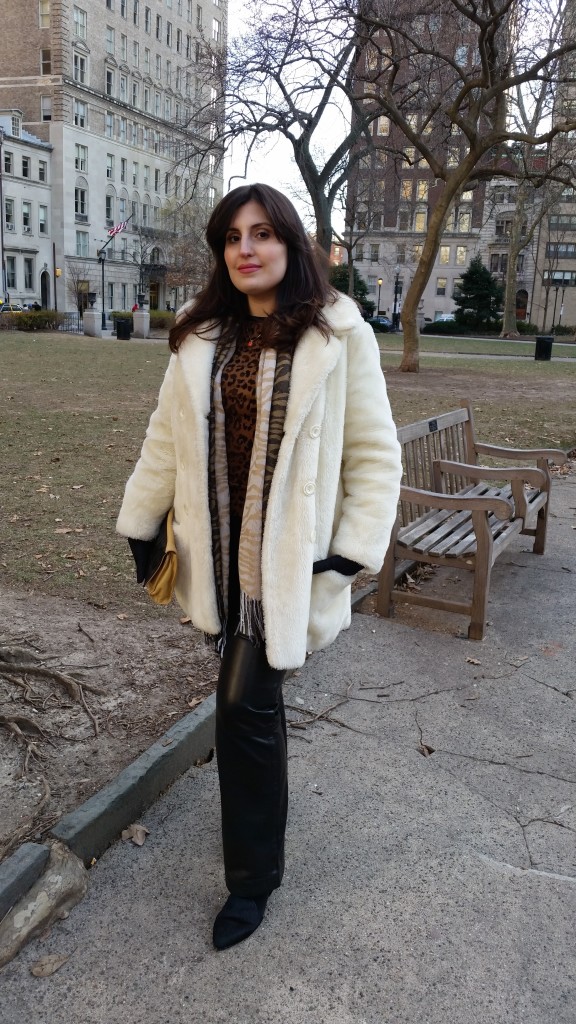 Copyright © Dandelion by Pexeto