The combination of sweet and rock and roll is intriguing to me when it comes to fashion. I love pairing something traditionally girlie with an edgy piece. One of the Christmas gifts I received this past year was a whimsical ombre tulle skirt from the Lauren Conrad collection at Kohl's. The skirt is so fun and pretty. It reminds me of a skirt that Carrie Bradshaw would wear from Sex and the City.
Last week I attended the "Bangin Brows and Bold Lips" event at Headbangers Salon. Laini Cosmetics Founder, Laini Bianculli made a special guest appearance and offered complimentary mini makeup applications. All of the women were thrilled to receive makeup tips and wear Laini Cosmetics gorgeous lipsticks in colors ranging from nude to vibrant. Pink Champagne, chocolates, and delicious snacks were served while women were able to purchase fabulous products.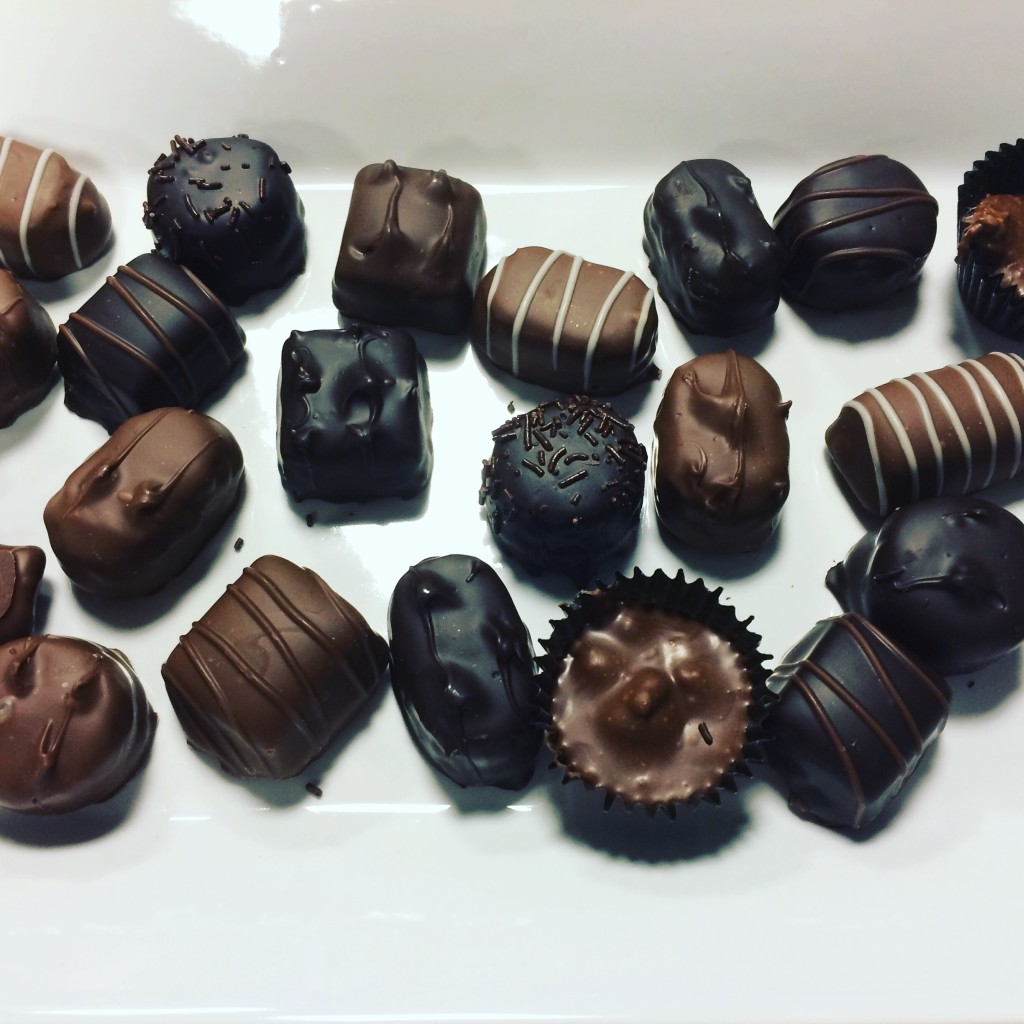 This was the perfect event to break out my tulle, full length skirt. I wore a pair of vegan scalloped ballet flats from Nordstrom and a Pantone color of the year, Rose Quartz, faux leather, moto jacket from Bebe. Accessories were kept simple, only wearing a faux leather wristlet in rose gold from JCPenney. I wanted to wear bright lipstick with a more natural eye. In this look, I am wearing Laini Cosmetics lipstick in Joyride, Independent palette on eyes and cheeks, and created a strobing effect using The Bead Goes On palette.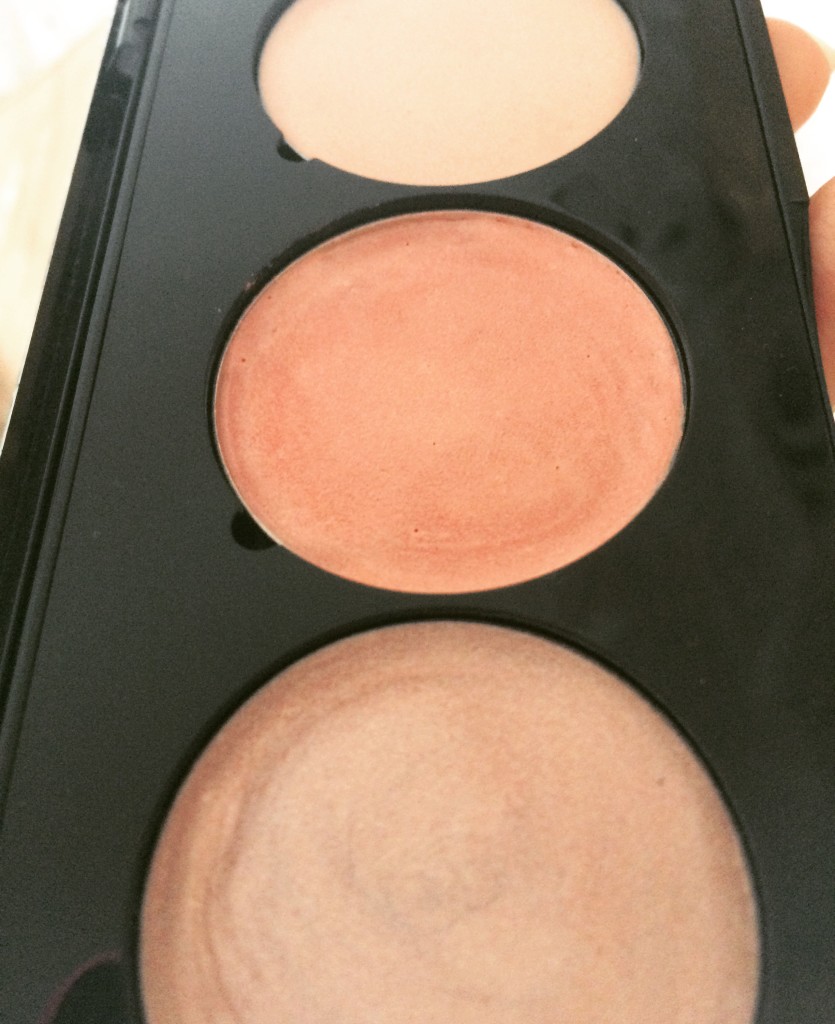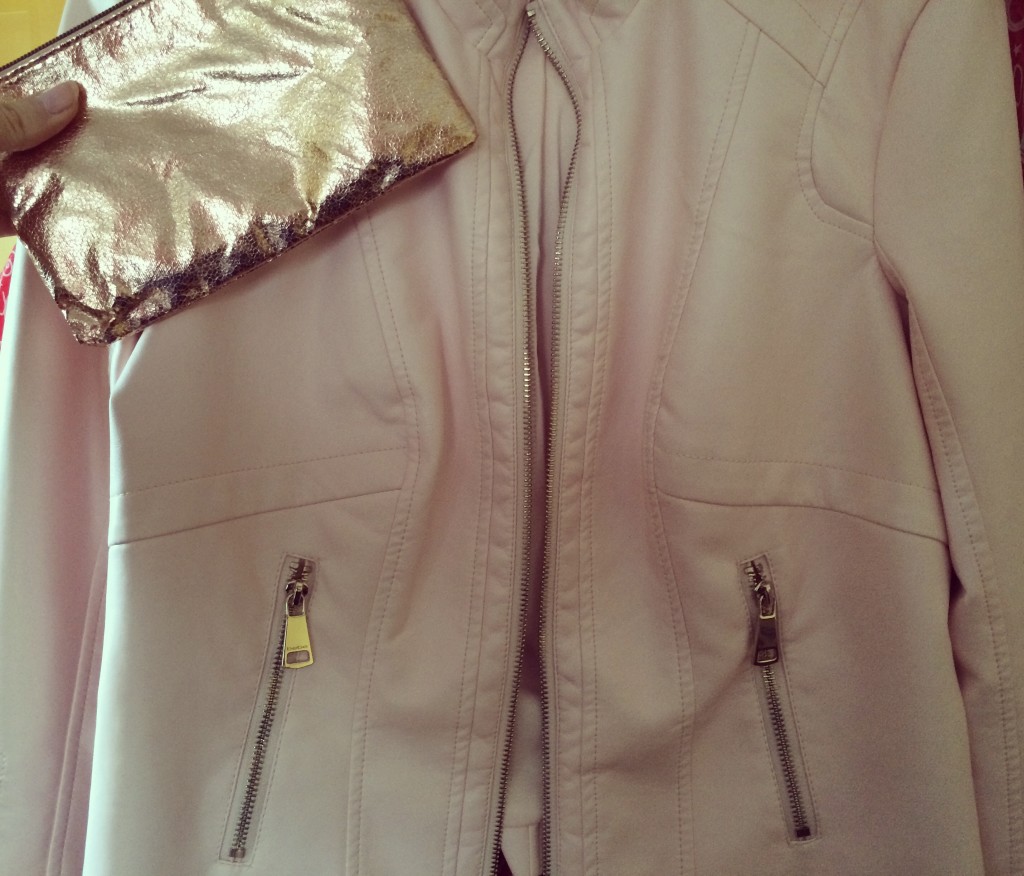 This past weekend was sunny and warm, perfect for a cozy sweater without a heavy coat. I love my Lysse leggings and have been wearing them multiple times just changing up the top and shoes. They are so versatile and let's face it comfortable, how could I resist? I wore a soft and fluffy sweater from the Jennifer Lopez collection at Kohls. The drop shoulder sweater is available in a few colors, but the marshmallow has flecks of gold, which is so pretty for the holiday season.
The light color is a wonderful backdrop for a dark and dramatic makeup look. I wanted to try the NYX Jumbo Eye Pencil and absolutely loved it! I purchased Rust, a beautiful rich merlot color. I blended the creamy pencil onto my lids and accentuated the eyes using Laura Mercier satin matte eye colour in plum allure only on the sockets. I applied Laini Cosmetics Ballerina Bronze blush to the hollows of my cheeks and finished the look with Mademoiselle lipstick by Chanel. 
Try this beauty combo at your next holiday party!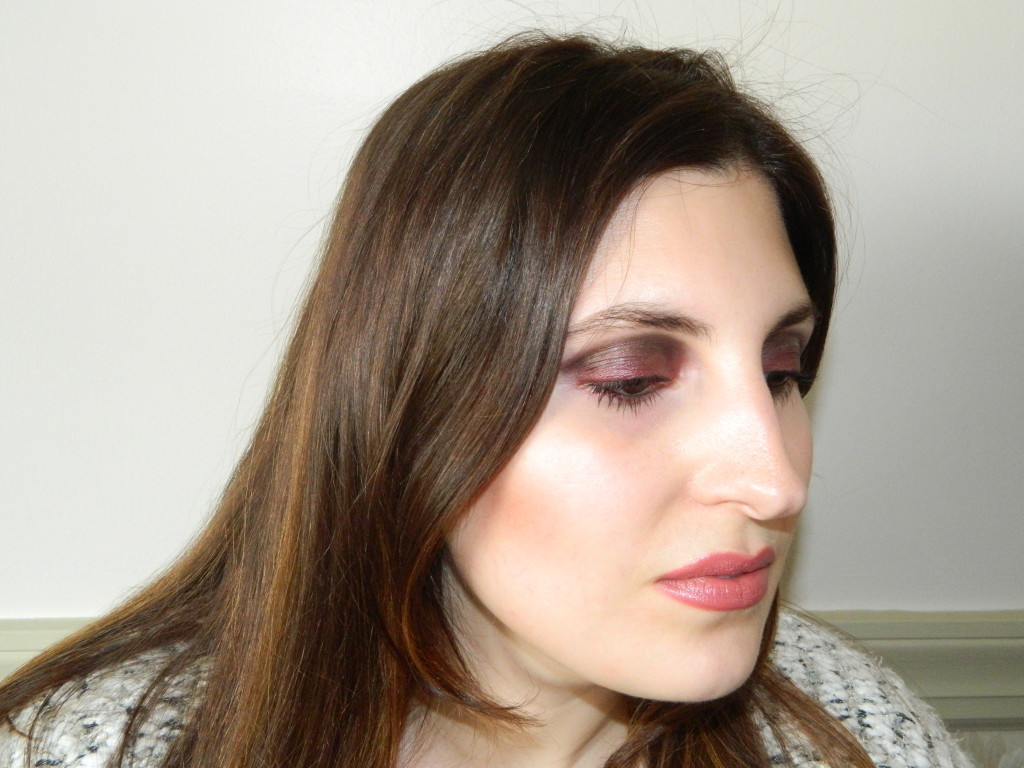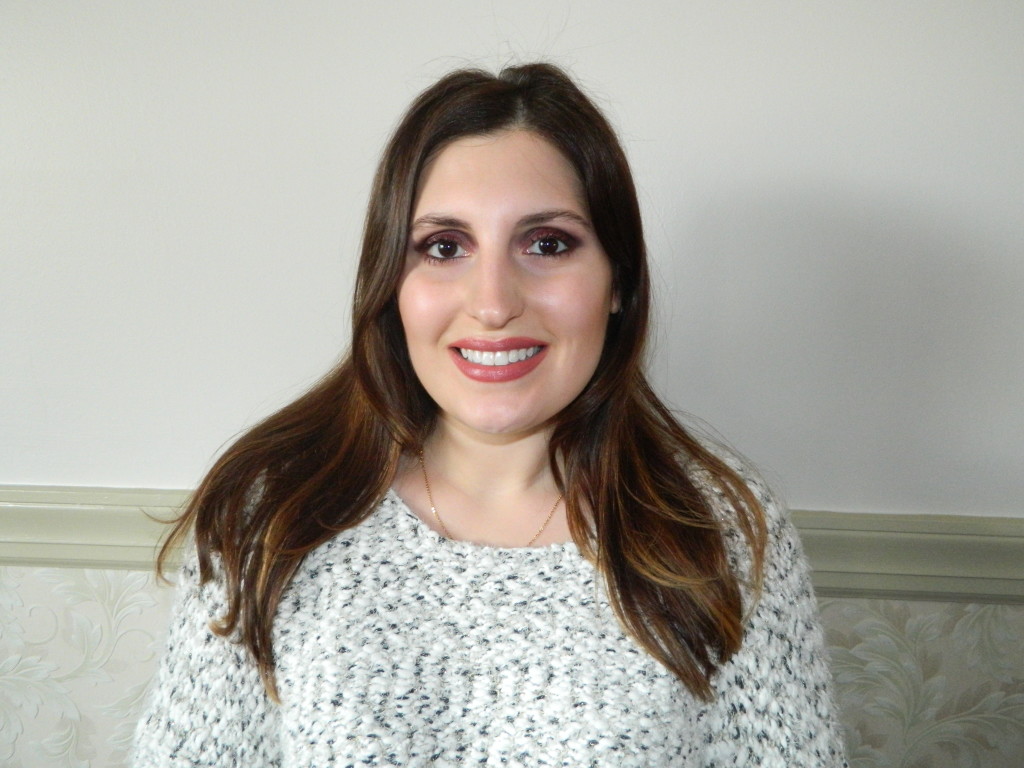 Sadly, I needed to cover a few unwanted grey hairs over the weekend. After my mane was back to looking its old self, I felt ready to take some photos of a classic look that I wear quite often. The air was crisp this weekend with beautiful sunny days. I am originally from Upstate New York and by now I probably sound like a broken record telling you this, but I am used to seeing spectacular fall weather. The leaves are one of my favorite parts of a NY fall. The colors are breathtaking. I have lived in PA long enough to have seen some stinkers when it comes to the autumn season- brown, shriveled leaves fallen to the ground without even changing color. Not this year! Must have something to do with the way we have abused the environment for so long, but the trees are vivid and bright and still intact until they inevitably cascade along the trunk. It was the perfect time to break out this ensemble.
I am wearing black ponte pants from Ann Taylor– a wardrobe staple in my opinion, a black lace 3/4 sleeved top from a quaint boutique in Paoli called Polka Dots, an older pair of Vera Wang for Kohl's biker booties, and topped the whole look with a faux leather biker jacket from H&M. This is such a versatile outfit that can be worn casually, as I have done, or dressier with a clutch and heels. If you were wearing this look in the evening you could swap my pinky colored lipstick for a red or deep plum. I chose to keep my makeup pretty simple and tried my hand at liquid eyeliner, which was an exercise of skill for me. My hand is steady as a rock and then just as I begin to apply eyeliner I shake like a leaf (multiple idioms included). This time I had no problems at all. I used Two Timer- a dual ended eyeliner by NYX Cosmetics, which I absolutely love.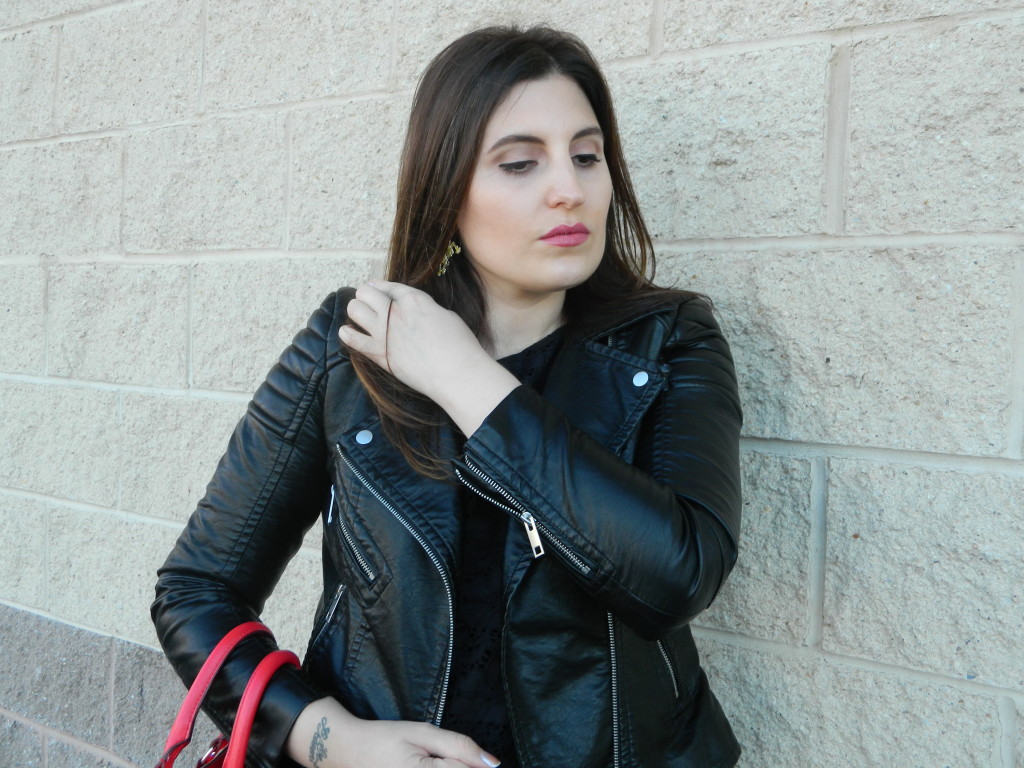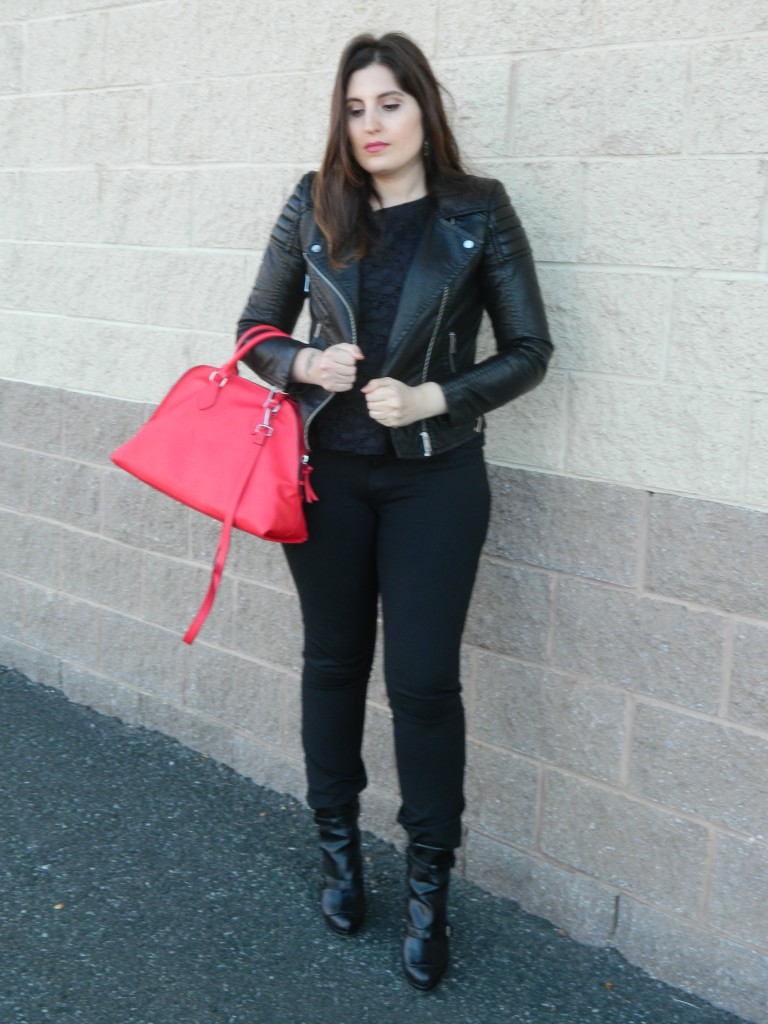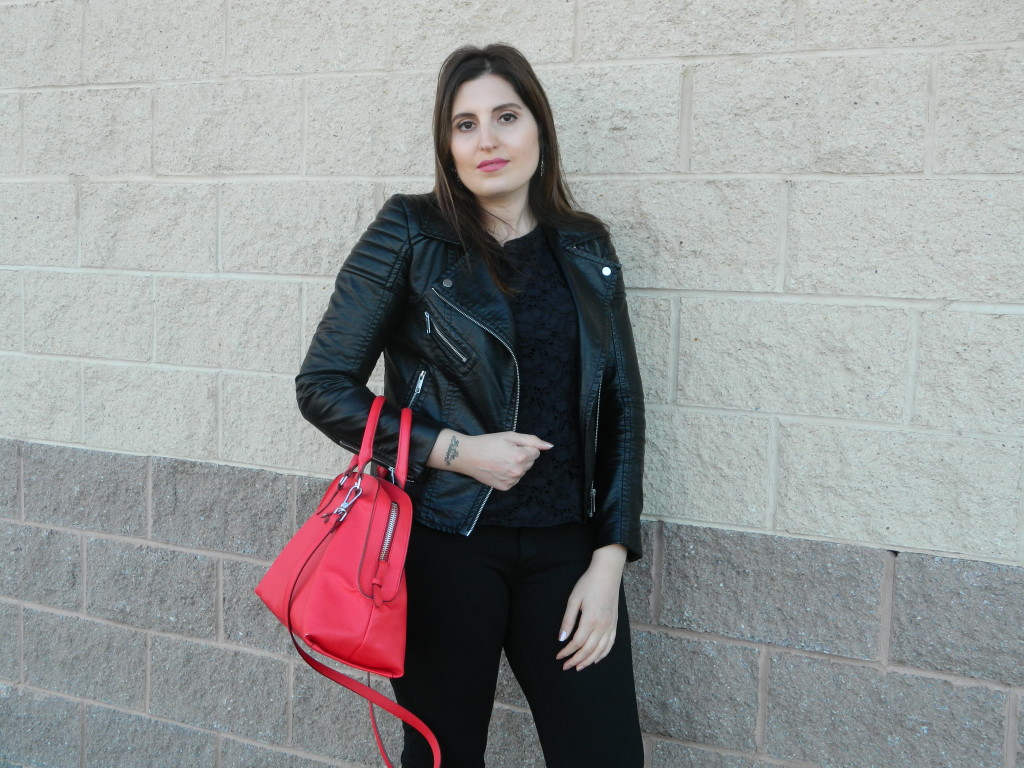 On a recent trip to Bucks County Pennsylvania, I was fortunate to see the rolling lavender field at Carousel Farm during the full bloom. This gorgeous farm has over 15,000 plants of both English and French lavender. As you walk along the perfumed grounds you cannot help but make comparisons to the french countryside. The plants were swarming with honey bees and butterflies. It was truly a sensory and peaceful experience. If it was not so hot and humid outside, I believe the farm would have a similar effect as the poppy flowers in The Wizard of Oz– calming and soothing. Of course, my little Yorkie, Sophia was not impressed. She searched for any ounce of shade to lie down and roll on her back. She was equally annoyed that I placed a tie in her hair to keep hair out of her eyes!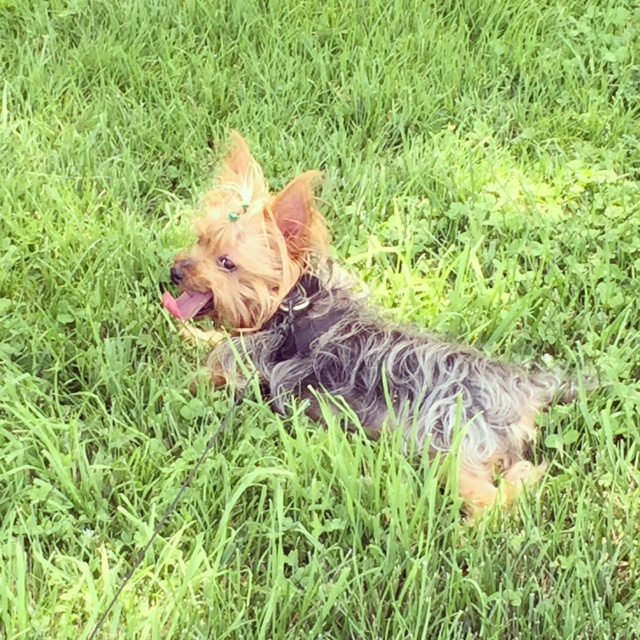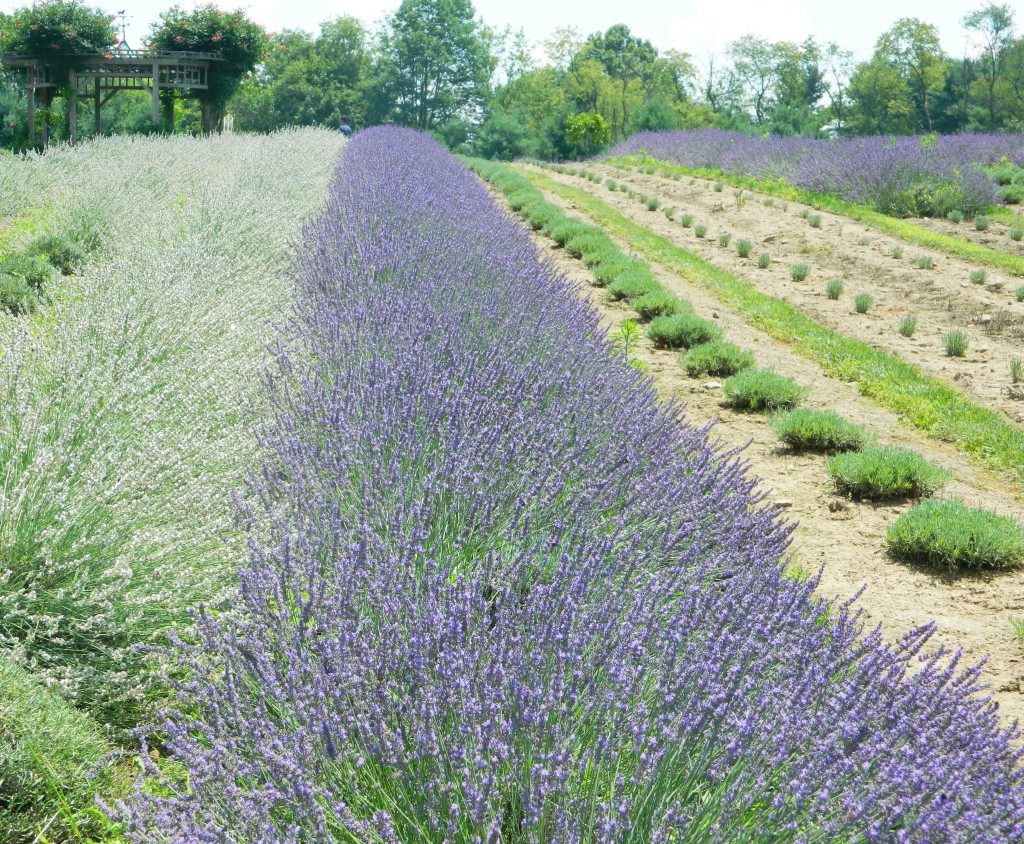 The little country store on the property was just as beautiful and smelled just as lovely. Dried lavender and decorated sachets hung from the wooden walls. Unique home furnishings like recycled glass soap dishes, vases, and intricate table linens can be purchased as housewarming gifts. The lavender was used in soaps, lotions, oils, and candles along with fresh cut bundles for cooking. The employees sat in the center of the store weaving the freshly picked lavender into bunches as onlookers watched and enjoyed.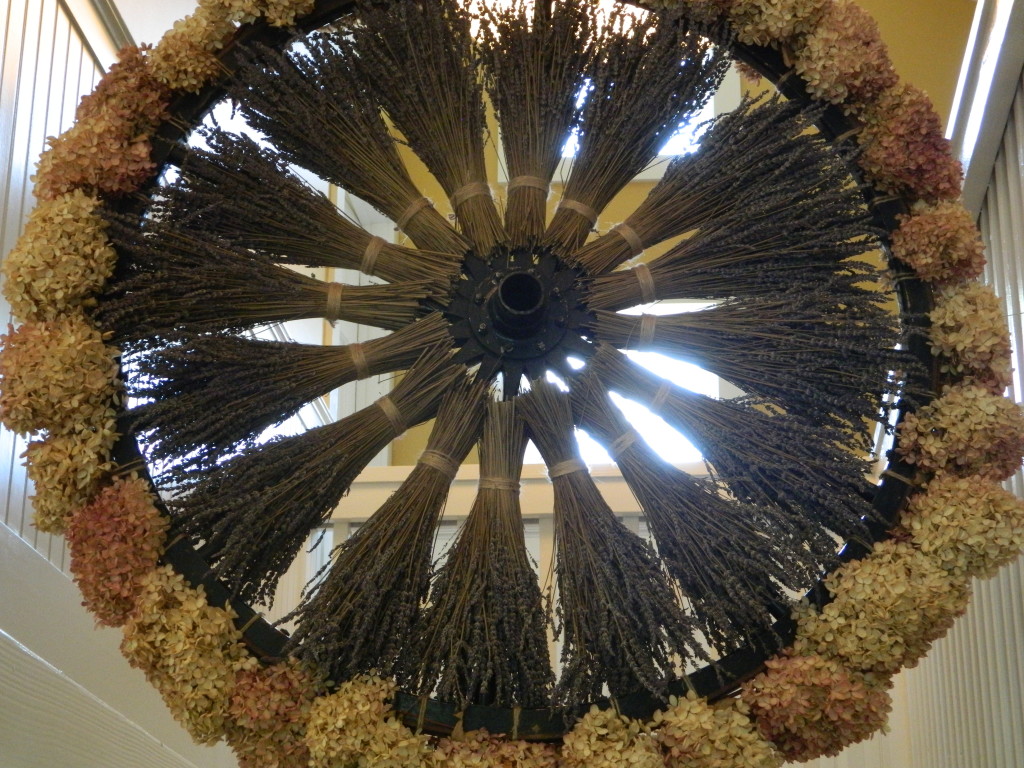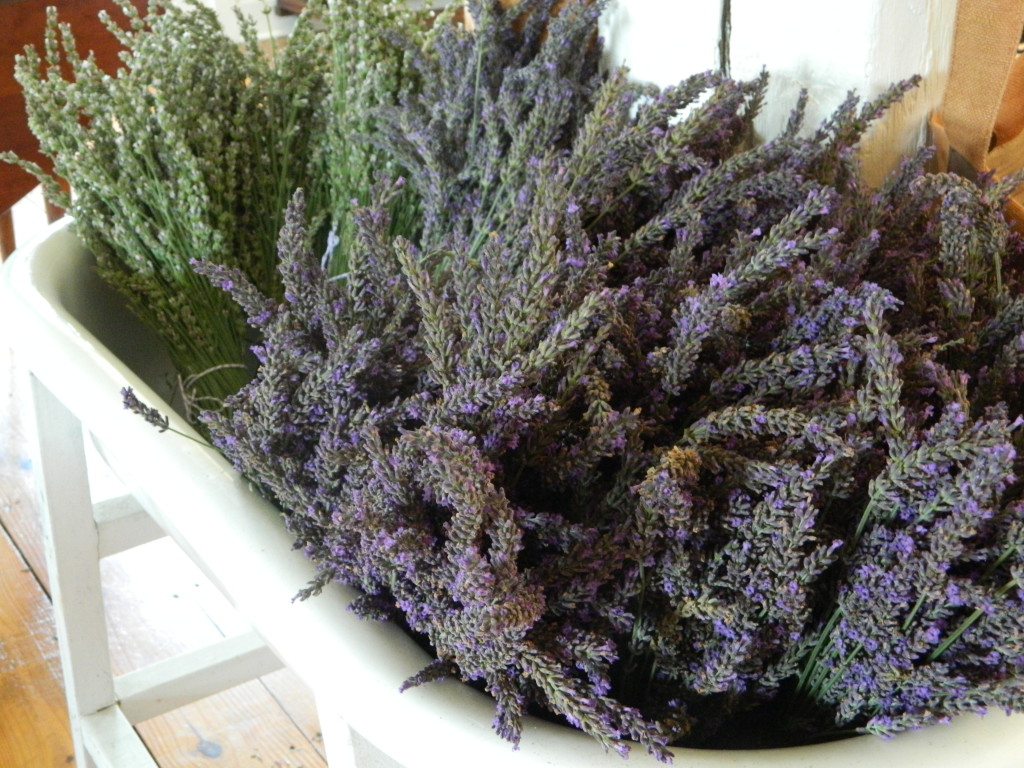 I walked throughout the farm wearing an incredibly lightweight and comfortable midi dress which I found at Kohl's for a steal. I threw on one of my favorite pair of cat eye sunglasses by Elizabeth and James and Red Metal lipstick by Lipstick Queen.  The entire look reminded me of the legendary Audrey Hepburn. She was elegant and graceful, which she could achieve with such few pieces- a wide brimmed hat, sunglasses, or large clip on earrings. A minimal signature style is helpful during the summer months to alleviate looking too perfect. This way in the summer if you keep it simple you appear classic and effortless all while staying cool.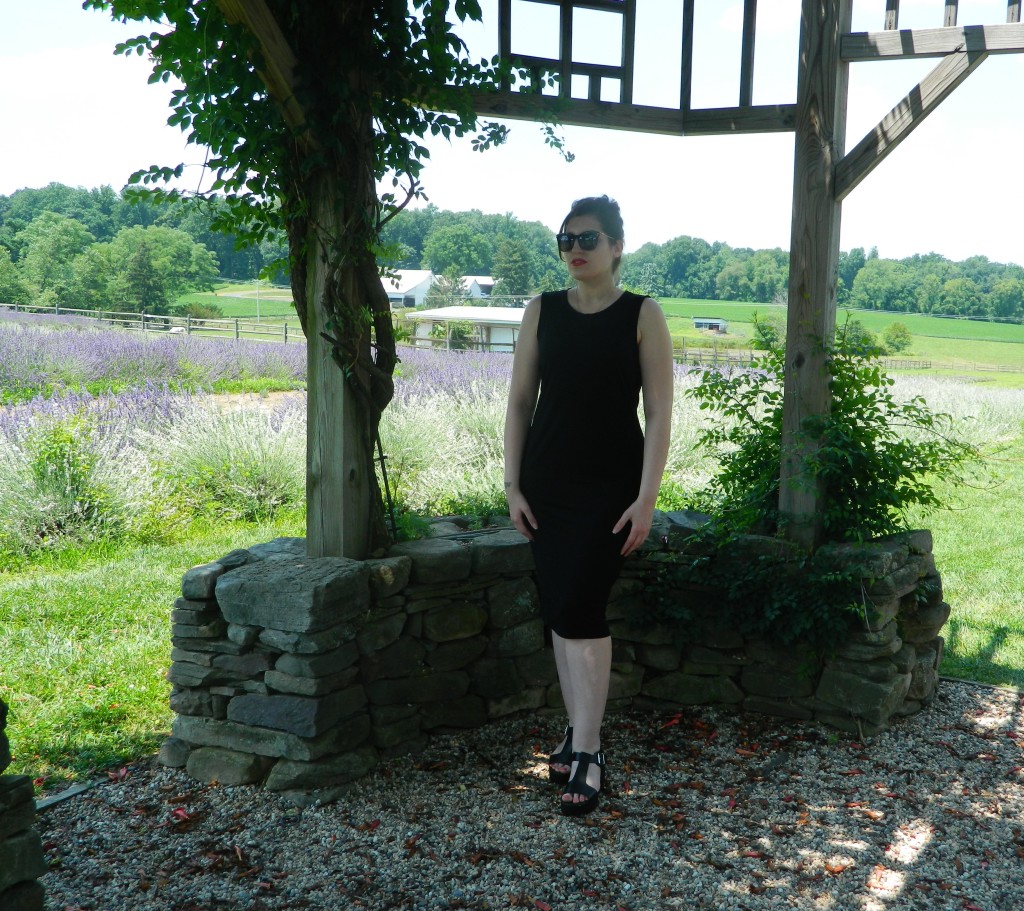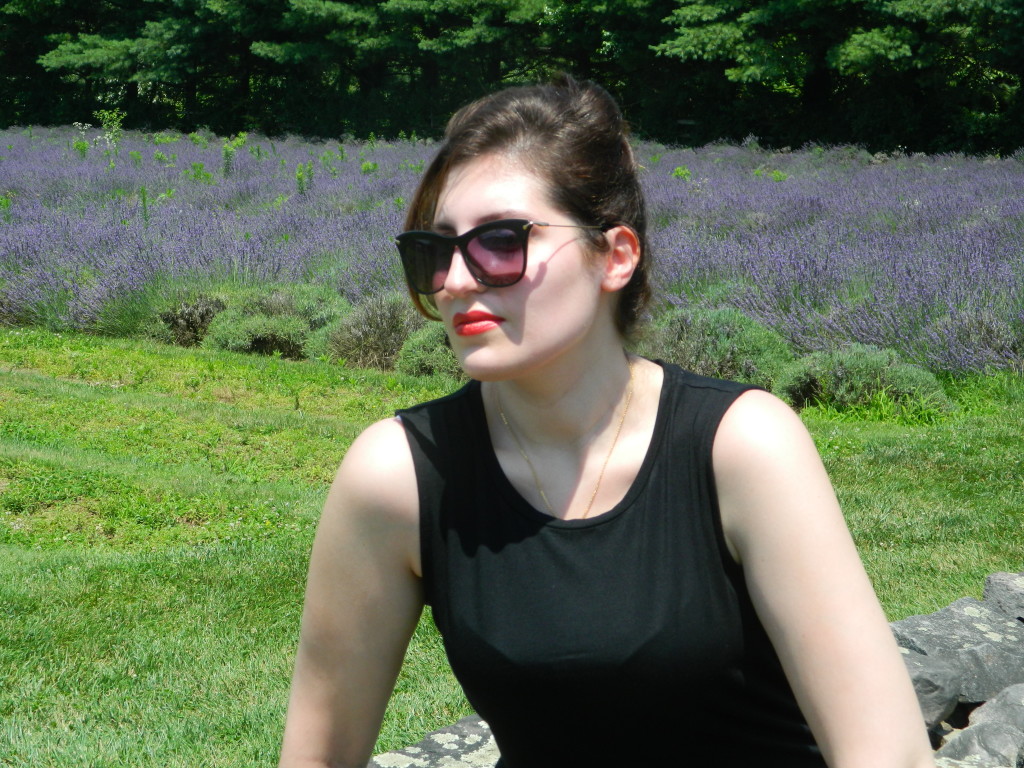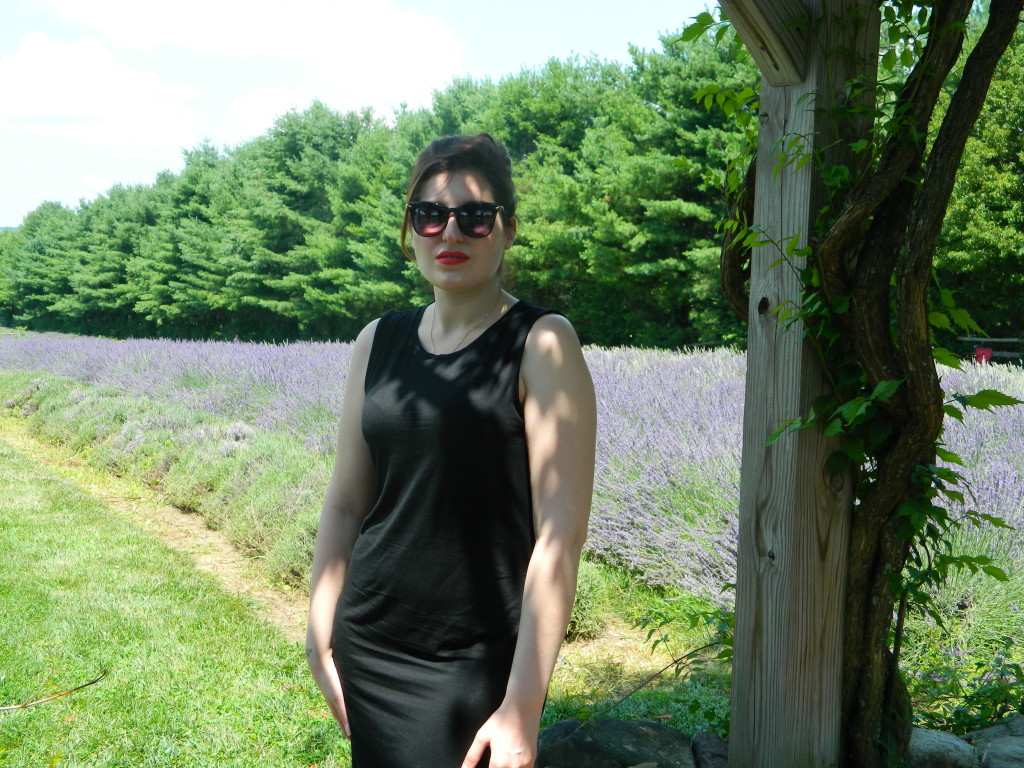 I love maxi dresses! They look good on all figures. If you are short, wear a higher heel and make sure you choose one with a cinched waistline so you are not swimming in the dress. If you are tall wear embellished flat sandals. Maxi's are incredibly flattering, cool and airy for the summer, and a classic style.
My entire look today is completely cost efficient. It is a budget look from head to toe. I purchased several maxi dresses including this green one from Walmart. The dresses available are beautiful and the quality is very lovely. My retro chunk heel sandals are a pair of Candie's that I purchased at Kohl's. They are extremely comfortable- only $32 and vegan!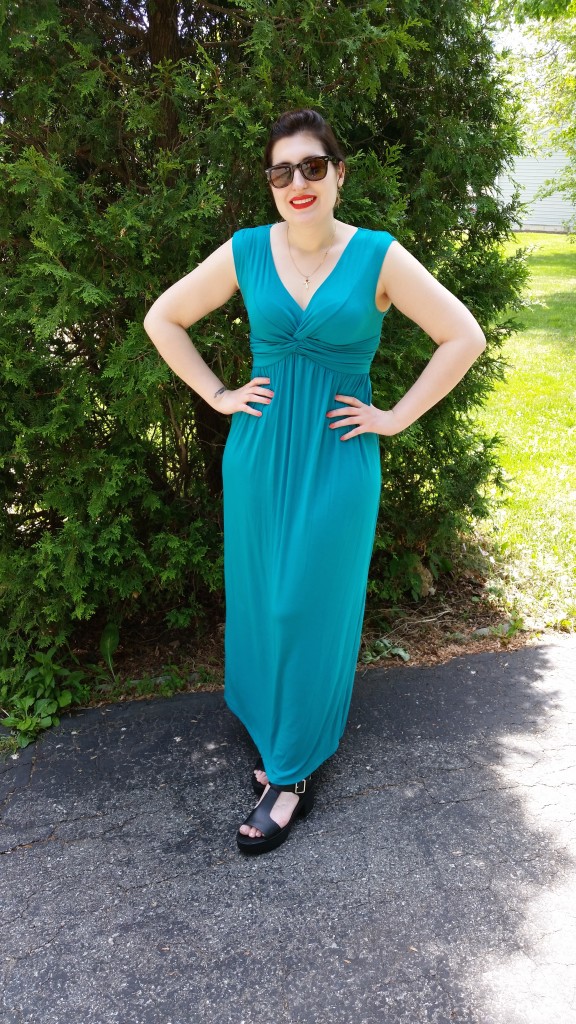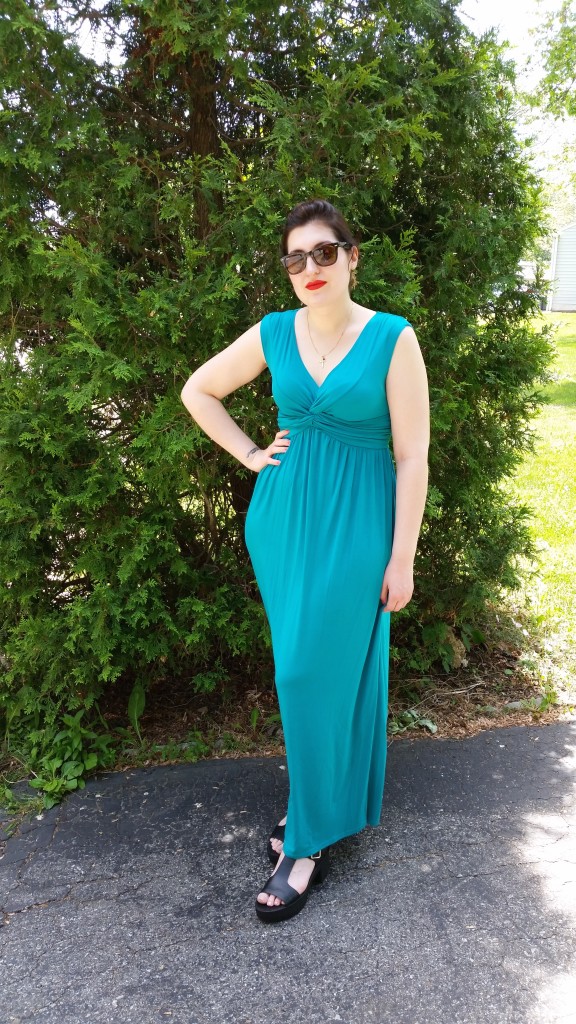 Attending the Nordstrom Beauty Bash would not be complete if I did not offer styling tips as well. After all if your hair, nails, and makeup are done then why not the perfect outfit? In the summer bright and vivid colors prevail, leaving the nights for black or darker hues. I decided that I needed a bold pattern to wear to such an upbeat and fun event. I chose a Vera Wang dress with colors that reminded me of that childhood favorite, the rocket popsicle with the artificial blue and red colors. As I may have mentioned before I am growing weary of nude pumps, not because I am against the color aesthetically, but because they tend to look lazy and uninspired…"Oh I'm wearing a white dress, better buy nude pumps." With that said, the busyness of the dress required a low key shoe color, but needed a texture and design to hold up to this dress. The cutouts on these Vera Wang platform sandals are just the ticket. Add a little gold jewelry, layer and stack away as the new trend is heavy with accessories. Just make sure they are complimentary.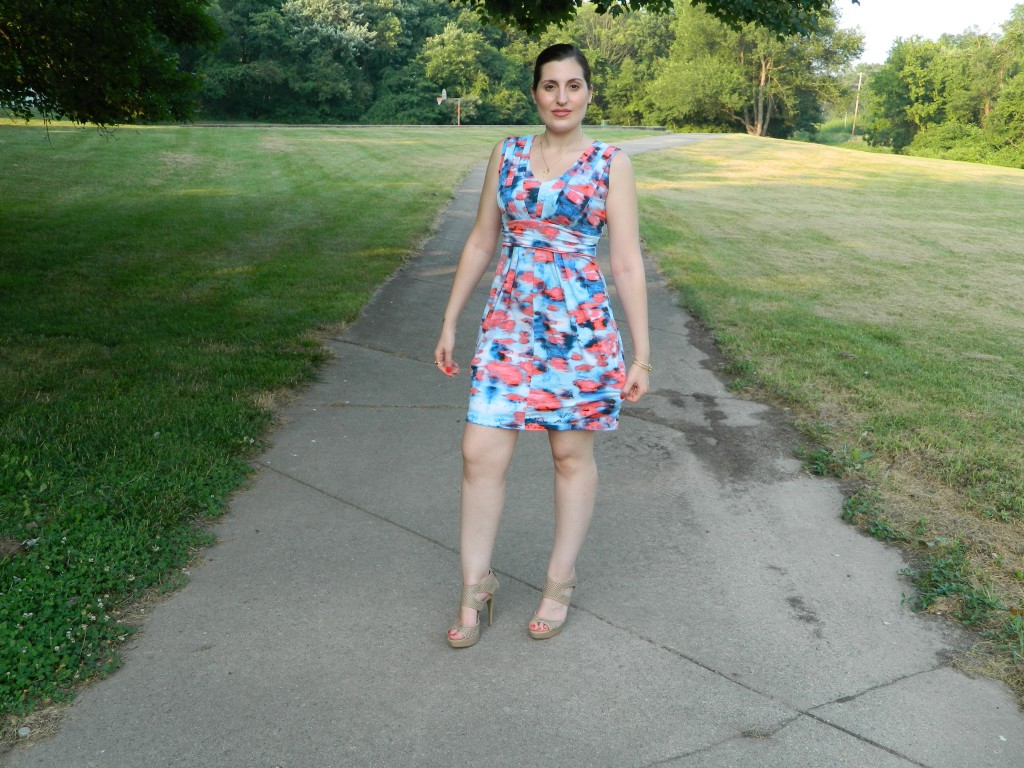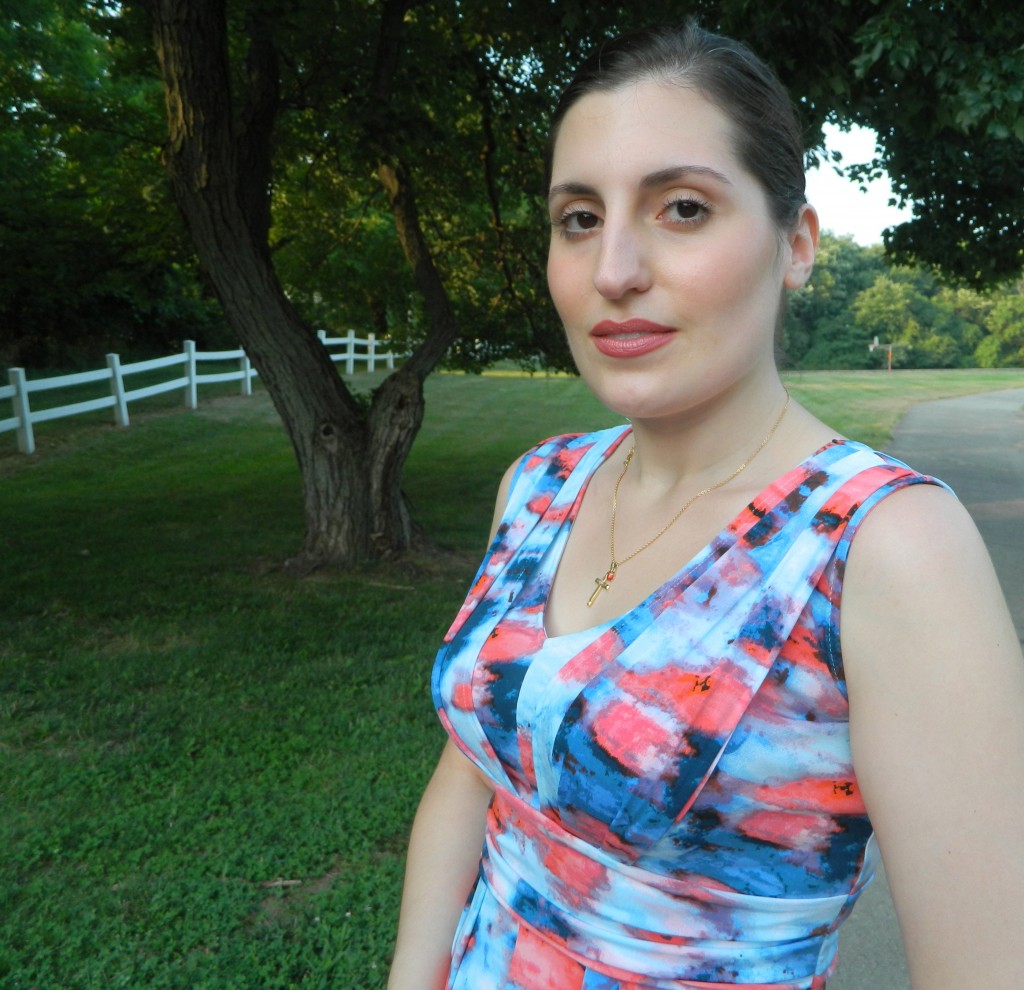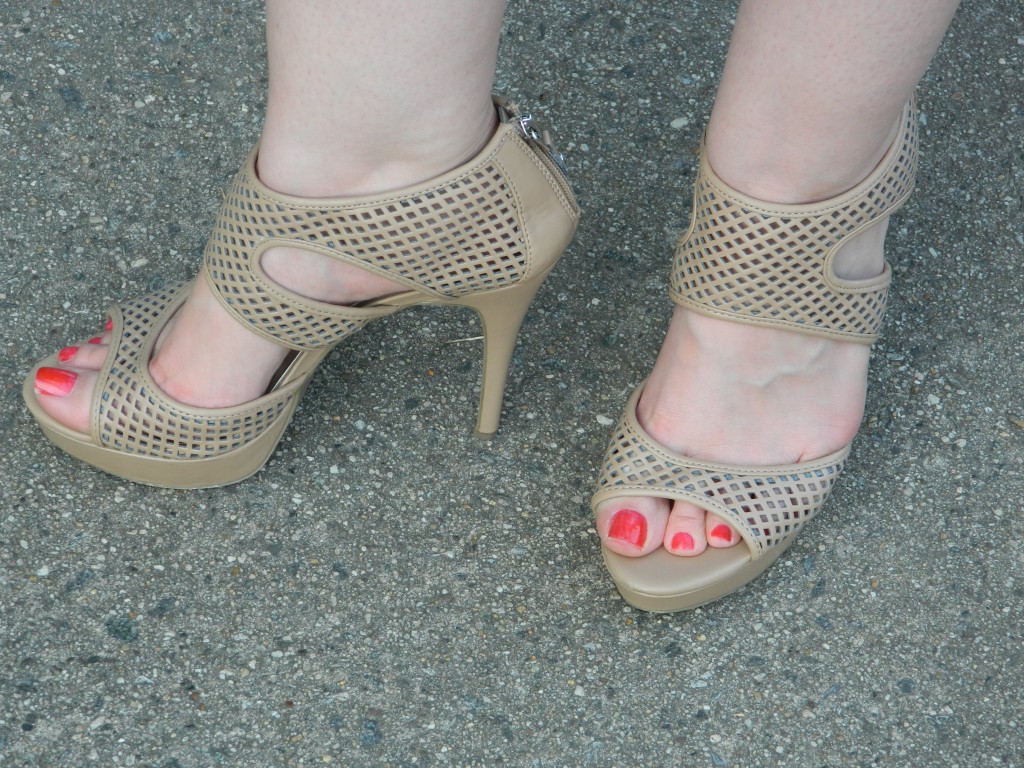 Copyright © Dandelion by Pexeto