The off the shoulder look, thankfully is here to stay as one of fall's biggest fashion trends. It is such a flattering, fun, chic way to add a little flair to a plain look. Whether it is a top or a classic lbd, the shoulder detail is sweet and sexy.
I purchased this entire look well within budget, which is always an exciting feat. I paired this Nicole Miller dress with a black and white vegan clutch from Target. I kept the the look simple and added a pair of silver cascade earrings from Charming Charlie.
Since dying my hair red I have avoided the sun like the plague to prevent unnecessary fading. As a result, I am paler than ever. To add a little color to my face, I applied the gorgeous and shimmering eyeshadow, blush, and bronzer from the Bronze Goddess palette by Laini Cosmetics. I added the Liquid Shimmer to the center of my lips to add depth and fullness.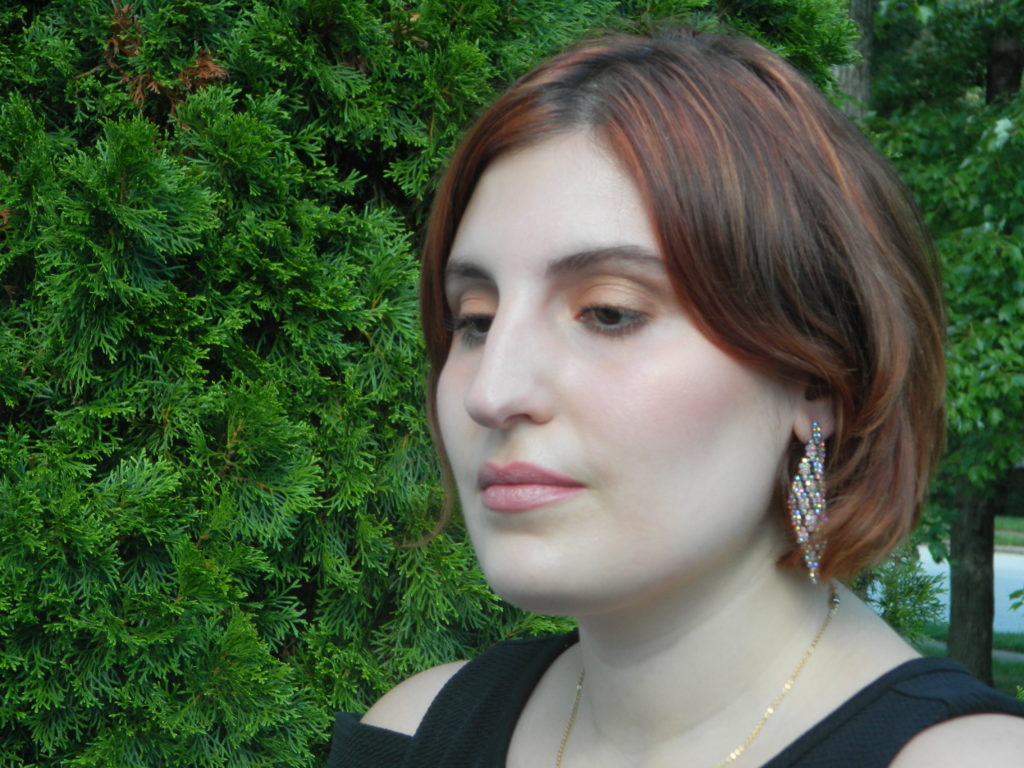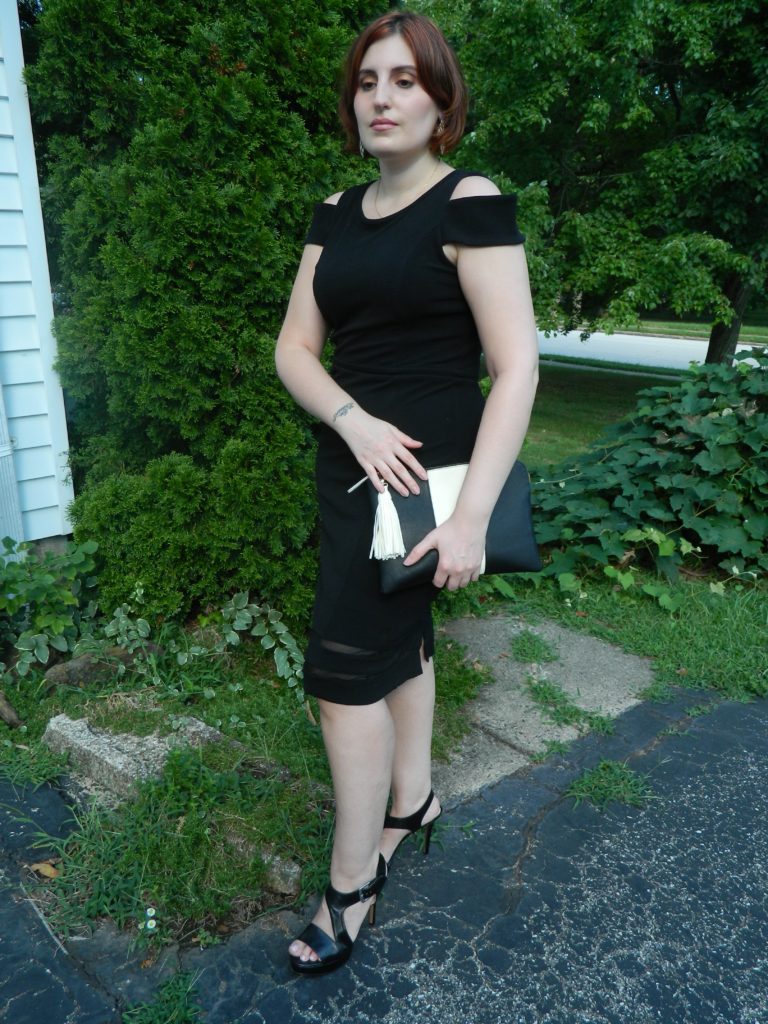 Every lady needs a LBD hanging in the closet, but I suggest having more than one for each season. Material is an important factor to consider when choosing the right LBD. In the fall and winter, I love a knit sweater dress that can be worn with knee high boots and tights. A lighter fabric will keep the LBD in the summertime from appearing too heavy. Also, try to look for movement when shopping for a summer LBD.
I found a beautiful sleeveless A-Line dress at JCPenney that I love. The fabric is crepe with lace detail and a tassel belt. I wore a pair of heeled sandals, but you could absolutely opt for a pair of ballet flats.
Have fun and play around with makeup for this look. Bold lipstick shades are my favorite with a LBD. In this look, I am wearing a Charlotte Tilbury lipstick in Velvet Underground, a vibrant fuchsia.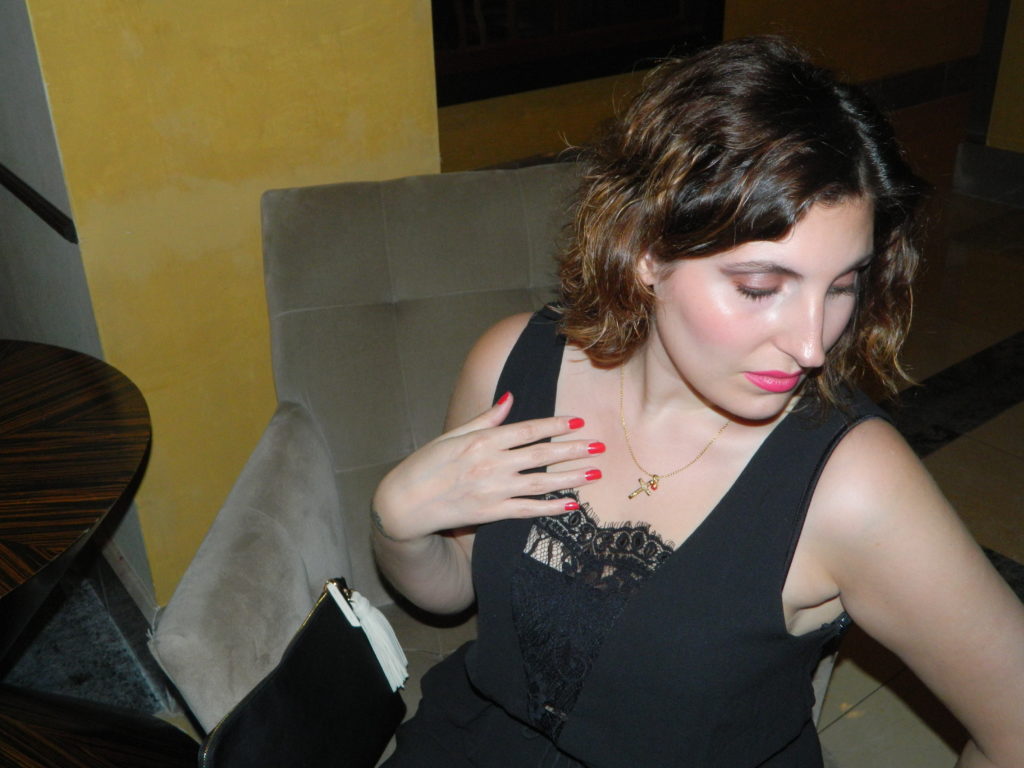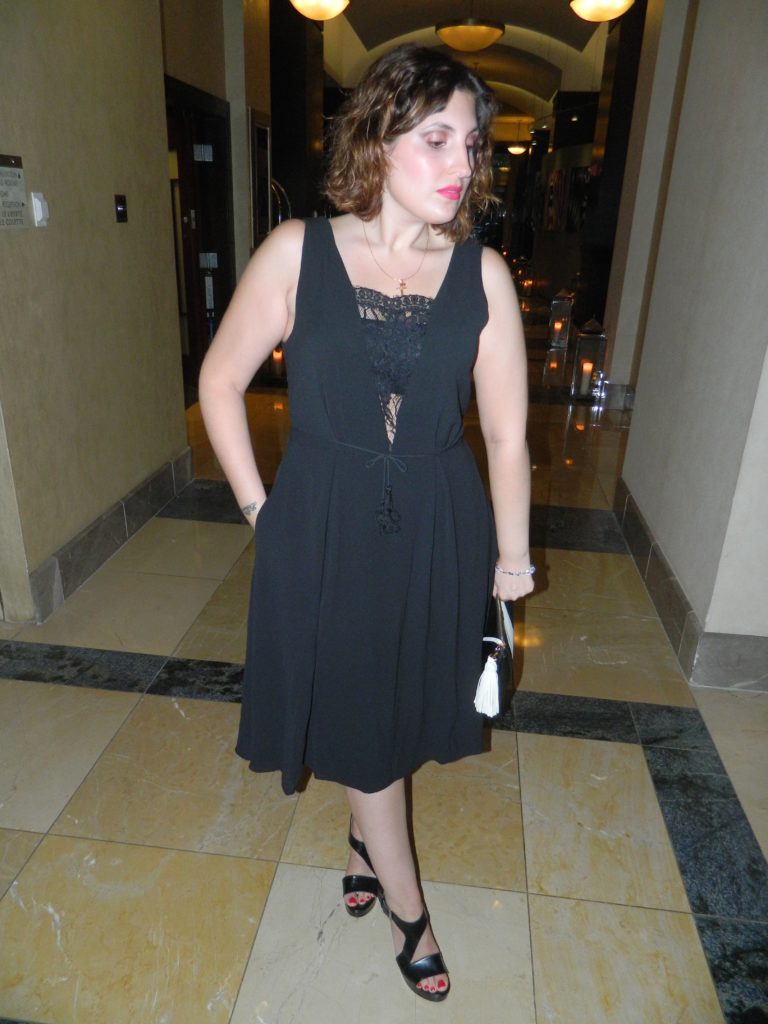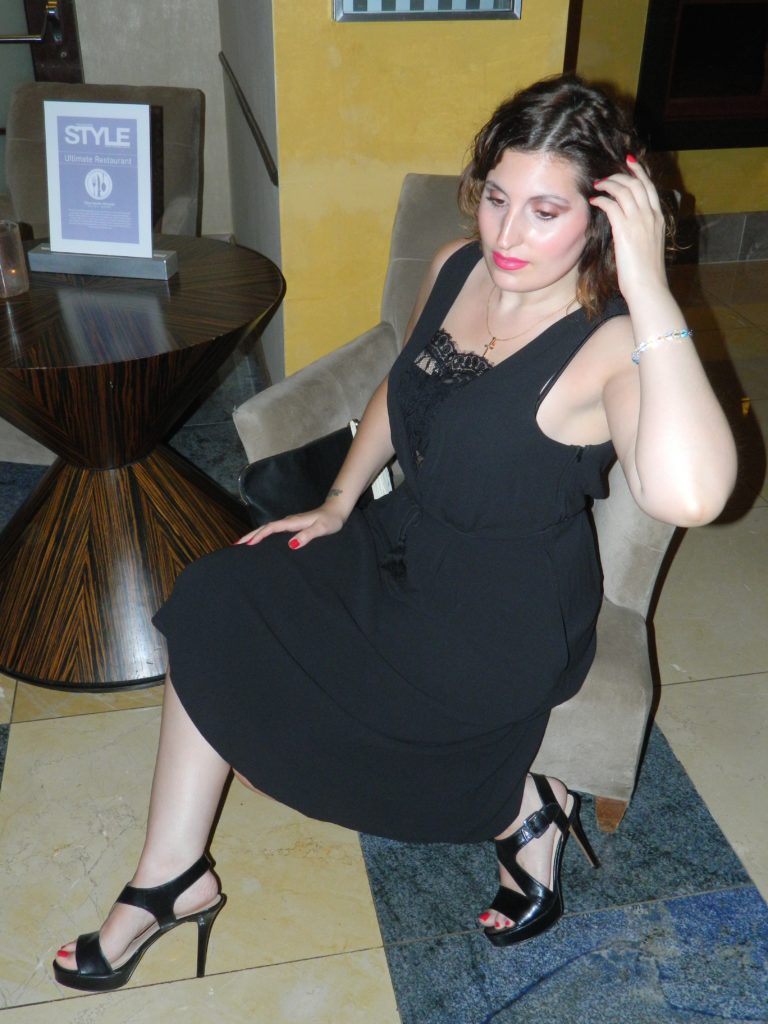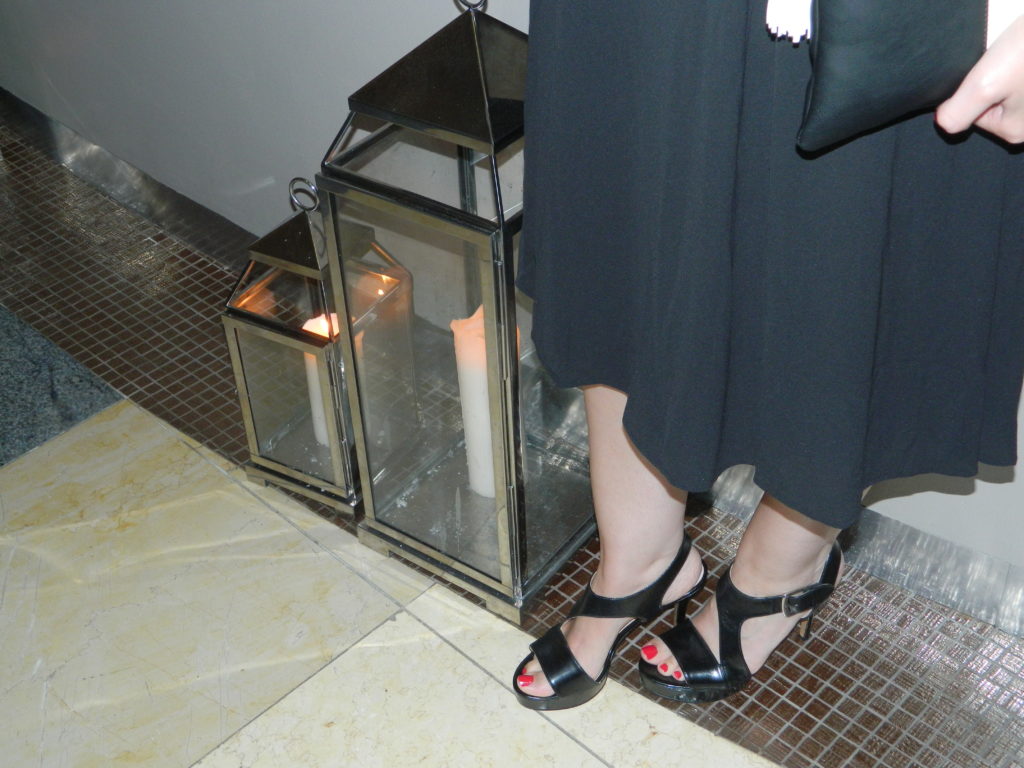 The combination of sweet and rock and roll is intriguing to me when it comes to fashion. I love pairing something traditionally girlie with an edgy piece. One of the Christmas gifts I received this past year was a whimsical ombre tulle skirt from the Lauren Conrad collection at Kohl's. The skirt is so fun and pretty. It reminds me of a skirt that Carrie Bradshaw would wear from Sex and the City.
Last week I attended the "Bangin Brows and Bold Lips" event at Headbangers Salon. Laini Cosmetics Founder, Laini Bianculli made a special guest appearance and offered complimentary mini makeup applications. All of the women were thrilled to receive makeup tips and wear Laini Cosmetics gorgeous lipsticks in colors ranging from nude to vibrant. Pink Champagne, chocolates, and delicious snacks were served while women were able to purchase fabulous products.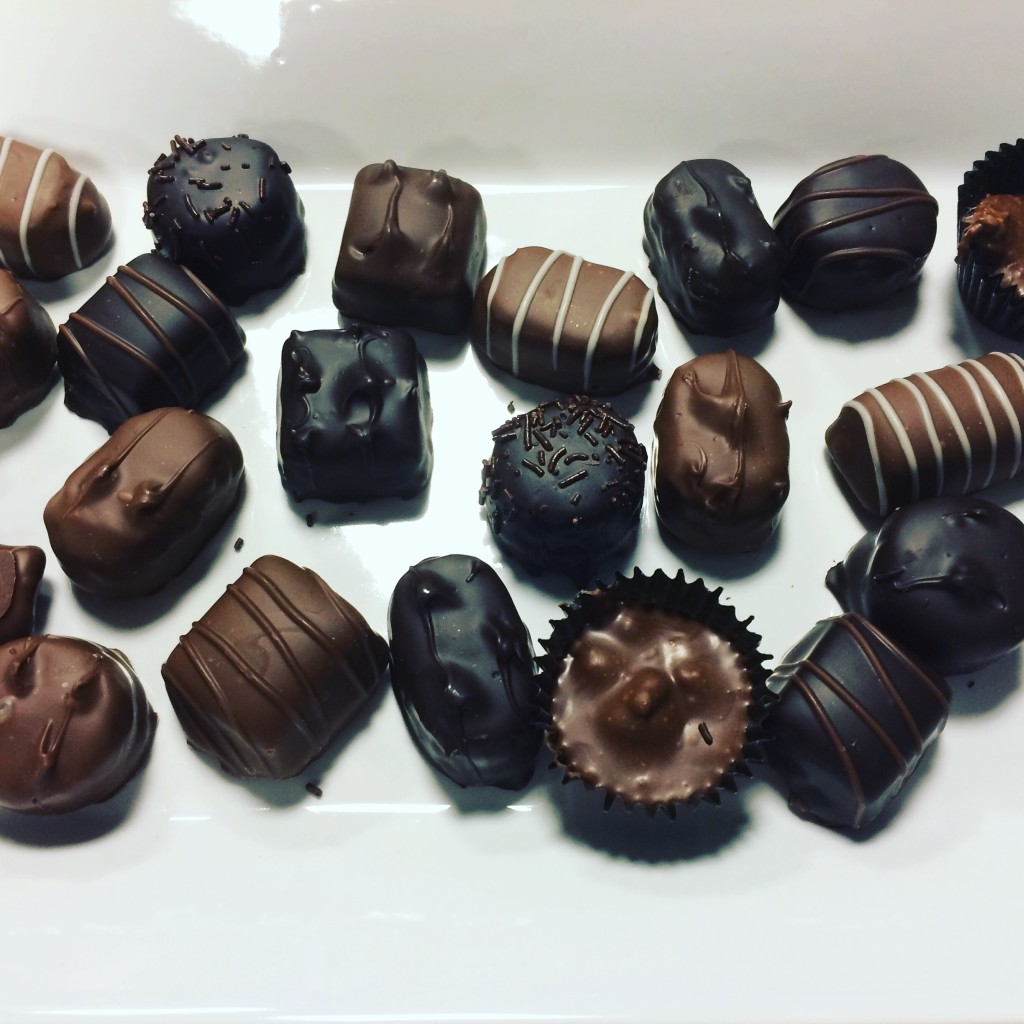 This was the perfect event to break out my tulle, full length skirt. I wore a pair of vegan scalloped ballet flats from Nordstrom and a Pantone color of the year, Rose Quartz, faux leather, moto jacket from Bebe. Accessories were kept simple, only wearing a faux leather wristlet in rose gold from JCPenney. I wanted to wear bright lipstick with a more natural eye. In this look, I am wearing Laini Cosmetics lipstick in Joyride, Independent palette on eyes and cheeks, and created a strobing effect using The Bead Goes On palette.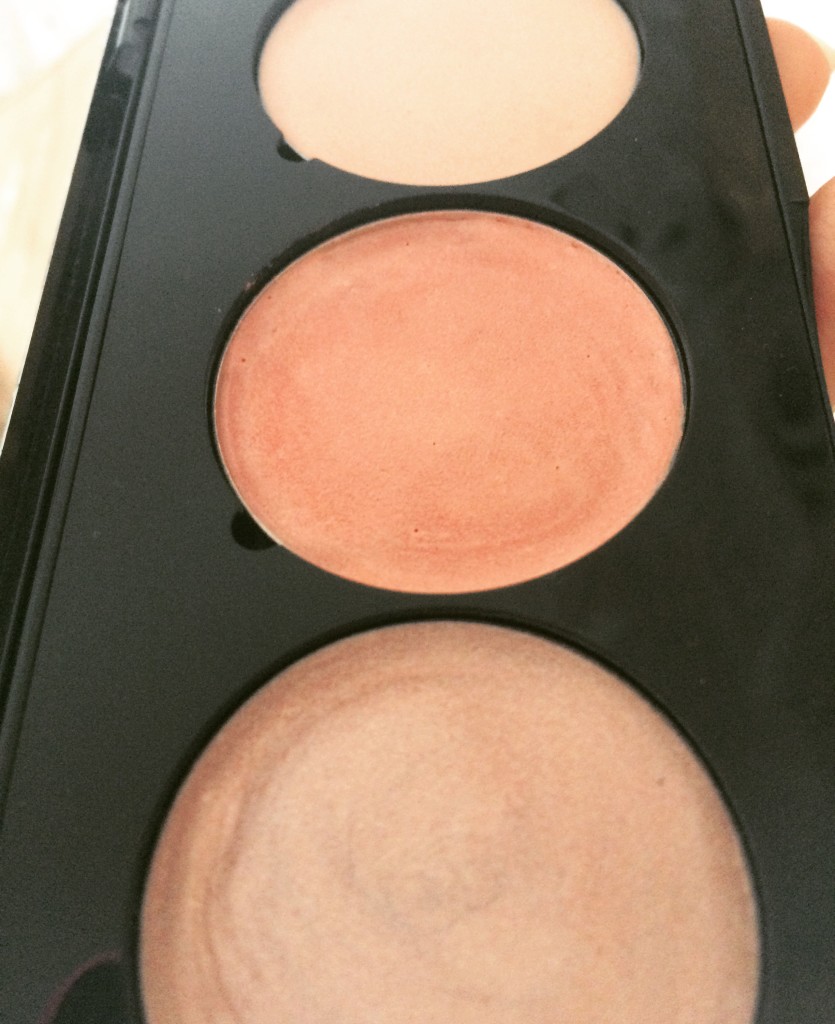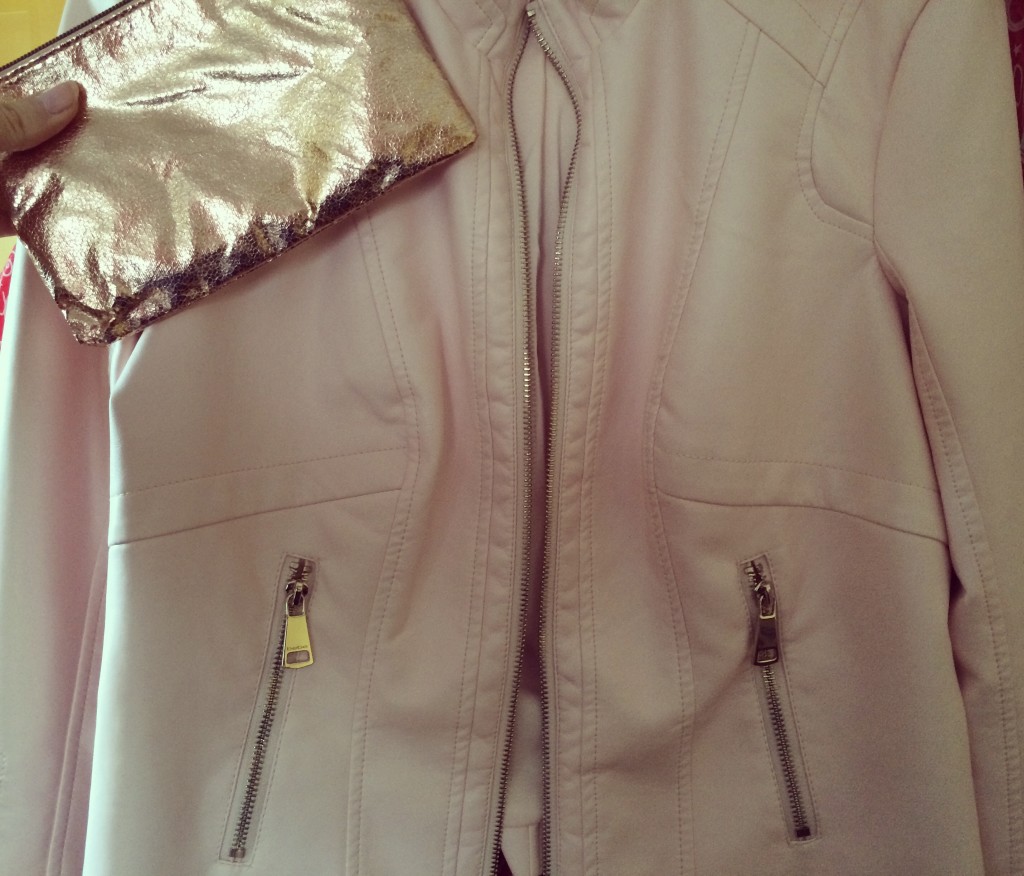 As a kid I was obsessed with jelly sandals along with so many others who shared the same sentiment. I was doing a little online browsing and noticed this pair of red floral cut out slides from Jeffrey Campbell. A flood of happy memories washed over me and I knew I needed these sandals.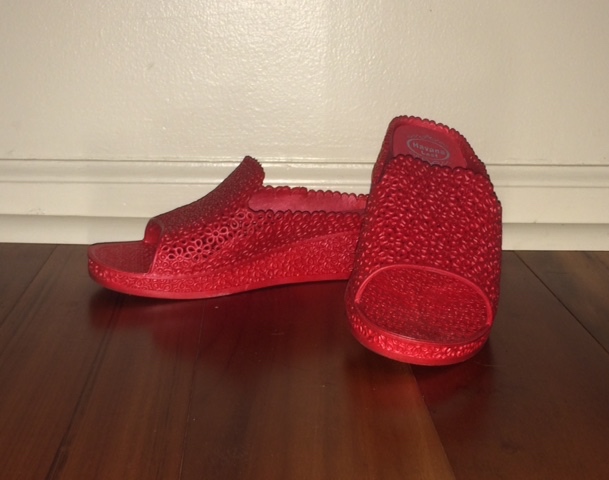 They were the perfect addition to an outfit I already had waiting in the wings. I wore these red beauties with a denim pencil skirt from Macy's and a beautiful white lacey split back tank from JCPenney, which complimented the pattern of the sandals.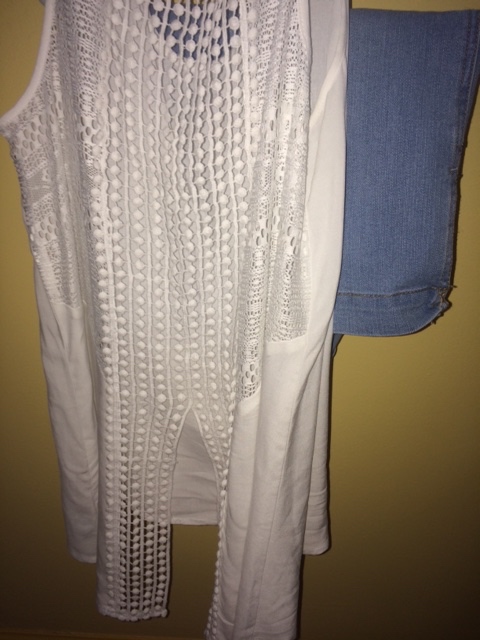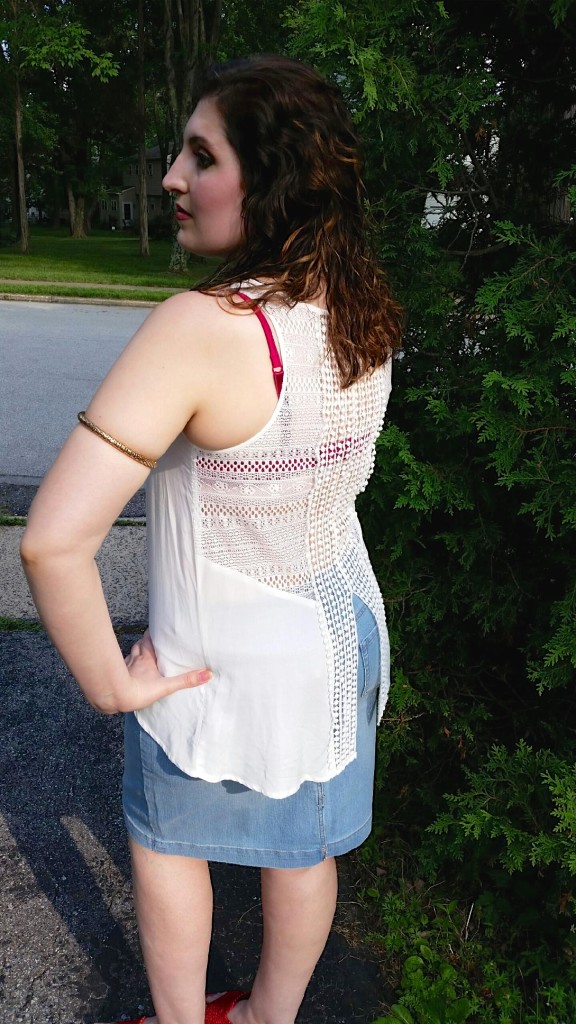 Sometimes you just need to add a little color to your wardrobe. It has been a drab winter, which is expected, but it seems to have invaded the spring as well. I wanted to wear bright and cheerful colors and surprisingly enough the sun was shining on this particular day. My outfit is complete Bisou Bisou from JCPenney. The lace top is so intricate and pretty. You could wear a camisole underneath, but I chose to wear a pink lace bra.
The pencil skirt is flattering and comfortable, which is always a plus. The color hues in the skirt make it very simple to choose a spring makeup palette. You could really be creative and choose bold colors or you could stay neutral and let the outfit stand out.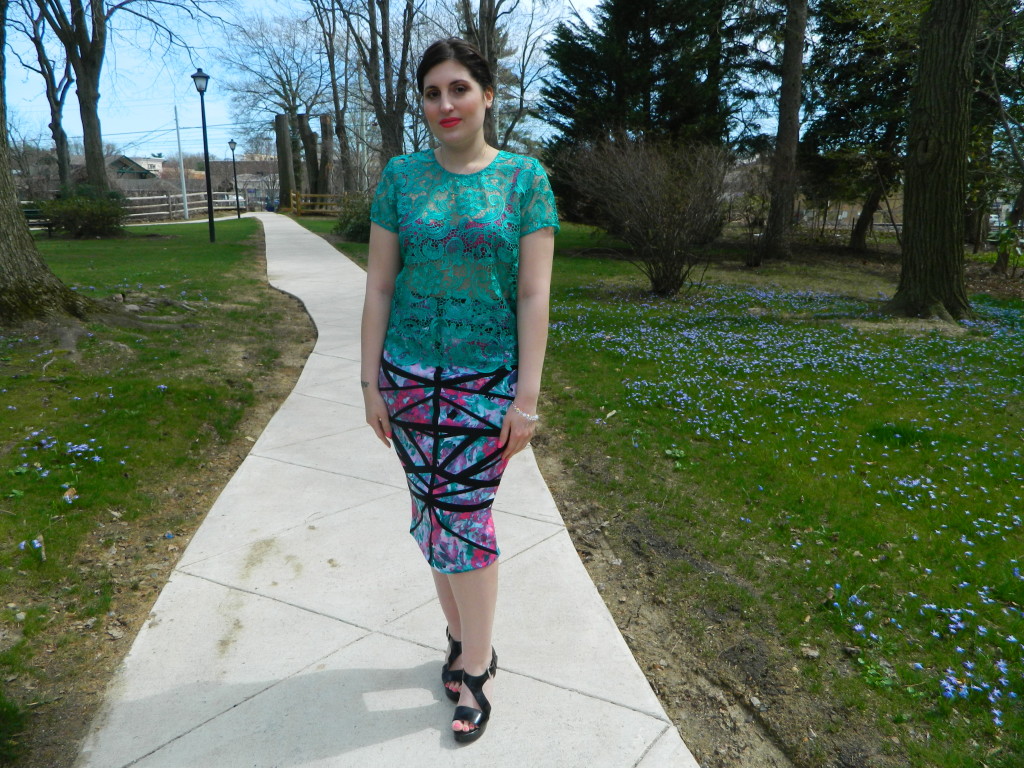 On a shopping trip to Lord & Taylor, I spotted these platform heels from Nine West.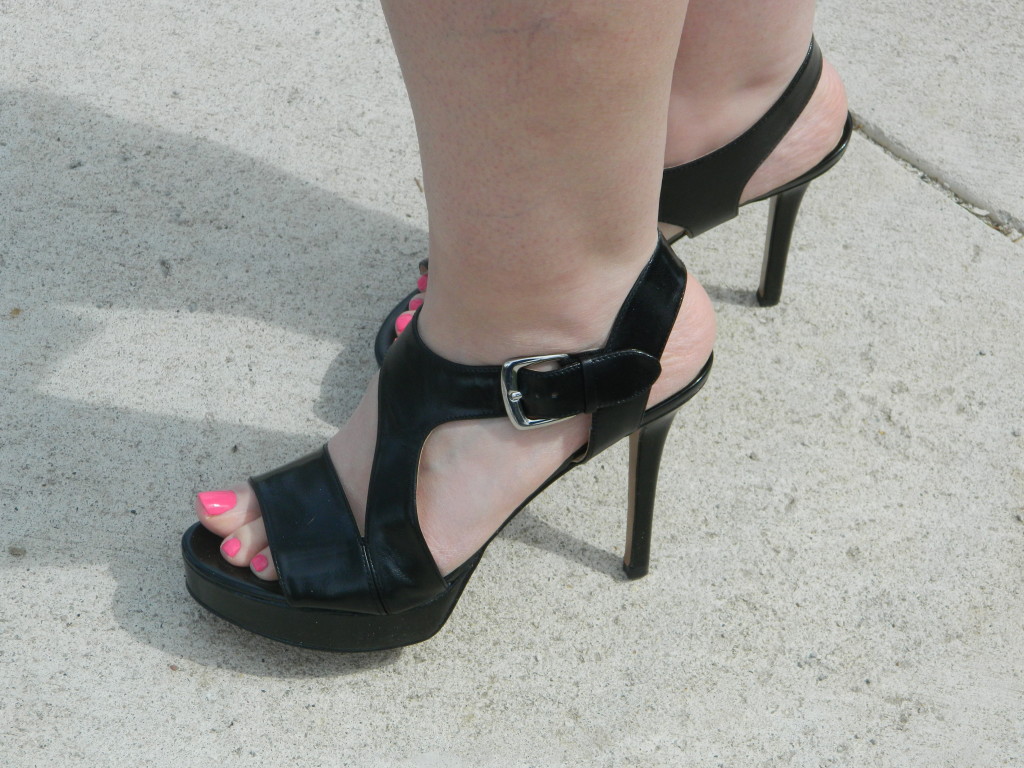 I will say even though they are very high they are still doable without breaking your feet. Keep jewelry minimal for this look. A little bling will go a long way. I am wearing a Swarovski crystal bracelet and that's it.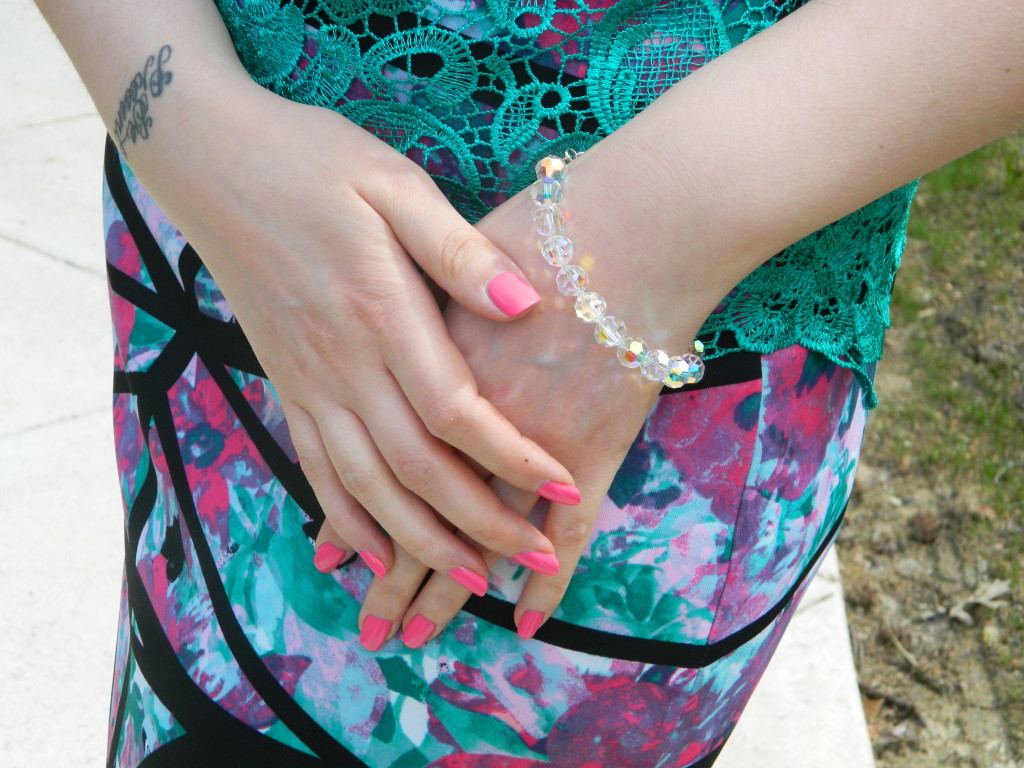 Stay tuned for my post featuring the makeup I wore on this day.
Donate your doorbusters! It is the season to give and with the incredible deals found on this infamous day after Thanksgiving, why not reserve some money for those in need. As far back as I can remember, Black Friday was a chaotic day filled with nervous excitement, waiting in line outside the doors of a department store still full from the Turkey dinner the day before, freezing cold, hoping for a fabulous find. There was a time when a doorbuster included a mini snow globe or little trinket of some sort and a significant coupon to get the shopping ball rolling. That was always so exciting. You never really felt as if you were spending money. Now, the game has changed a bit. Black Friday starts on Thanksgiving evening for some stores and Cyber Monday offers additional deals the next week. However, one thing remains the same. The needs of others continue to grow and during this time to be thankful it is important to remember those less fortunate. While you are enjoying the day shopping and taking advantage of the deals, perhaps you could find an item to donate. JCPenney will be selling women's boots for $19.99 and fluffy bath towels for $2.99! Amazon is starting now with up to 60% off clothing. I will continue to tweet the deals as they are announced.
There are some important tips to keep in mind before you enjoy the Black Friday deals. Here are some creative and useful suggestions, including the apps to navigate the deals of Black Friday courtesy of Montgomeryville Acura.
This past weekend was cold and windy- perfectly creepy outside to match Halloween. Immediately tea was all that was on my mind. The cold chilled me to the bones and I needed some warmth. I visited  A Taste of Britain in Wayne, PA for a pot of my favorite, Lavender Chamomile and a delicious mixed green salad, which hit the spot! This quaint restaurant is beautifully decorated and even though, Great Britain is on my bucket list, I imagine dining somewhere in London. Sophisticated porcelain tea cups and tiered trays carrying scrumptious scones or tea sandwiches are just part of the delightful experience.
I needed layers for this outing so I decided to pair a bold polka dot faux fur collar coat with a cute I 'heart' Ronson lipstick printed sweatshirt, jeans, and oxfords. Flare or palazzo jeans would also look wonderful with this look and instead of the oxfords you could try suede boots.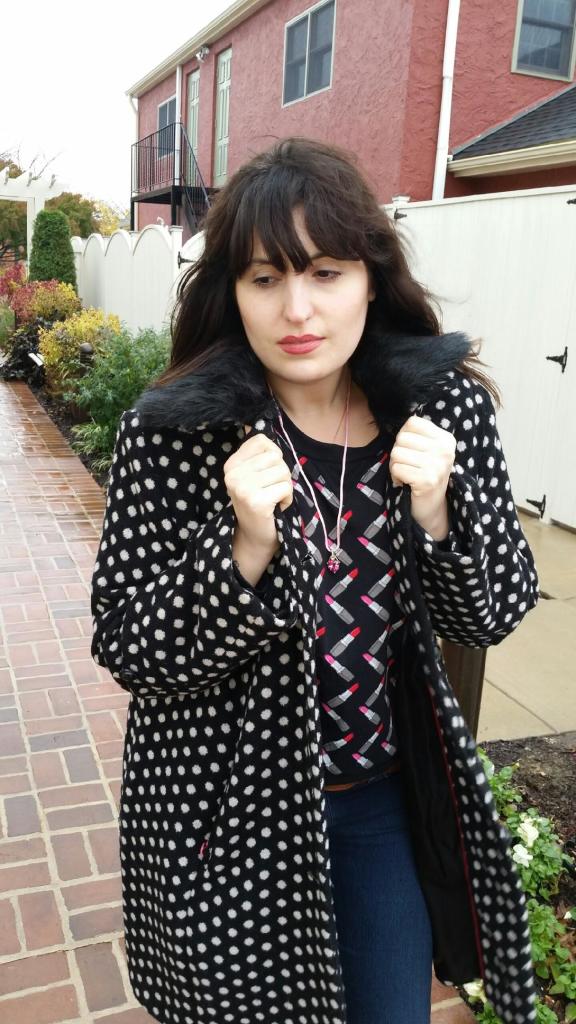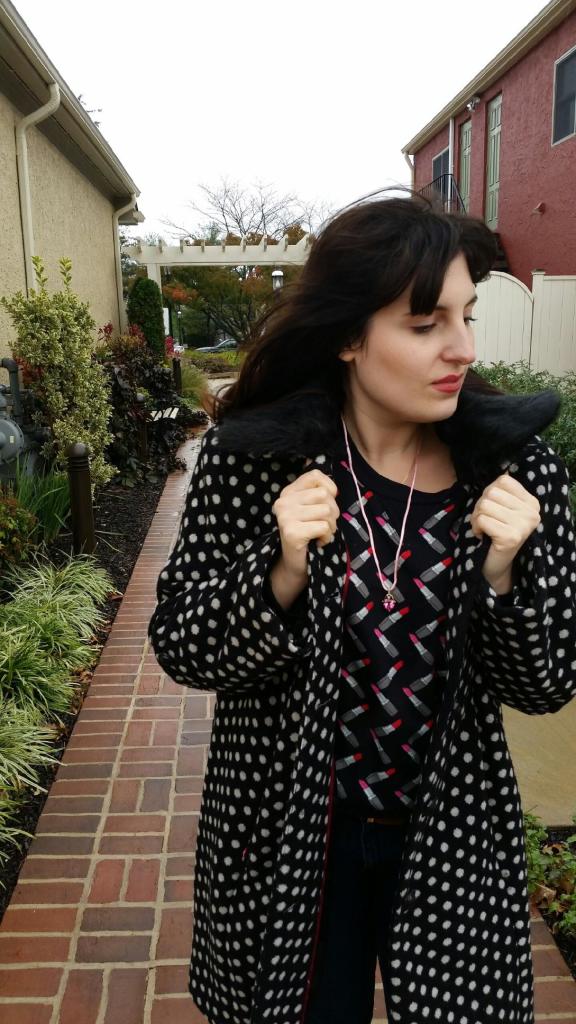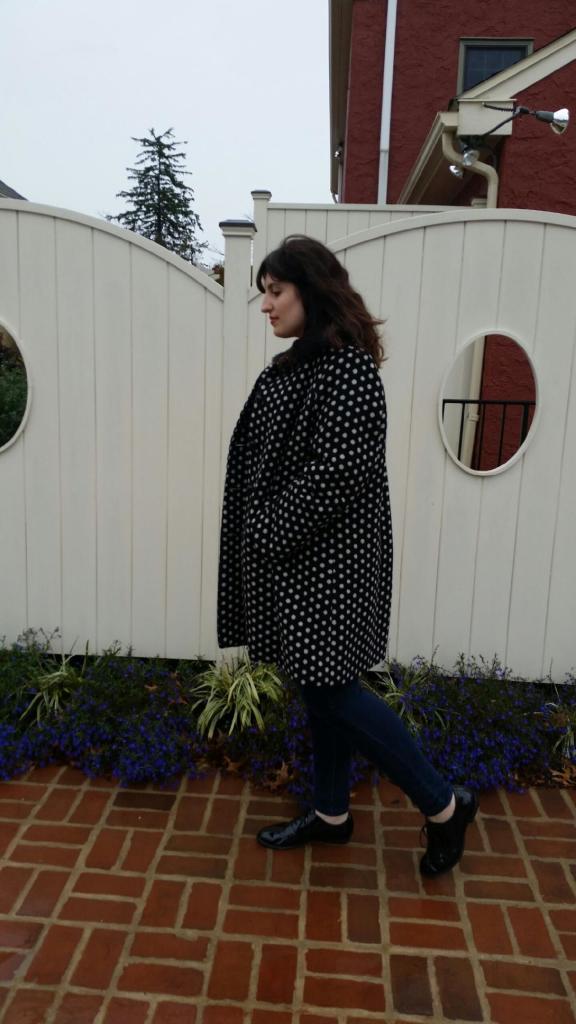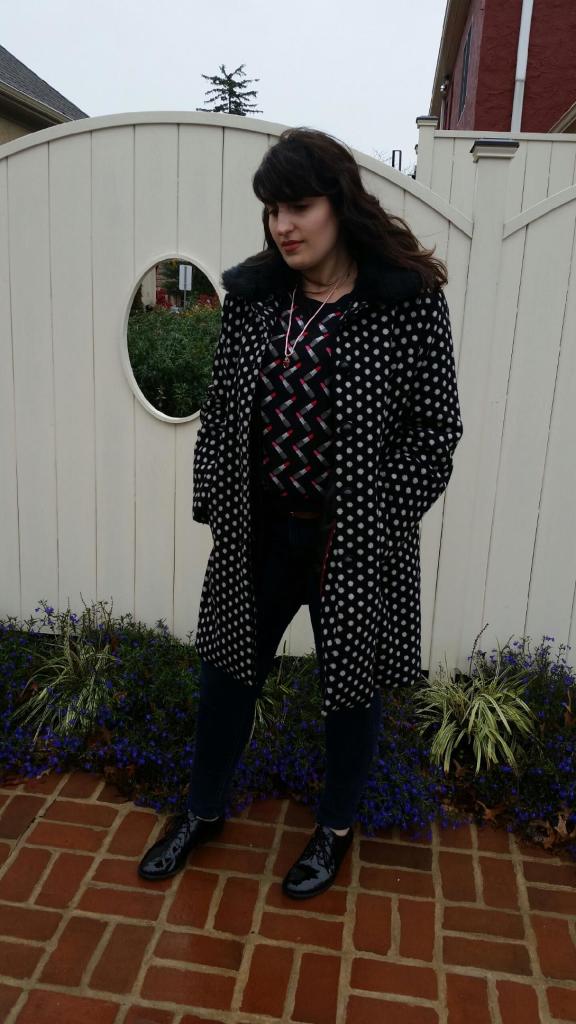 Copyright © Dandelion by Pexeto