Last month I visited Autograph Brasserie in Wayne Pennsylvania for the first time and enjoyed a fabulous dining experience. As previously mentioned in my review article, today I am featuring the scrumptious menu that Chef Ralph prepared. Keep in mind that if you suffer from multiple dietary restrictions, Autograph is a dining option for you. The entire staff and of course Chef Ralph are willing and happy to create a dish that you can enjoy without the stress and worry of contamination.
I began the night with fingerling potatoes in a balsamic glaze that Chef Ralph served while I was reviewing the menu. The potatoes were cooked perfectly, crispy on the outside, tender on the inside while the glaze was packed with flavor.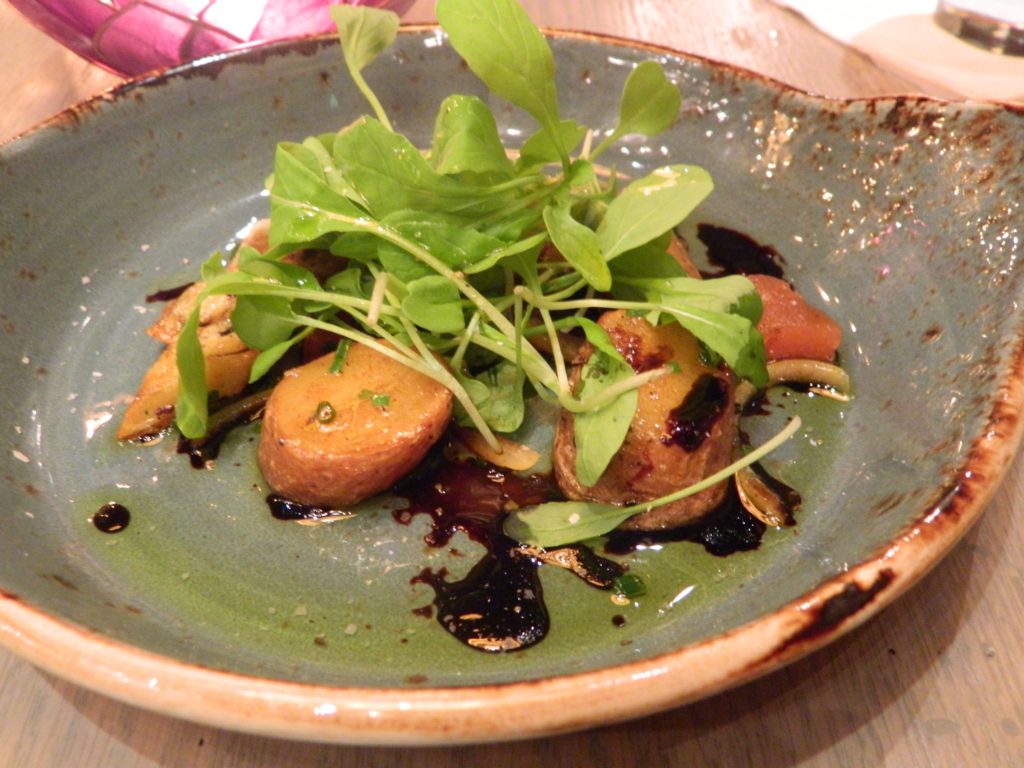 Roasted root vegetables followed and all I kept thinking was, "how can I reproduce this dish?" Although, part of the fun of dining out is having someone else create the meal for you, without all the work. This is definitely a dish that I would recommend for plant eaters and carnivore's alike.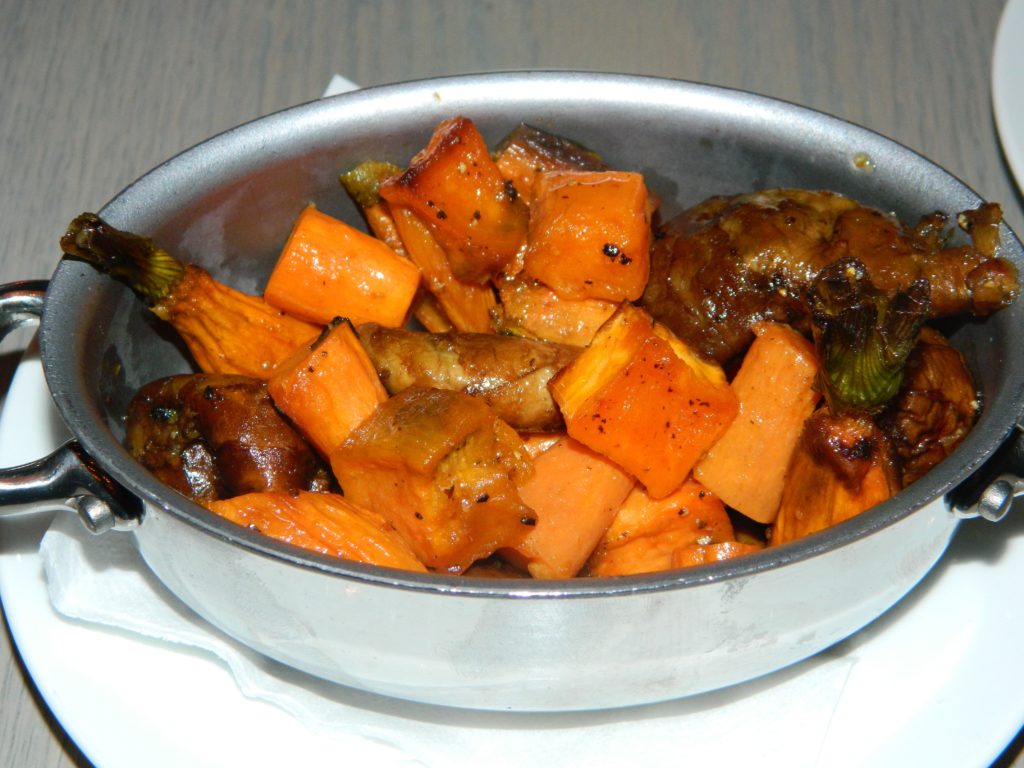 Autograph can accommodate all restrictions, including serving fresh gluten free rolls from a local baker with gourmet dipping olive oil. Most alcohol contains gluten as well and for true Celiacs, try the signature Autograph mocktails. The King Palmer is cool and refreshing and contains lemonade, iced tea, agave, and fresh lime juice.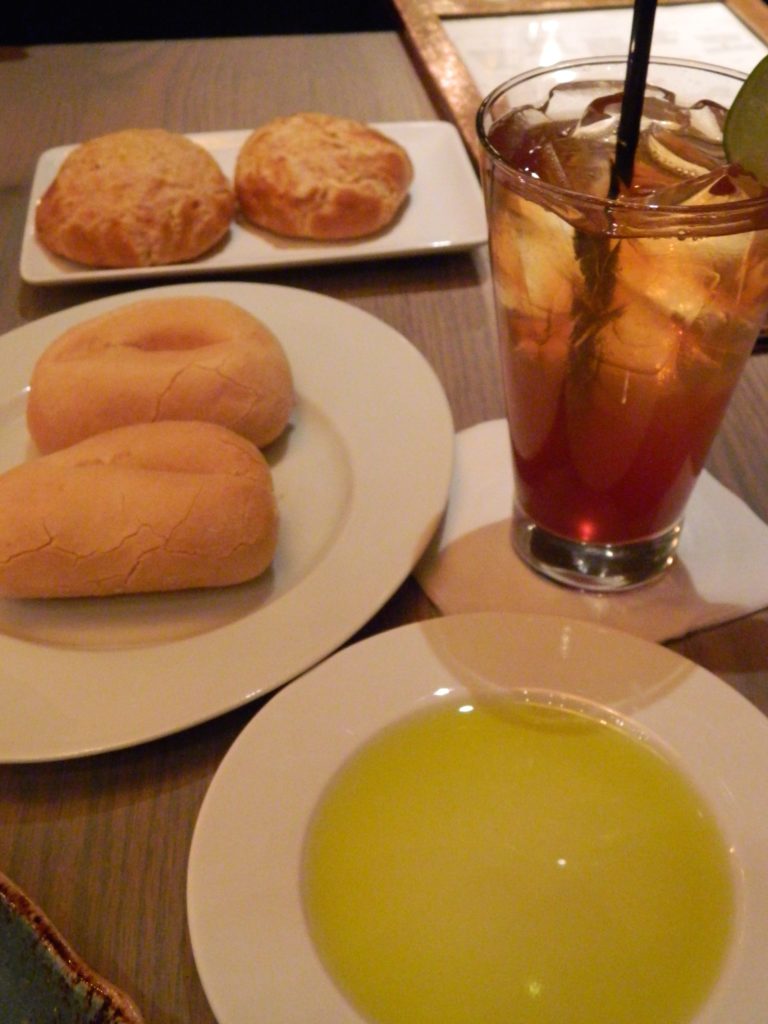 Cauliflower is one of my favorite vegetables, versatile and filling. Chef Ralph created an absolutely delicious roasted cauliflower with fresh apple and scallions. This dish was seasoned perfectly and is a satisfying side dish, but could be served as a main.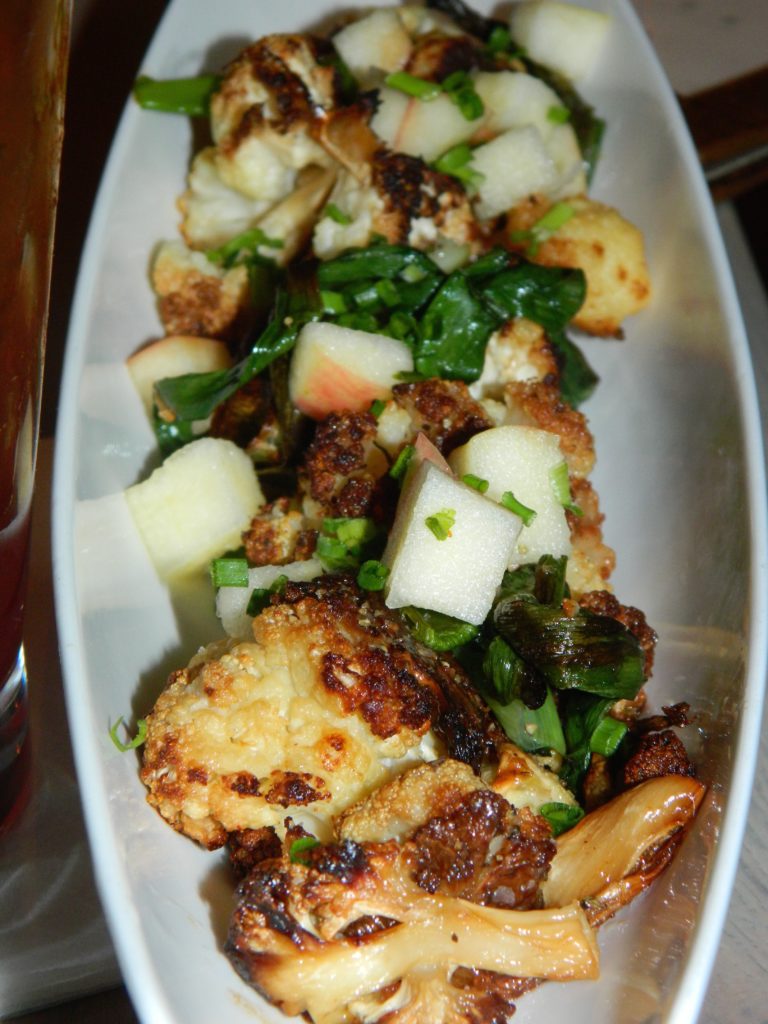 However, my main included mushroom risotto. This showstopper really needs no description. Suffice it to say by the time the main course arrived I was stuffed, but it was so delish that I just had to take it home to enjoy later!
Please be sure to make a reservation at this lovely restaurant with delectable food options for everyone!
Video and Photo credits: Aubrey Basla
As promised here is the detailed description of my most delicious meal, prepared by Chef Luke Rogers at the Liberté Urban Lounge Sofitel Philadelphia.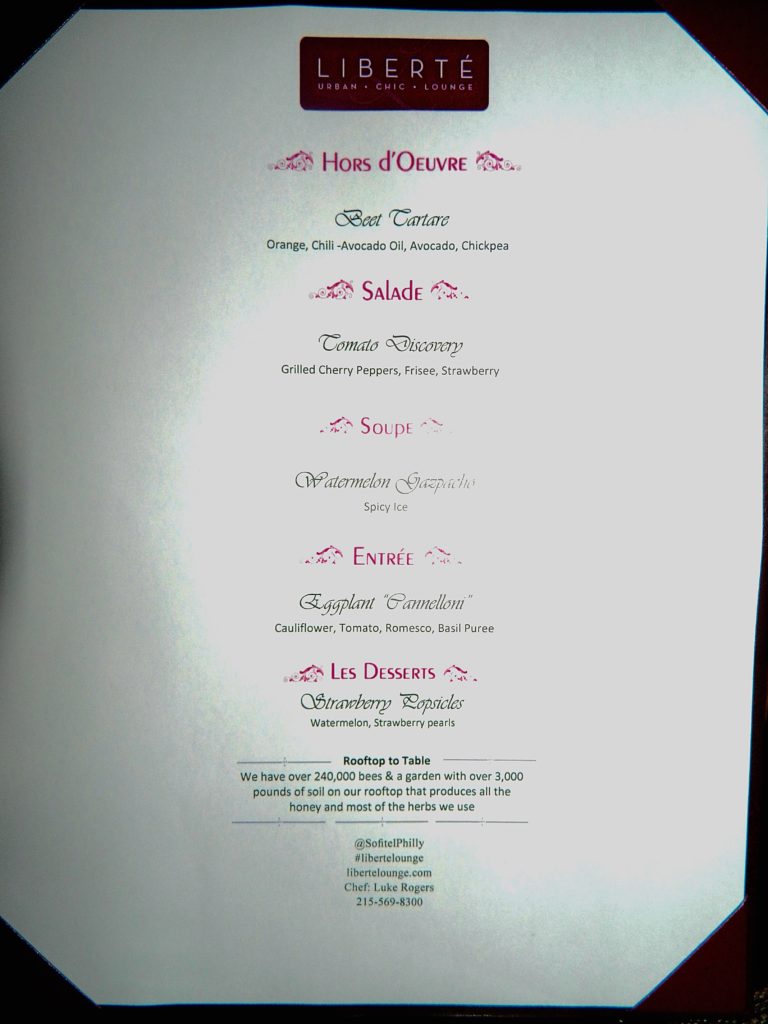 My special menu included five delectable courses, but Chef Luke added a bonus course.
Hors d'Oeuvre
Beet Tartare- orange, chili avocado oil, avocado, chickpea served with taro chips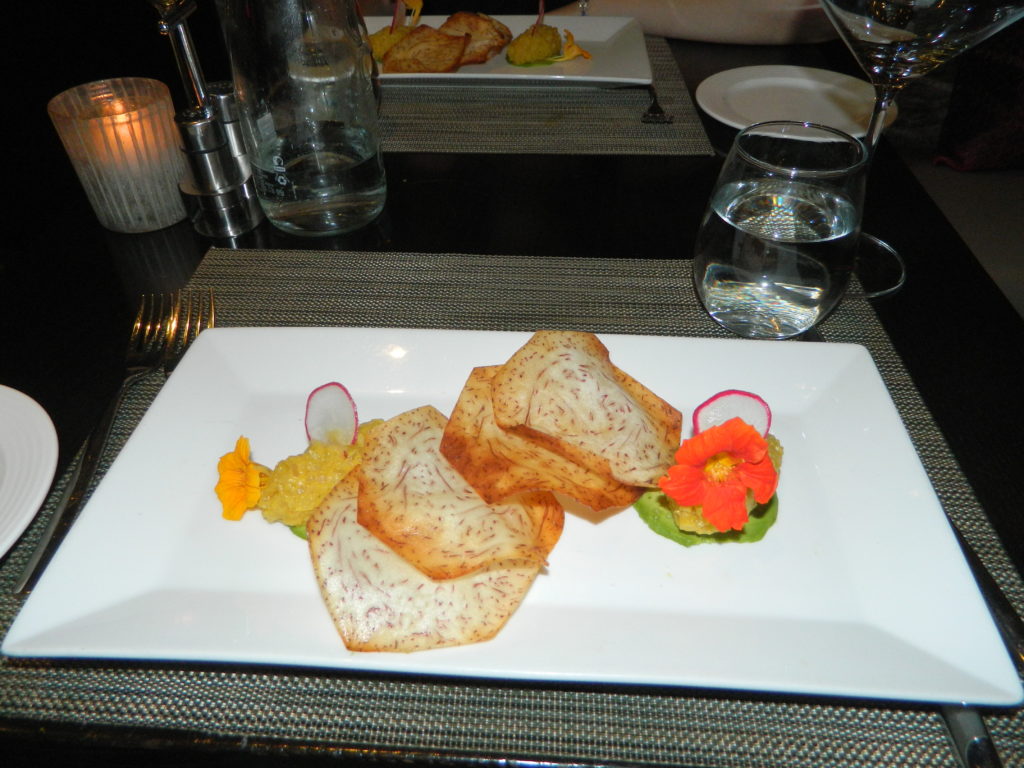 Salade
Tomato Discovery- grilled cherry peppers, frisée, strawberry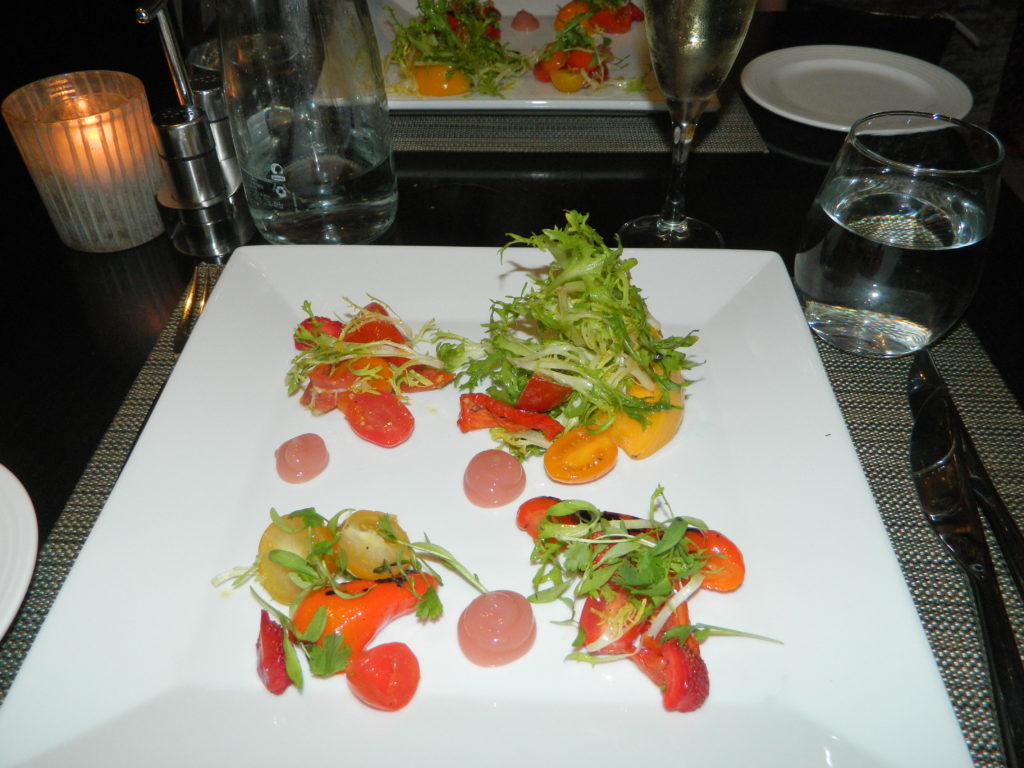 Roasted Carrot Salad- pickled carrots, artichoke, watermelon radish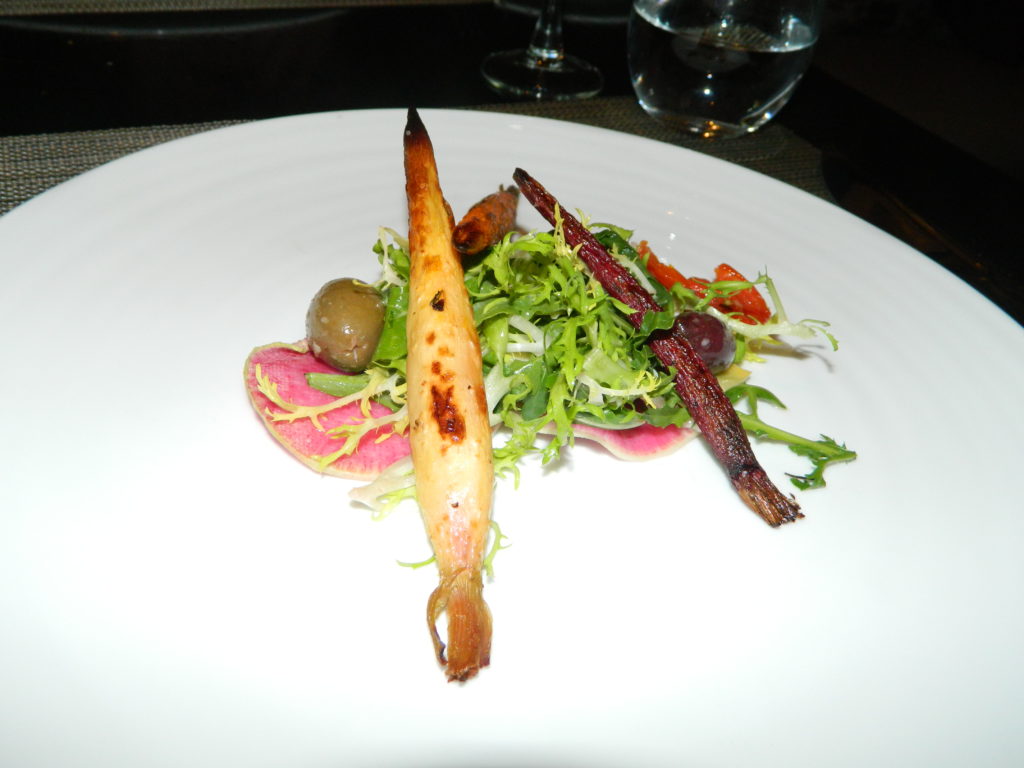 Soupe
Watermelon Gazpacho- spicy ice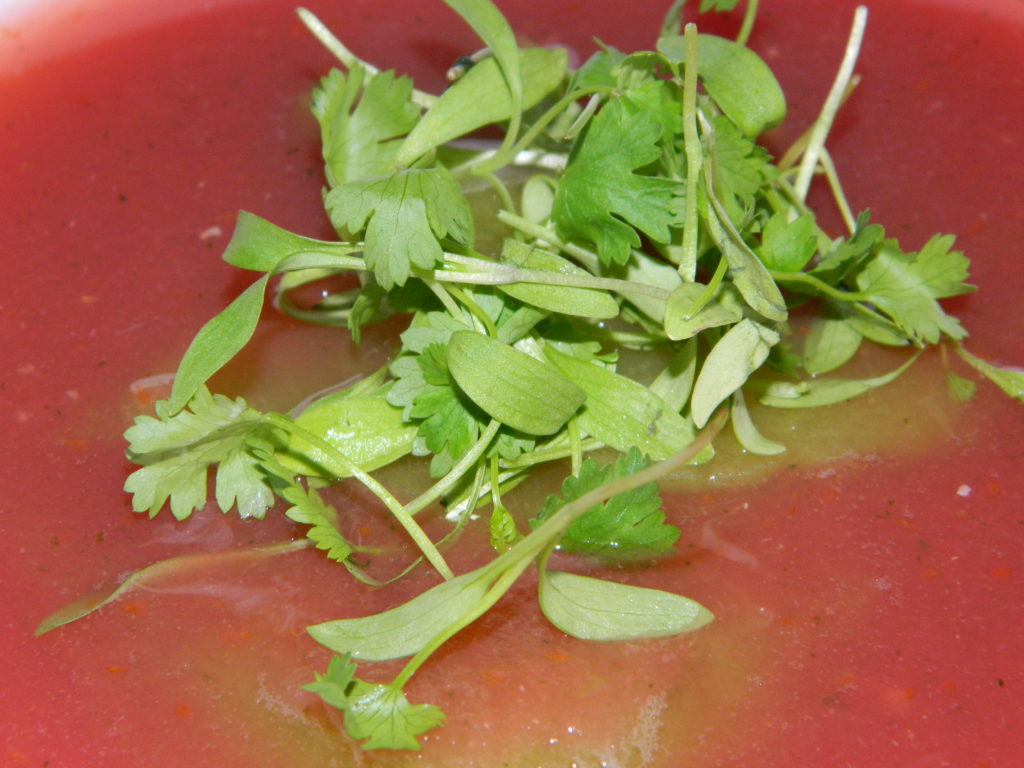 Entree
Eggplant Cannelloni- cauliflower, tomato, romesco, basil puree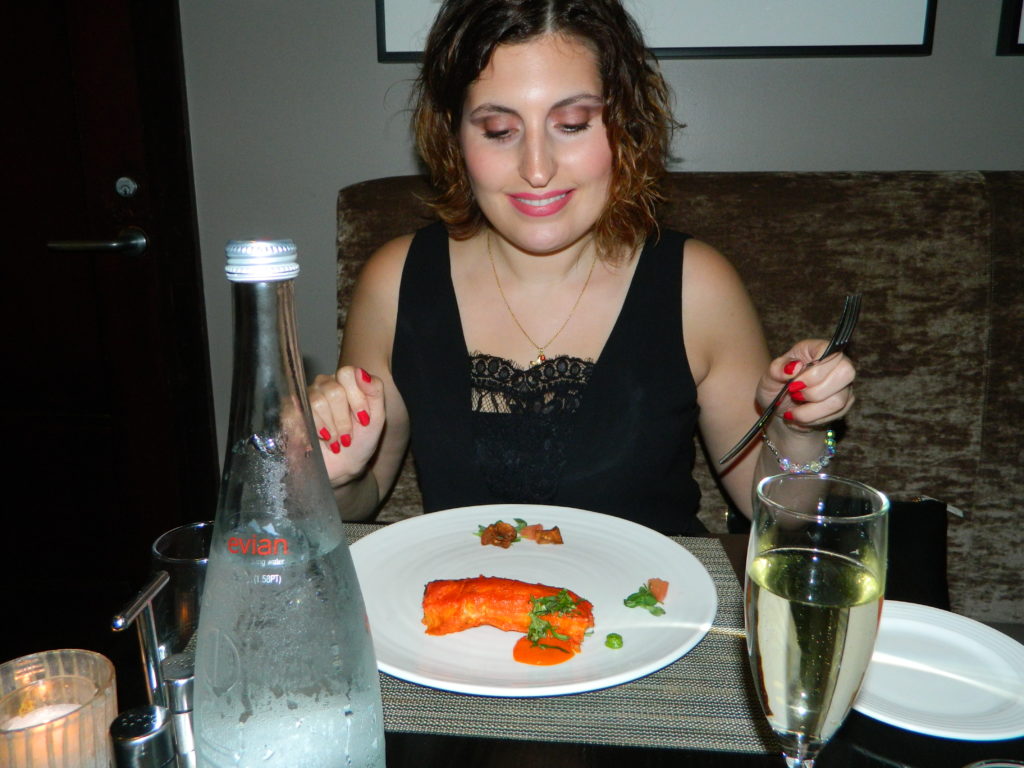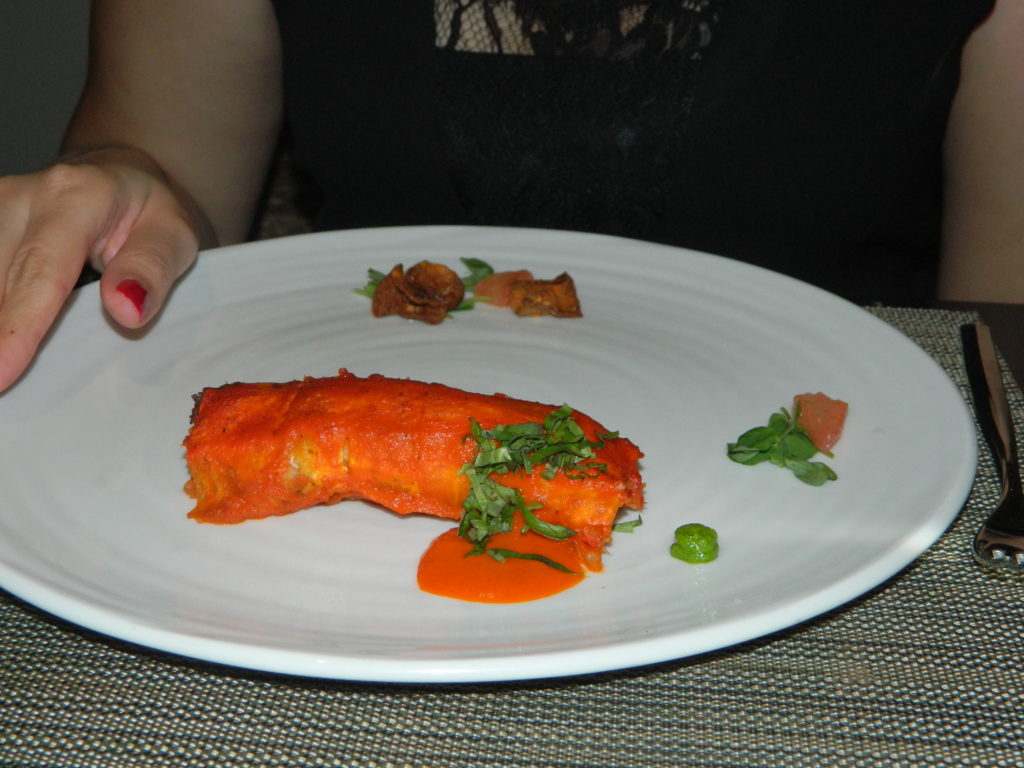 Les Desserts
Strawberry Popsicles- watermelon, strawberry pearls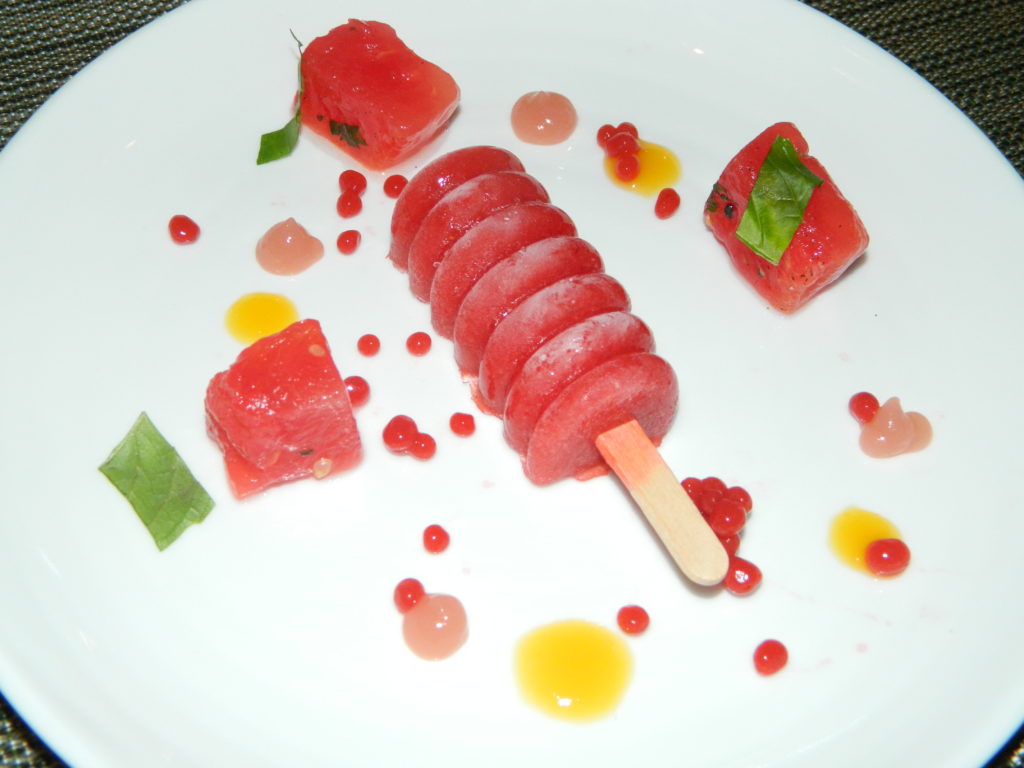 Each course was more scrumptious than the next. I was impressed with the complexity of flavors in each dish. Bitter, sweet, salty, spicy all perfectly working in harmony to create a truly unique experience.
At The Sofitel Philadelphia, 240, 000 bees reside, providing honey for the guests. There is a beautiful rooftop garden with over 3,000 pounds of soil that produces most of the herbs provided for the meals. Chef Luke Rogers curates this fabulous garden and many of the items on my menu were picked fresh for my meal!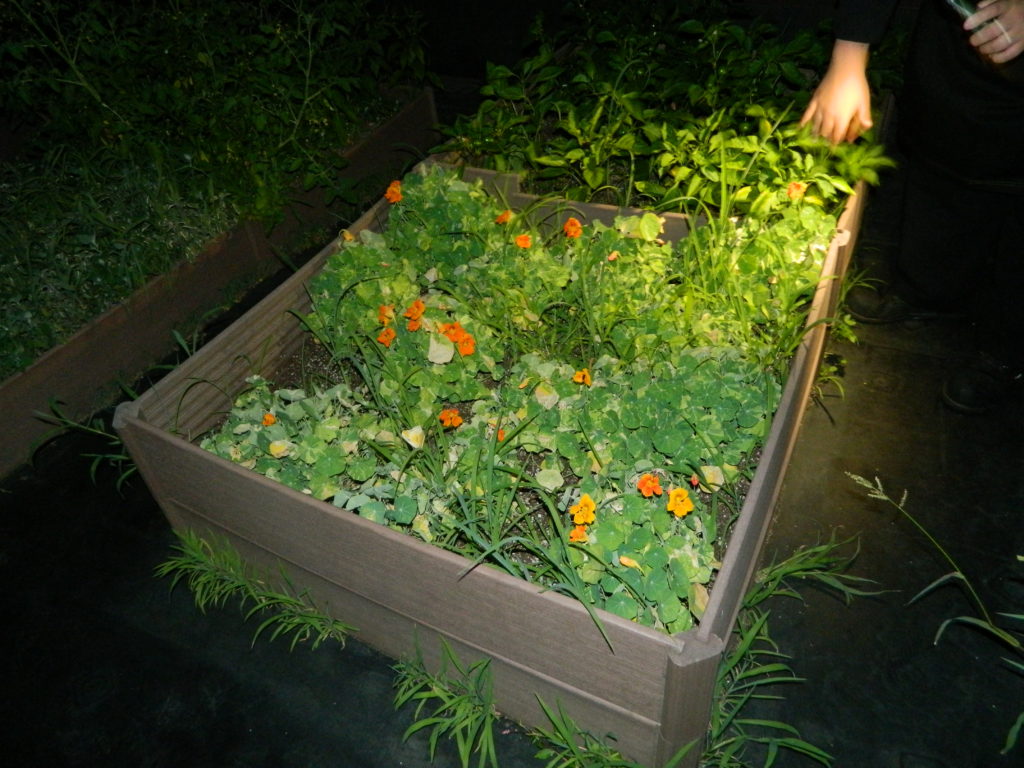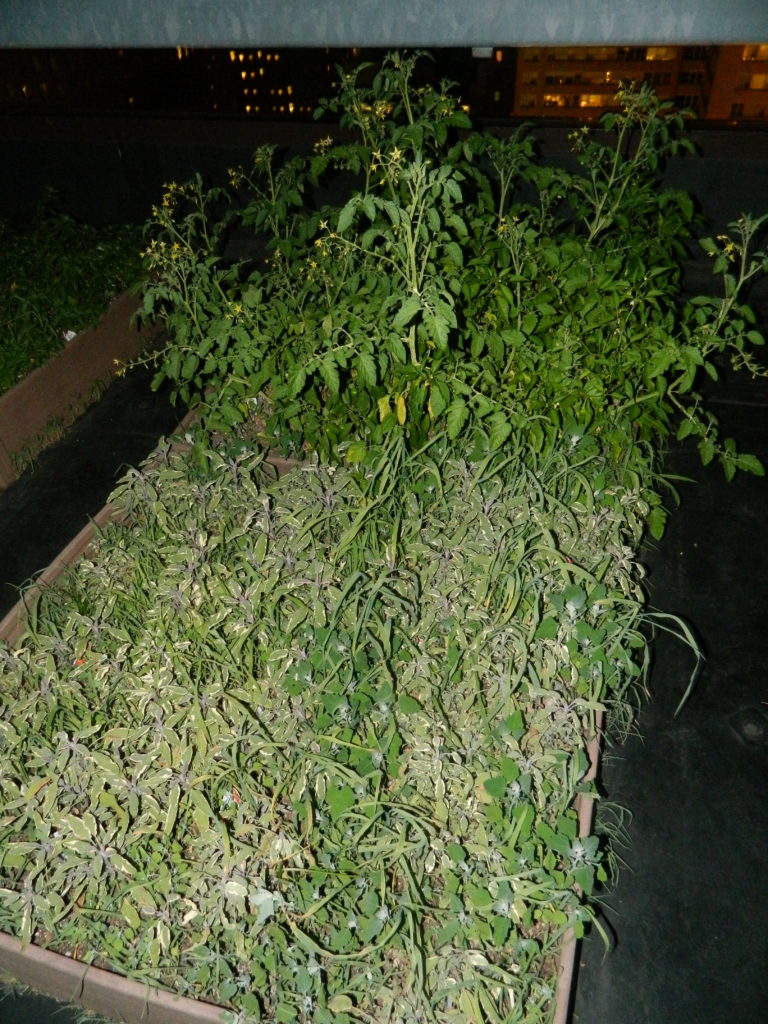 Happy Fourth of July! I hope everyone is having a safe and fun holiday weekend. I have some really delicious and simple recipe ideas that I would love to share with you. All would be wonderful to pack for the beach, a picnic, or if you are hosting a BBQ. If you have guests that suffer from Celiac disease or are vegans, these are the perfect recipes to offer.
My favorite kind of hummus…fresh and homemade. It is so simple to make hummus and the secret to making truly great hummus, fresh squeezed lemon. Using a white bean like Cannellini beans are an excellent alternative to traditional hummus. It creates a smoother, fluffier texture.
Ingredients:
1 can of chick peas
1/2 lemon
pinch of parsley
pinch of salt
1/2 teaspoon of curry powder
1 teaspoon of tahini paste
1 teaspoon of olive oil
How to:
Simply blend all ingredients at once until smooth and creamy. Use a blender or food processor.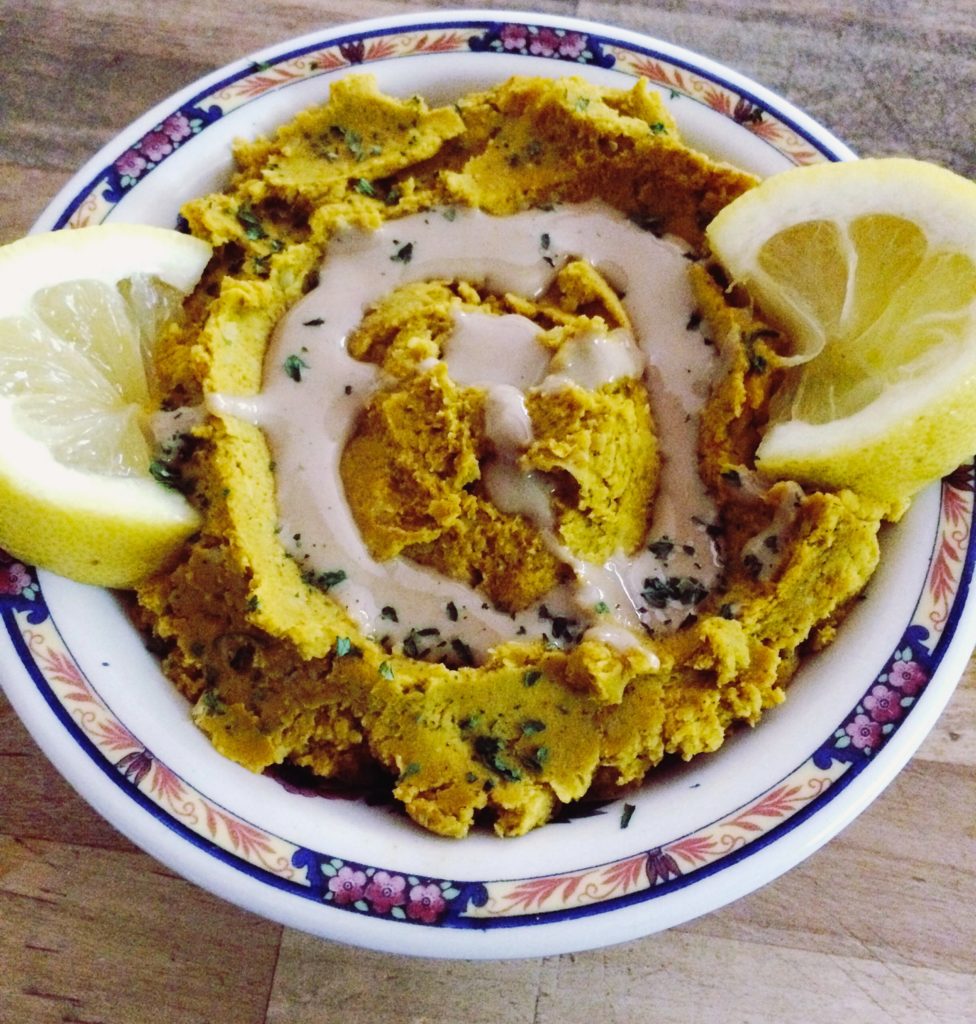 Glutenfree Vegan Potato Salad
Ingredients:
3 Yukon Gold Potatoes
1 celery stalk
8 black olives
1/4 red onion
1 teaspoon of turmeric
pinch of salt
pinch of parsley
1 tablespoon of Vegenaise
How to:
Boil the potatoes until they are fork tender. Drain and allow to fully cool. Chop the celery and red onion to small pieces. Finely chop the olives. Dice potatoes and add the celery, onion, and black olives. Stir in Vegenasise and spices. Serve and enjoy!
Mango Nice Cream (vegan)
Ingredients:
1 frozen ripe mango
How to:
Simply blend the frozen mango in a food processor until smooth. Serve and enjoy!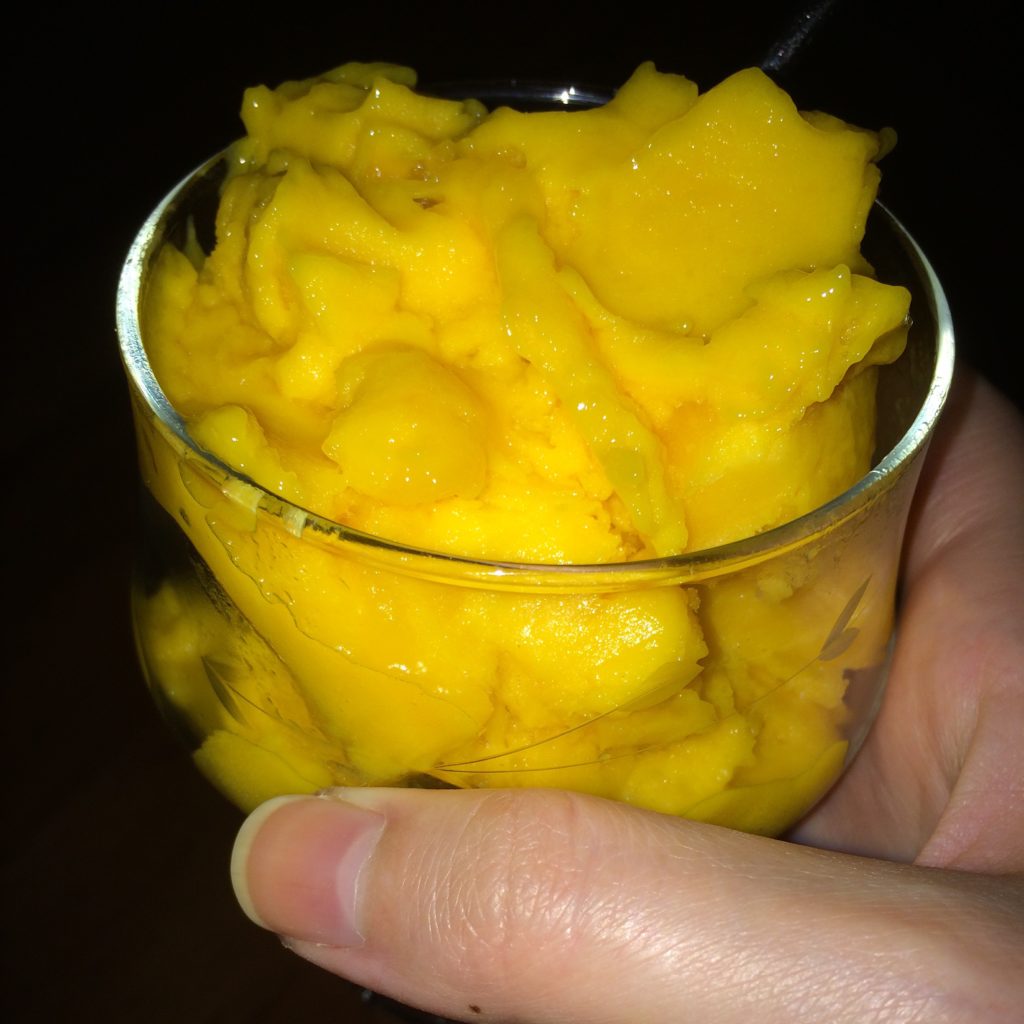 It could be sweltering hot outside and I still crave soup. There is something comforting and filling about this type of meal. I like to make this vegan recipe for lunch time. I usually make a large pot and nibble all day long. I developed this healthy recipe after craving ramen noodle soup for months on end. It was time to take action. If you are suffering from celiac disease or simply on a gluten free diet this is the perfect option.
Here's how to make this delectable vegan soup recipe!
Ingredients:
2-4 oz of Thai rice noodles- depending how hungry you are
1/2 san marzano tomatoes
1/2 cup coconut milk
1/4 teaspoon of turmeric
pinch of basil
1 container of veggie broth
2 medium carrots
1 medium yukon gold potato
1 teaspoon olive oil
How to:
Begin by adding the olive oil to a pan. Add the potato and carrots on low heat until slightly caramelized. Pour in veggie broth with coconut milk and tomatoes. Add seasoning and let simmer until carrots and potato are fork tender. Begin boiling water and cook rice noodles. Add the noodles to the pot to finish cooking. Serve and enjoy!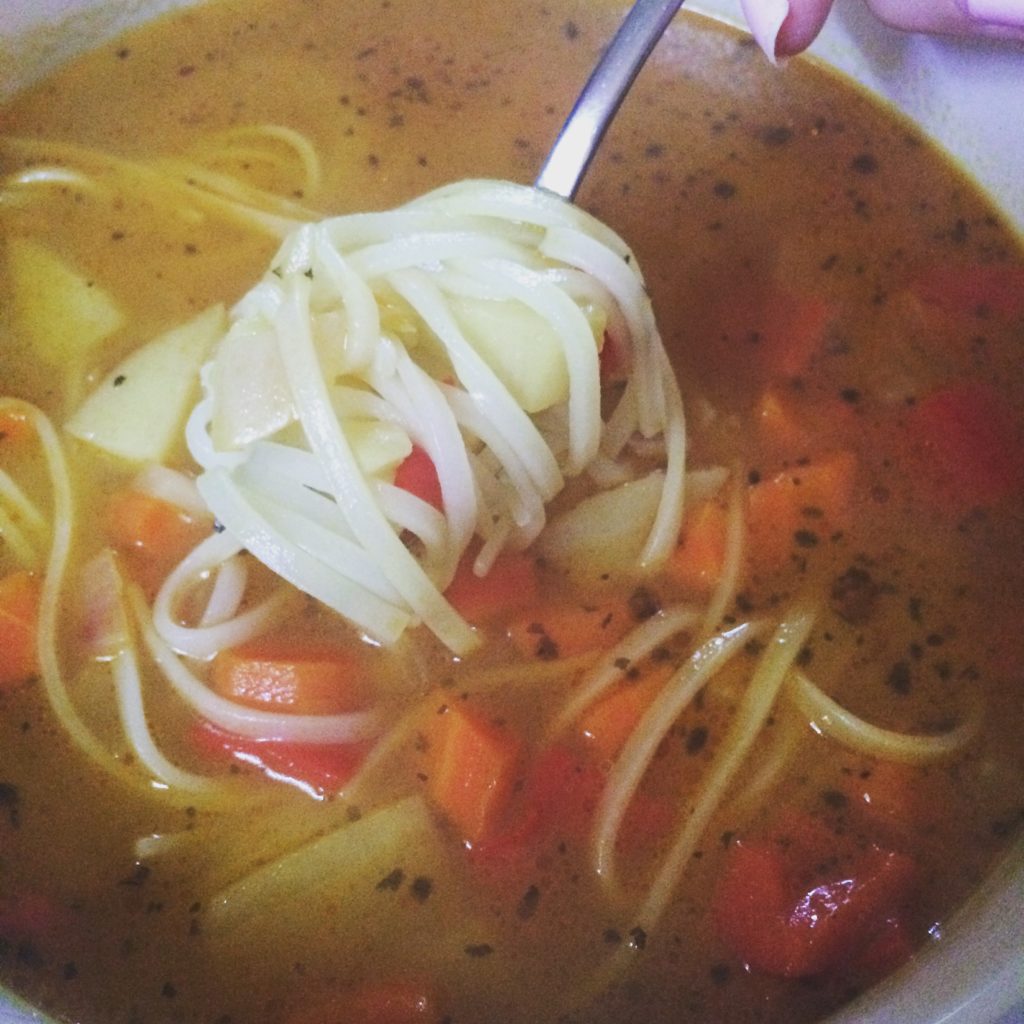 I was more than a little nervous to travel to Miami with all of my dietary restrictions. I prepared myself to buy food and store snacks and fruit in the hotel room if it was a challenge to dine out. I had no idea that Miami was so inclusive and understanding when it comes to food particulars. Miami is already known for innovative culinary experiences, a melting pot in cultural feasts, but now I recognize this unique city as being vegan and gluten free friendly.
In case you are traveling to Miami or thinking about taking a trip, here are some delicious restaurants serving more than just french fries and salads as a vegan options.
Let's begin with The Marseille Hotel directly across the street from The Catalina on Collins Ave. Mostly, I enjoyed breakfast and the pool menu for a snack. The tables are outdoors like so many restaurants in South Beach, great for people watching. For breakfast I ate a fresh fruit bowl and roasted potatoes with cilantro and spices. The potatoes were crisp and delicious without any excess oil. The service was fast and all servers were friendly. Guacamole was my go-to snack with mango and salsa served with tortilla chips.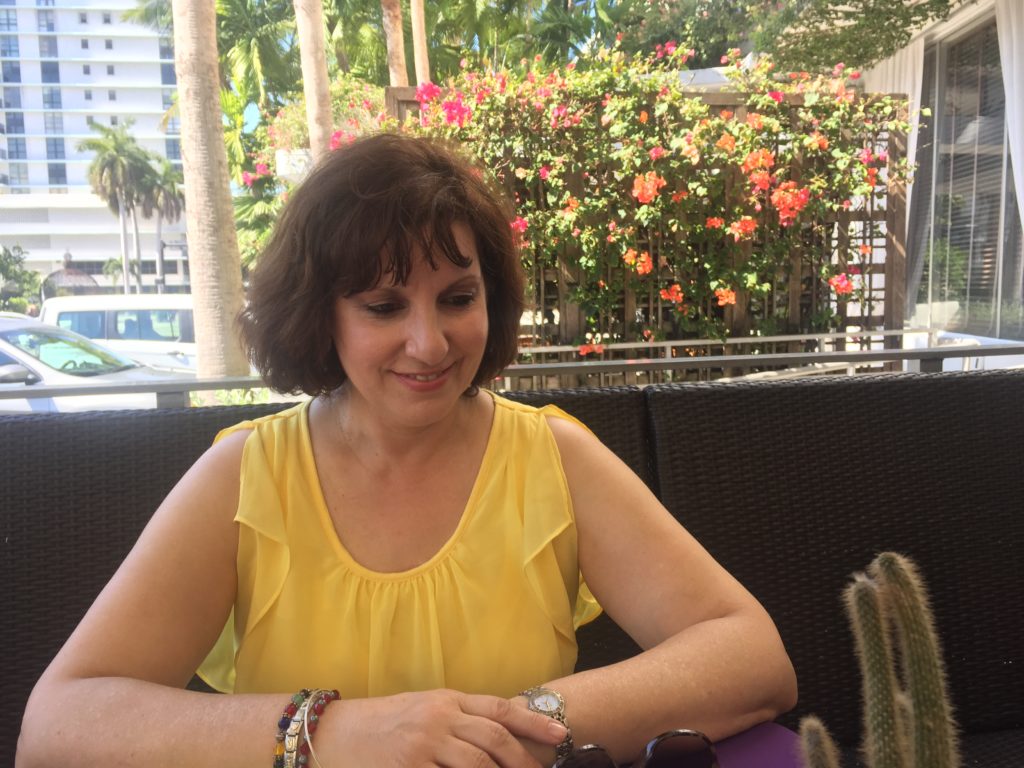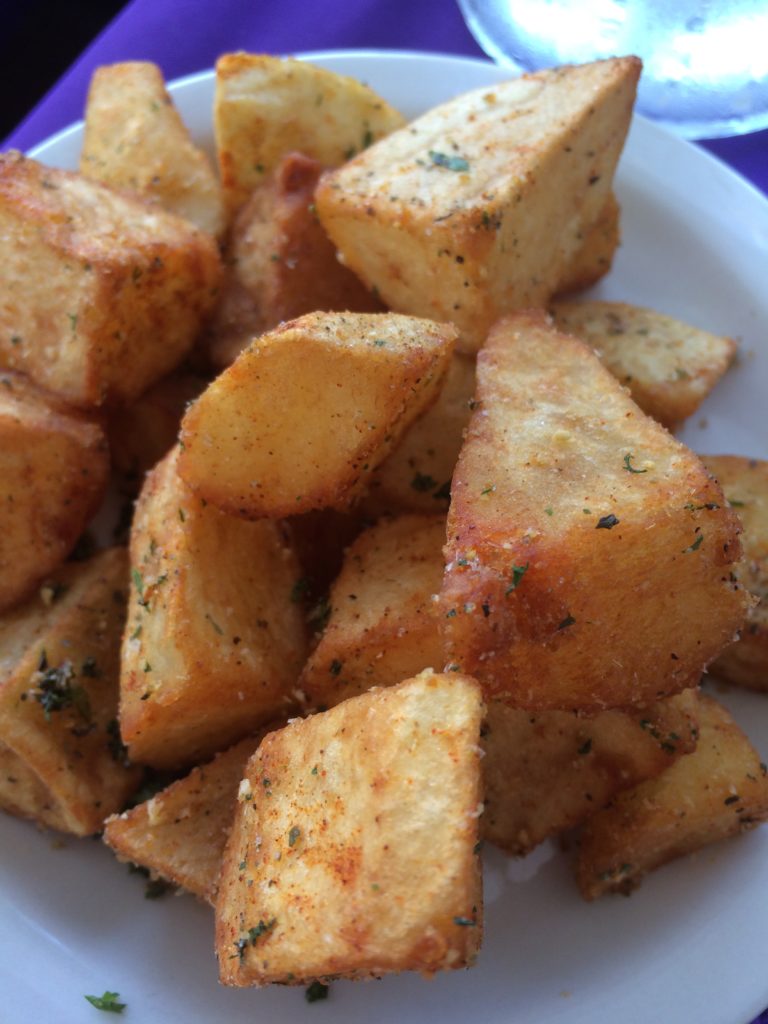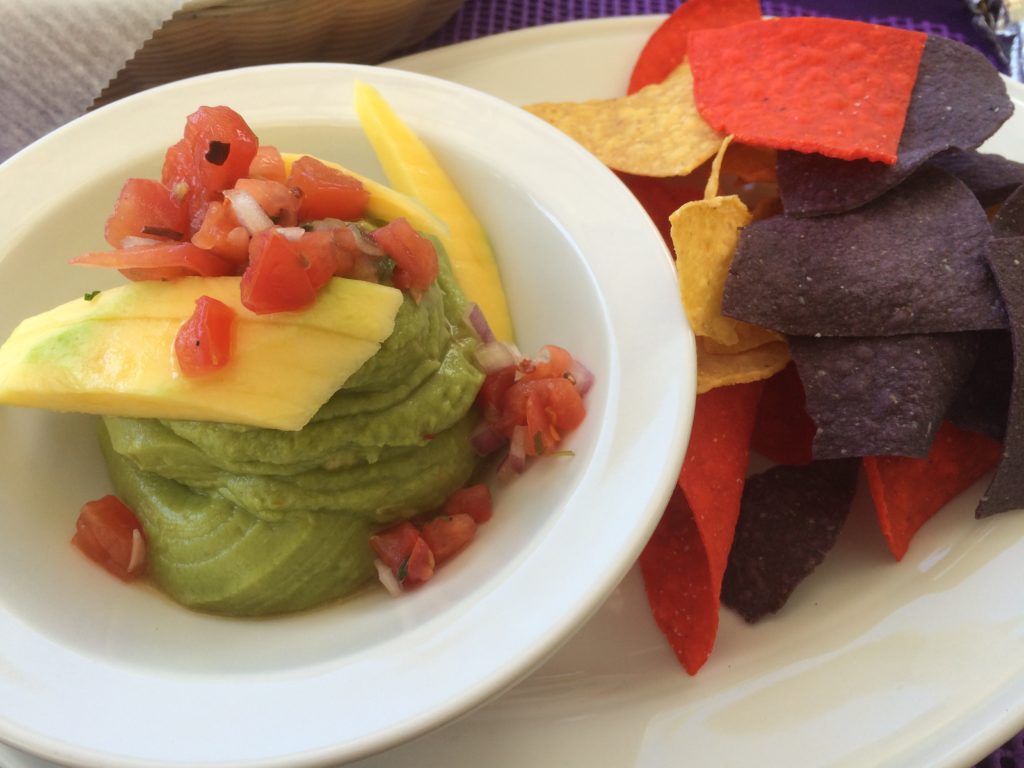 On beach days, the sun can really zap your energy and make you hungry. On these days I ordered delivery from Carrot Express which offers a full range of vegetarian, vegan, and gluten free options. I tried the Teeka Salad with cilantro dressing, which was so fresh and tasty that I had to order twice! The salad was made with kale, avocado, carrots, bean sprouts, cucumber, tomatoes, sunflower sprouts, and quinoa.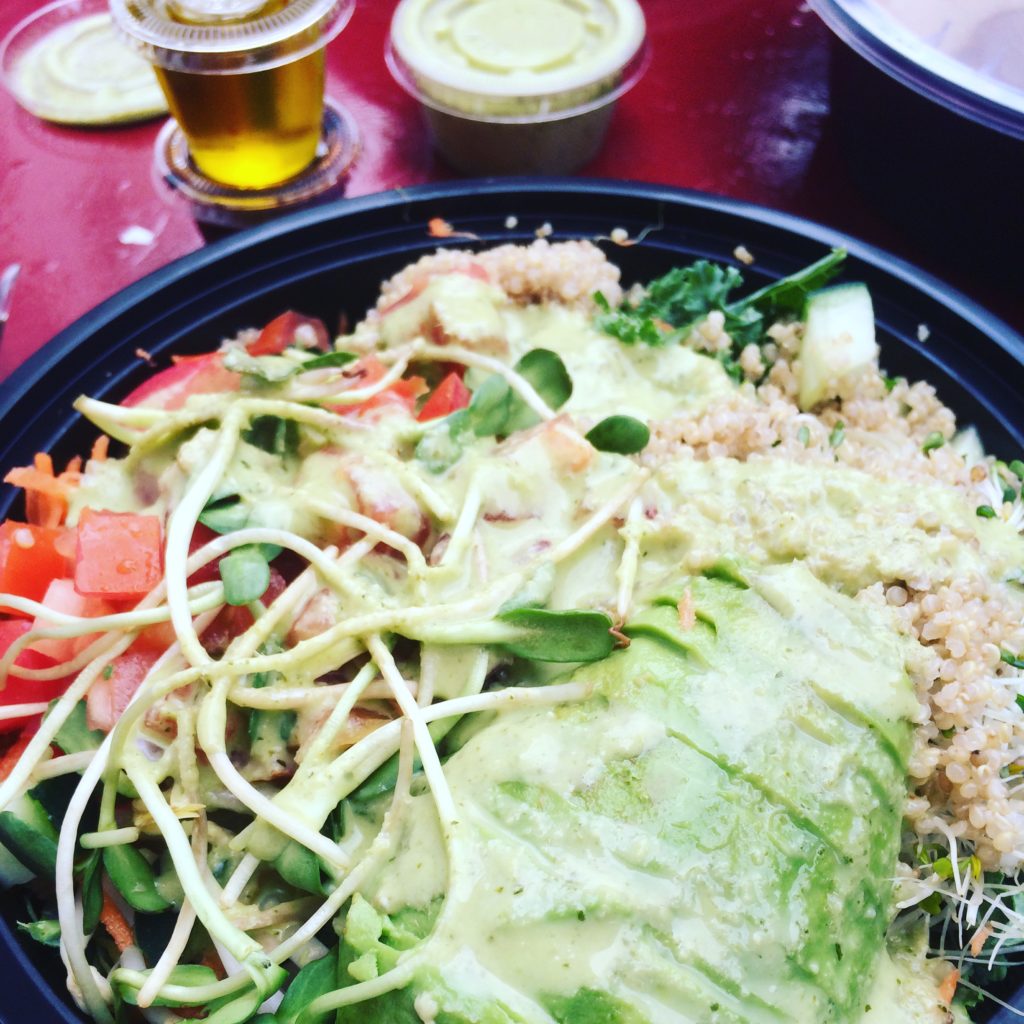 Full Bloom was quite the sensory experience. Located on the mezzanine level overlooking the water; perfect for a sunset dinner. The decor was serene and beautiful with fountains, rose petals, and candles. Full Bloom is completely vegan and zagat restaurant with soy, nut, and gluten free options. Aunt Sharon and I had quite the challenge picking from the extensive and delectable menu. Our server was all too happy to make recommendations and the choices were mouthwatering. We started with the South West roasted asparagus and corn and the smashed roasted cauliflower parsnip. Both absolutely scrumptious. For our main meals, my Aunt ordered the gnocchi and I had the fajita platter with roasted veggies, which I gobbled in under 10 minutes.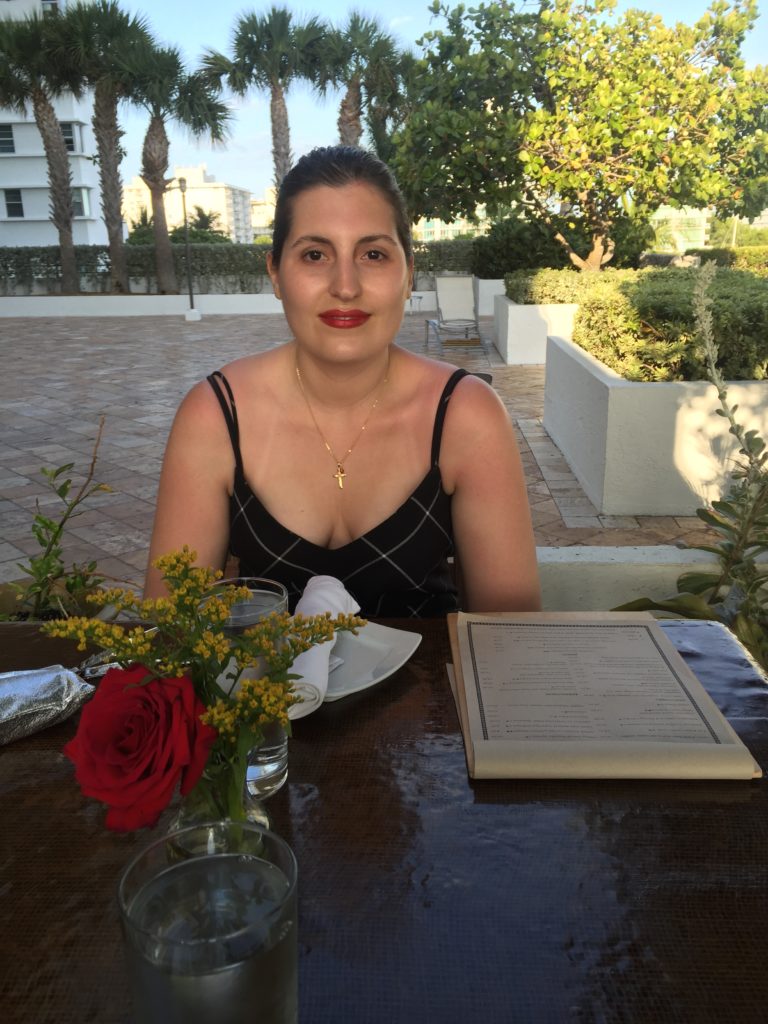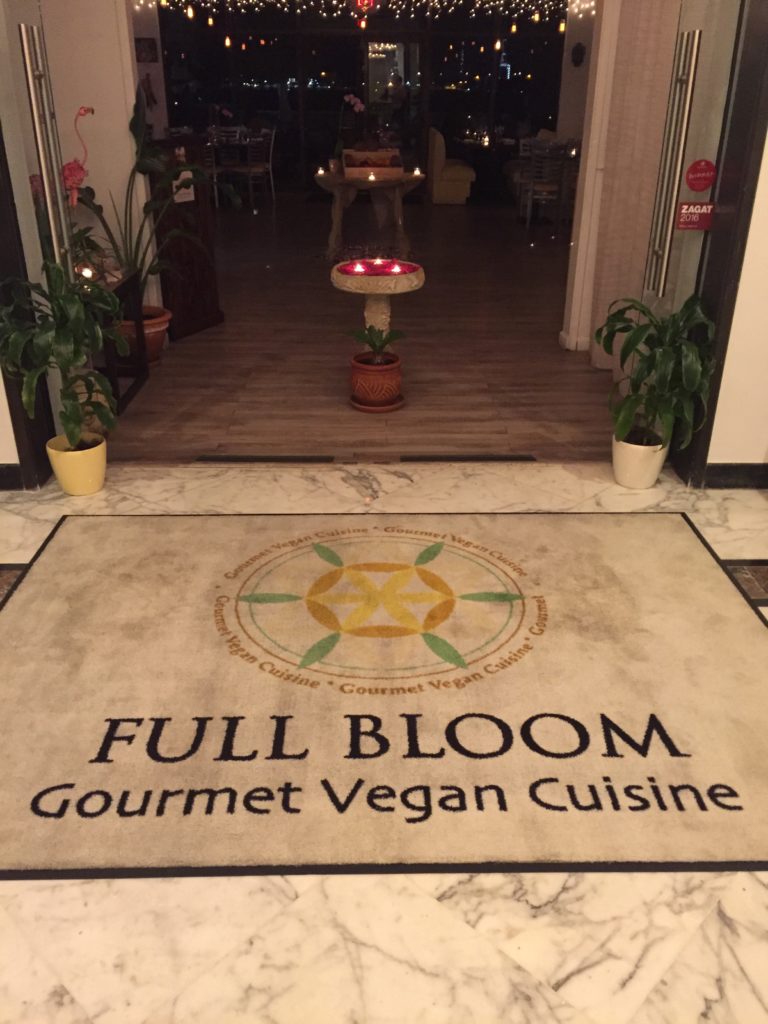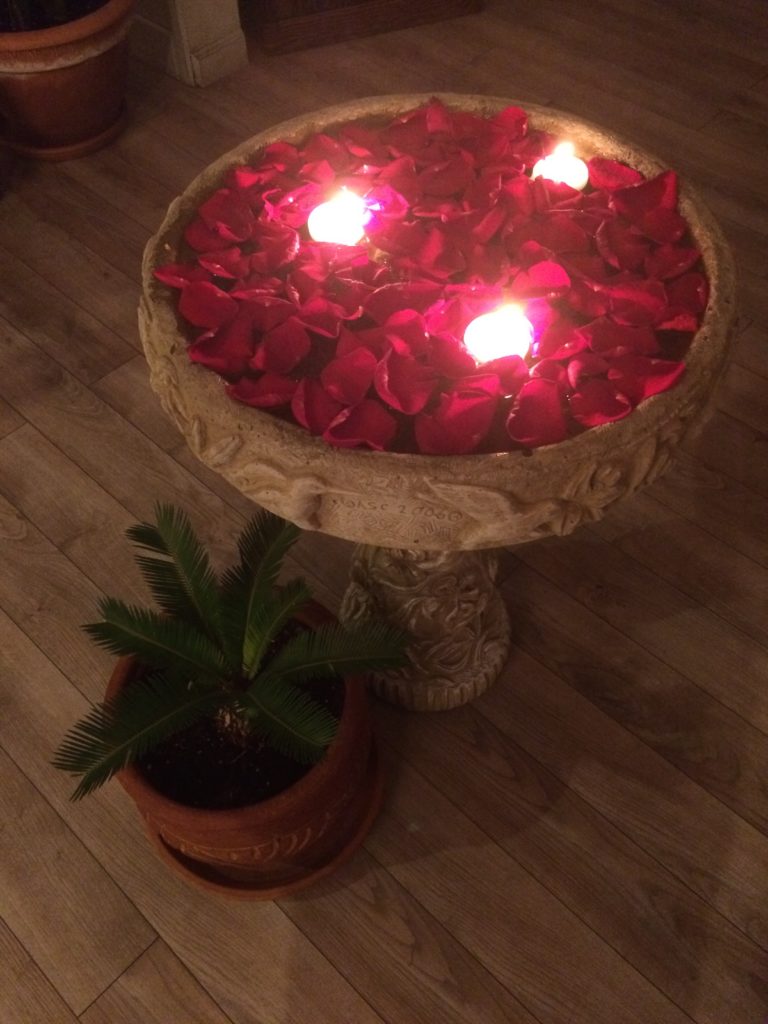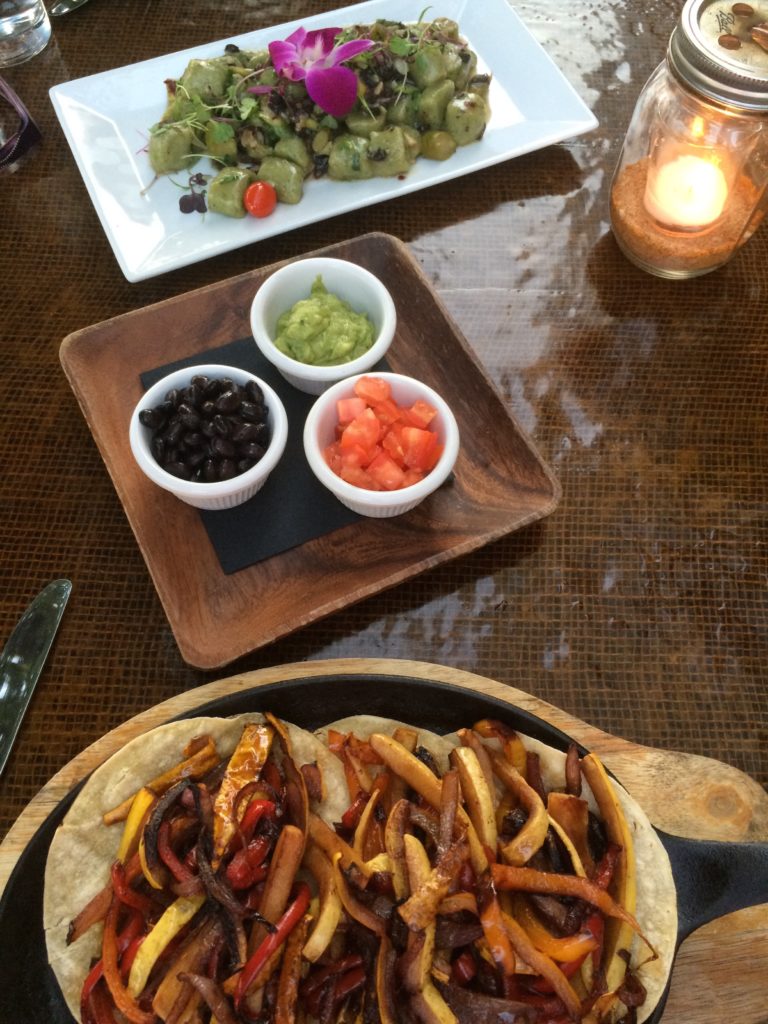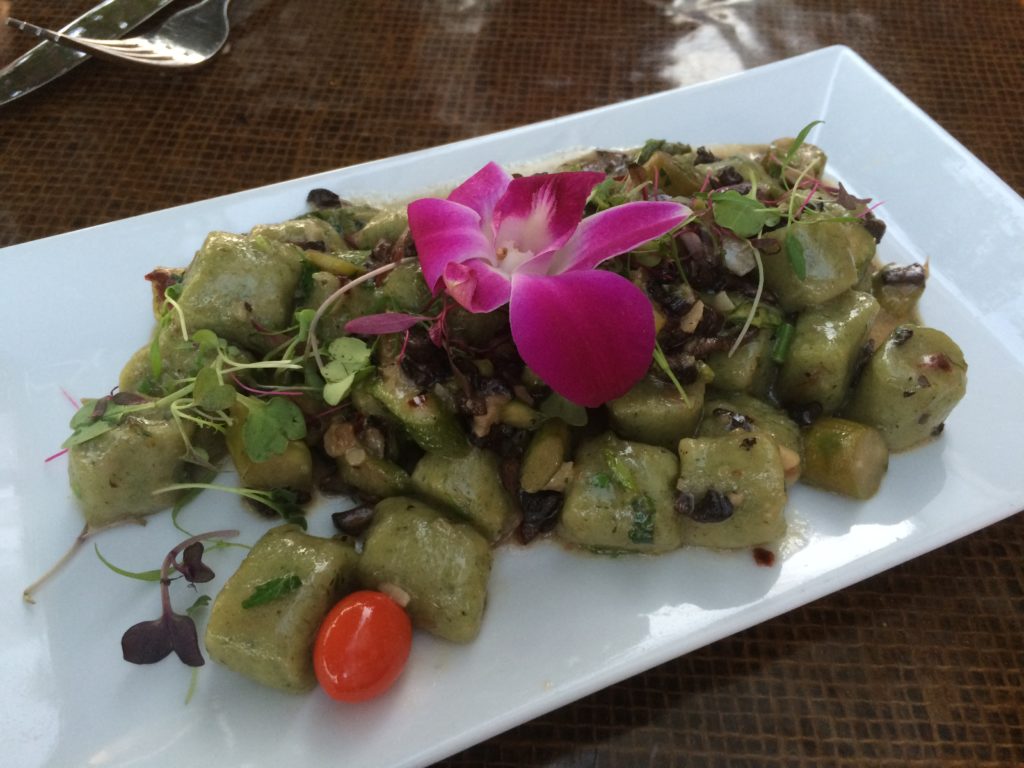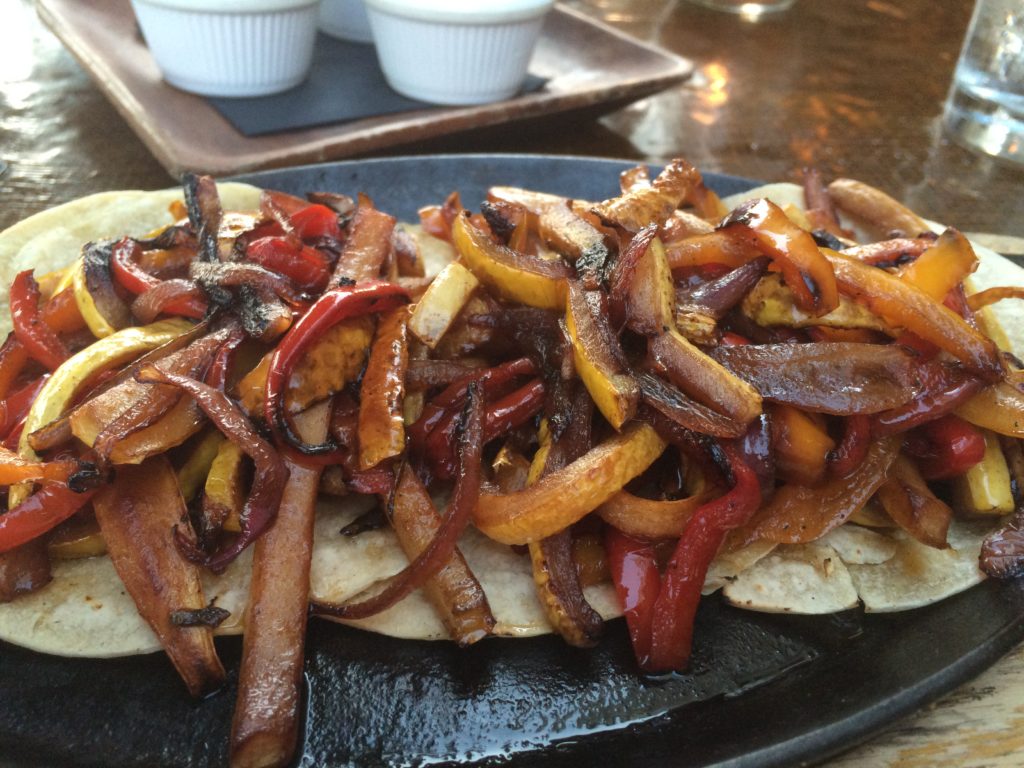 The Cleo is a restaurant that specializes in sharable meals with mediterranean and middle eastern cuisine and was named one of the top 50 hottest restaurants in the U.S. by OpenTable. Cleo is located within The Redbury and is a pretty special place. The restaurant manager, Rima was sweet and inviting. She made sure that our server was aware of my allergies and diet. Anything that was not specifically nut free for instance was modified so I did not have to be deprived of any meal option. We ate at this restaurant the most during our vacation and were treated like VIP's. Our favorite starters were brought to the table as soon as we sat down. The atmosphere was lively and warm. The servers were knowledgeable and fun, the food was amazing! So many complex flavors and fusion bites. The curry hummus with veggies was a staple and my Aunt ordered the lebenah with feta. We shared the brussels sprout hearts that were made delicately and uniquely by separating each one of the leaves. We also tried the artichokes with nicoise olives, which was lemon and garlic infused. Each time I could not resist ordering the quinoa salad with roasted veggies and frisee, without the almonds. My Aunt ventured to try something new including the garlic shrimp and the wagyu kebab. You can not go wrong with anything on the menu!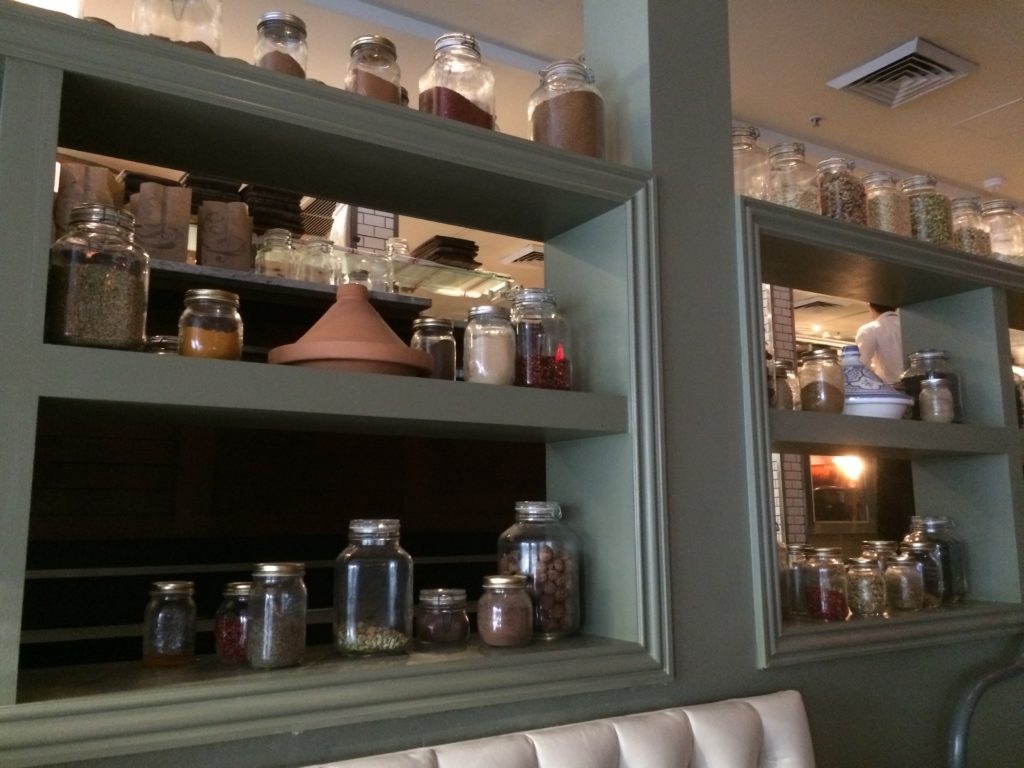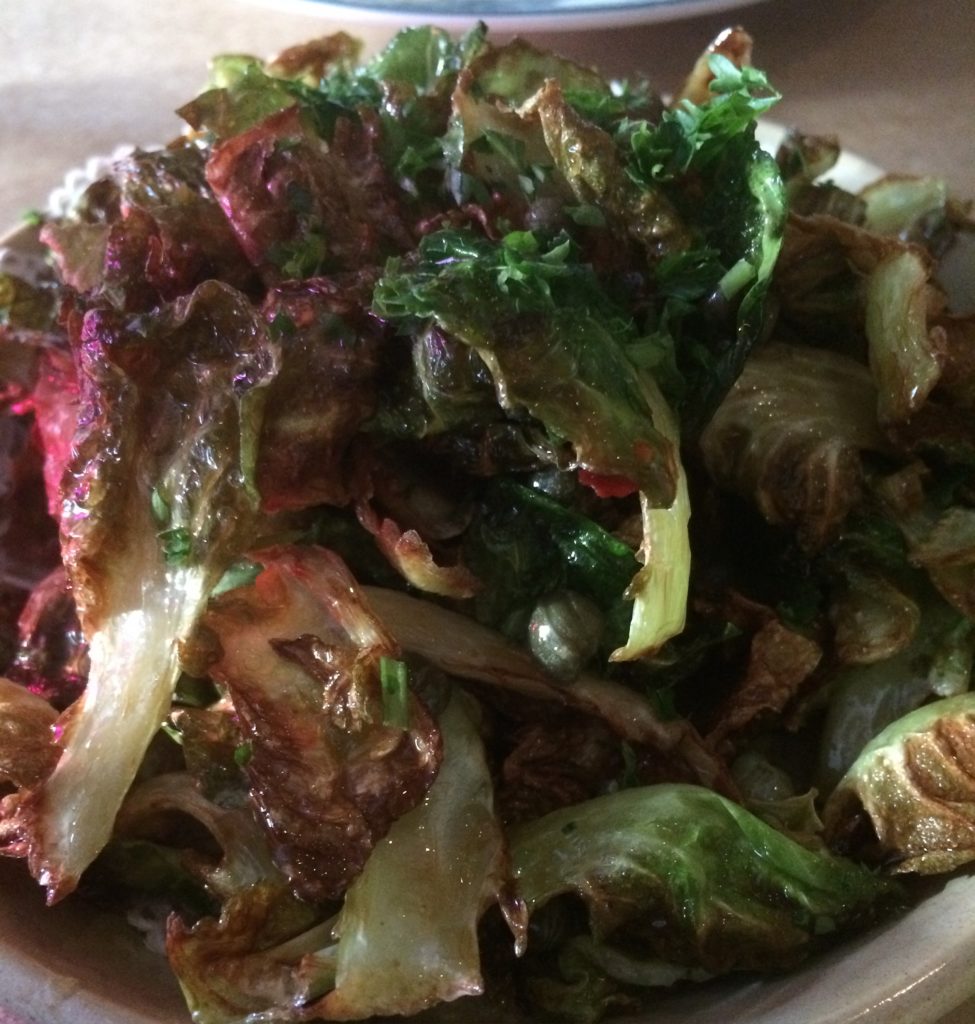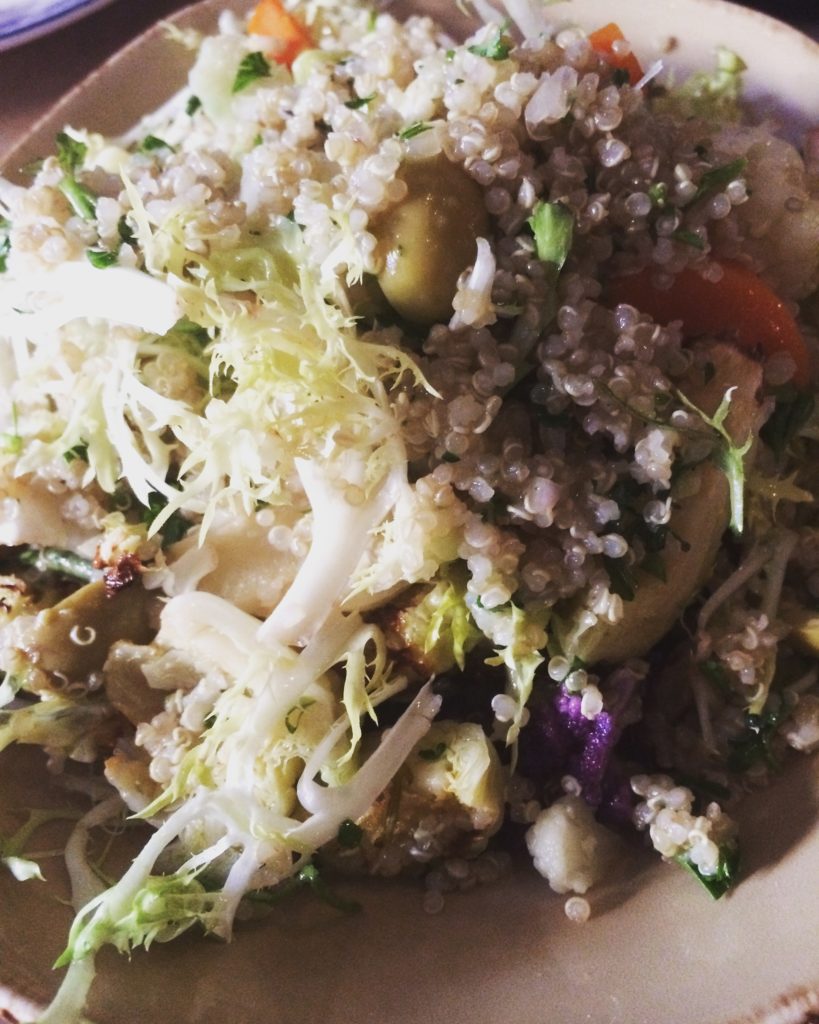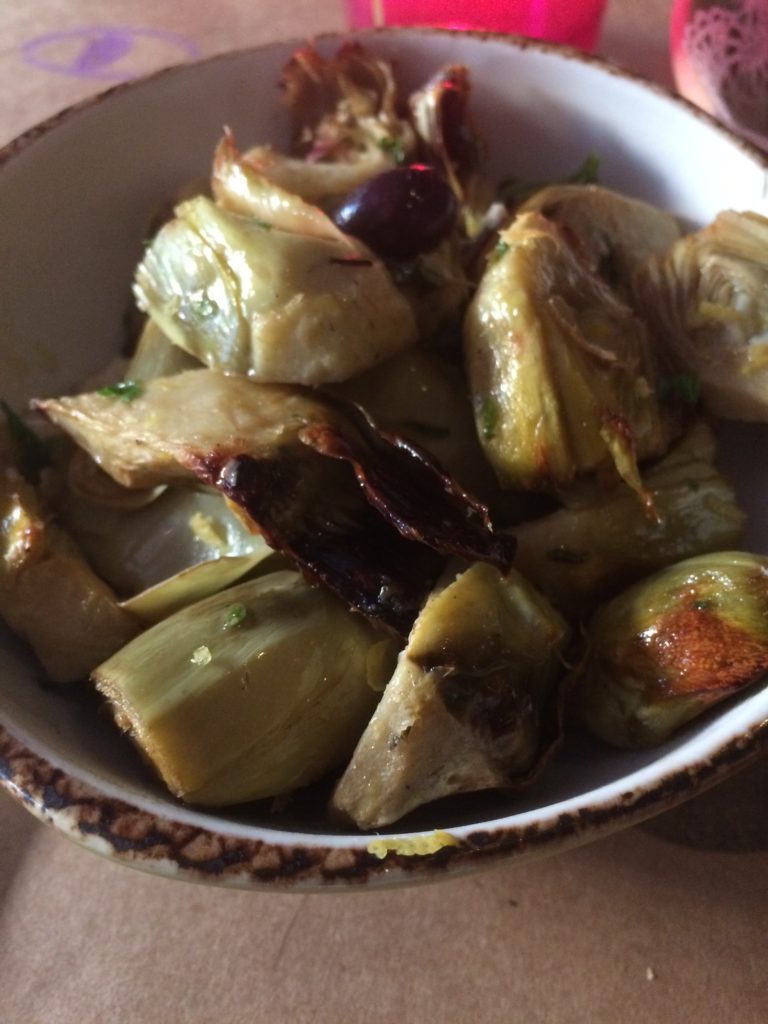 Wearing another one of my fabulous finds from Walmart. I just could not pass up this maxi dress- cinched waist, detailed top, side slit- what more could you want from a $10 dress?! I paired the look with one of my favorite shoes, simple black mules purchased at Zara last summer. With a dress this affordable, you can spend a little more on the accessories. I am wearing my Alex and Ani Fortune's Bliss Sweet Pea Charm Bangle.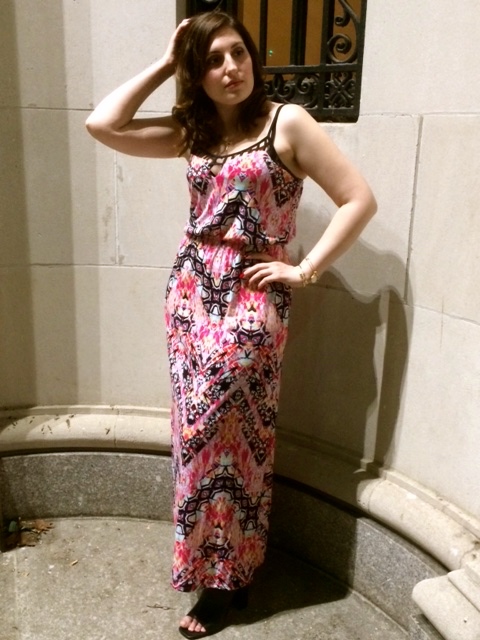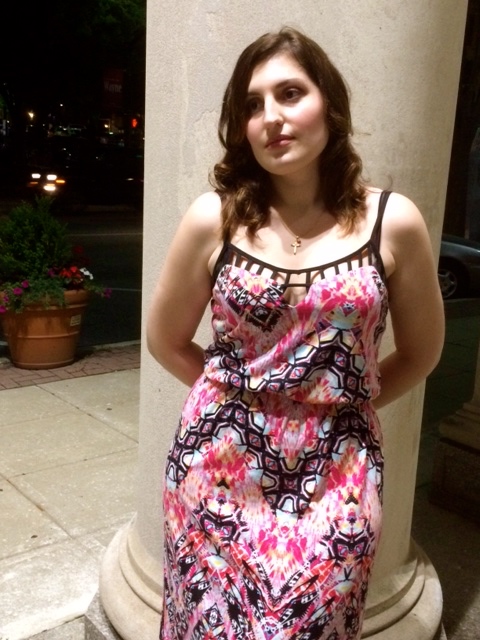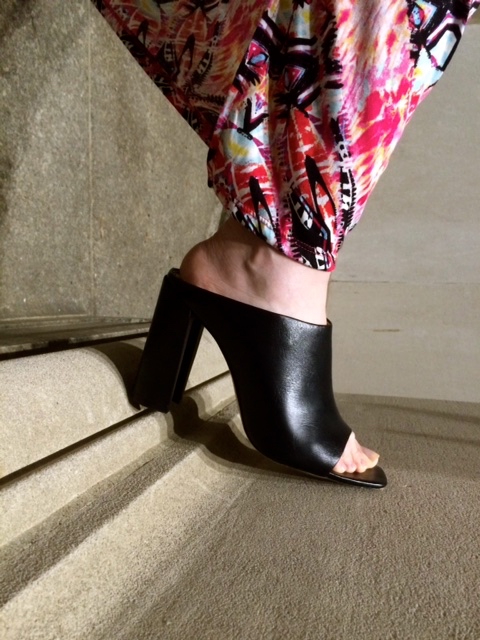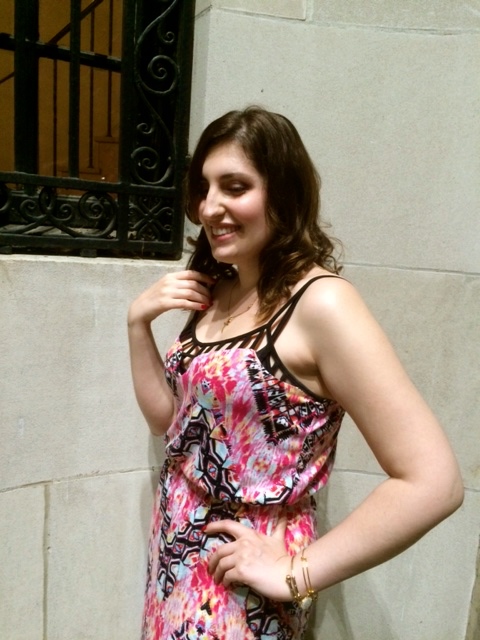 I kept my makeup look simple, with jewel tones. I wore the Density eyeshadow trio and 3 in 1 stick in Berry Glow by Mineral Fusion. My lips needed a little moisturizer so I wore the Black Honey Almost Lipstick. It is my eyelashes that were really impressive. I tried for the first time last night the Za Za Zu mascara from Nyx cosmetics. This mascara lengthened and created volume, did not drop any black under the eye, and stayed on all night looking flawless. One of the best drugstore purchases!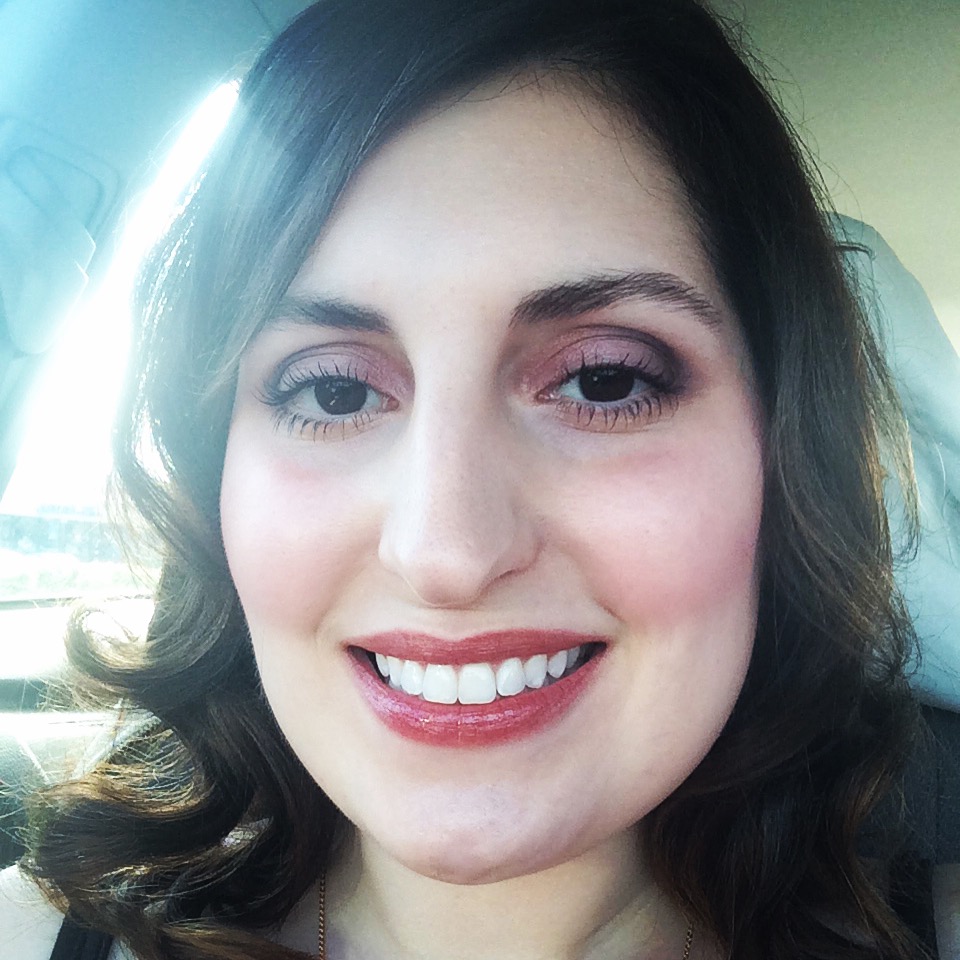 I have been wanting to try this recipe for quite some time and finally got around to making it. I kept seeing all of these gorgeous pictures on instagram of people making this fabulous vegan ice cream and putting it into an overflowing mason jar with toppings pouring over the top. I was so intrigued I needed to make it for myself. If you are unfamiliar, Nice cream is completely made of frozen bananas and somehow the texture mimics dairy ice cream. It is creamy, sweet, and best of all healthy. This is such a versatile recipe. You could add toppings as if you are creating a sundae or you could blend the desired fillings with the bananas.
Here's how you make this delicious treat. Freeze ripened bananas. I have been using two bananas, but you could just use one or five. Freeze overnight for the best results. After the bananas are frozen solid throw them into a device that blends. I am not including my process because I used a hand blender as opposed to an actual blender and it took me a lot longer. Keep processing until it becomes smooth and mouse-like. You can add other fruit to the mix to make a flavored nice cream or you can add the toppings later.
I made a few different kinds. I made a raspberry sauce one time using one cup of frozen raspberries. I poured them into a small saucepan with a pinch of cinnamon and let them reduce until thick. You could strain if you wanted to remove the seeds. You could also add vanilla extract. Once the raspberries are reduced, remove from the heat and allow to cool.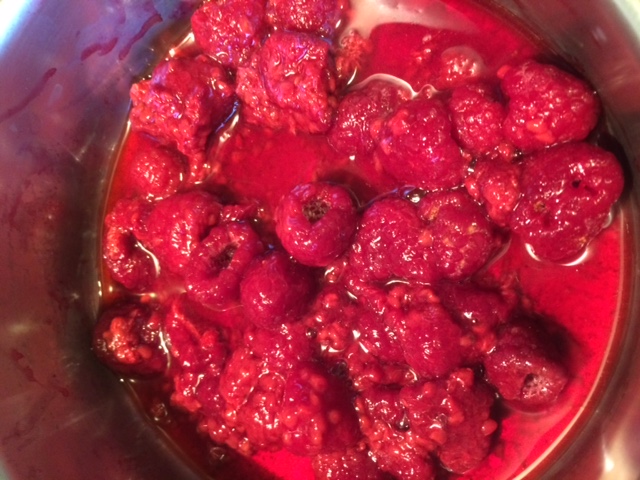 In the meantime take one tablespoon of vegan, glutenfree chocolate chips. I always use Enjoy Life brand. Melt the chips either in the microwave or in a double boiler. When it is melted add a teaspoon of flax milk an stir evenly. You are creating a ganache for the nice cream to prevent the chips from freezing when it touches the nice cream.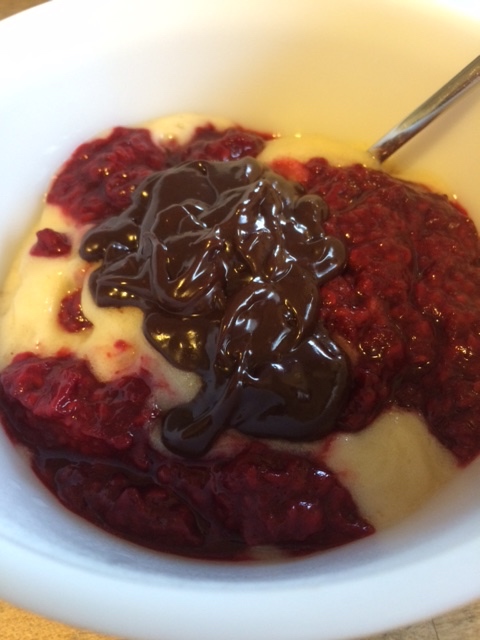 Finishing touches…pour the raspberry sauce and then the ganache.
You could also just sprinkle the chips or fresh blueberries on top. The possibilities are endless! If you can resist and want to eat at a later time, just put nice cream in a sealed container and throw in the freezer.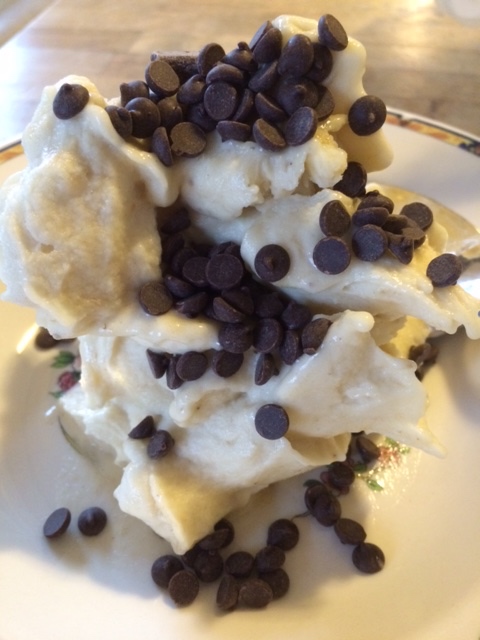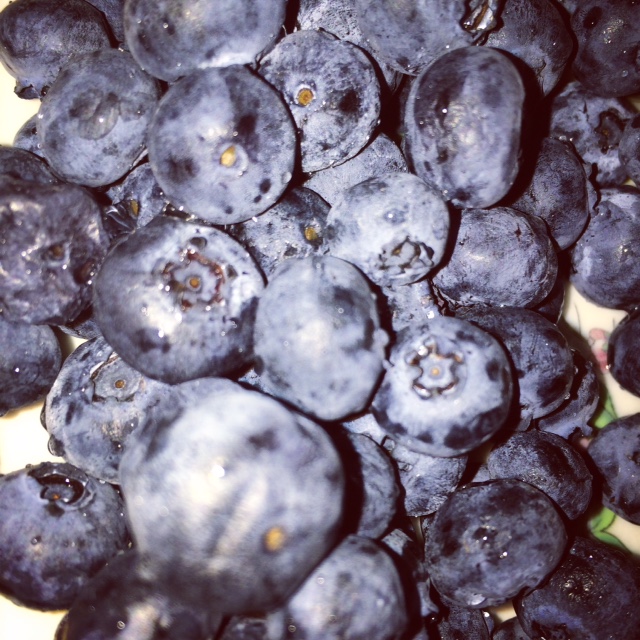 Let me know what you think. For more of my pictures follow me on instagram @ashleybasla
Copyright © Dandelion by Pexeto