The off the shoulder look, thankfully is here to stay as one of fall's biggest fashion trends. It is such a flattering, fun, chic way to add a little flair to a plain look. Whether it is a top or a classic lbd, the shoulder detail is sweet and sexy.
I purchased this entire look well within budget, which is always an exciting feat. I paired this Nicole Miller dress with a black and white vegan clutch from Target. I kept the the look simple and added a pair of silver cascade earrings from Charming Charlie.
Since dying my hair red I have avoided the sun like the plague to prevent unnecessary fading. As a result, I am paler than ever. To add a little color to my face, I applied the gorgeous and shimmering eyeshadow, blush, and bronzer from the Bronze Goddess palette by Laini Cosmetics. I added the Liquid Shimmer to the center of my lips to add depth and fullness.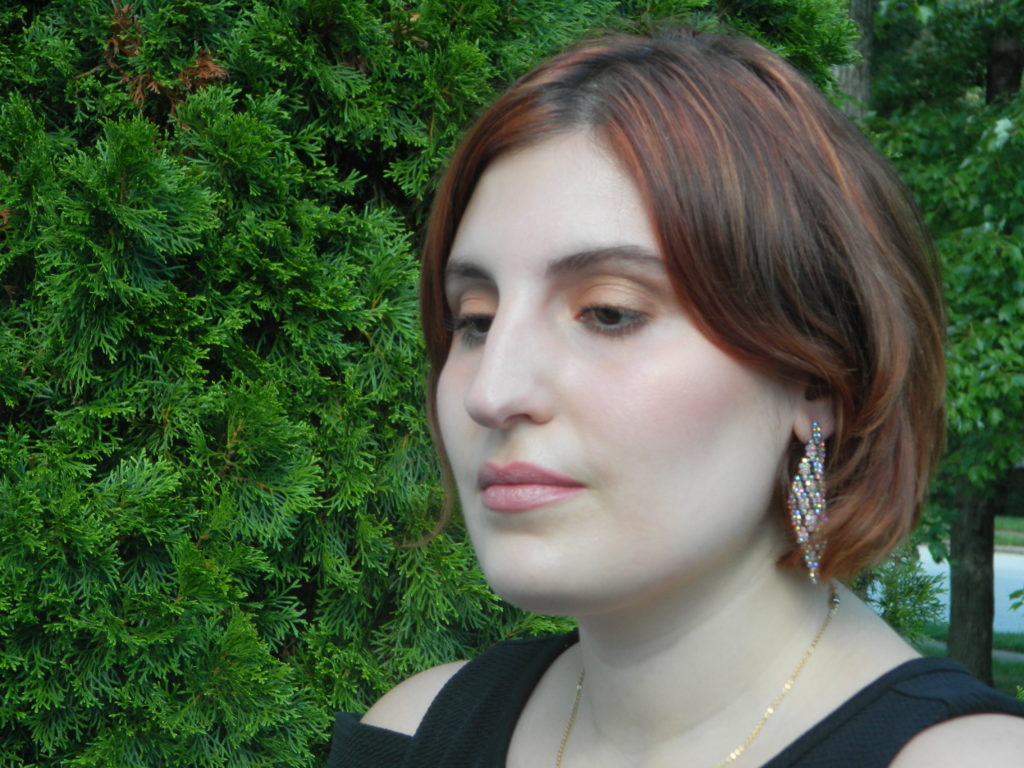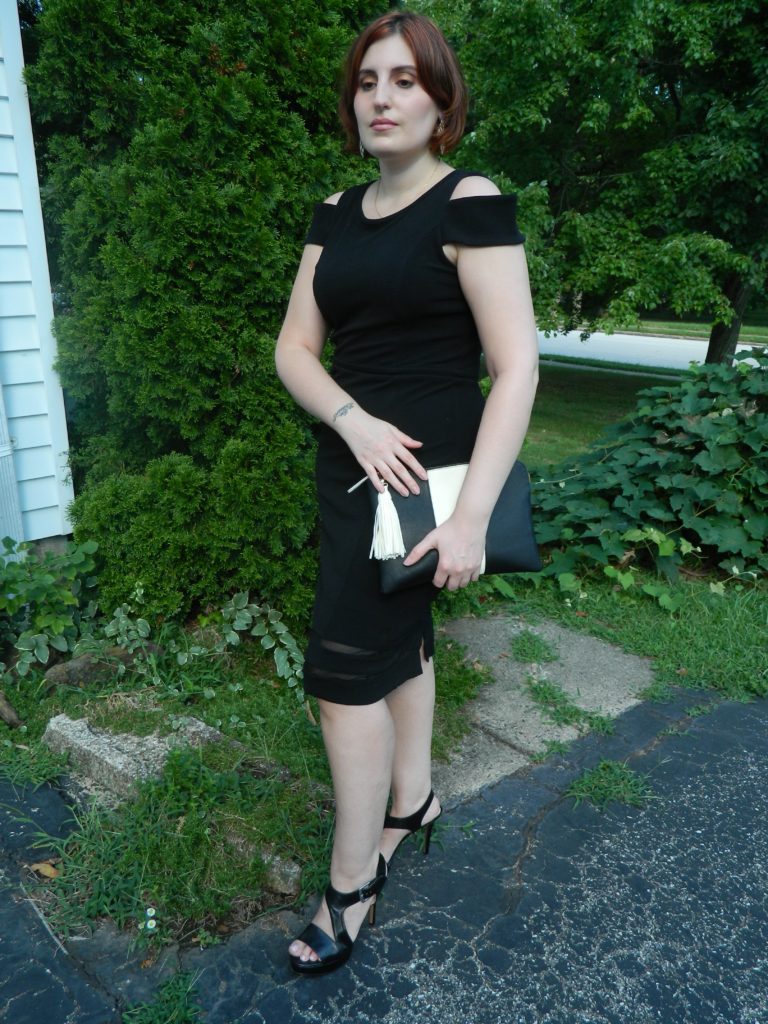 I frequently shop at the Philadelphia Premium Outlets. I always find great deals from a variety of designer stores. Each time that I visit the outlets I somehow overlook the Neiman Marcus Last Call store. Last month, I decided to walk in and check it out as I am a huge fan of Neiman's. The store itself was organized and filled with exciting items at fabulous prices. I honestly did not know which department to look at first! As you all know, I am a fan of the blazer. I could wear one everyday and just change the accessories. I was lucky to find a beautiful double-button blazer by Catherine Malandrino. The shawl with lapels are a detailed touch, which elevates the look.
With the blazer in hand it was time for the accessories. I needed a statement piece of jewelry. I found a jeweled gold plaited necklace in stunning holiday colors. How could I possibly leave without browsing at handbags? Elaine Turner caught my eye with her very tempting gold embroidered clutch. Now all I needed was a plain tee so the necklace really pops without any competition.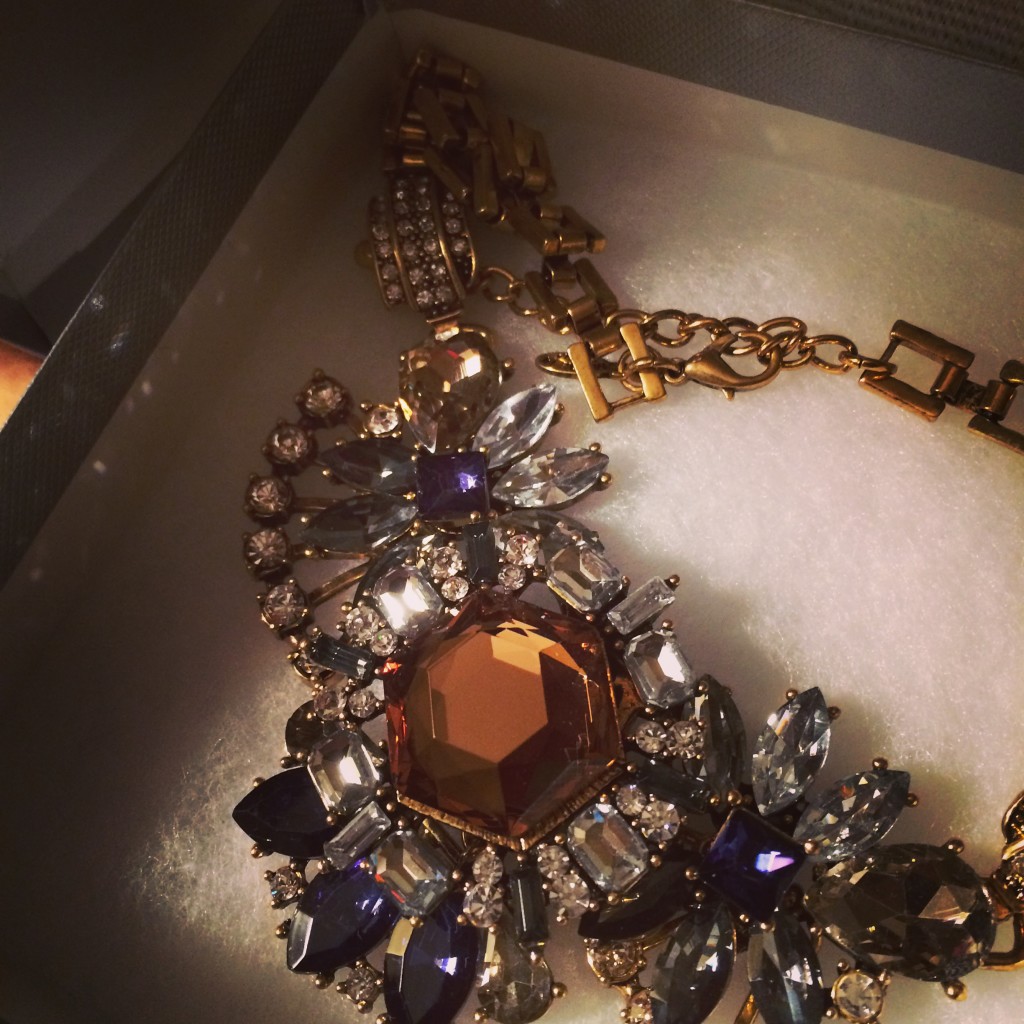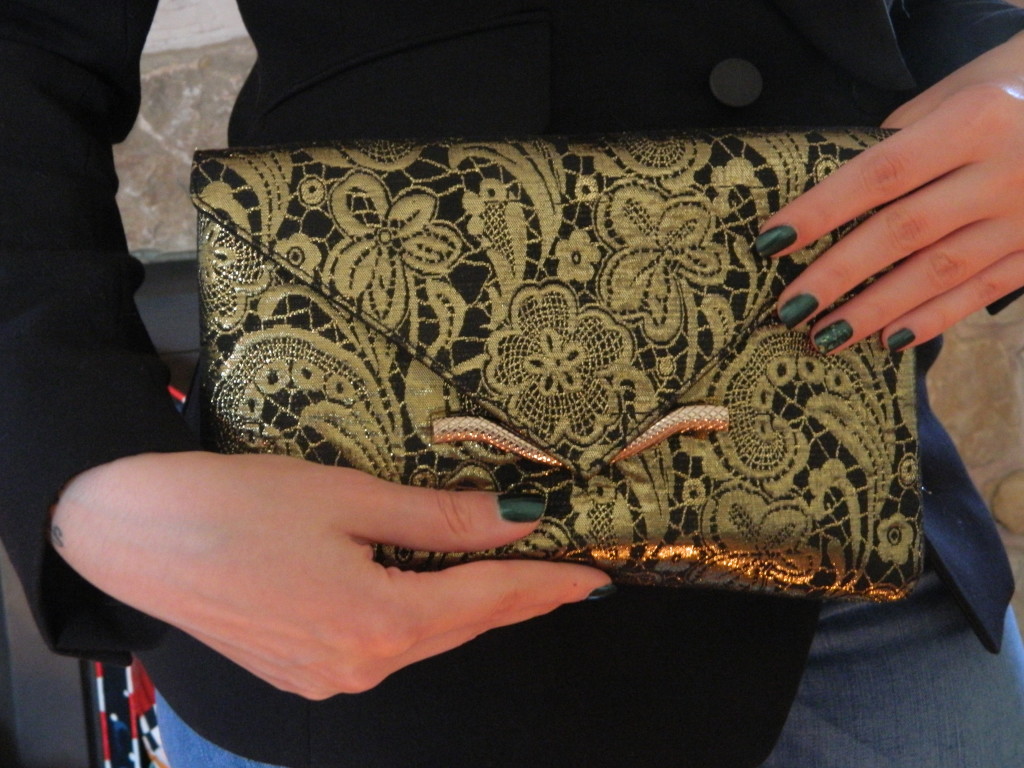 Next stop, Calvin Klein for an embossed black tee (similar here).  I paired the whole look with my favorite flare jeans from H&M. On this occasion, I gave my feet a break and wore flats, but for an evening out opt for sparkly heels!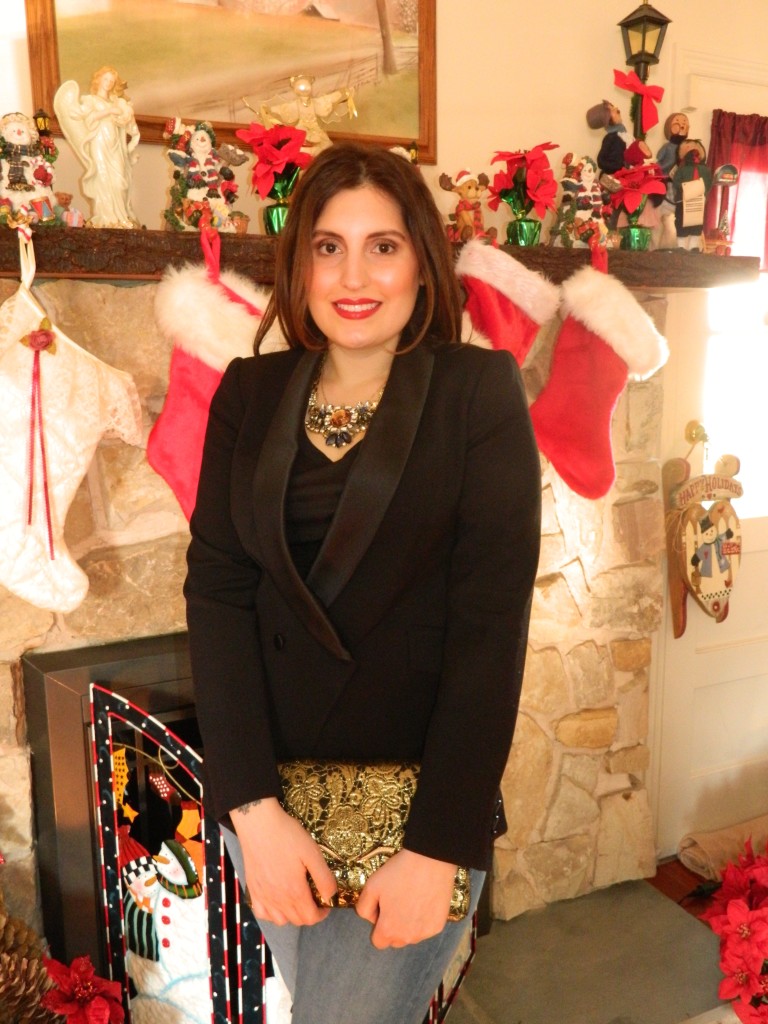 My holiday makeup is shimmering and bronzed using Independent palette and ballerina blush by Laini Cosmetics. Brows are defined using The Brows Have It by Laini Cosmetics. During this season it is perfectly appropriate to wear red lipstick with almost any eyeshadow- smokey or subtle. The berry family is also a wonderful option over the holidays especially with a glittery eye! My nails are painted an emerald green Deborah Lippmann polish, Laughing to the bank an incredible chip resistant lacquer that lasted for a solid week- great alternative to red.
Thank you Wild Lilies Jewelry and Laini Cosmetics for a wonderful holiday event last Saturday! Customers entered the store and purchased treats and gifts from an array of sparkly accessories and radiant makeup. Laini Bianculli offered stunning complimentary mini makeovers and lent her expertise, addressing all beauty concerns and questions.
Customers were able to peruse the store while sipping mimosa's and sampling on goodies. Ambler was filled with excitement as the town celebrated with a parade. Bundled in hats and gloves, people lined the street to watch such favorites as the Grinch, dancing gingerbread men, and local firetrucks.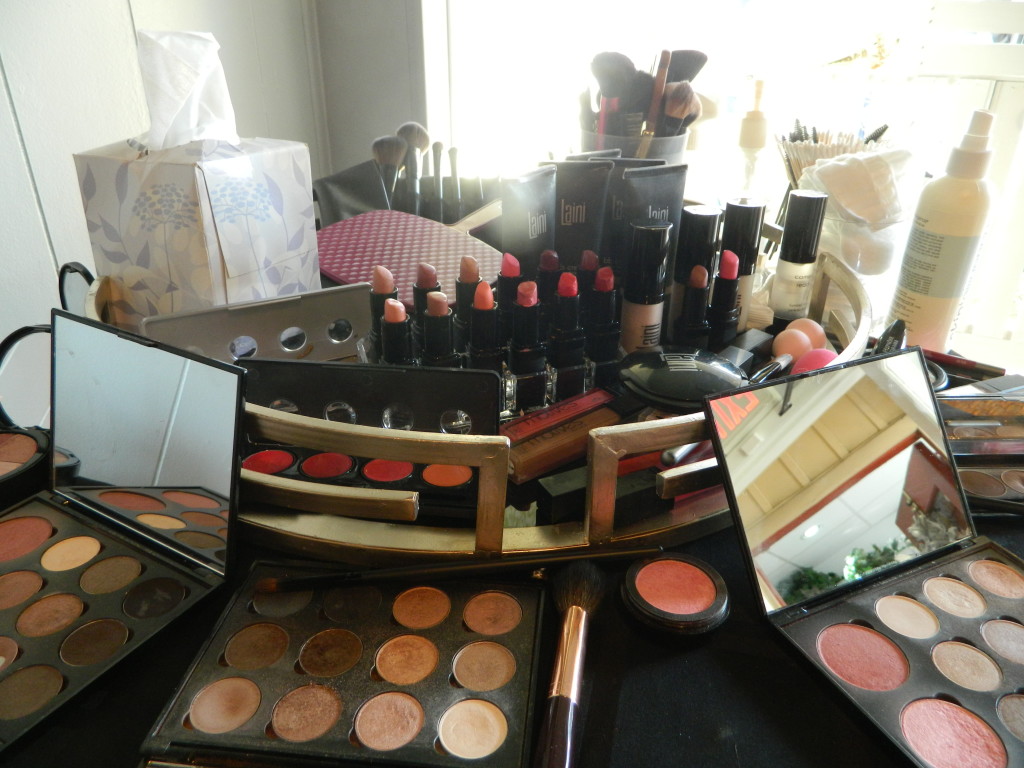 A fun afternoon was had by all as customers were able to enjoy a day of pampering. Remember if you did not attend the event please visit Wild Lilies. There is still time for holiday shopping. Please check out the Style with Laini  website to purchase beautiful makeup items, including the brand new additions to the collection, shimmering eyeshadow trios!
Of course, I could not leave without making a couple of purchases including a Shiraleah velvet jewelry roll and clear plastic clutch with inlaid gold foil. Both would be beautiful gift ideas or holiday party accessories!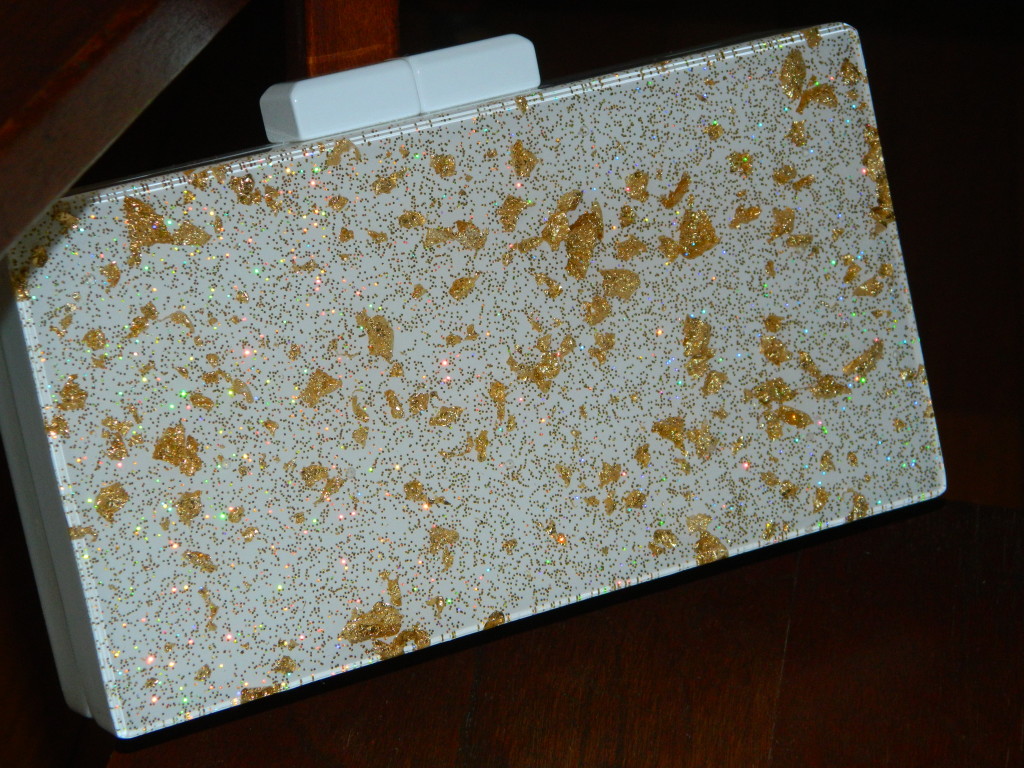 I am not Irish, but my brother was born on this day WITH bright red hair, which really frosted the Irish nurse that helped deliver him. She was convinced after taking one look at my dark haired mother and father that my brother would not have red hair. Surprise! He was such a sweetheart, beautiful face like a cherub and red hair. Needless to say he was too precious to resist and she scooped him up and showed him off to the maternity ward. It was only when he got to be three or four years old did his hair begin to darken and join the ranks of the other members of his immediate family. Happy Birthday to the best little brother!!!
In light of today and Spring approaching, I have included an outfit idea. There are only some shades of green that I like, mostly because green is not a flattering color on my skin tone. However, I think I found a pretty green that is perfect for the Spring/Summer.
Begin with this off the shoulder white dress with an asymmetrical hem line at Tibi. Pair with these beautiful moss colored sandals by Sarah Jessica Parker and sold at Nordstrom exclusively. There is a beautiful clutch at Zara that incorporates almost antique colors in the embroidered exterior. Then I found a gemstone bracelet at J.Crew with many shades of green that will tie the whole look together!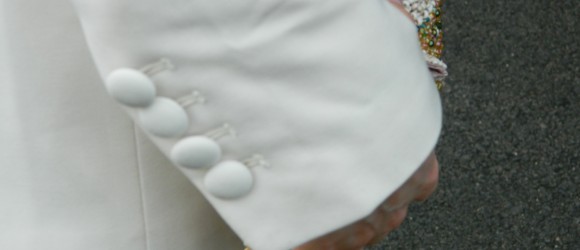 Sorry to all my loyal followers. Sadly, I am a couple of days late with the newest post. There was snow on the ground this morning outside Philadelphia. I should refrain from complaining as New England was hit pretty badly with snow. I am grateful for the dusting even though today marks the first day of spring.
Read More

»
Last week I tweeted about this holiday clutch and in the process convinced myself to make a purchase.
Read More

»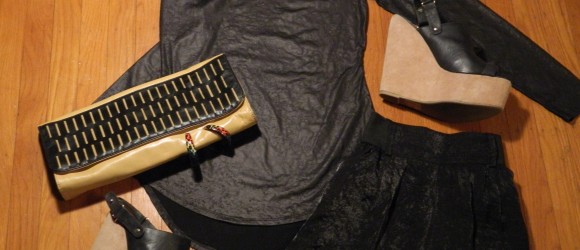 Exciting fun night out on the town, let's go dancing kind of look, with one main exception. These shoes are hardly safe for dancing.
Read More

»
Copyright © Dandelion by Pexeto