Over Christmas my Aunt and Uncle bought me a beautiful black and white Marilyn Monroe printed scarf. I absolutely love it; the style, size, and of course the very modern almost pop like print of a classic beauty. They are such generous and thoughtful people, always finding unique gifts.
When choosing the right outfit for the scarf, I focused on creating a simple look to place the emphasis on Marilyn. Today, I am wearing a peplum Karl Lagerfeld for Lord & Taylor (similar here) blazer with silver zipper detail, a plain pair of  black joggers, and my Sam Edelman flats (earlier post). There are numerous ways to wear a scarf, but I kept it draped simply over one shoulder to allow the print to shine!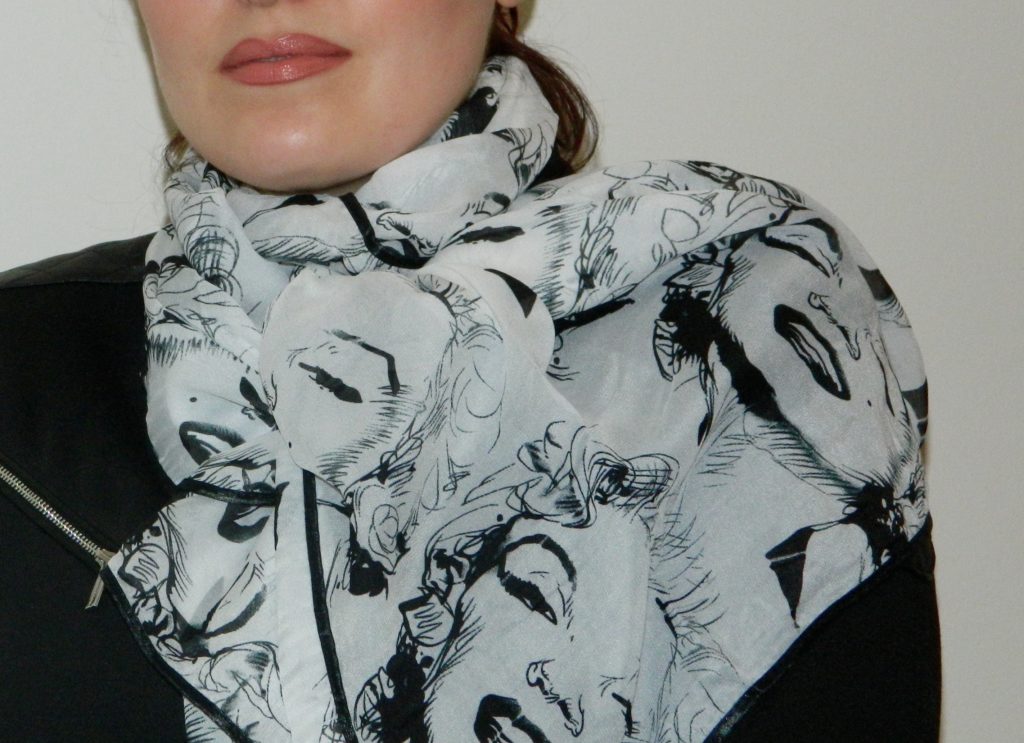 I frequently shop at the Philadelphia Premium Outlets. I always find great deals from a variety of designer stores. Each time that I visit the outlets I somehow overlook the Neiman Marcus Last Call store. Last month, I decided to walk in and check it out as I am a huge fan of Neiman's. The store itself was organized and filled with exciting items at fabulous prices. I honestly did not know which department to look at first! As you all know, I am a fan of the blazer. I could wear one everyday and just change the accessories. I was lucky to find a beautiful double-button blazer by Catherine Malandrino. The shawl with lapels are a detailed touch, which elevates the look.
With the blazer in hand it was time for the accessories. I needed a statement piece of jewelry. I found a jeweled gold plaited necklace in stunning holiday colors. How could I possibly leave without browsing at handbags? Elaine Turner caught my eye with her very tempting gold embroidered clutch. Now all I needed was a plain tee so the necklace really pops without any competition.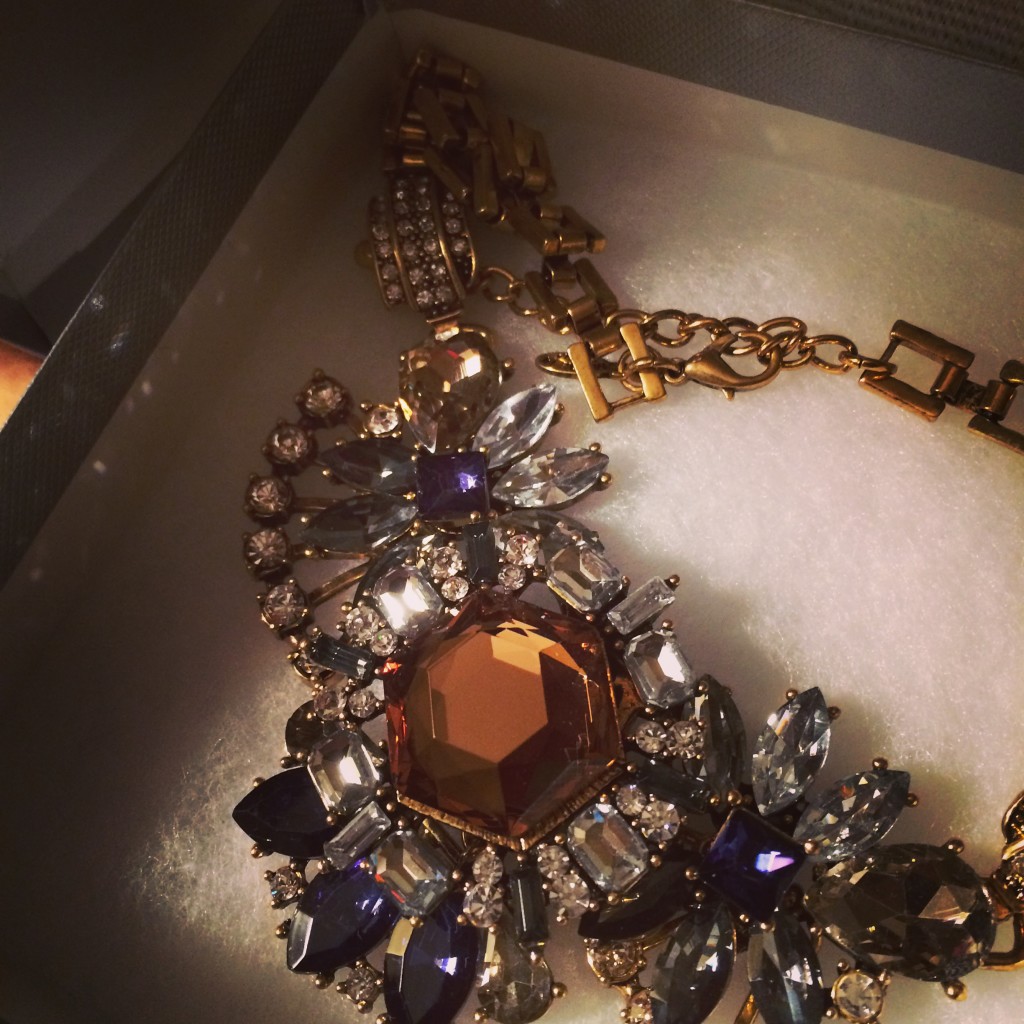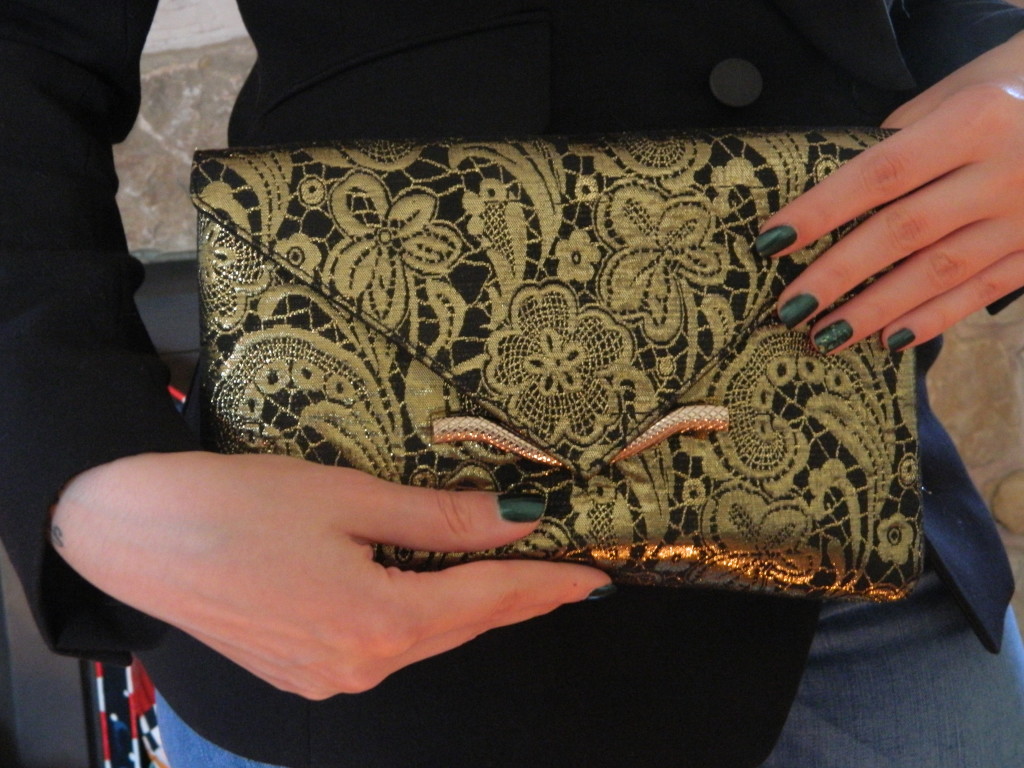 Next stop, Calvin Klein for an embossed black tee (similar here).  I paired the whole look with my favorite flare jeans from H&M. On this occasion, I gave my feet a break and wore flats, but for an evening out opt for sparkly heels!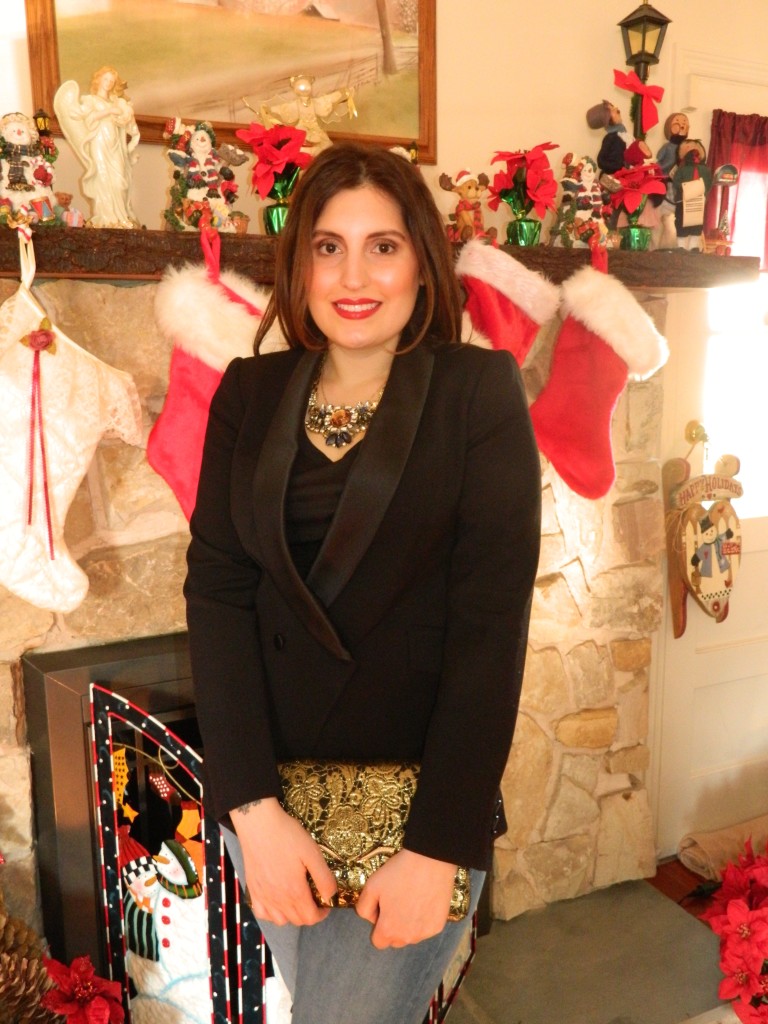 My holiday makeup is shimmering and bronzed using Independent palette and ballerina blush by Laini Cosmetics. Brows are defined using The Brows Have It by Laini Cosmetics. During this season it is perfectly appropriate to wear red lipstick with almost any eyeshadow- smokey or subtle. The berry family is also a wonderful option over the holidays especially with a glittery eye! My nails are painted an emerald green Deborah Lippmann polish, Laughing to the bank an incredible chip resistant lacquer that lasted for a solid week- great alternative to red.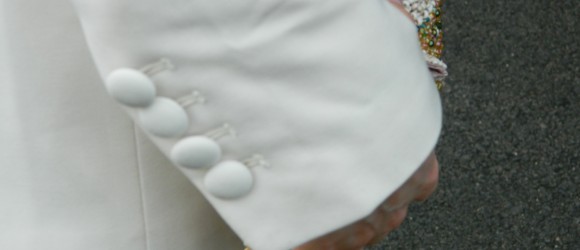 Sorry to all my loyal followers. Sadly, I am a couple of days late with the newest post. There was snow on the ground this morning outside Philadelphia. I should refrain from complaining as New England was hit pretty badly with snow. I am grateful for the dusting even though today marks the first day of spring.
Read More

»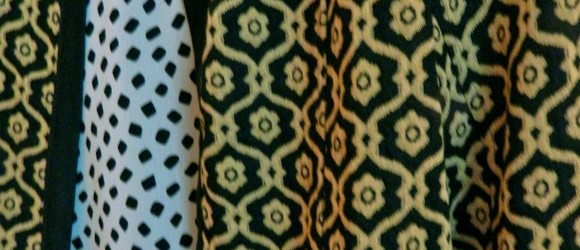 I'm back with the rest of my purchases from the Anniversary Sale at Nordstrom. As I walked alone throughout each department, soaking up the merchandise and visually composing different looks in my mind, I was struck by how much I was drawn to prints.
Read More

»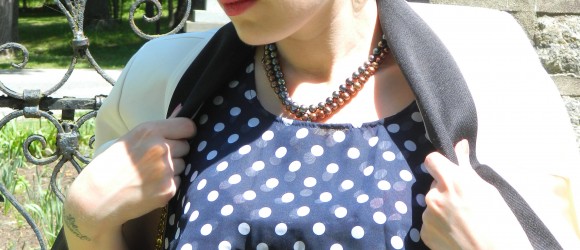 Today I was able to take a little excursion over state lines to beautiful Greenville, DE. There I met the owners of Houppette, a luxury cosmetic boutique and Peter Kate, a designer clothing and accessory boutique.
Read More

»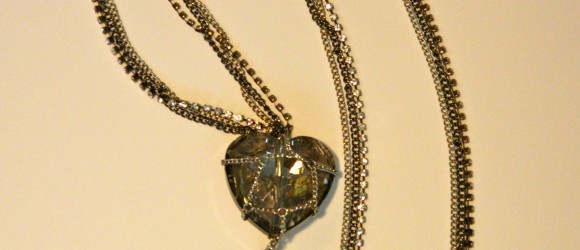 My dear readers, I apologize in advance for not fully fleshing out this ensemble by modeling. I have decided to assemble a few pieces that I am really into lately and making suggestions for the rest. I love the look of liquid metal as a perfect accent to an otherwise stark outfit.
Read More

»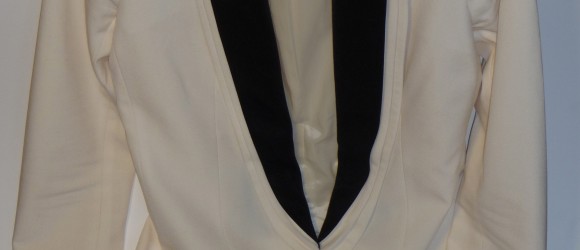 Ah, it is finally here! It was backordered for a couple of weeks, which seemed to drag forever. Very inspired this year by all things Stella McCartney, I was on a witch-hunt for a more reasonable version of the black and white tuxedo jacket from her fall 2011 collection.
Read More

»
Copyright © Dandelion by Pexeto