Over the weekend, I visited Charlie's Jeans in Old City Philadelphia for the very first time. I am embarrassed to admit that I only recently discovered this company that has been around for over 18 years! Charlie's sells beautiful quality, made in the U.S.A. Sebastian McCall jeans in a variety of washes and styles. Sebastian believes that the perfect fitting jeans on men and women instantly boosts confidence. I have to agree. Jean shopping can be tortuous for me. Some shopping experiences are better than others, but some can be extremely tedious- trying on dozens of pairs only to leave with a semi decent fit.
As I walked into Charlie's I was immediately greeted by friendly store manager, Heather. The store itself is immaculately clean and organized with inviting orange as the brand color. Heather spoke to me at length about the jeans and their claim to fame- finding the perfect fitting jeans for each and every person. I needed to see it to believe it. Heather walked right over to a neatly folded stack of jeans and found my size, which fit like a glove. Truly, it was as though they were made for me. I could barely look away from the full length mirror, in awe that the waist was not gapping and there were no creases in the legs. As a small, but curvy person, I find that my biggest dilemma is going up a size to accommodate my thighs and butt, which only increases the waist size forcing me to wear a belt. What a relief.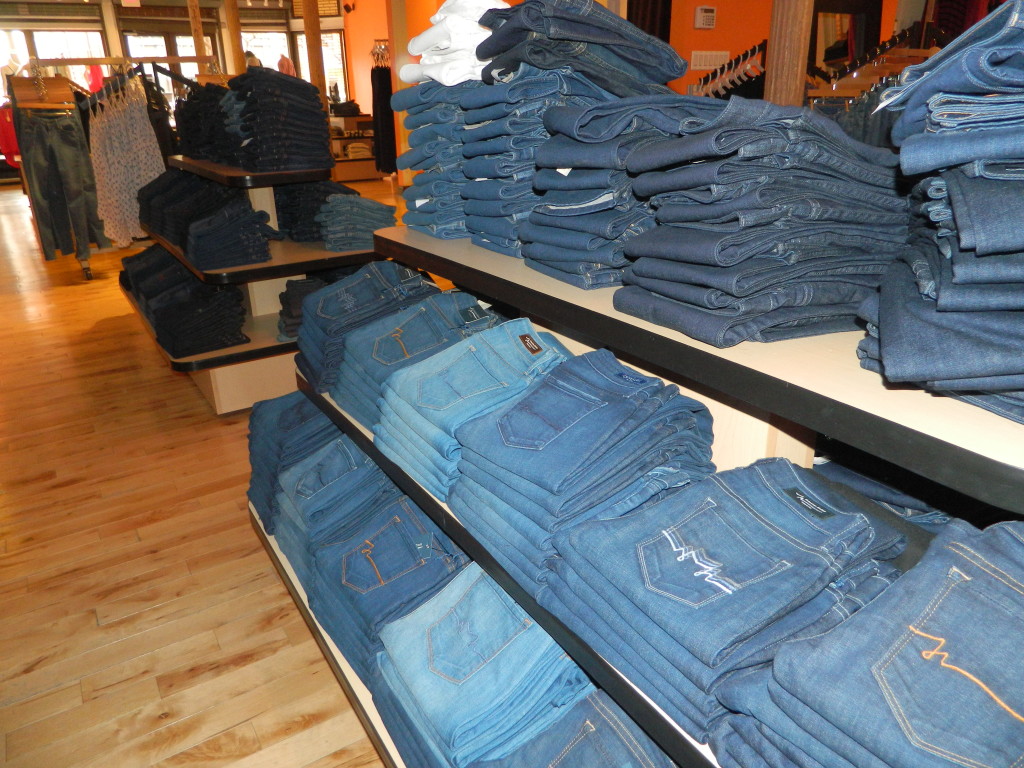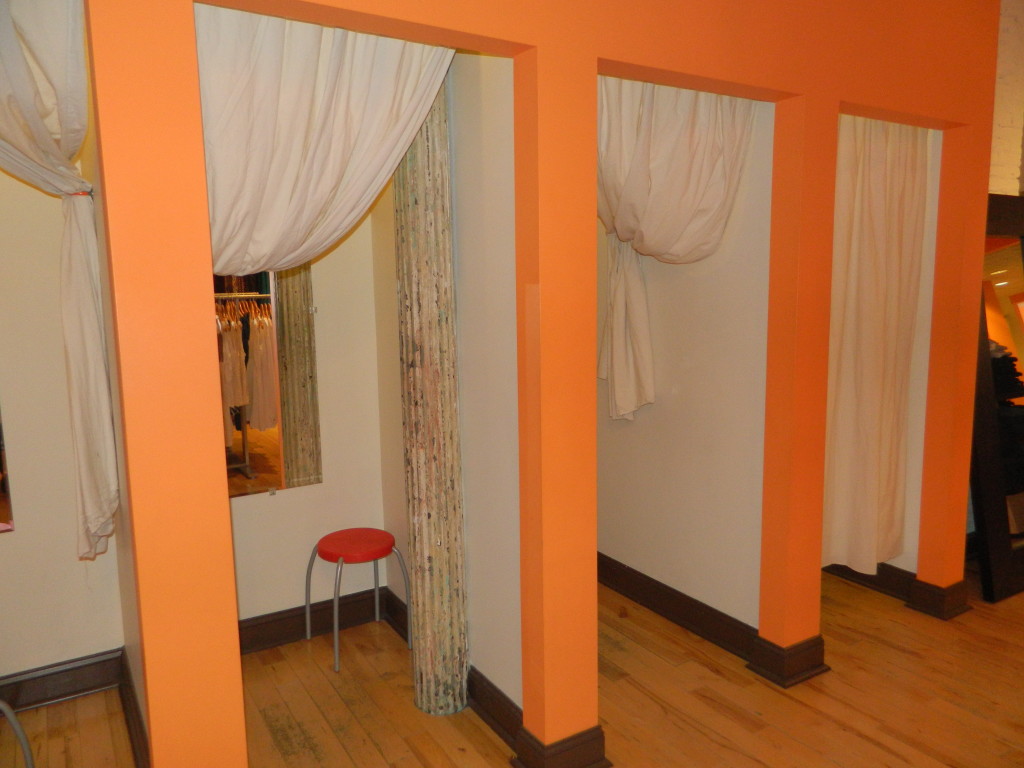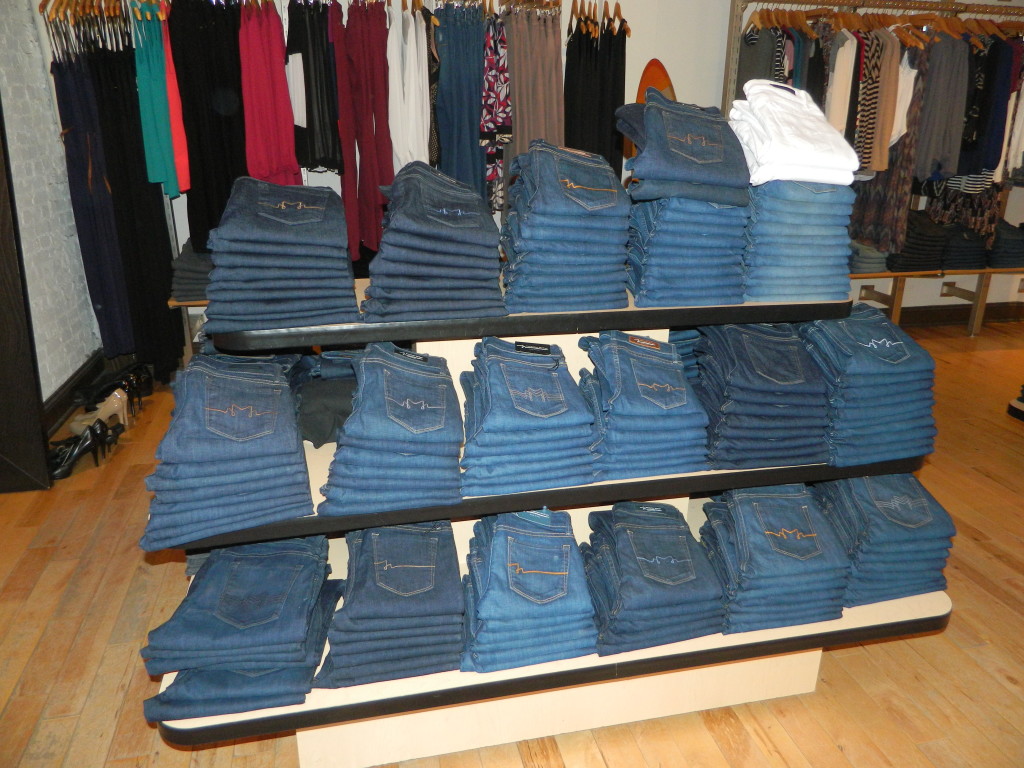 Charlie's extensive training to all employees is impressive. Heather's knowledge really created an enjoyable jean shopping experience, one that is typically unfamiliar to me. Next day alterations are also available if you want to customize your jeans even further. If you are in the market for denim- make sure to stop by Charlie's. These jeans are an investment piece that you will not regret.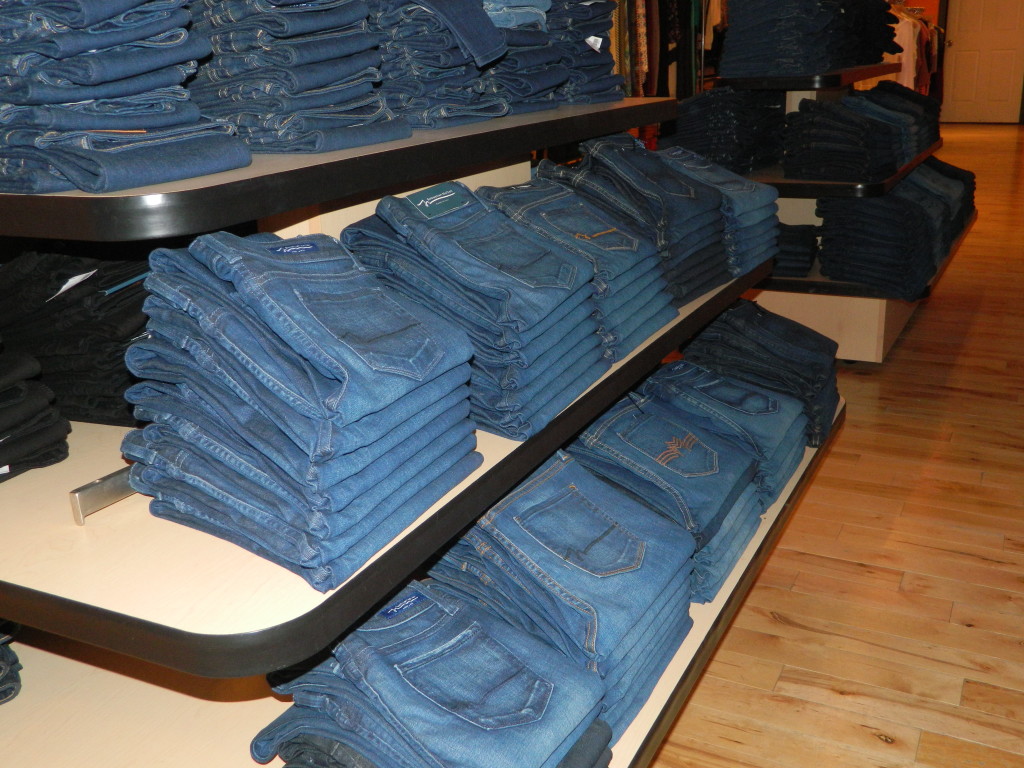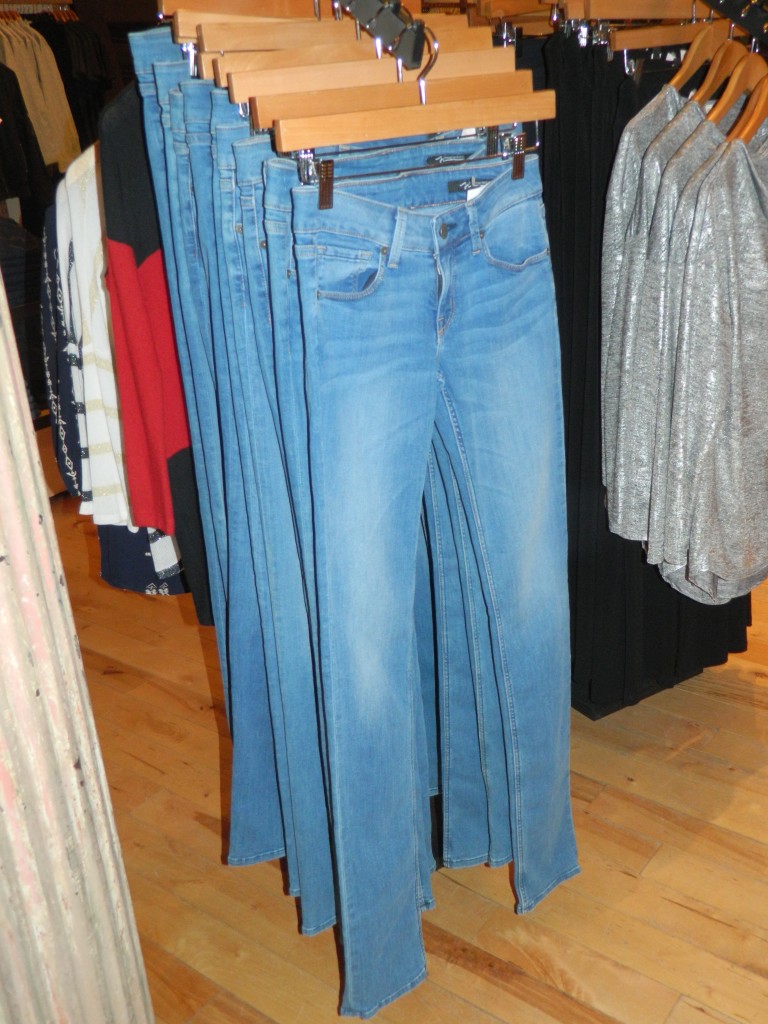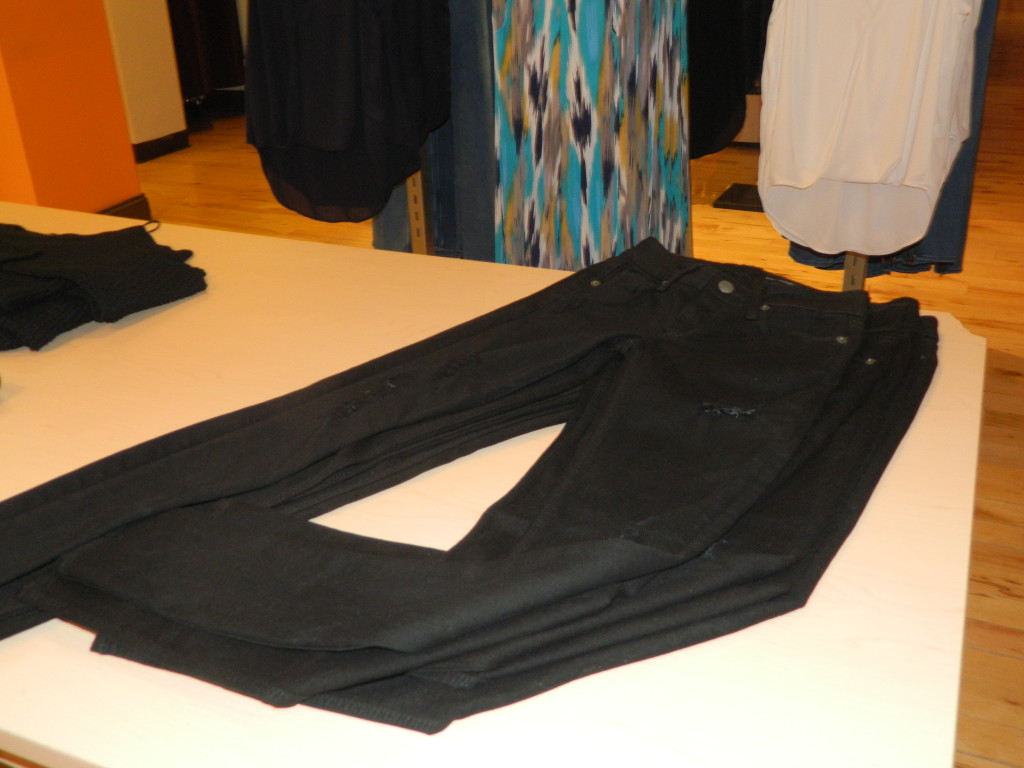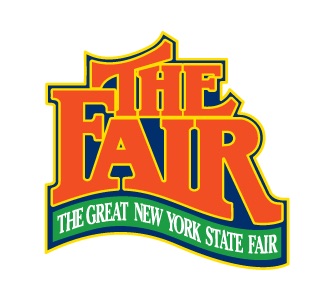 I spent my childhood in Upstate New York, enjoying the gorgeous outdoor natural treasures like Green Lakes, Taughannock Falls and of course the heavy annual snowfall. Since living in Philadelphia, I do miss waking up on Christmas to a winter wonderland. There is so much to do, an incredible amount of outdoor activities like hiking and exploring and many attractions to visit.
My relatives still live in New York so I am fortunate to see the sights when I visit them. The Great New York State Fair is one of them and this year I have the great pleasure of covering it for Sugarpeel. The Fair is an annual event offering traditional fair faves like fried foods, games, and rides along with agricultural and livestock competitions, Iroquois traditional dances, agricultural and carriage museums, a giant sand sculpture, and concerts. Of course these are just some of the many fabulous attractions. Click here for the complete list of must see attractions and events.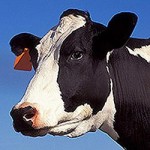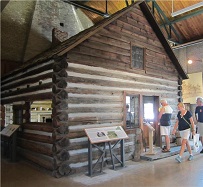 As I mentioned above there is no shortage of food at the Fair from gyro's to bbq and all snacks in between like kettle corn popcorn and strawberry shortcake. For those of you non vegans, make sure to stop by the Rainbow Milk Bar for a glass of ice cold regular or chocolate milk for only $.25!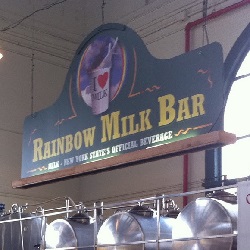 Visit the horticultural building for the famous baked potatoes served with fresh butter and sour cream. This year there are some new options for those with dietary restrictions including a gluten free booth and vegan and vegetarian choices. Local Strong Hearts Cafe will be there serving delicious vegan options including quinoa lentil salads.
This year the Fair will run from Thursday, August 27th to Monday, September 7th 2015. Make sure to buy your ticket! Syracuse, New York is only four hours away, a manageable and exciting destination for the last vacation of the summer. Take a look at the special fair days, which may help you to determine which days you would like to attend. If you are traveling from out of town, take a look at the hotel partners to plan your trip. Stay tuned for my coverage. Hope to see you there!
Credits: all photos provided by The Great New York State Fair – Department of Agriculture and Markets
Creating a hearty, satisfying, and nutritious meal is extremely important for those with dietary restrictions or diet lifestyle choices. As a vegan and celiac I must make sure that during mealtimes I take the time to prepare a creative dish that is both delicious and filling. Preparation is key because I could easily eat a container of hummus with sweet potato chips for dinner and while that is a wonderful snack- not always appropriate for main meals. Also, for me personally, a warm meal sits better in my stomach than something cold unless it is a side dish. For some reason I always feel more satisfied with a hot dish.
Anyway, this is a creation that I made the other night on a weekend-more time to experiment with new recipes. The tomatoes in my garden are so fresh and tasty that I find a way to incorporate them into my meals, whether eating a plain tomato salad or making a savory marinara sauce. In this case, I made the latter over a bed of artichoke hearts and gluten free pasta. Here's how.
Ingredients:
4 oz of gluten free spaghetti
1 large beefsteak tomato
1 can of artichoke hearts
1 tablespoon of olive oil
1 teaspoon of lemon juice
Salt, red chili flakes, 2 leaves of basil
How to:  
Boil the pasta, drain, and set aside. Drain the artichoke hearts and place on the bottom of a dish. Layer the drained spaghetti on top. Dice the tomato, add the spices, olive oil, lemon juice and cut basil leaves and allow to marinate for a few minutes so the juices are released from the tomatoes. Finally top the spaghetti and artichoke hearts with the freshly made sauce. This dish can be eaten hot or like a cold pasta dish. You could also mix all of the ingredients together into a bowl, but I prefer to create a layered dish.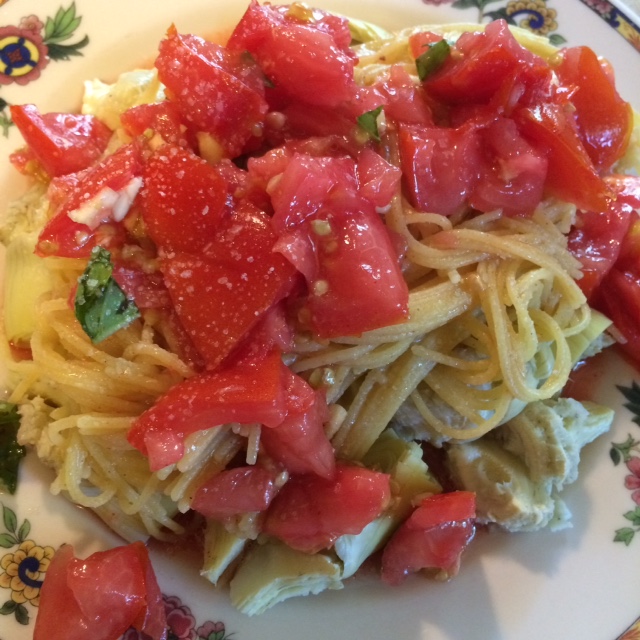 I noticed a new line of vegan candy bars in Wegmans the other day and for whatever reason decided against buying one. I think it had something to do with trying not to eat all of my daily calories in chocolate. However, that feeling did not last long because when I returned to my house I could not stop thinking about the candy. After an internal fight with myself, I caved and decided to make the candy.
Basically this is a recipe for a homemade, vegan crunch bar, using toasted quinoa instead of puffed rice. Quinoa adds protein to the bar. This would be the perfect portable snack to bring to a barbecue this Memorial Day weekend.
Ingredients:
1 cup of Enjoy Life chocolate chunks
1/2 cup of quinoa
How to:
Toast the quinoa in a pan until you can smell their aroma..about 2 minutes. Make sure to stir to avoid burning.
Melt the chocolate in a microwave safe bowl then add the toasted quinoa, mixing by hand, until the quinoa and chocolate are totally incorporated.
Pour the mixture onto parchment paper and smooth. Place in the fridge overnight or until the candy is completely solid.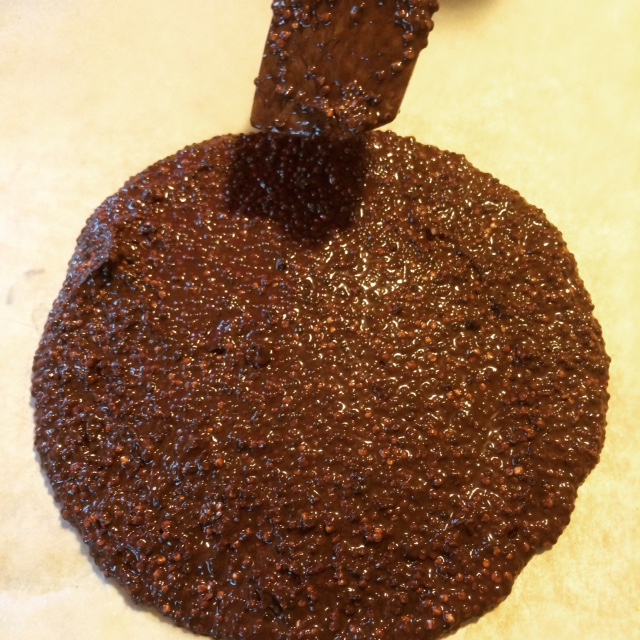 Remove, break into shards, and enjoy the toasty, crunchy, chocolaty vegan, gluten, and nut free candy!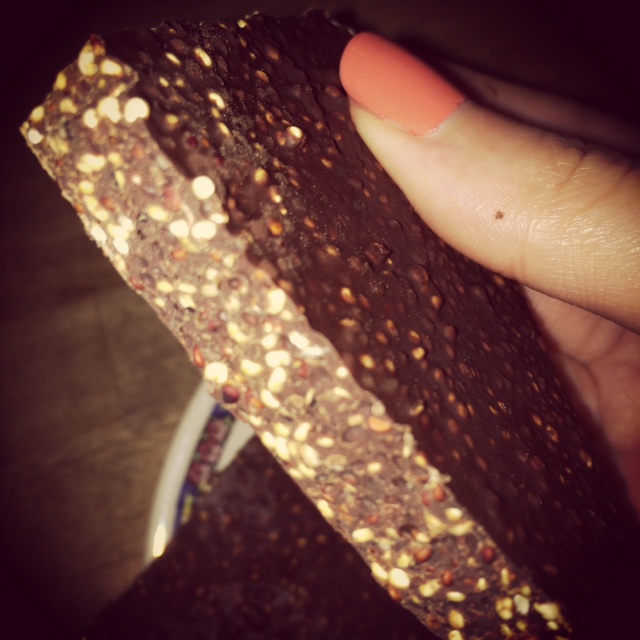 Well I can no longer call myself a twenty something woman, as my friend would say. With each passing year in the twenties, my roommate from college would say we no longer need to disclose our actual age (except on legal documents of course), just that we are twenty something. That logic sounded good to me!
Today I am 30- really no other way to say it. I will admit I was pretty stressed leading up to today. I was completely consumed with the number. I had no intention of even celebrating. Then something magical happened. I began to realize that the number doesn't matter, it's the way you feel, plus a party is a party, no matter what age. 30 is going to happen whether I like it or not, so I might as well mark the day. With that said, I will never be comfortable with those lawn ornaments broadcasting my age for all to see.
I feel good. I am happy, thankful, and blessed. Keep moving forward, continue to grow and be a better person, become more comfortable in my own skin. These are my hopes and goals for the decade to come!
My family had a beautiful party to celebrate my birthday. They made my favorite foods for dinner, fabulous and thoughtful gifts, and even a cake made entirely of flowers and one real cake too!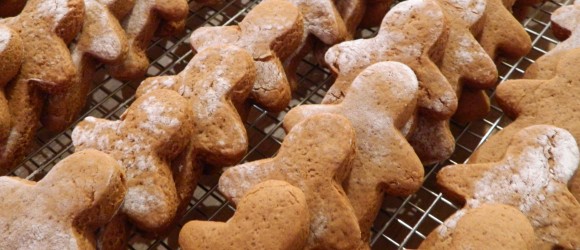 Sorry for the delay since my last post. I decided to wait until after Christmas to post my next blog. My Christmas this year went by too fast as usual and in the true spirit of the season ended just as fast as it began.
Read More

»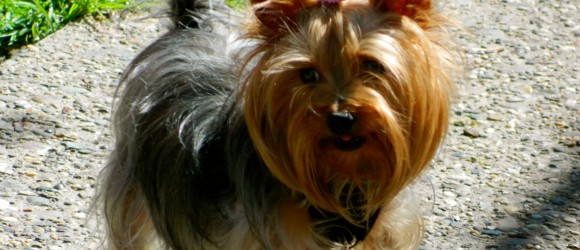 Ok so this is definitely not a typical fashion blog, but she is my best accessory to date!  I love her to pieces so I decided to share some info and photos of my beautiful 3-year-old Yorkie named…Sophia Loren!
Read More

»
Copyright © Dandelion by Pexeto