Holiday Soiree at The Rittenhouse Spa and Club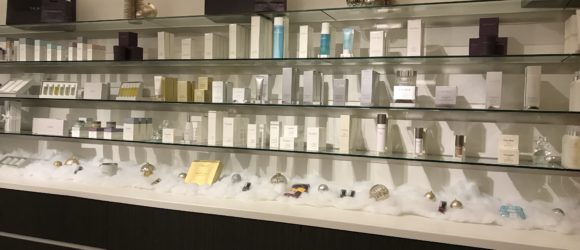 Leave it to The Rittenhouse Spa and Club to offer the most cutting edge skincare and spa services. This week I had a lovely time at their holiday soiree. Delicious hors d'oeuvres were passed while guests enjoyed mini spa treatments and nail and makeup touch-ups.
However, it was the Natura Bisse skincare collection that wowed. The products deliver cutting edge innovation with quality and effective luxury ingredients. The Rittenhouse was able to host the exclusive Bubble Pure Air installation. This space age fixture is filled with 99.9% pure air that creates a serene spa experience while boosting the effectiveness of your spa treatment. As you lie down to enjoy your facial, cells regenerate, detox, and respond to the ingredients within the products faster, offering visible results from the pure air that is pumped into the bubble.
As a skincare addict, I love learning new, exciting, non invasive technologies that actually offer significant results. Thank you to The Rittenhouse for inviting me. I am so happy I was able to learn and experience such a fabulous invention.
All of the Natura skincare collection can be purchased at the gorgeous and peaceful spa store. The products would be perfect gift or a treat for yourself.
Copyright © Dandelion by Pexeto