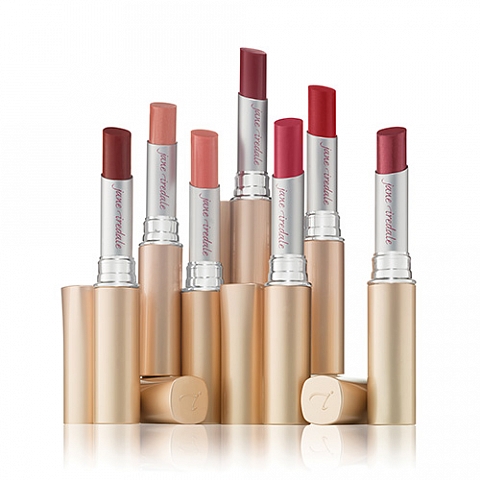 No matter how many beautiful lipstick colors, I always seem to go back to a classic red lip. I have my favorites and this is now one of them. Recently, I tried the PureMoist lipstick from Jane Iredale in Cindy, a striking brick red. Jane Iredale is a beautiful, vegan and cruelty free makeup brand.
The PureMoist lipstick formula contains multiple fruit extracts and hydrating oils including jojoba and avocado. The creamy texture applies smoothly and absorbs into lips keeping the color in place without feathering.
Cindy is a gorgeous berry stained, brick red color that can be worn all year round and flattering on all skin tones. Your lips will pop in this fabulous color and feel extra soft wearing this luxurious product.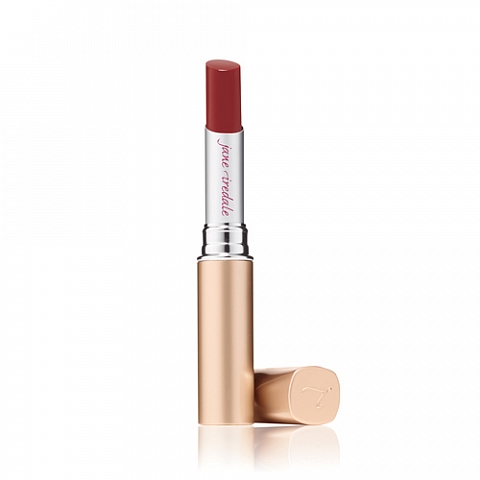 The off the shoulder look, thankfully is here to stay as one of fall's biggest fashion trends. It is such a flattering, fun, chic way to add a little flair to a plain look. Whether it is a top or a classic lbd, the shoulder detail is sweet and sexy.
I purchased this entire look well within budget, which is always an exciting feat. I paired this Nicole Miller dress with a black and white vegan clutch from Target. I kept the the look simple and added a pair of silver cascade earrings from Charming Charlie.
Since dying my hair red I have avoided the sun like the plague to prevent unnecessary fading. As a result, I am paler than ever. To add a little color to my face, I applied the gorgeous and shimmering eyeshadow, blush, and bronzer from the Bronze Goddess palette by Laini Cosmetics. I added the Liquid Shimmer to the center of my lips to add depth and fullness.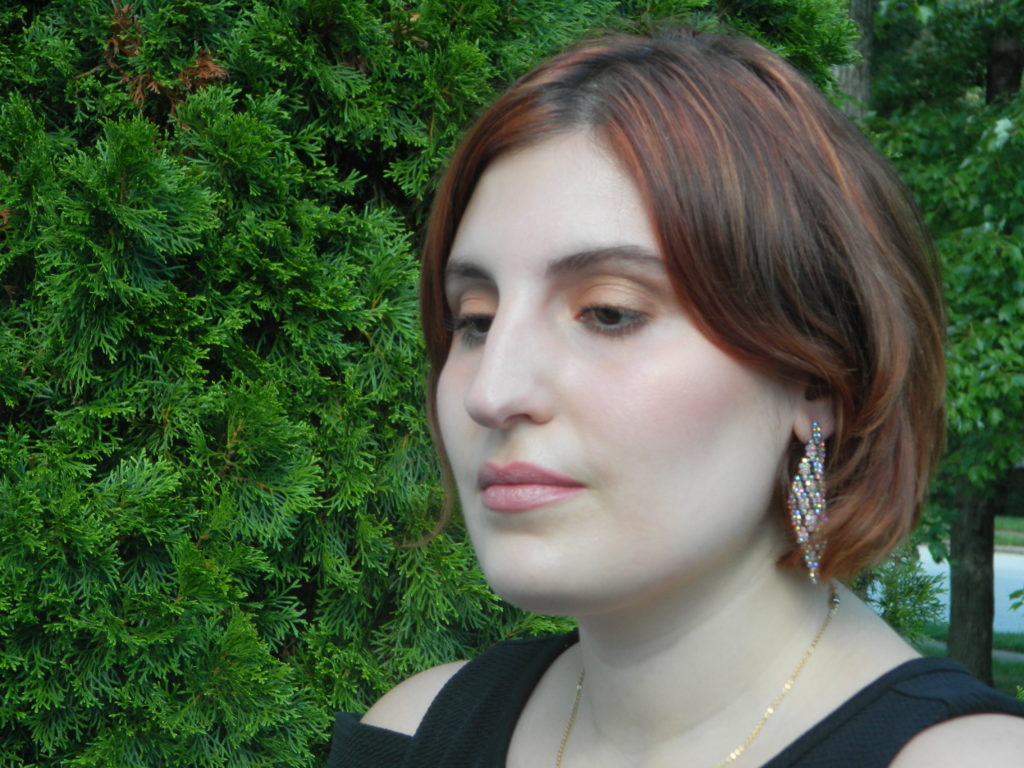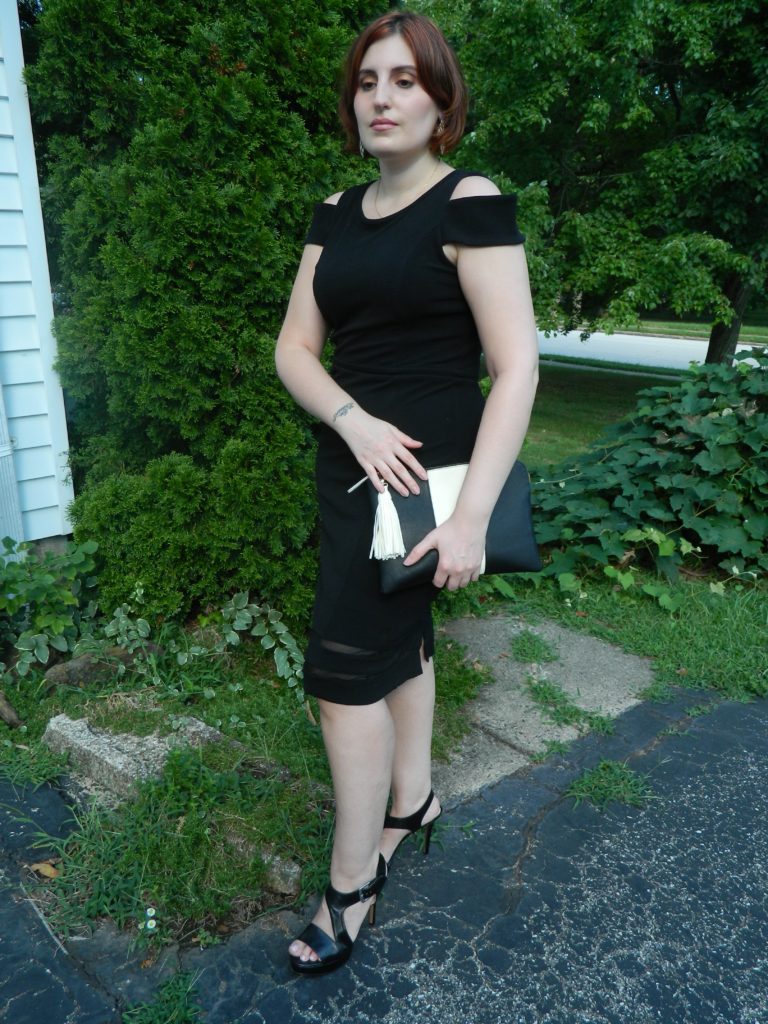 If you are planing to visit Philly either from out of town or a jaunt from the suburbs, it is very easy to look online for a hotel, scroll the amenities, look through the photo gallery, but you still cannot grasp the culture of the hotel. This is the primary reason why I wanted to include a hotel series on Sugarpeel. I want potential hotel guests to really get the inside scoop. Let's face it, traveling is costly and the stay needs to be comfortable, exciting, and worth the money spent.
In this third installment of the hotel series, I stayed at the Loews Hotel Philadelphia to really gain inside perspective of this luxury hotel. The biggest differentiator for me, hands down, is the people. Yes, the hotel was stunning, sleek and modern decor- punctuated with black Belgium marble, complete with a fitness center, spa, pool, multiple conference rooms, a ballroom, and guest rooms so clean you could eat off the floor. However, the people is still what stands out to me.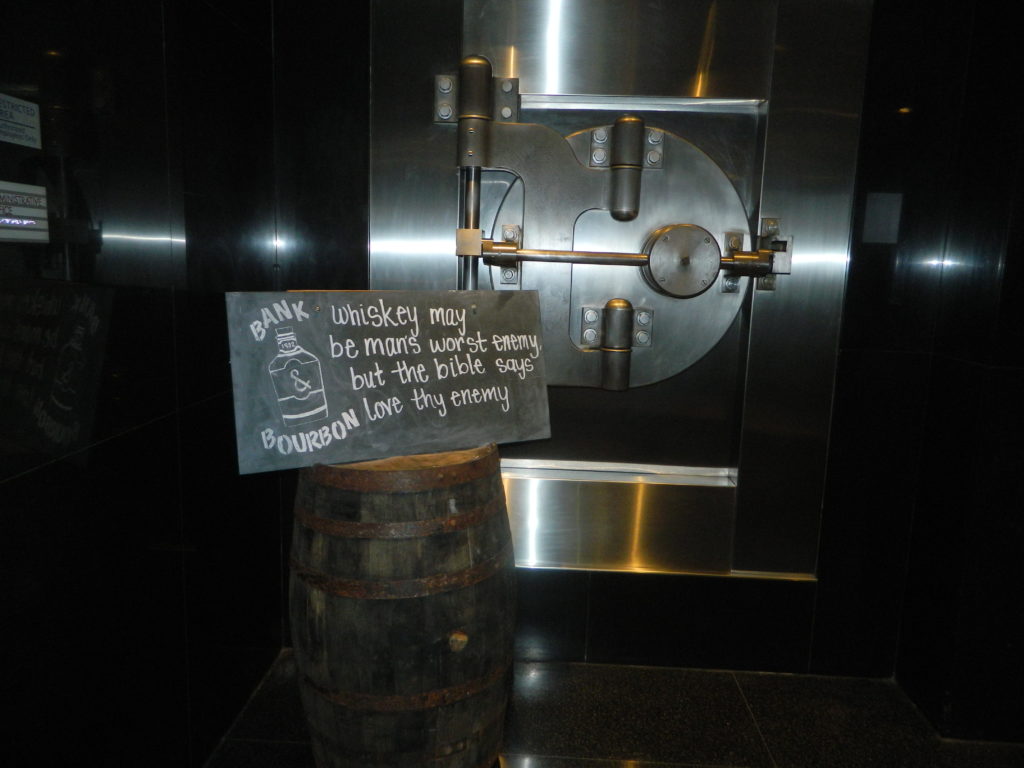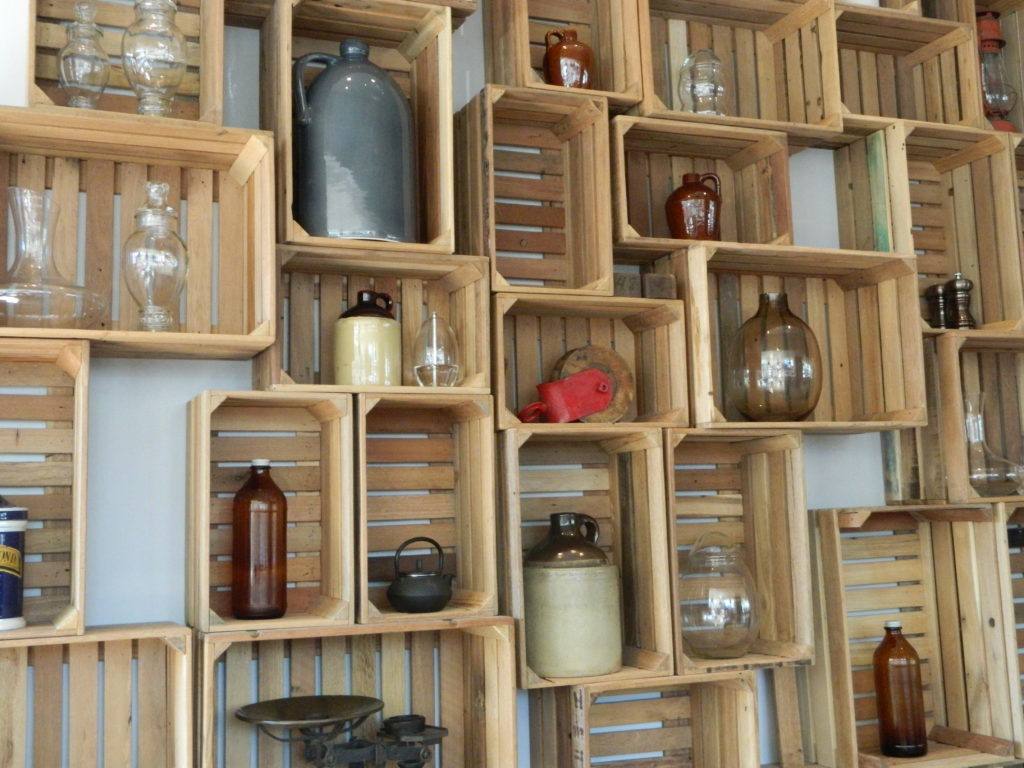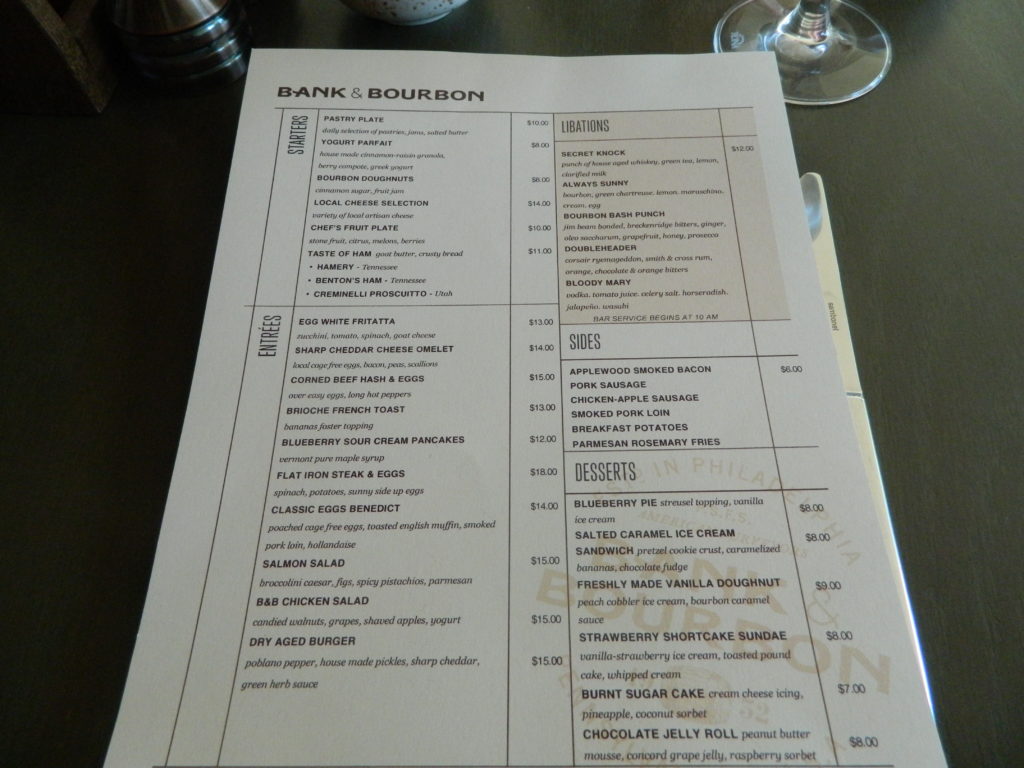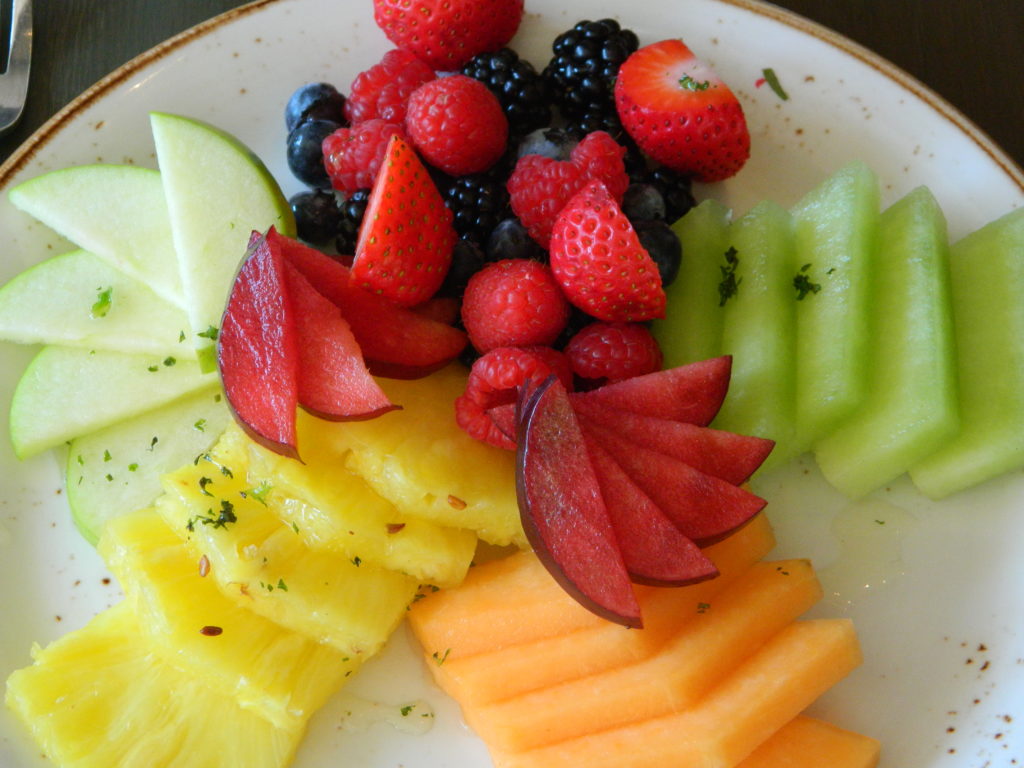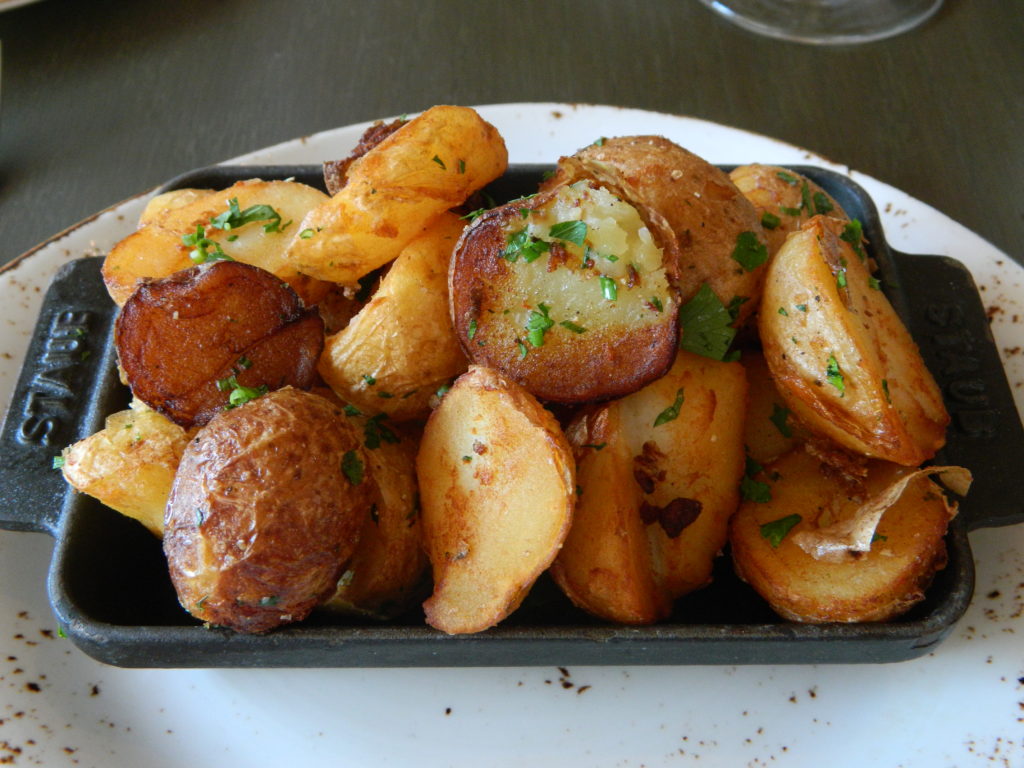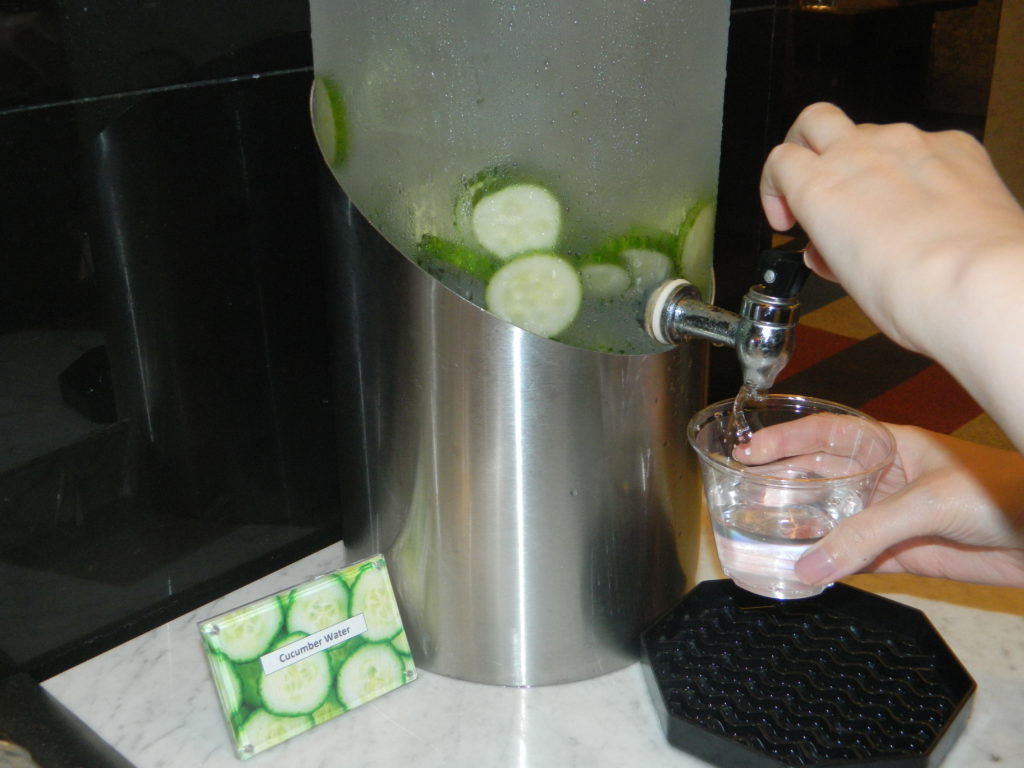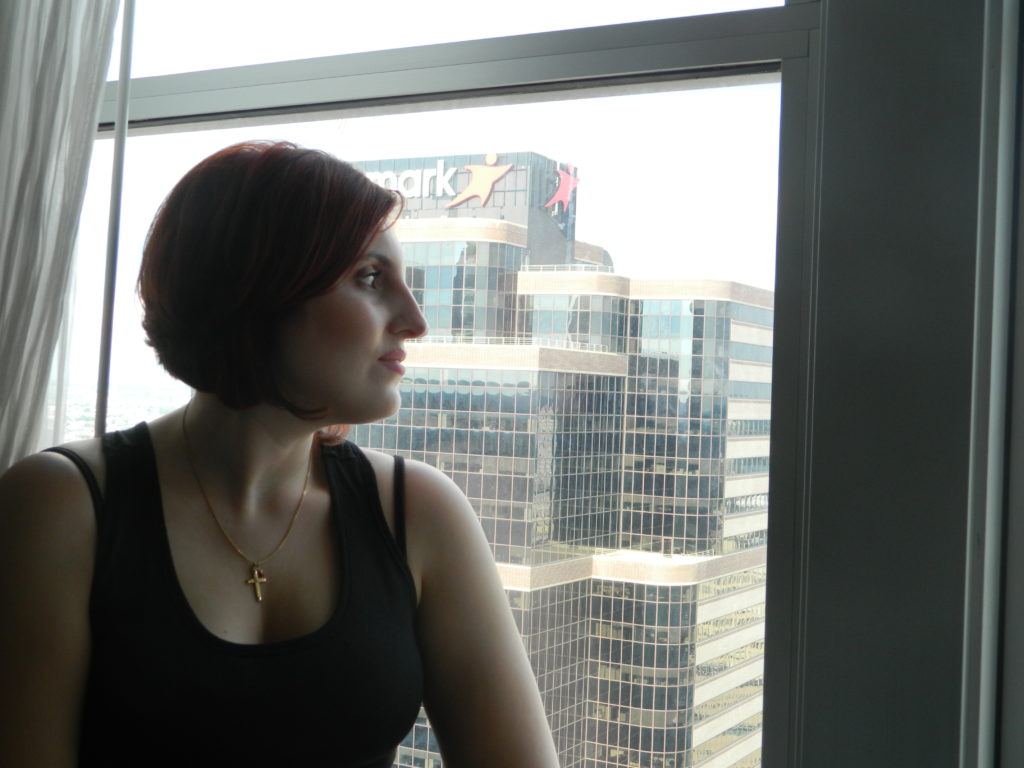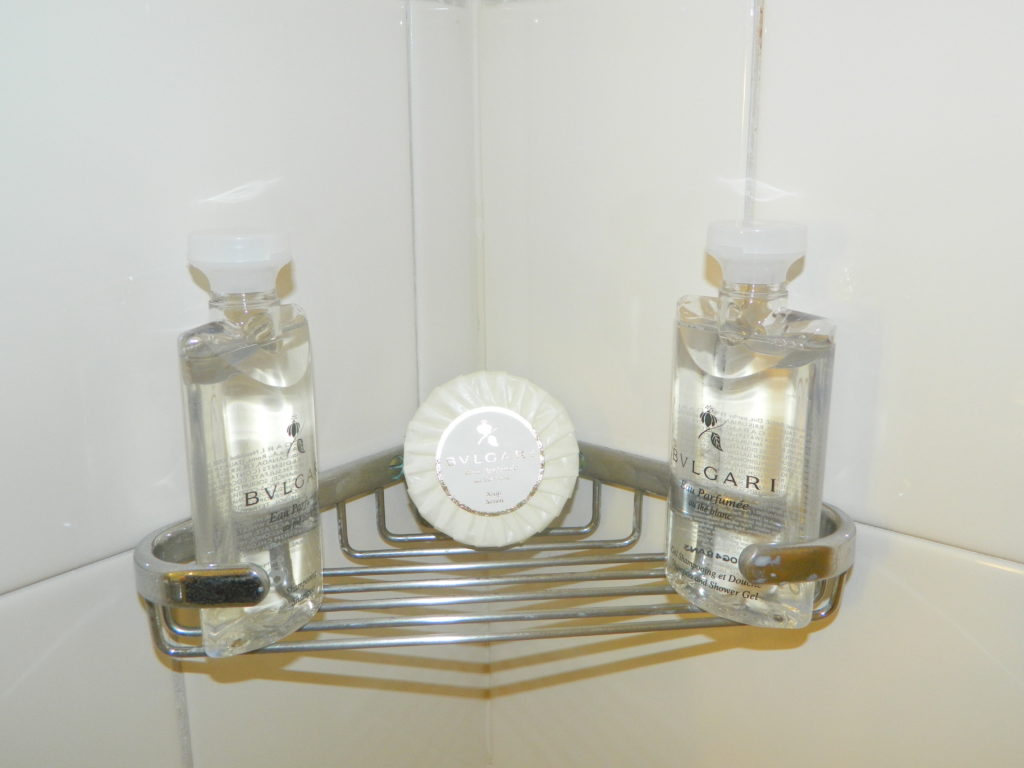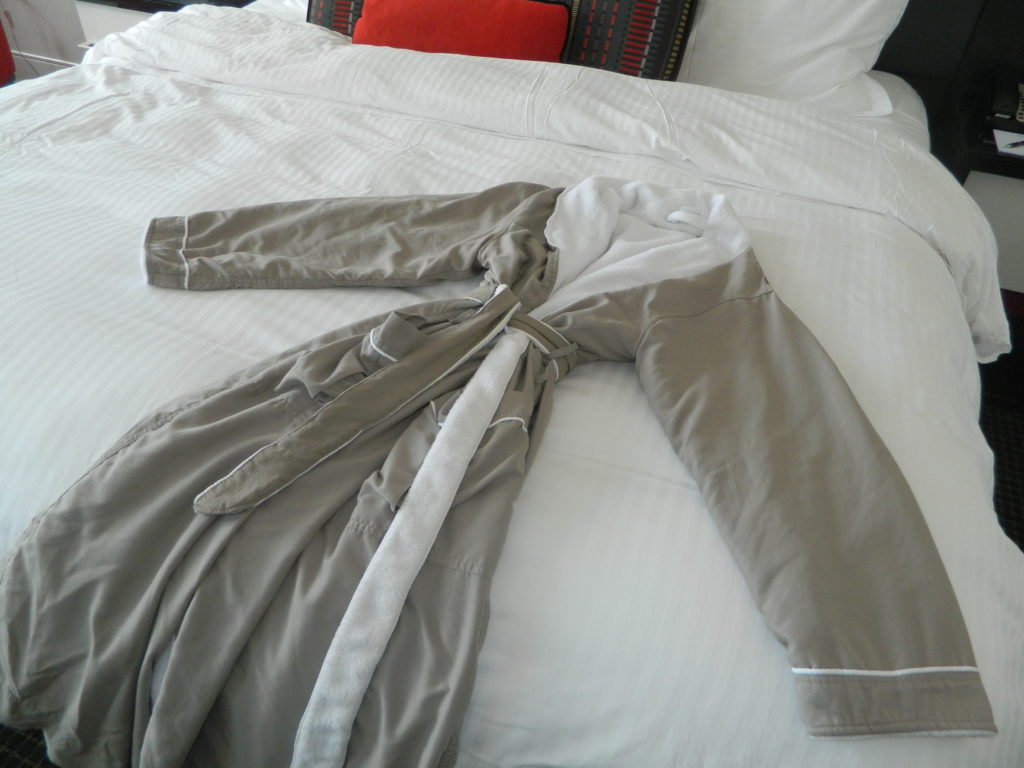 Customer service is king. I do not care how wonderful a place from boutiques to attractions- the service must be exceptional. The Loews Hotel has perfected the customer experience. Every employee seems genuinely happy to work at the hotel. Their exuberance is transferred to the guests by making them feel at home, comfortable, in good hands. These little touches may seem like the cherry on the proverbial sundae, but in actuality is the foundation of a great stay.
The Bank & Bourbon restaurant in the Loews hosts an annual Bourbon Bash event- proceeds to DonorsChoose.org. This year $37,000 was raised to benefit teachers in the Philadelphia school district. Teachers choose where the funds are most needed to benefit the students. The Loews Hotel cares about their city, their guests, and their employees…and it shows!
Thank you to Loews Hotel Philadelphia.
Photographer and Videographer Aubrey Basla. Thank you http://www.bensound.com for music.
I am embarrassed to say that until very recently I never shopped at Charming Charlie. I kept passing the store on my way to Wegmans and never went inside. When my grandmother visited Philadelphia last month we decided to do a little shopping. I was completely impressed with the store. If you have not been to Charming Charlie's, the store is color coordinated. All pink accessories, clothes, jewelry are together, all blue, all orange etc. This makes it convenient if you have a particular outfit that you are trying to match. I am an accessories girl, to say I was in my element is an understatement. At the time of shopping, I had several upcoming events for Sugarpeel and needed to get styled.
This past weekend, I covered the Loews Hotel Philadelphia and wore a little white dress from Charming Charlie. Do not be intimidated by wearing white. It is just as sleek and flattering as a little black dress. Fit is key. In the summertime, try accessorizing a little white dress with a vibrant scarf, especially if you are used to wearing bright colors. Since a scarf is worn so close to your face, be sure that the color complements your skin tone. You may want to avoid earrings and wear a bracelet instead to avoid competing with the scarf.
Tomorrow my article featuring the Loews Hotel Philadelphia will be live.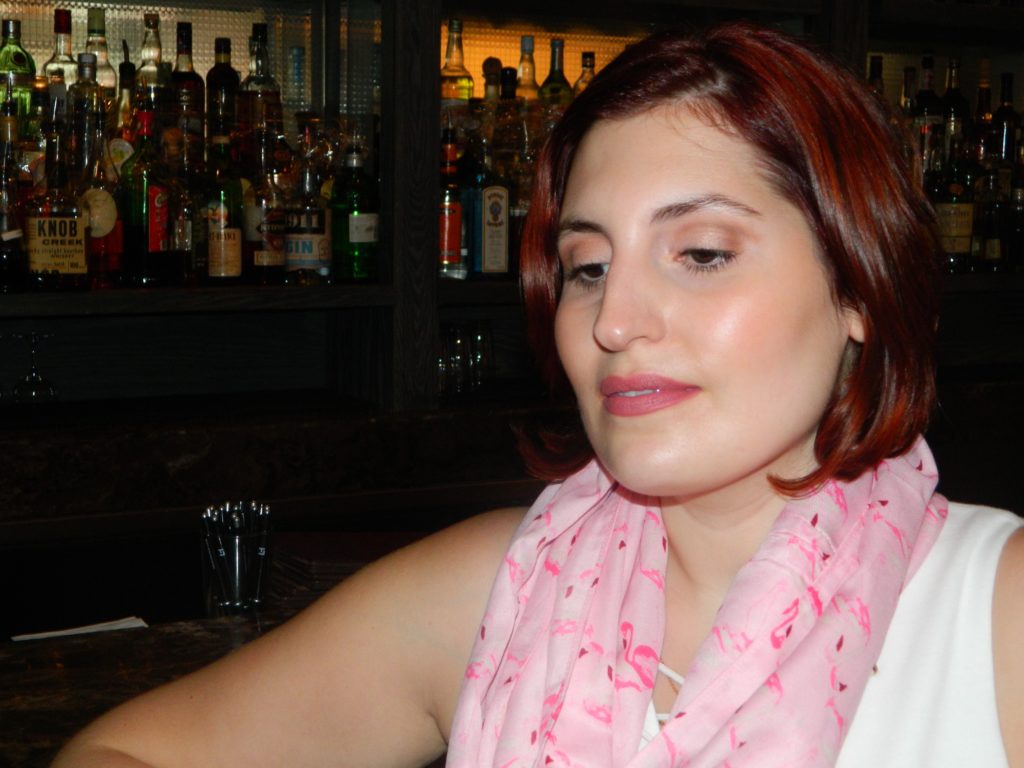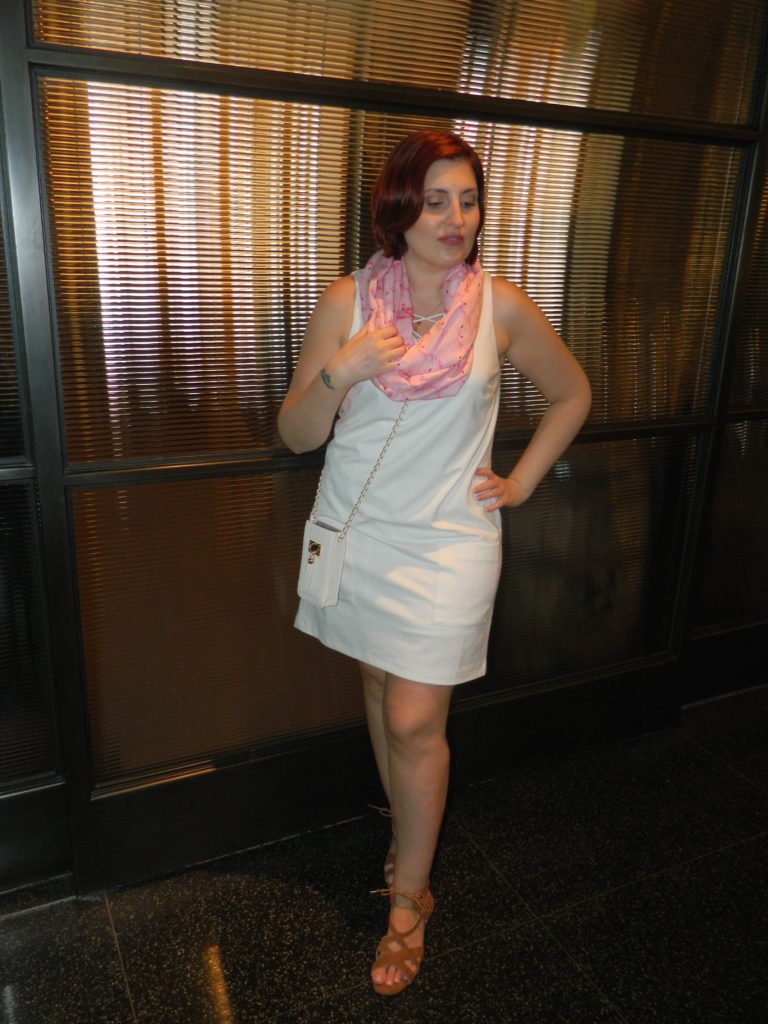 Many people ask me about my favorite products and comment on my skin. Thank you for such humbling and kind compliments, I appreciate it! That said, I wanted to take this opportunity to share what face products I use on a daily basis. I have to credit good genes for my skin- my grandmother and mother look amazing, smooth skin and a clear complexion. Veganism is also a large contributing factor.
I am of the mindset that you must treat your body well from the inside out. Slathering on expensive products is almost like creating the "band-aid effect." I am a celiac and therefore do not eat any gluten. This limits my intake of packaged/processed foods. My diet largely consists of fresh fruits and veggies with protein alternatives including beans and pumpkin seeds for instance. I drink plenty of water throughout the day. When I crave something with a flavor I add fresh ginger root or cucumber to a purified pitcher of water. Exercise is an important factor, avoiding cigarettes and alcohol will keep skin looking youthful as well.
When people ask me what I do to my skin my honest response is "clean living." A smoke free, alcohol free lifestyle filled with plenty of nutritious food. But I realize that is not enough. There are many who enjoy a glass of wine and red burger from time to time. In this case, here are some of my favorite products. Some of which that I have been using for years and have actually experienced wonderful results.
I love the Orange Cleansing Soap from Mario Badescu as my daily cleanser. It leaves my skin feeling completely clean, silky smooth, and brightened. Of course it does not hurt that it smells like fresh oranges.
I follow this cleanser with Lush Eau Roma Water- a gentle rose and lavender toner that instantly revitalizes my skin. The simple ingredients are perfect for sensitive skin, cooling, and acting as a disinfectant.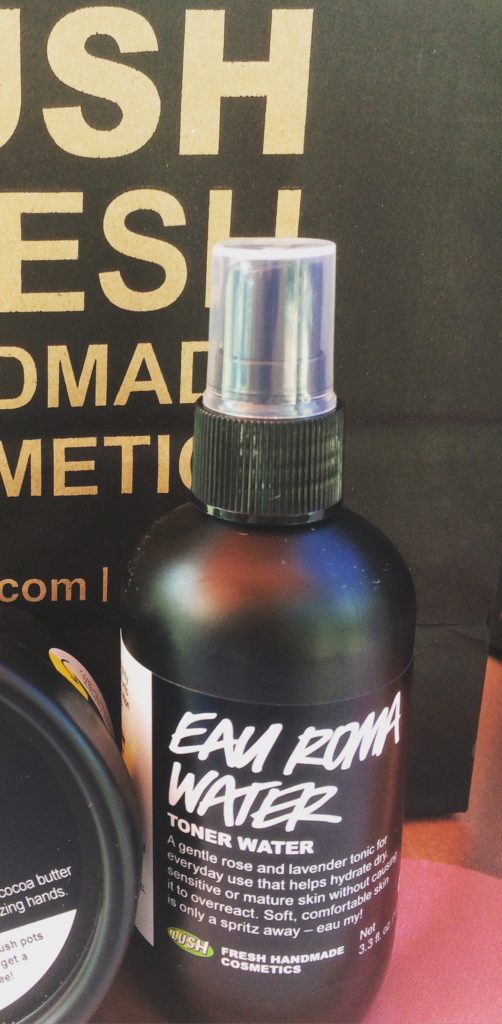 One to two times a week, I like to exfoliate my face using The Microdelivery Peel from Philosophy. This two step peel is packed with vitamin C, which effectively brightens the skin and diminishes fine lines and wrinkles. A peel can also bring skin imperfections to the surface. I recommend applying this peel a few days before an event.
I avoid makeup remover wipes on a regular basis. I do however, really like the wipes from No.7 which remove even stubborn waterproof mascara. In a pinch for convenience these are gentle and worth keeping on hand. I tend to rub my face too hard, which is not recommended. Instead, the product that I love for everyday gentle makeup remover is Purity Made Simple by Philosophy. This is another product that I have been using for years that removes makeup completely and leaves skin feeling soft as opposed to dry and immoveable.
As for anti-aging products, I use Rosa Arctica Lightweight Cream by Kiehl's daily. This creamy product leaves my skin looking radiant and luminous. I love applying right before my makeup.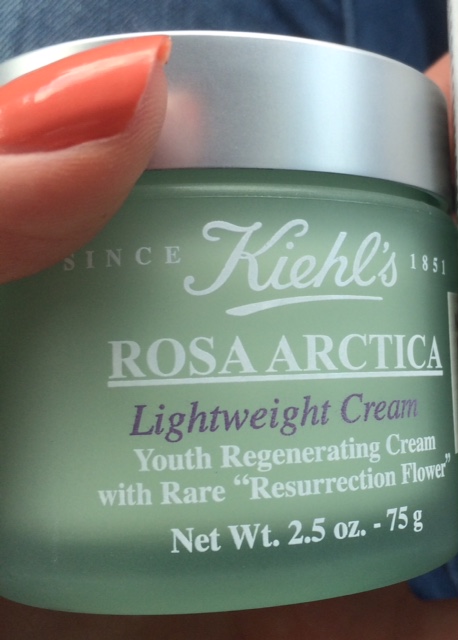 Nighttime, I apply the Black Rose Precious Face Oil from Sisley. This oil immediately fills in my fine lines and by the time I awake, my face looks fresh and youthful.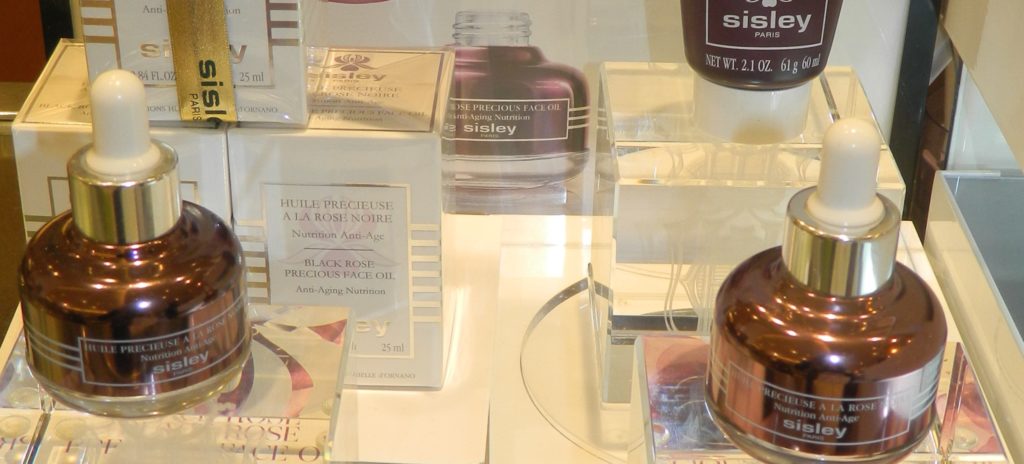 Do not forget to moisturize your lips! Make sure to exfoliate your lips frequently. You can simply use a drop of water or vaseline with sugar to create a scrub. I love the Rose Salve from C.O. Bigelow and apply multiple times in the day.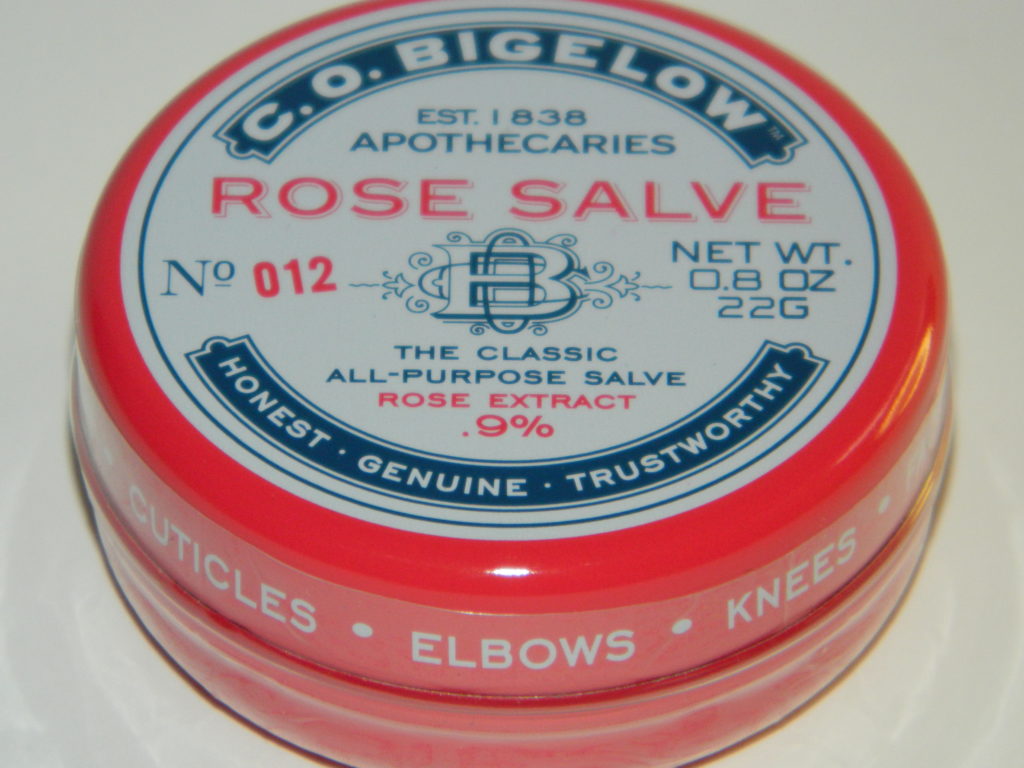 During the winter months when my face is exceptionally dry my go to face product is the Dramatically Different Moisturizing Lotion from Clinique. This scent free lotion can be applied multiple times throughout the day, absorbs fully into skin, and relieves any redness from overly dry skin. Aquaphor is another multi-purpose product that I always have on hand for face and lips. I recommend applying this thick, glycerin based product before bed, which will allow the ointment to absorb into skin thoroughly.
As you begin your shopping process, keep in mind that it is always better to try a particular product before purchasing. Fragrance and texture are just as important as effectiveness. If you have sensitive skin or allergies, be sure to test a small amount of the product on the side of your face to make sure it does not aggravate your skin. Avoid contaminating moisturizers in jars by using an applicator spatula.
Please share your favorite products!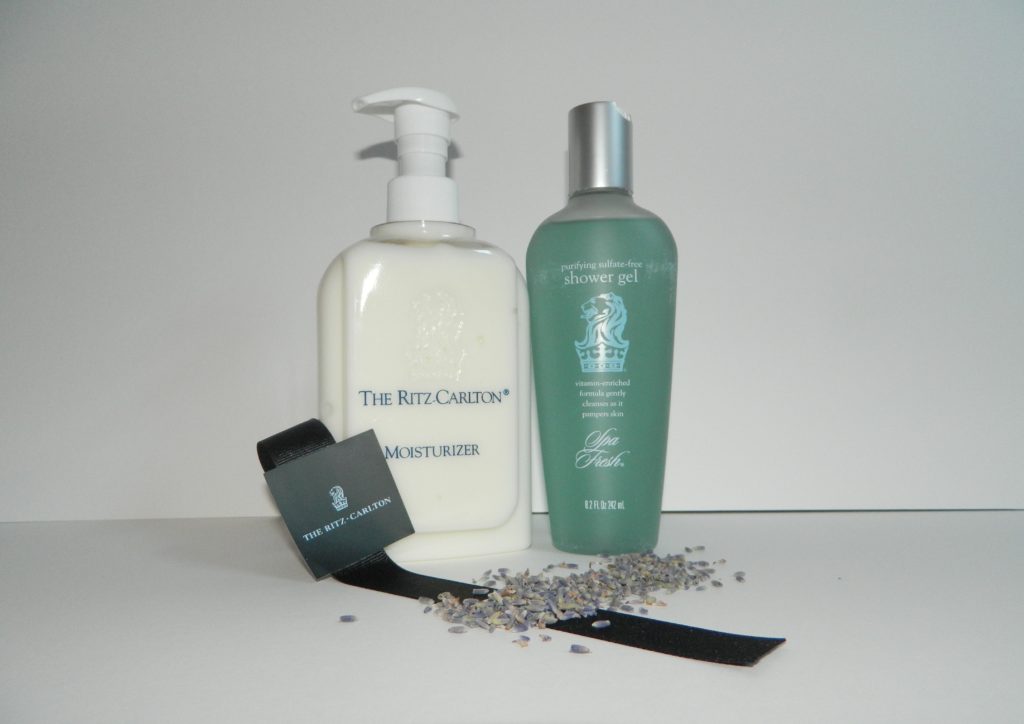 Many years ago when I visited L.A. I stayed at the Ritz-Carlton Hotel. My visit was so relaxing that I barely wanted to leave the hotel. The amenities, aesthetic, and service was exceptional. One of my favorite parts of my gorgeous suite was the incredible bathroom complete with an Italian marble vanity, walk-in shower, and separate bath tub. The products were luxurious and memorable. After all these years, I still remember the scent of the bath and body products. Now that I added the new hotel series I decided to review these products as a contributing factor for choosing The Ritz-Carlton.
The Ritz-Carlton Hand and Body Moisturizer is a thick and creamy lotion with the intoxicating fragrance of ylang ylang, jasmine, and bergamot. This lotion completely absorbs into the skin and is the perfect after shower or bath product. I love wearing it right before bed so I can wake up still smelling the floral citrus scent.
The Spa Fresh Purifying Shower Gel is rich and hydrating. After applying, skin feels silky smooth and moisturized. The calming fragrance of chamomile and lavender soothes and cools the skin. I would recommend this gentle shower gel if you experience sensitive skin or a sunburn.
Dying your hair, the environment, hot tool products all cause damage to hair, which can change the texture causing unruly, frizzy hair strands. Most of us are going to continue to dye our hair especially if we have premature gray.
To counteract the damage we may be causing try using this fabulous product, Luster Lock Instant Shine & Repair Treatment by Joico. This all-in-one conditioner and styling cream is a miracle worker for hair. It can be used on all hair colors and textures. It is packed with Manketti and Argan oils. The rich, luxurious consistency immediately adds moisture back into the hair strands. Your hair is left looking and feeling incredibly soft and shiny, which accentuates any hair color technique.
You can apply Luster Lock as a finishing cream to tame any wild strands or use in place of a deep conditioning treatment. I love using this product as conditioner. My hair is hydrated, glossy, and completely detangled. It can be applied after every shampoo. Luster Lock does not weigh your hair down with product, which is so important. This is definitely one of my favorite hair products on the market!
Check out Joico's video to see the results for yourself.
Wendy Buiter is one of my favorite artists- her artwork is unique, vibrant, and full of life. The most fascinating part of Wendy is she is constantly evolving, expressing herself differently through her art. I do not believe she has even scratched the surface of her capabilities.
Recently, Wendy is creating abstract art, which is exceptional. I asked Wendy to tell me which artists inspire her and her current creative process. Wendy is of course inspired by some of the masters including Willem de Kooning and Matisse. As for contemporary artists, she regards Sander Steins, Lola Donaghue, Bobbie Burgers, and Conn Ryder among her favorites.
As for the process, I will let Wendy explain in her own words…
"I have been working on portraits for the last two years now. My current signature style includes capturing the eyes, focusing on lashes, pouty lips and little noses. The figure appears naïve, with a face inspired by fashion photography and haute couture fashion designer runway shows. But somewhere a long the way I felt stuck. To me, making art means being free, to do whatever feels right in the moment. Making art has to come from your gut intuition.
Recently, I had a nice chat with one of my former fellow students from the Rietveld Academy of Fine Arts in Amsterdam. We spoke about my works and what I could do to feel free again. After the conversation, I noticed I was trying to push too hard. I said to myself, I have to let go of all the rules I gave myself, just let everything go, no portraits, no goals, just play, experiment and let it come from my inner self. Let the colors come to me, make something, destroy it, and build something new again, without having to think of a specific outcome.
In the case of the referential abstractions to portraits, there is still an impulse-driven exploration to break through the boundaries of and reinterpret the obvious, but I think the original concept may nevertheless function to maintain some representational familiarity. Letting it go is the key to feeling free and autonomous.
So my latest works are from my deeper soul that had to break free from making works that I thought I HAD to create. My latest abstract works feels so liberating. All this time, I have never felt so happy as I am now. An artist to me means freedom to express myself, letting my spirit flow onto the canvas without any expectations or responsibilities- this is how to achieve the best results." Wendy Buiter, International Artist 
What is your interpretation of Wendy's abstract piece?
Once you change your hair color dramatically, you need to consider the maintenance. If you want your color to last as long as possible in between trips to the salon, you must have the right products. Last month, I changed my hair color to red at The Rittenhouse Spa & Club by the talented Paul Labrecque and was in need of new products to keep my color vibrant and my hair healthy.
After my fabulous new hair, I purchased the Paul Labrecque Color Shampoo and Color Condition Protection Mud Mask.  Both shampoo and conditioner are completely free of sulfates, parabens, and sodium chloride. It is rich in moisturizing jojoba oils and smells delicious. Paul's products are made in the U.S.A. and not tested on animals. The Mud Mask contains apricot and sunflower oils, marine mud, seaweed, and jojoba to infuse hair with minerals that restore moisture.
I have been using these products for a month and am amazed by the results. My color is bright and my hair is soft, glossy, and healthy looking. Remember, without the right products, you are wasting your money entirely. Your color will fade quickly and you will be visiting the salon more often than necessary. Invest in these Paul Labrecque products for incredible hair care! The entire collection is wonderful. I recommend the Curly Style Curl Defining Gel for those who want tame, perfect ringlets and the Daily Finish Shea Butter Texture Balm for difficult, frizzy or flyaway hair. All products can be purchased online or at The Rittenhouse Spa & Club.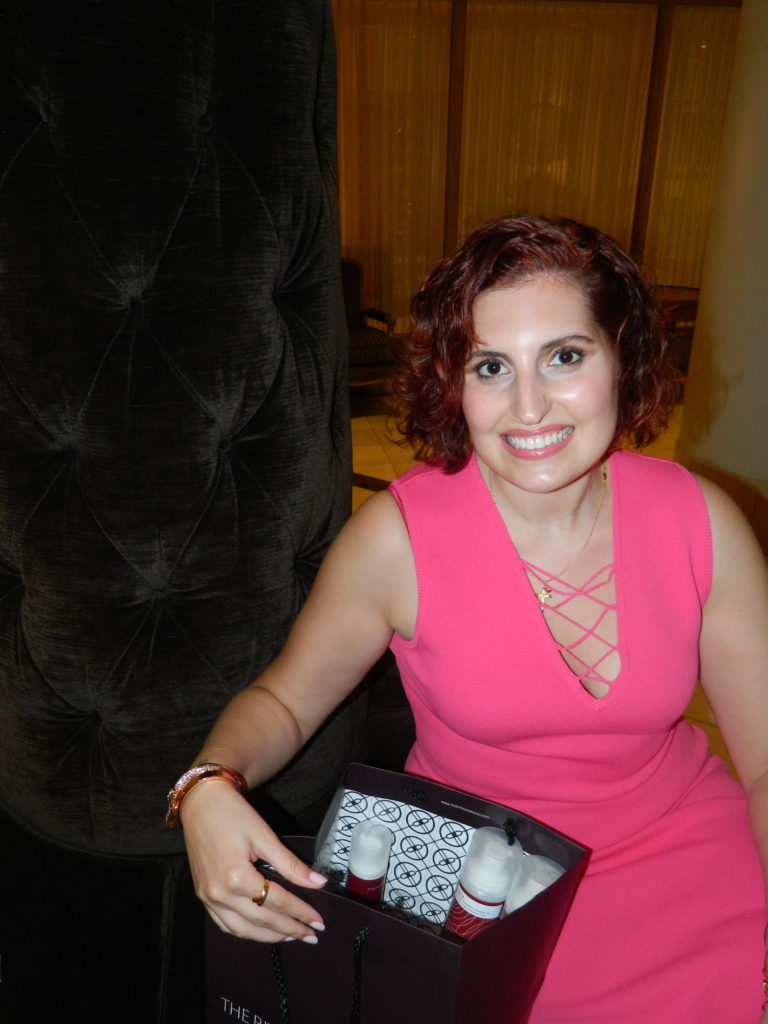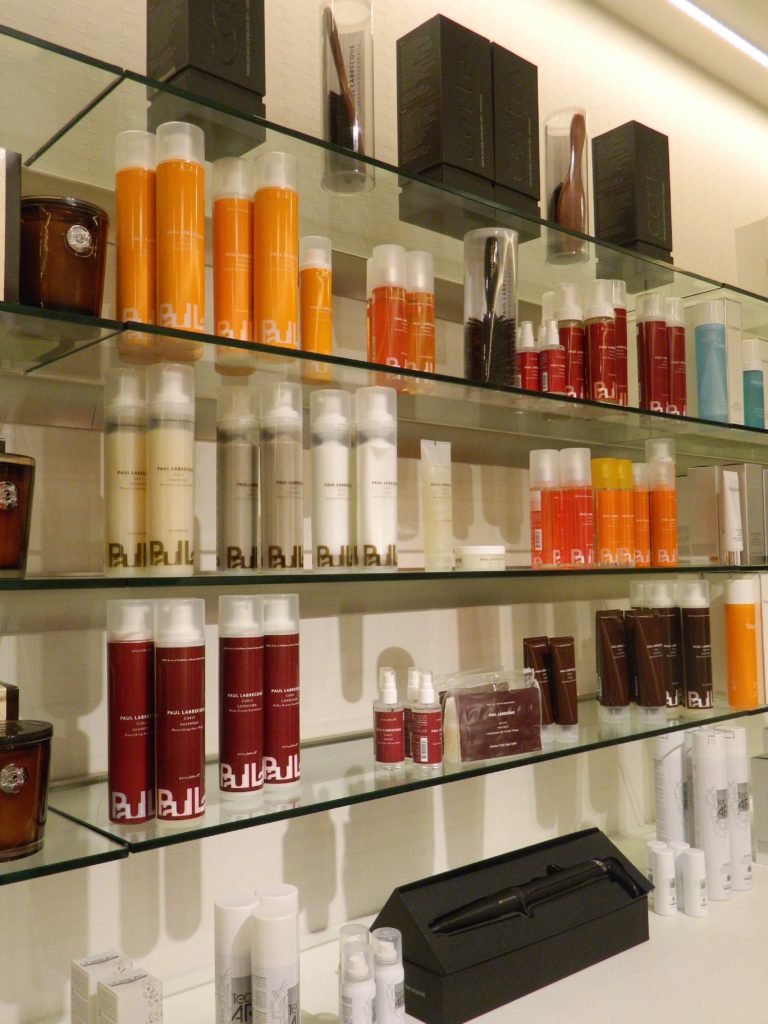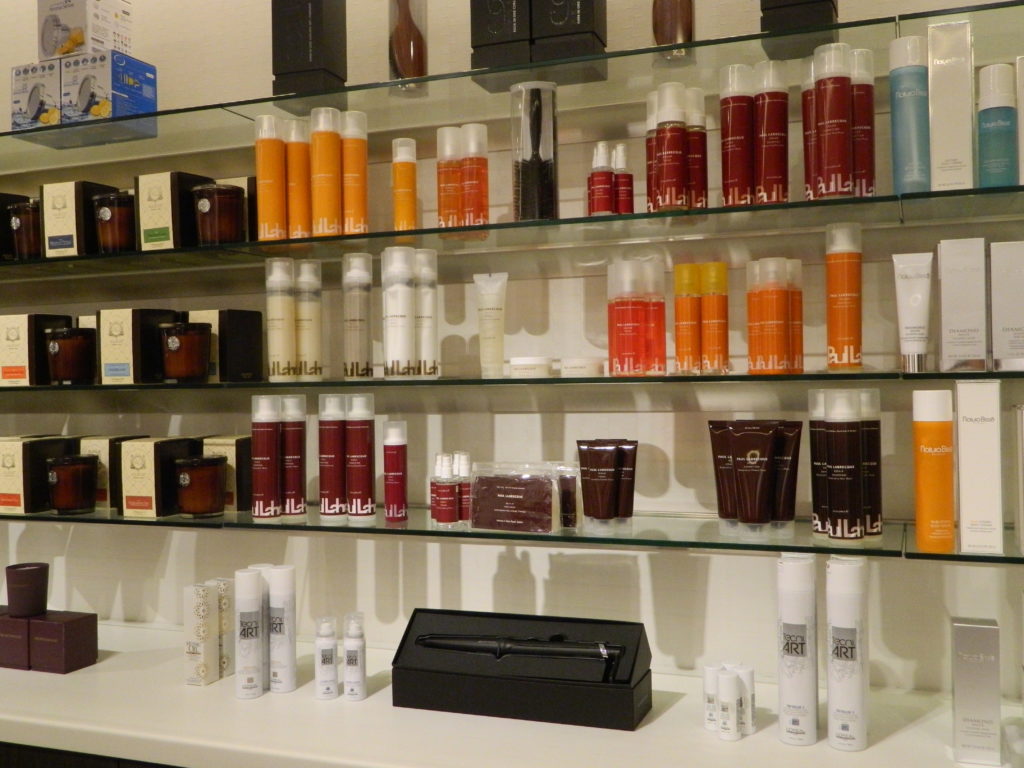 Well I did it- after years of watching some of my favorite actresses and a famous Disney Princess, I dyed my hair red! I met Paul Labrecque at The Rittenhouse Spa & Club of which he is the proprietor and Master Celebrity Stylist. On my phone, I saved many photos of styles that I thought would work for my hair. I also, for good measure, favorited a couple of hair colors that were completely out of my comfort zone, but that I loved nonetheless. As I began my consultation, I showed him a photo with the beauty Lily Collins who recently dyed her hair a vibrant red. He laughed softly and agreed that red was an excellent choice. He went on to say that the moment he looked at me he felt I should have red hair. In his creative hands I submitted fully to cut and color, trusting completely that I would love the finished look. Full video below!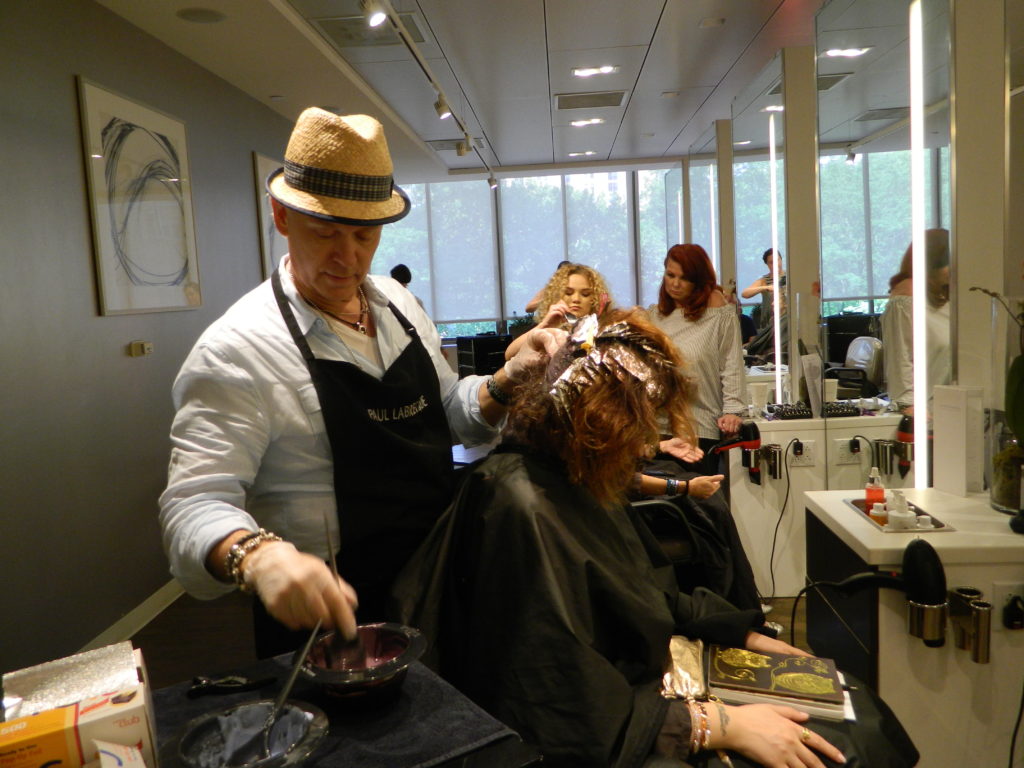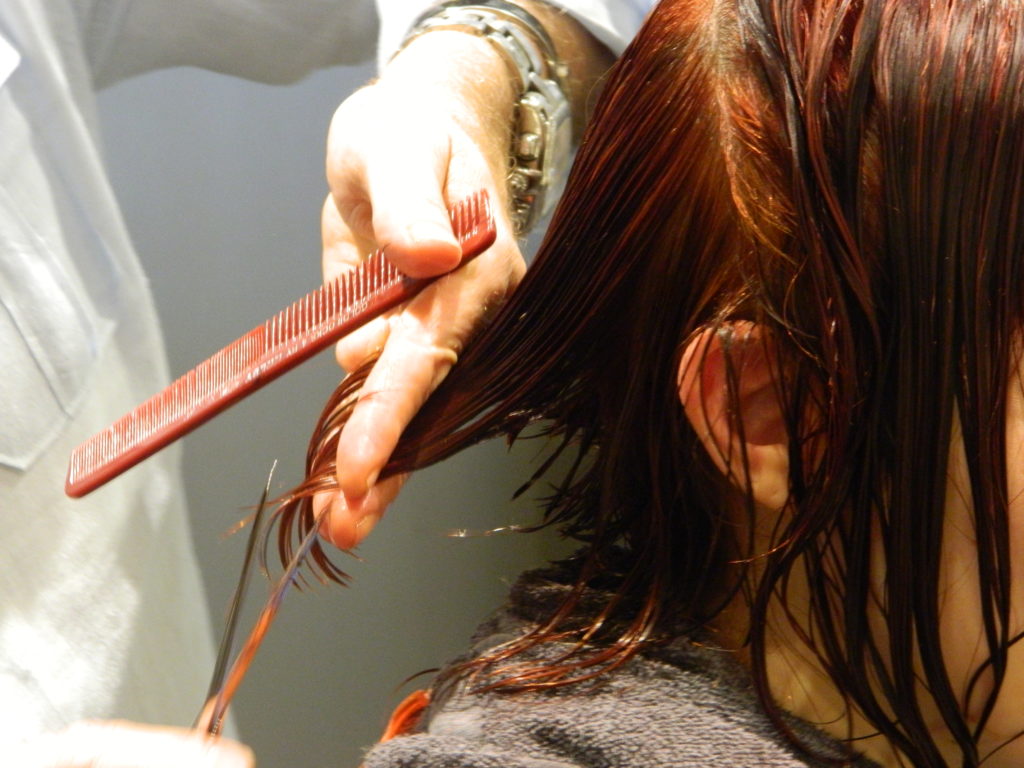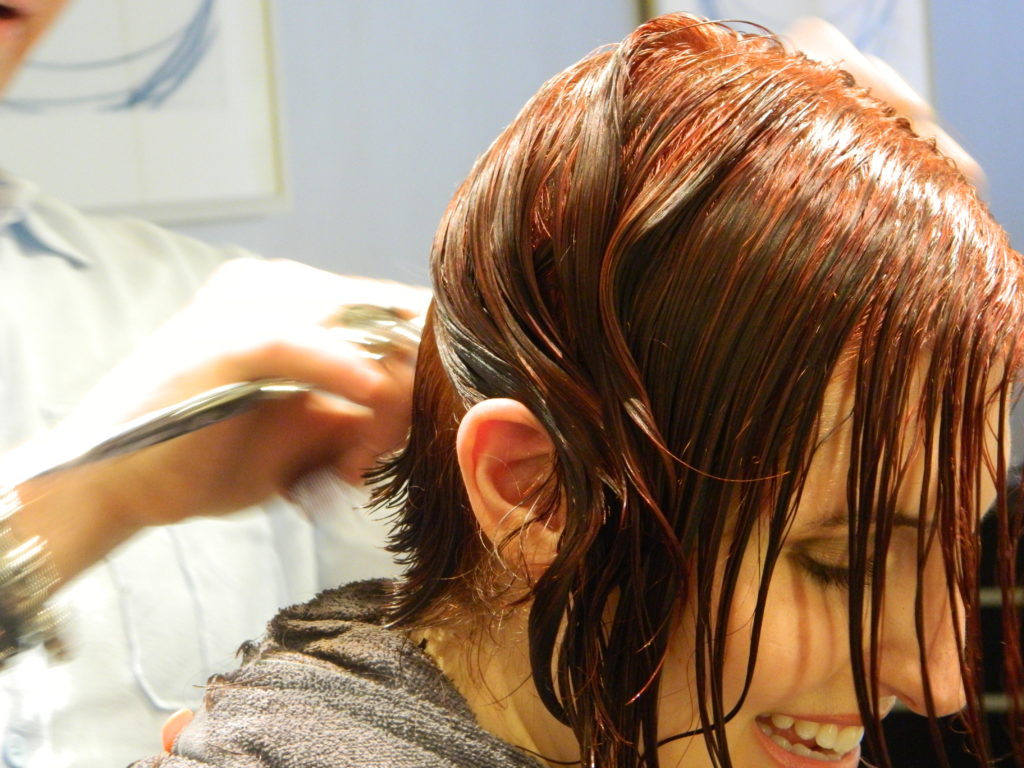 While Paul was applying the color, I was able to speak to him candidly about some of the biggest mistakes people make when it comes to hair. Paul believes that one big mistake is trying to move too far from your natural hair. For instance, he hears women complain that they wished their curls were even and beautiful, but the truth is using a straightener damages the hair texture and can alter it entirely. Instead, keep in mind that "simple is sexy" and "less is more." Your hair should have movement and not be weighed down with excessive product. The right products (including the Paul Labrecque line that I will be featuring) will be just as effective without having to overload the hair.
In the summertime, make sure to wear a hat and avoid chlorine and salt water. This may seem easy, but sometimes unavoidable. In that case make sure to wash your hair immediately following a dive in the swimming pool and on the beach use an oil based product to slick your hair in a ponytail. This will keep the salt water from penetrating your hair strands.
As for his favorite current trend…the undercut. This style is universally cool for both men and women and can include a simple to intricate design, personalized for everybody. Also, remember, "hair is your one renewable resource." Do not stress over a drastic hair change. It will grow back, return to original color, and can be restyled.
Back to my hair transformation. The entire appointment lasted under two hours. Those who frequent the salon often know that that is quite the feat. More and more salons seem to drag the process by overbooking simultaneously. By the time you leave you are starving after missing one to two meals and exhausted from sitting in the same attitude for hours…just me? Anyway, The Rittenhouse Spa & Club is a pristine environment offering traditional spa services in a tranquil, relaxing environment as well as offering a full array of products, hair and nails services and makeup application. Each artist is more talented than the next and as I sat and waited with baited breath for my "Ariel" hair, I was able to witness their exceptional work.
The results were a bit overwhelming. It seemed like a whirlwind experience; pick color, cut, style, done. I was impressed and elated with the outcome. It's amazing that such a change did not seem like such a change. In fact, it felt natural. That is the power of an excellent artist. Paul was able to create a look that captured my personality.
Thank you to Paul, Brian and The Rittenhouse!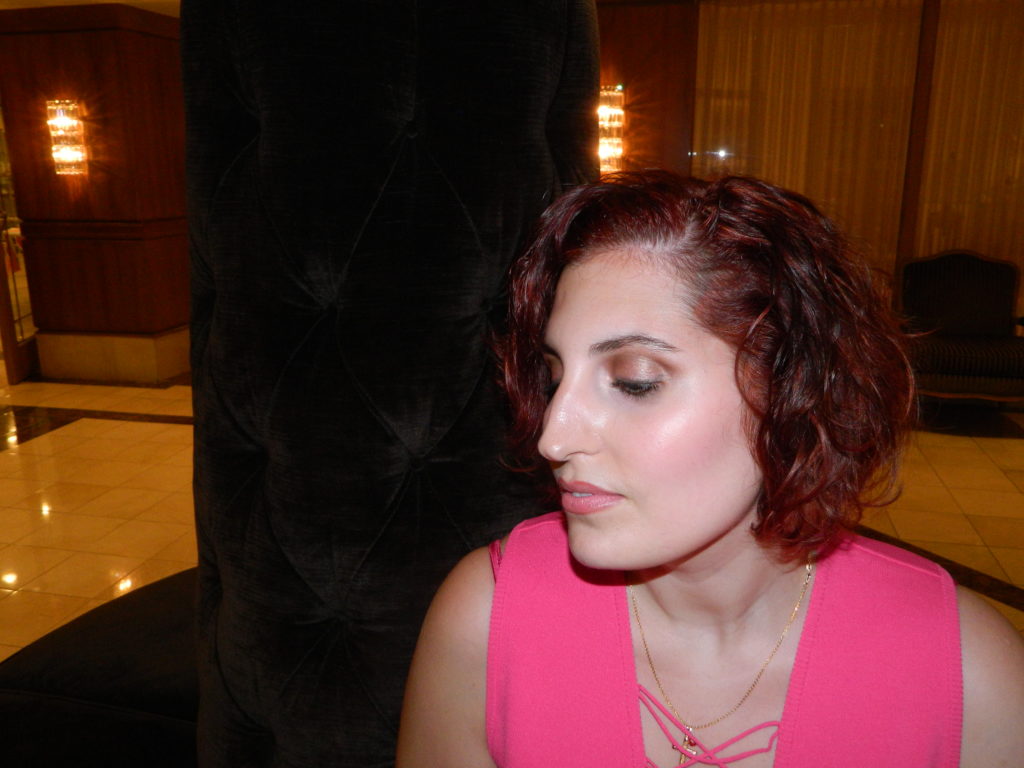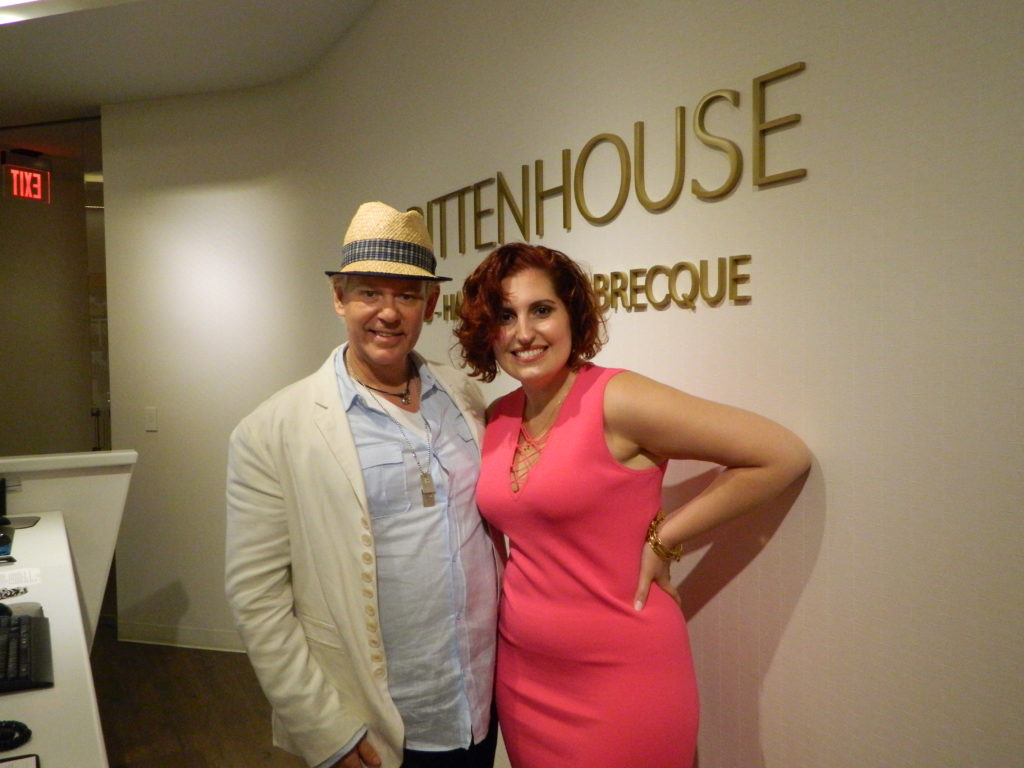 Thank you to Videographer, Aubrey Basla and http://www.bensound.com for the music!
Copyright © Dandelion by Pexeto