First let me say that I acknowledge that the restaurant that I am featuring must warrant such a title, which it does. Second, I recognize the fact that I have previously featured this restaurant, but it deserves another one.
I have been dining at Taqueria La Michoacana for over ten years. The atmosphere is lively and energetic. The decor is traditional and pays homage to the culture. Most of all, walking into the Mexican restaurant I feel the love and passion. There is a great sense of pride in preparing each dish and presenting an ambiance that is relaxing and friendly. This gem of a restaurant is tucked away in Norristown, PA- unassuming, not flashy just quality and authentic dishes.
Last weekend I went out to dinner with my family and was all ready to cherry pick vegan side dishes on the menu, except this was not necessary. La Michoacana now offers a complete list of vegan, vegetarian, and gluten free options. I could have squealed in delight I was so happy. I began by munching on the delicious and freshly homemade corn tortilla chips served with three different types of salsa from spicy to hot. As my vegan tacos rounded the corner and ended up sitting in front of me, I was giddy. It may sound superficial to get so excited by a meal, but dining options can be challenging when you have restrictions, but when your favorite restaurant includes a menu that you can eat…heaven! I am going again tomorrow night then off to see the new Ghostbusters movie. I cannot stress this enough- if you love Mexican food, this is the place to try. If you have been disappointed in the past by bad Mexican food, this is the place to try. Check them out on Twitter @lamichacana301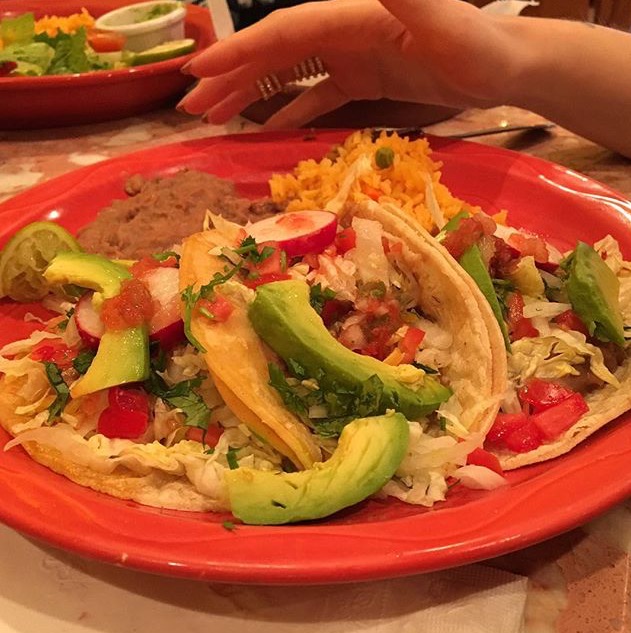 Recently, I had the pleasure of touring The Rittenhouse Hotel and enjoying a salon service that I will feature next. The Rittenhouse is a beautiful luxury boutique hotel with fabulous amenities and excellent customer service. The hotel is located in Rittenhouse square across from the lush park. Whether you are traveling from afar or planning a staycation- this hotel offers something for everyone.
Chef Jon Cichon is the Executive Chef at Lacroix; creating delicious meals in the culinary style of "progressive international cuisine." Awarded World's Best Wine Lists 2016 by The World of Fine Wine. Guests can relax while they dine as the table area overlooks the park. The ambiance is upscale yet comfortable.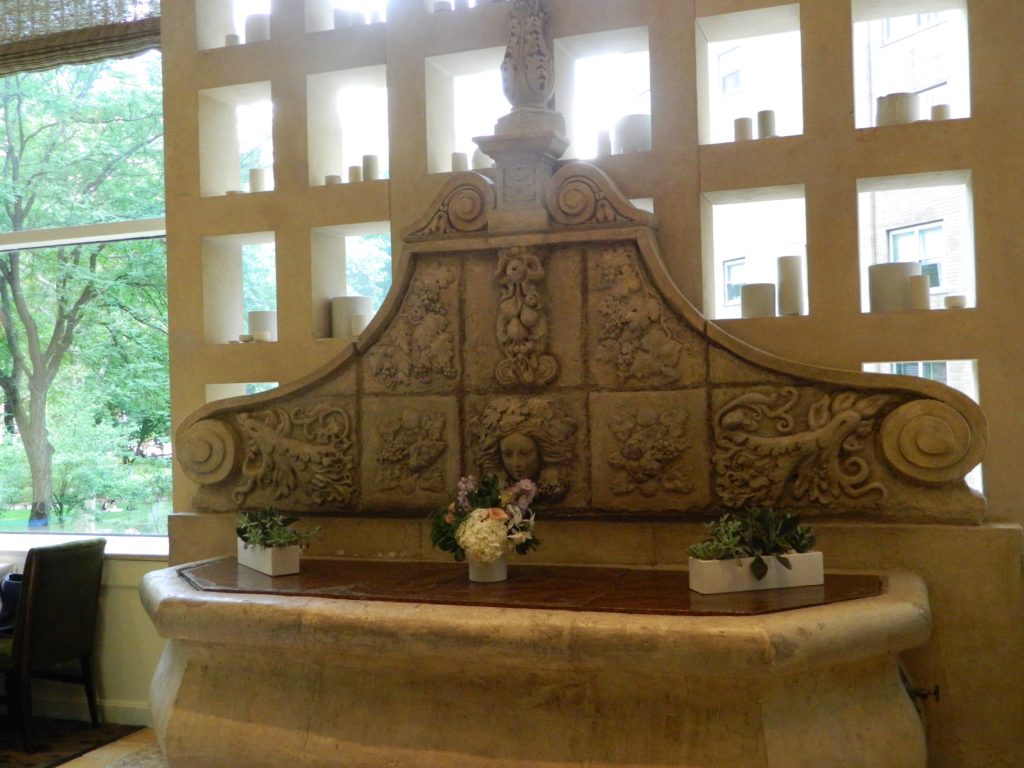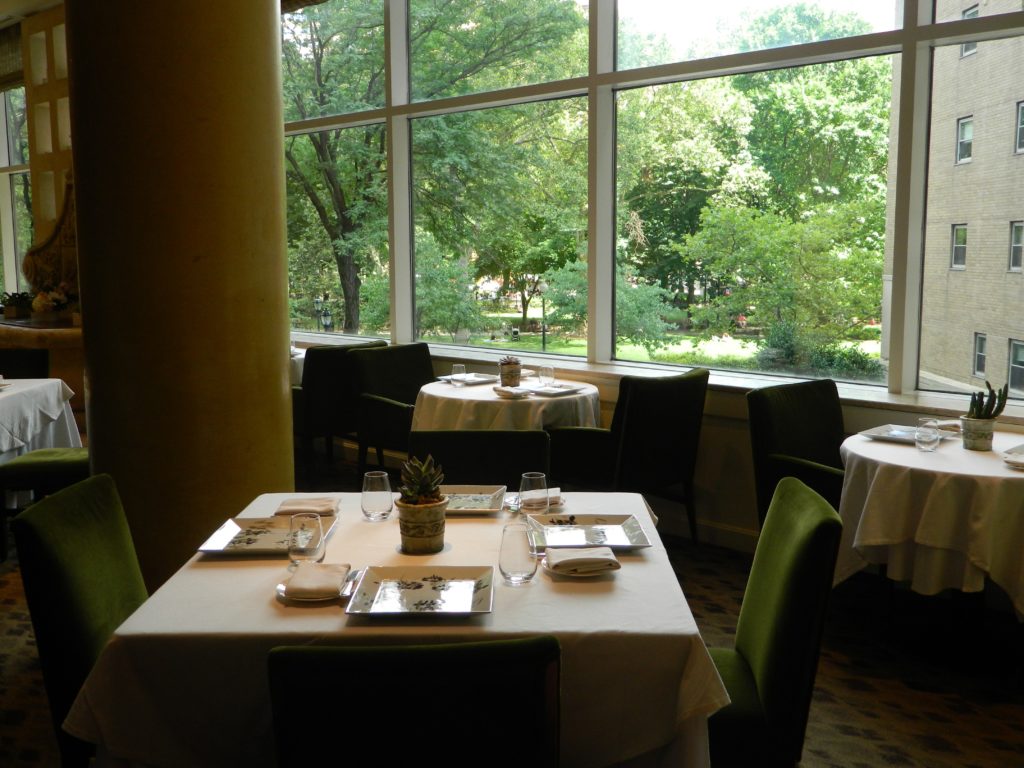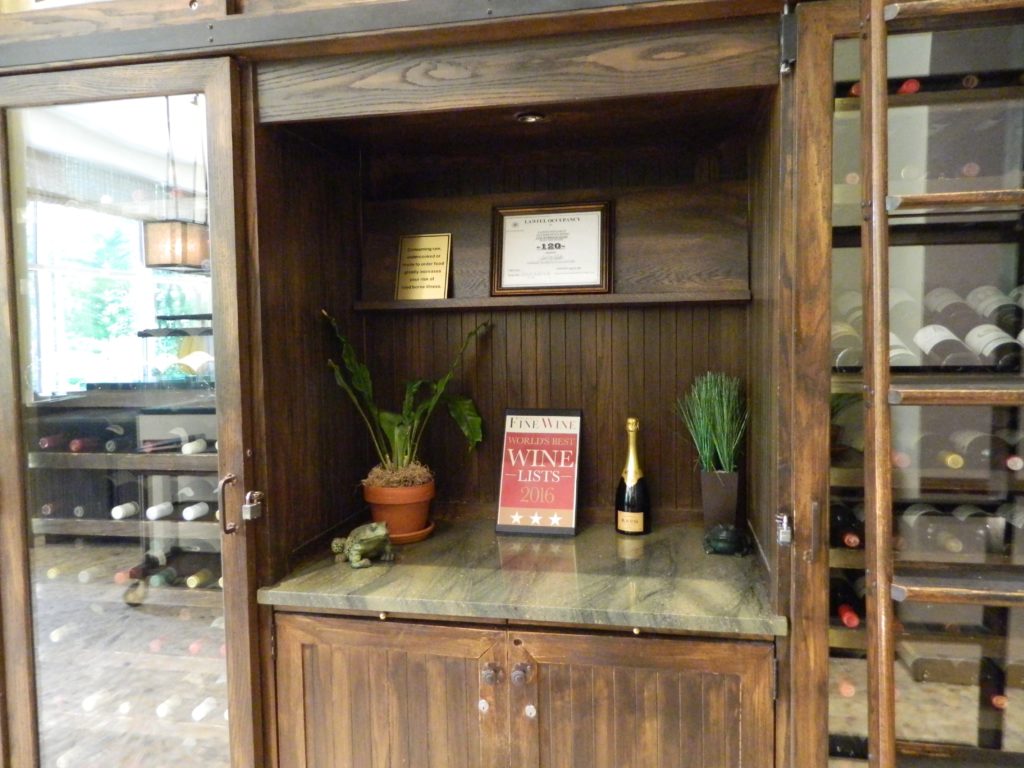 Craving a spot of tea in the afternoon? Guests can make themselves at home in The Mary Cassatt Tea Room, which serves tea and other delicacies including desserts and light fare from 2pm-5pm daily. The room is elegant and refined, embodying all of the traditional elements of a classic tea room setting, complete with white linen and impeccable natural light.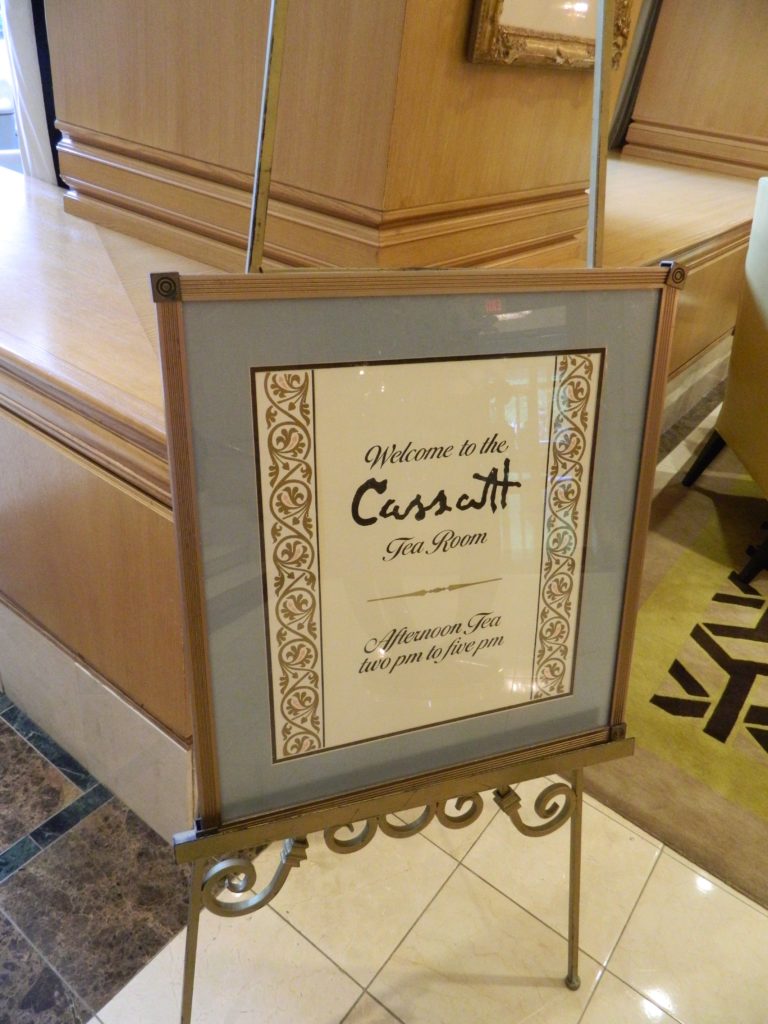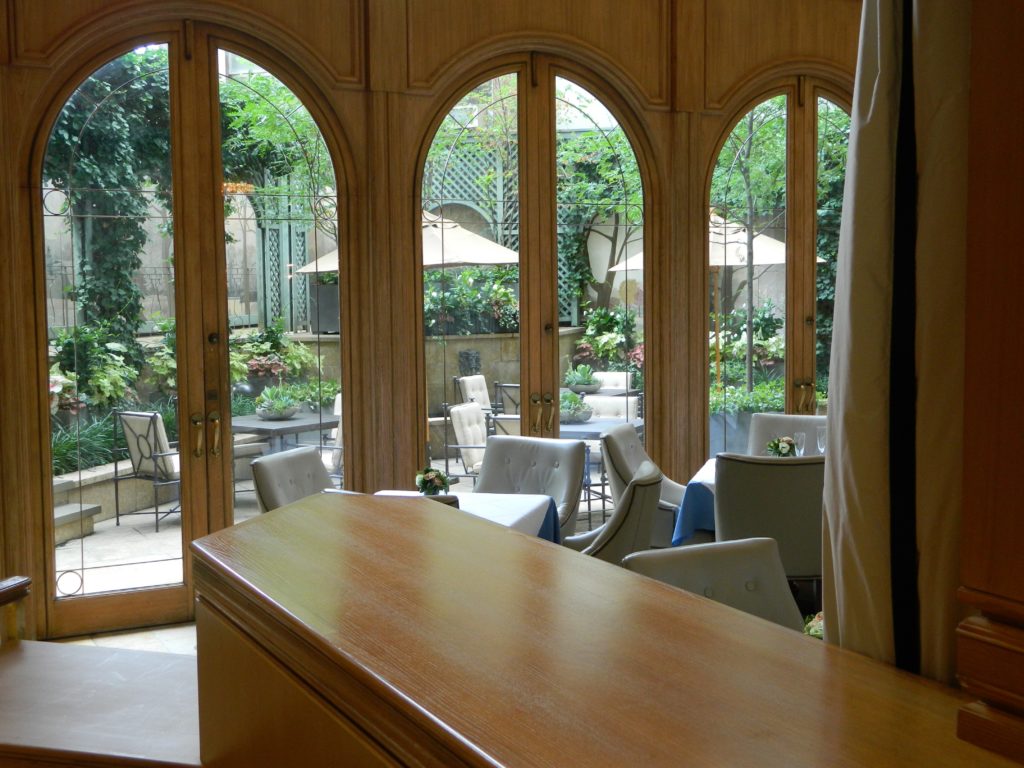 The rooms are incredibly spacious and inviting. Marble bathrooms are stocked with complimentary toiletries from renowned Italian perfumer, Acqua di Parma. Each room contains a private bar and 24 hour in-room dining. Every detail is covered to ensure a truly unforgettable experience. Traveling with your four legged friend? Not a problem. The Rittenhouse is a pet friendly hotel, making sure that no matter the guest, the stay will be enjoyable and stress free.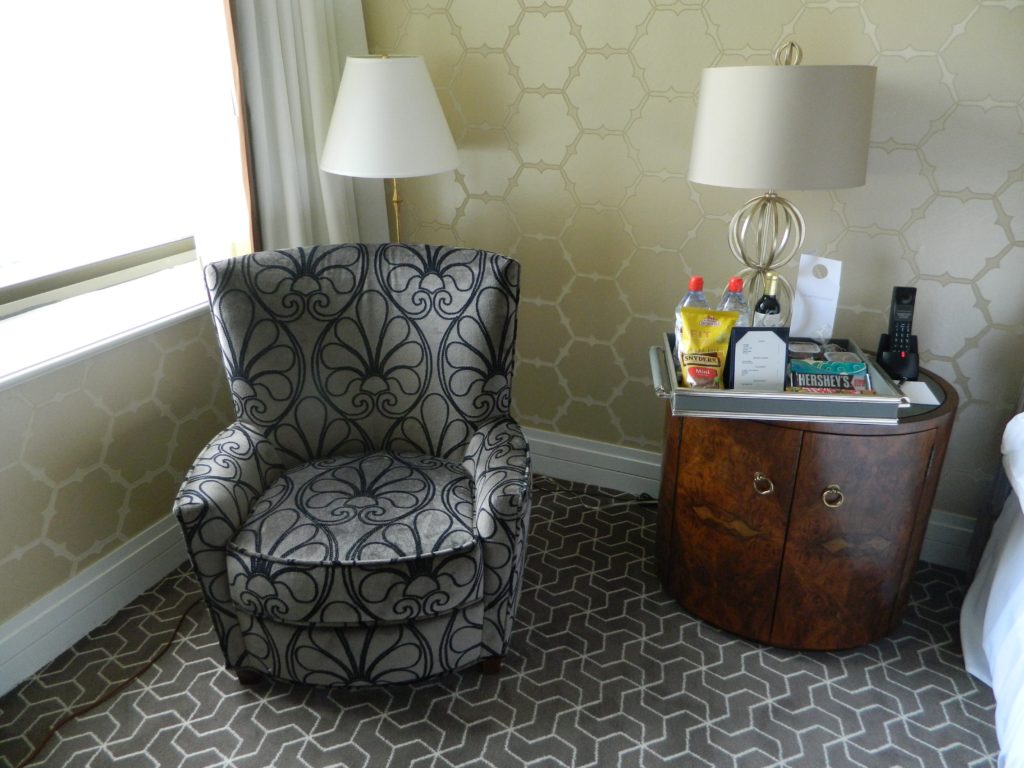 Some of the other exciting features include an indoor pool, gym with state of the art equipment and exercise classes, a gorgeous salon and spa.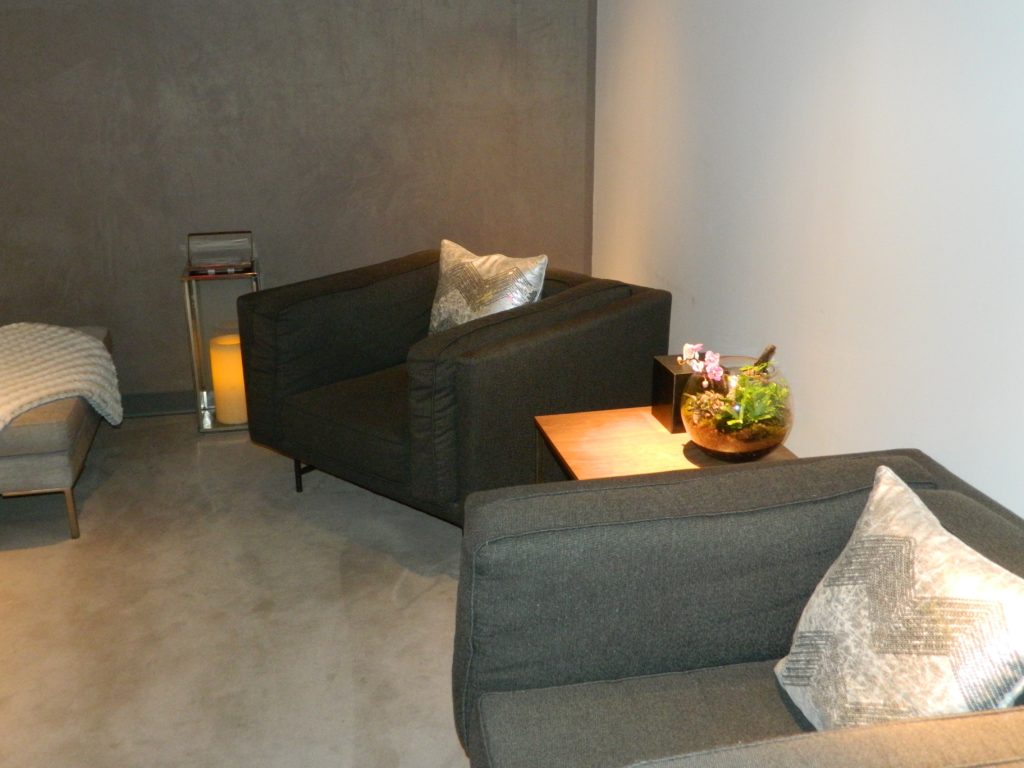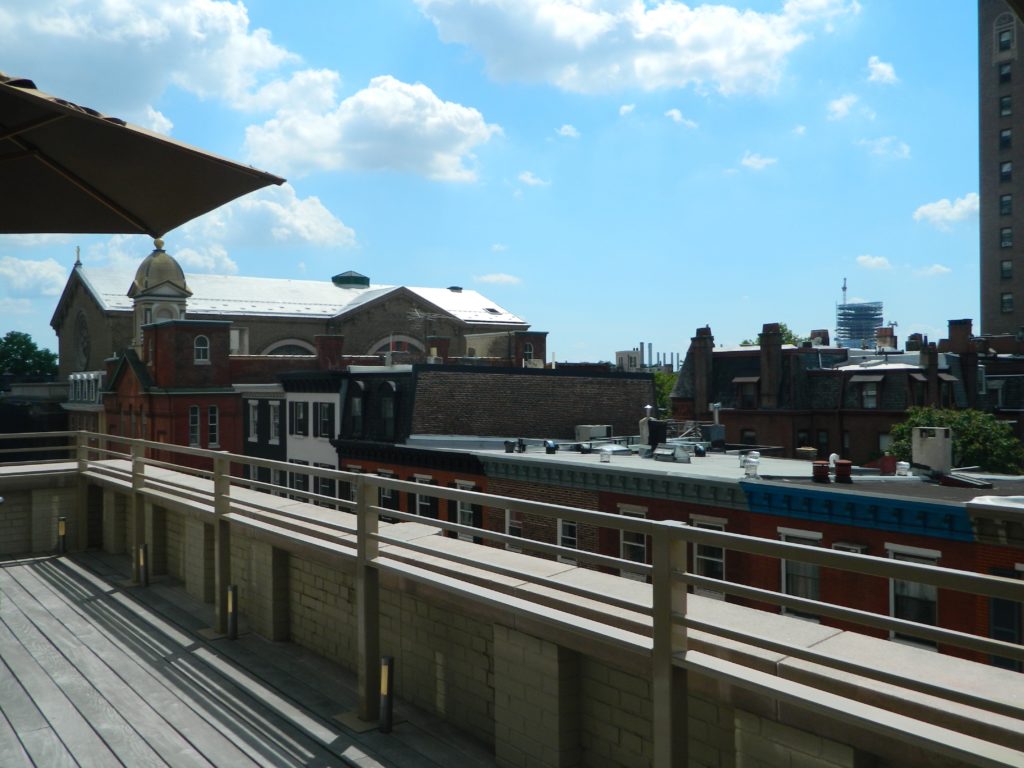 As Philadelphia is the host of the DNC- The Rittenhouse will be offering themed cocktails and spa treatments. This month and next month guests can enjoy BYO Mondays at Lacroix. There is also a brand new caviar menu! Be sure to explore the Luxury Specials and Packages prior to planning your next trip.
The Rittenhouse is centrally located and for those unfamiliar with Philadelphia, there is much to do in the city. Take advantage of your trip by visiting some of the fun upcoming events and attractions.  As a guest in this hotel you truly experience the relaxation of a vacation. I am thrilled to share with you my experience at The Rittenhouse Spa & Club, where proprietor and celebrity stylist Paul Labrecque styled my hair. Stay tuned for my next post including a video.
Thank you to The Rittenhouse Hotel!
Very shortly I will be posting part 2 of my hotel series, which will feature the fabulous Rittenhouse Hotel. These are the before pictures as I focused my review on the Spa & Club- Hair by Paul Labrecque.  I am so excited to show you the process and share with you my wonderful experience and hair transformation that I had while reviewing the hotel. Stay tuned for my video as well!
In the meantime, I want to focus on the outfit I wore that day. This entire look is something of a bargain. I was fortunate to find exceptional sale prices for the look that are now staple pieces in my closet.
I found this laceup bodycon dress in "gleaming pink" at New York & Company online, which is always incredibly convenient. The fit is true to size, comfortable, and versatile. It can be worn at night with a bomber jacket and heels or casually with sandals as I have done.
I decided to wear a beige colored pair of sandals with this season's popular block heels. I chose a laceup sandal to complement the detail on the dress. Here is a similar pair at Lulu's.  The entire look was completed with a large stack of Alex and Ani bracelets.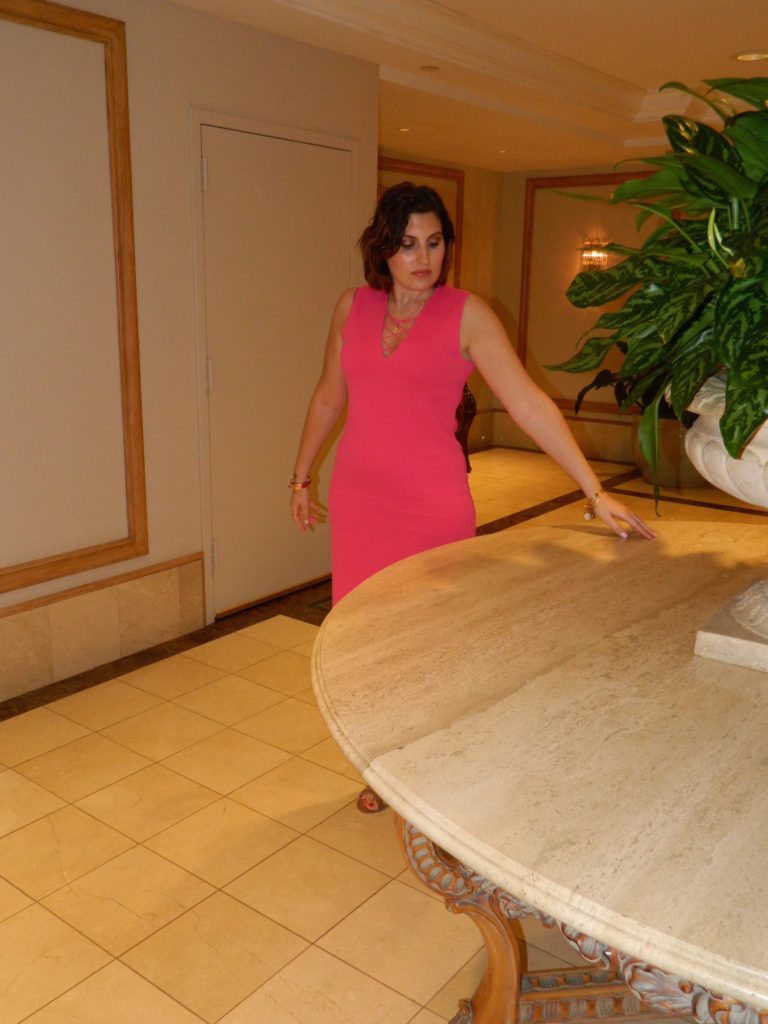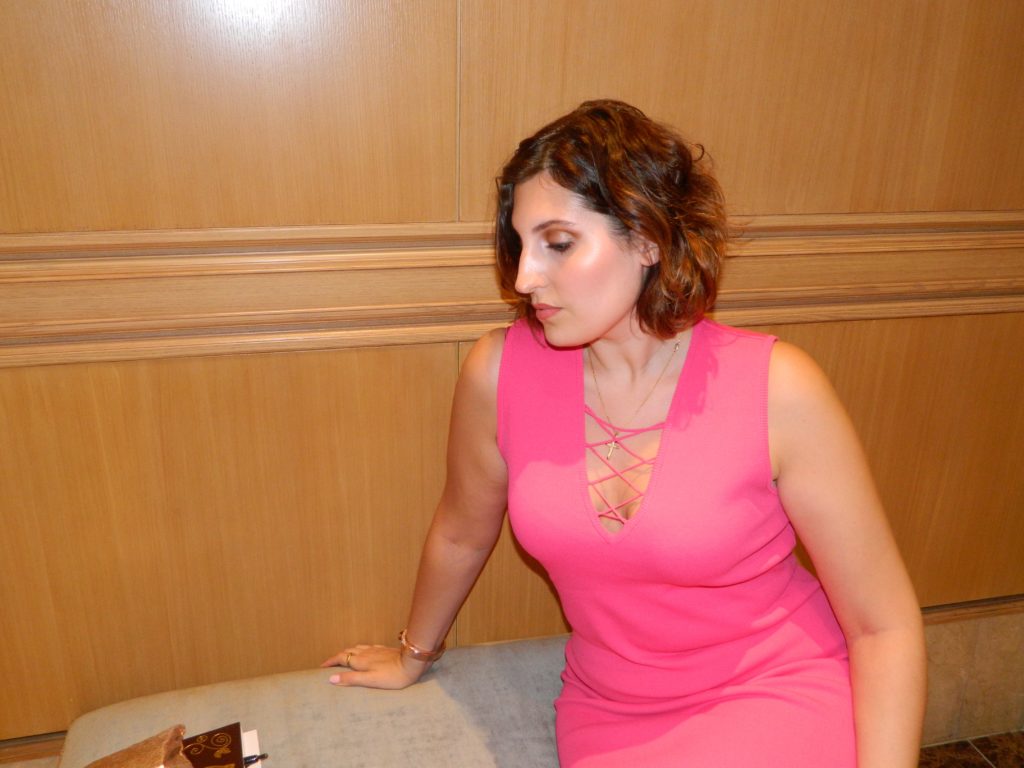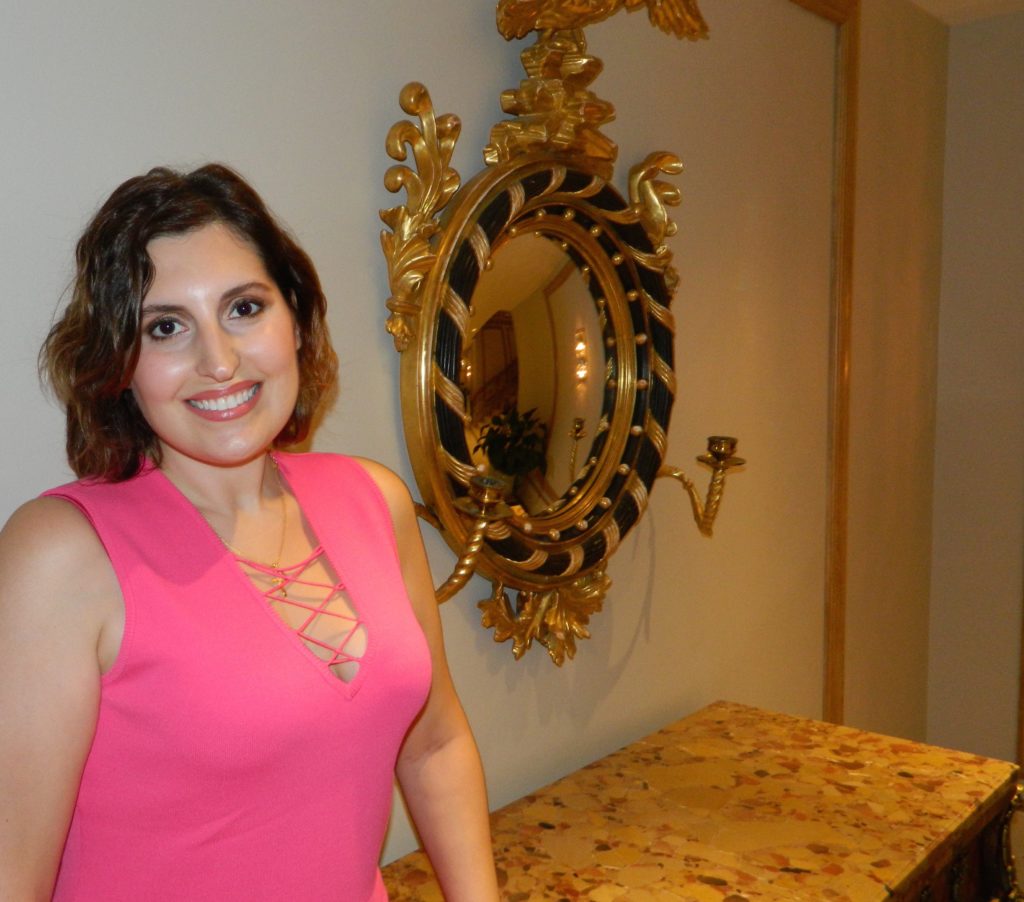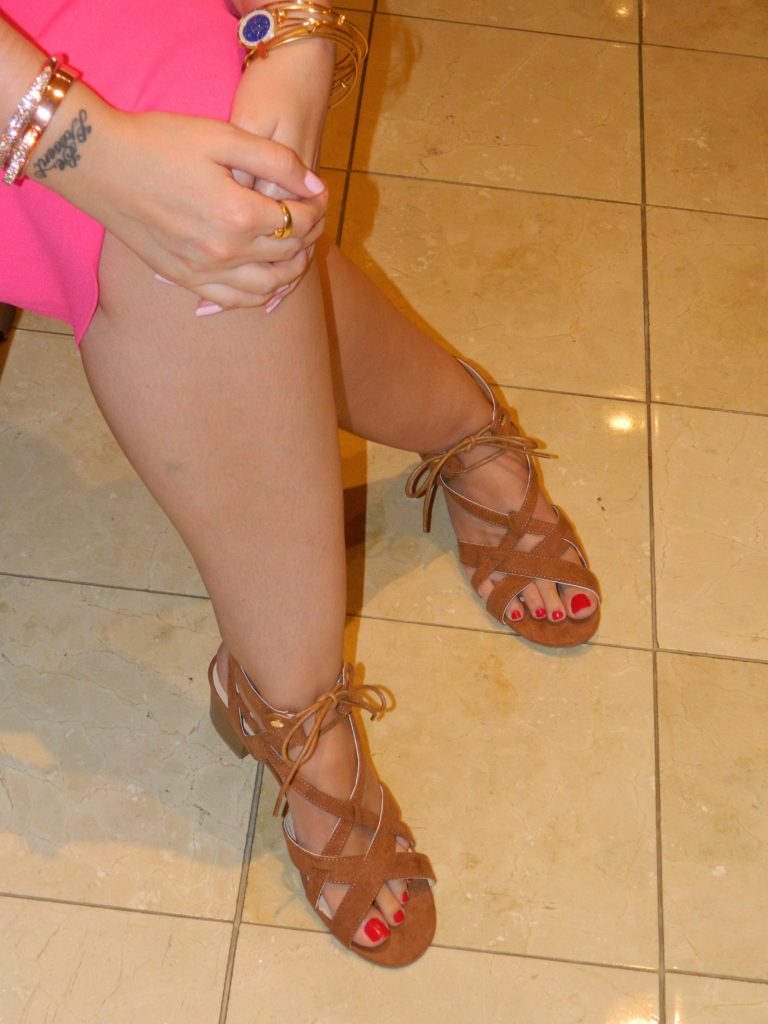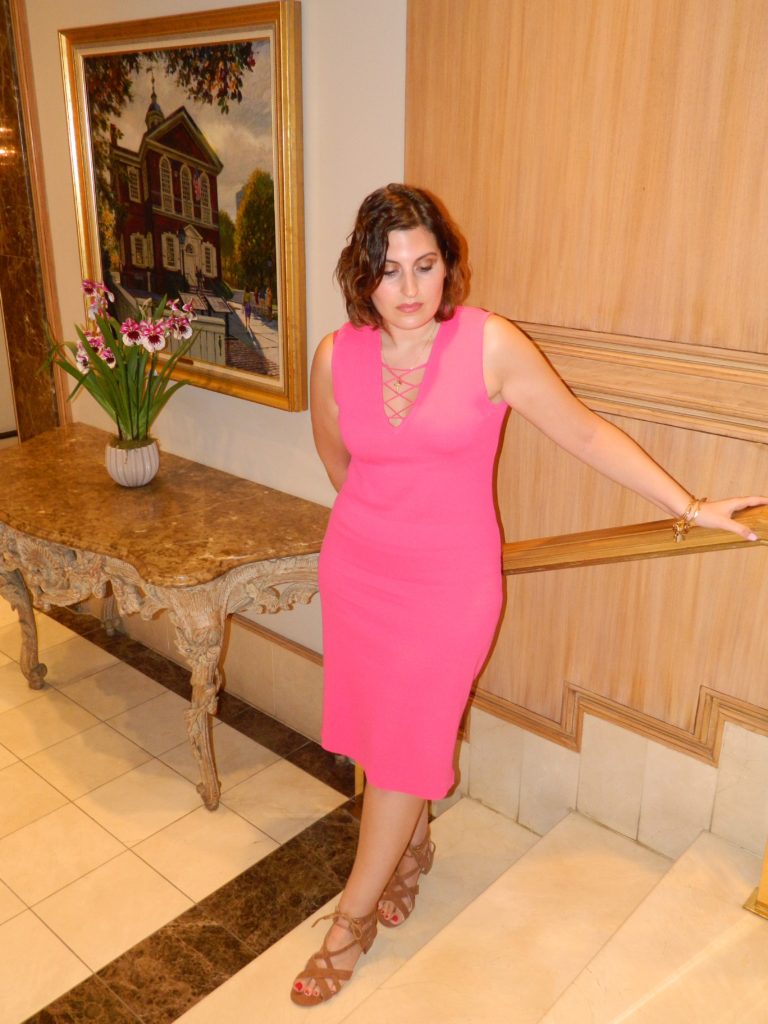 Video and Photo credits: Aubrey Basla
As promised here is the detailed description of my most delicious meal, prepared by Chef Luke Rogers at the Liberté Urban Lounge Sofitel Philadelphia.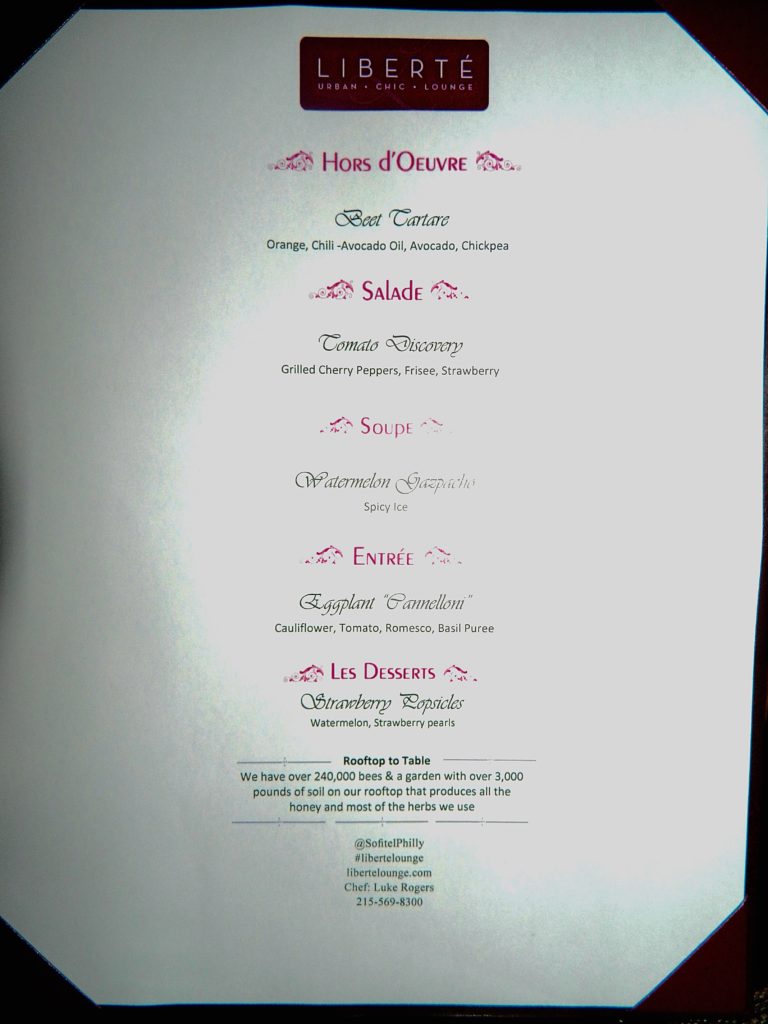 My special menu included five delectable courses, but Chef Luke added a bonus course.
Hors d'Oeuvre
Beet Tartare- orange, chili avocado oil, avocado, chickpea served with taro chips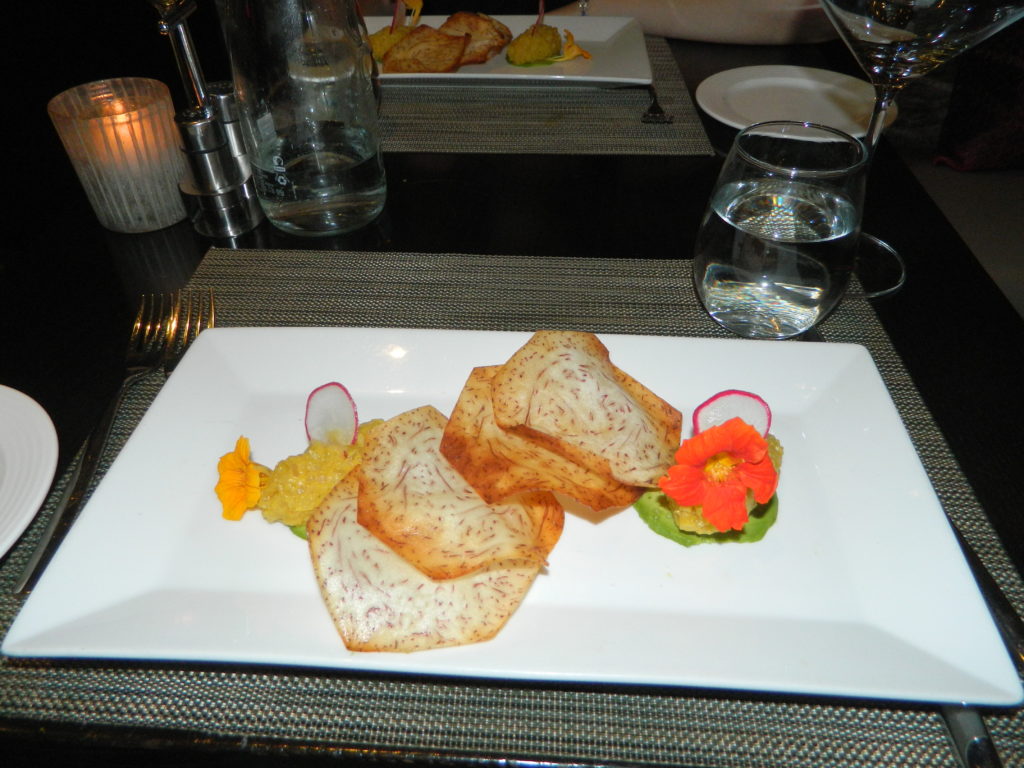 Salade
Tomato Discovery- grilled cherry peppers, frisée, strawberry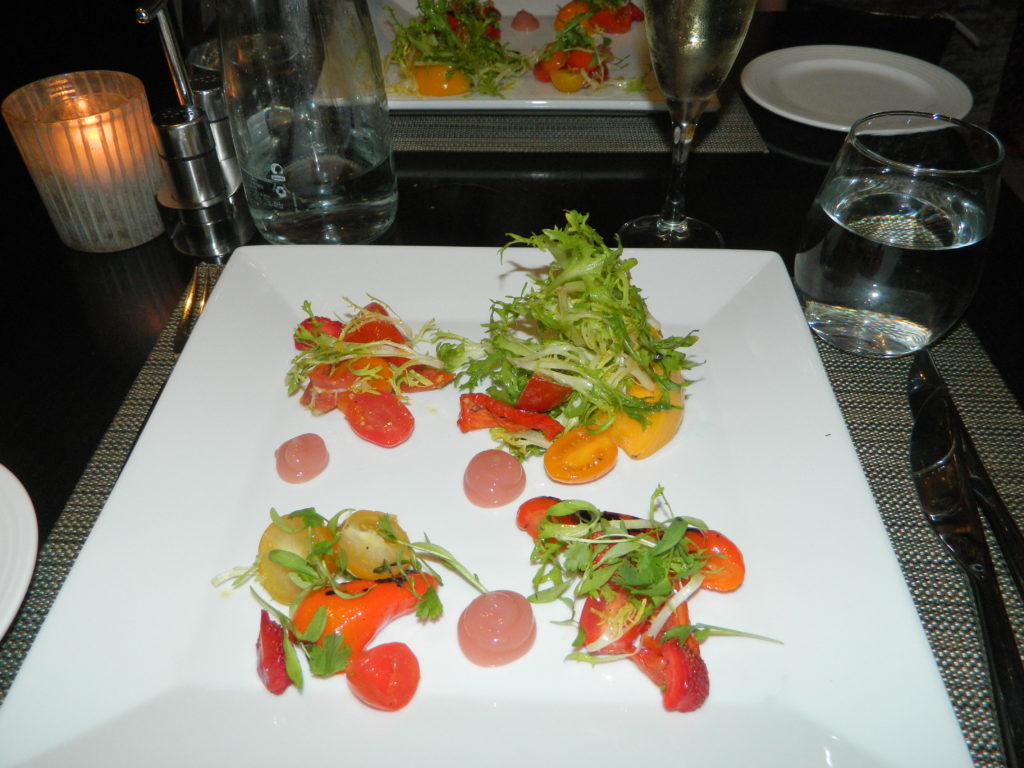 Roasted Carrot Salad- pickled carrots, artichoke, watermelon radish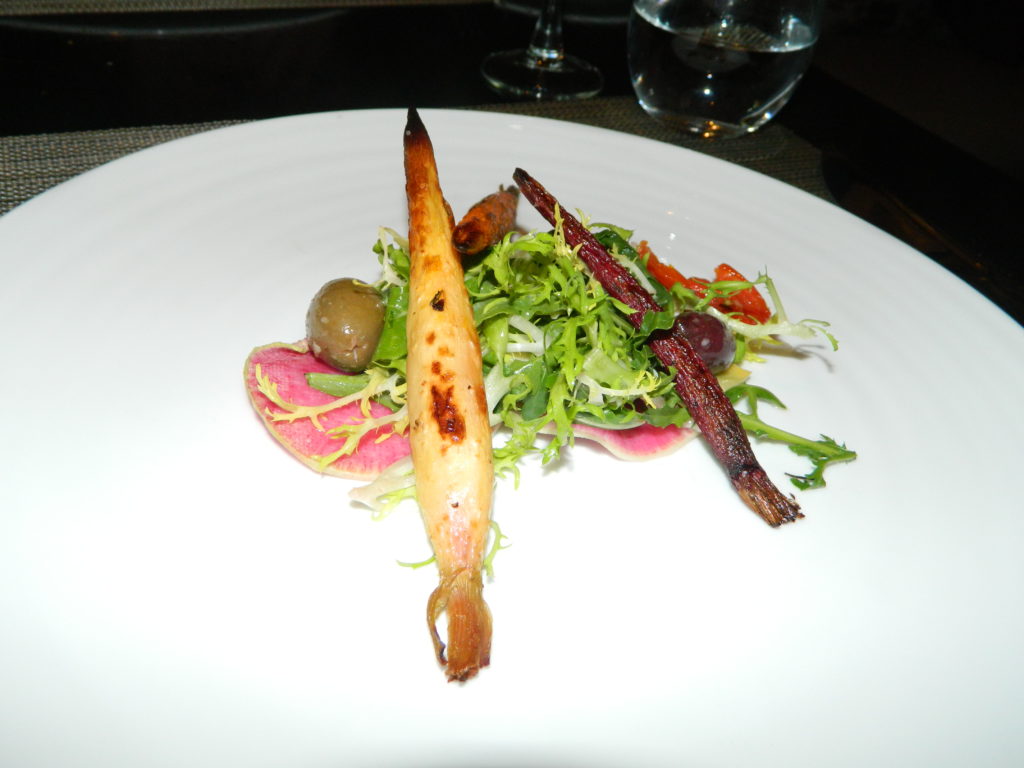 Soupe
Watermelon Gazpacho- spicy ice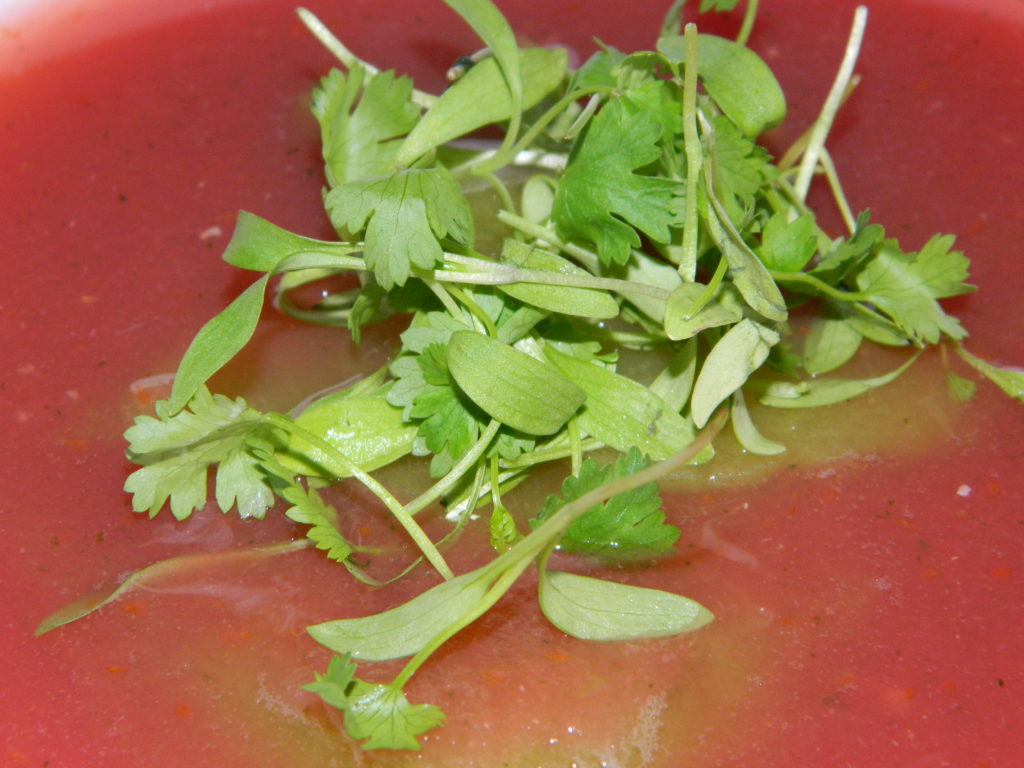 Entree
Eggplant Cannelloni- cauliflower, tomato, romesco, basil puree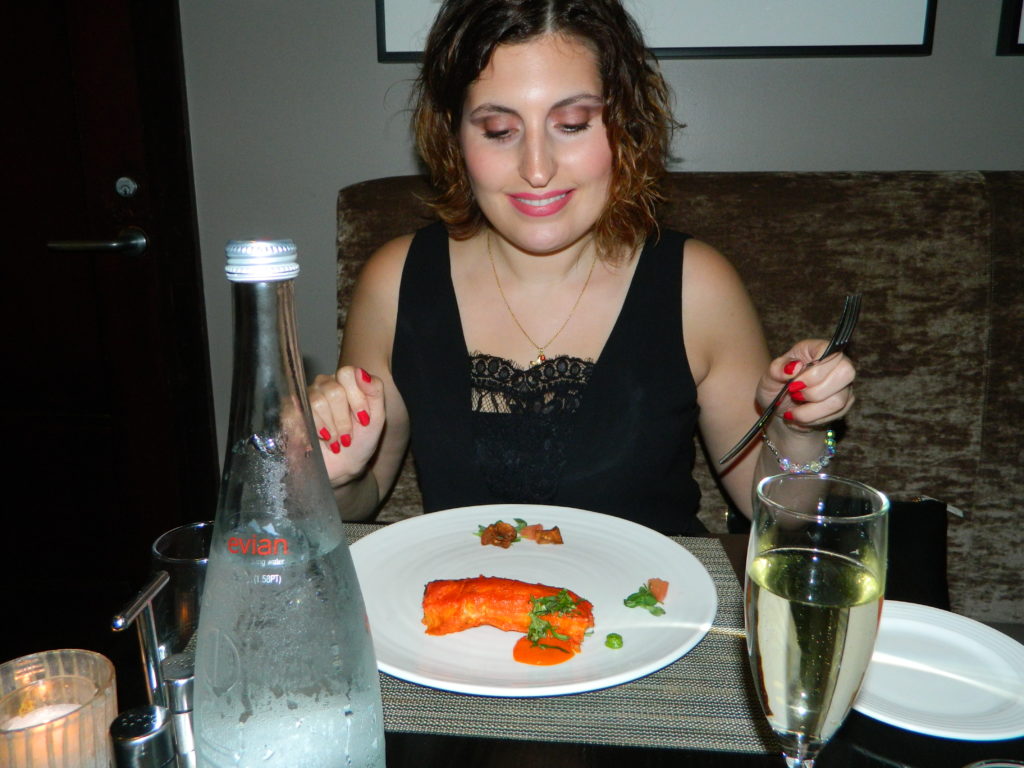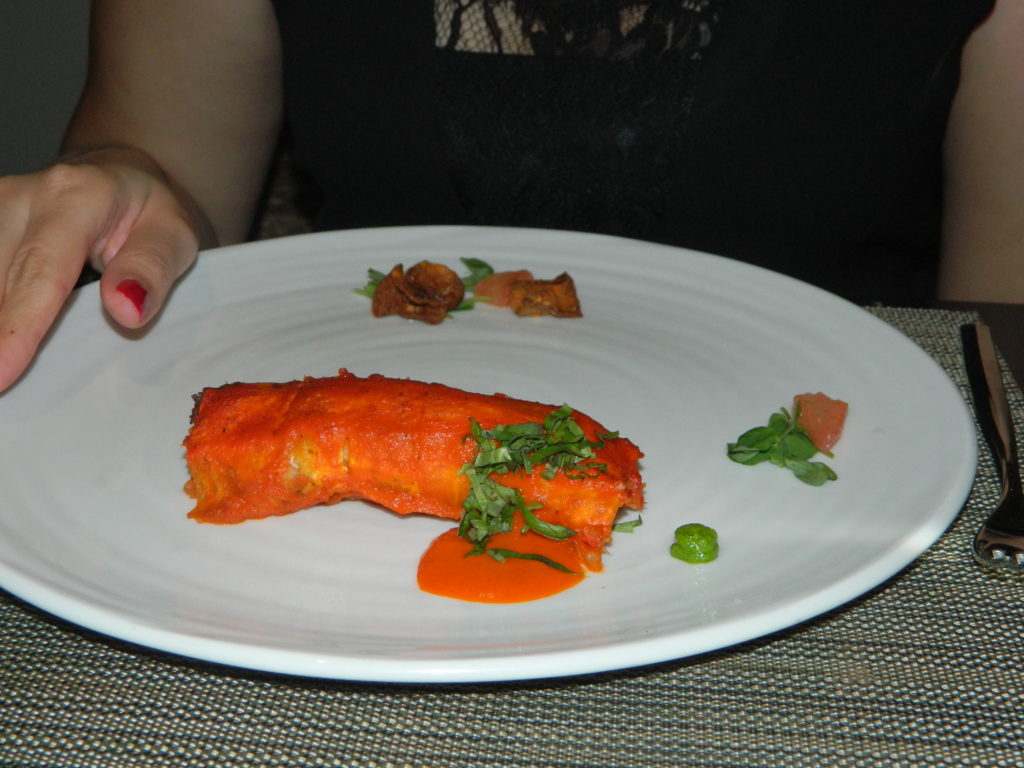 Les Desserts
Strawberry Popsicles- watermelon, strawberry pearls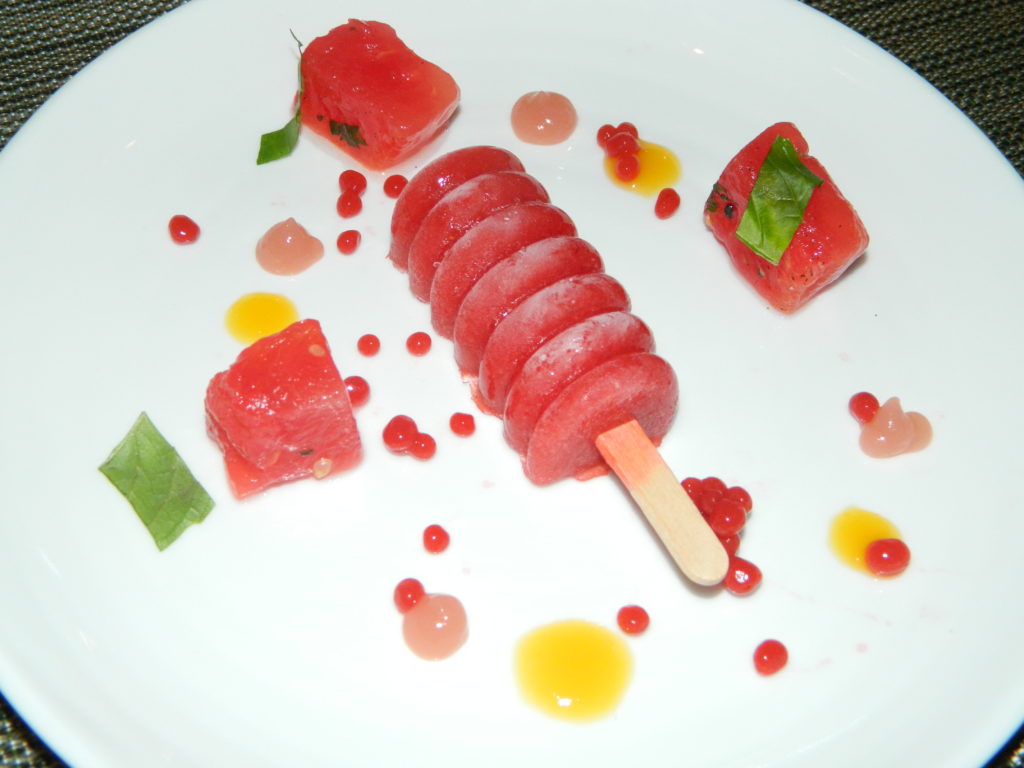 Each course was more scrumptious than the next. I was impressed with the complexity of flavors in each dish. Bitter, sweet, salty, spicy all perfectly working in harmony to create a truly unique experience.
At The Sofitel Philadelphia, 240, 000 bees reside, providing honey for the guests. There is a beautiful rooftop garden with over 3,000 pounds of soil that produces most of the herbs provided for the meals. Chef Luke Rogers curates this fabulous garden and many of the items on my menu were picked fresh for my meal!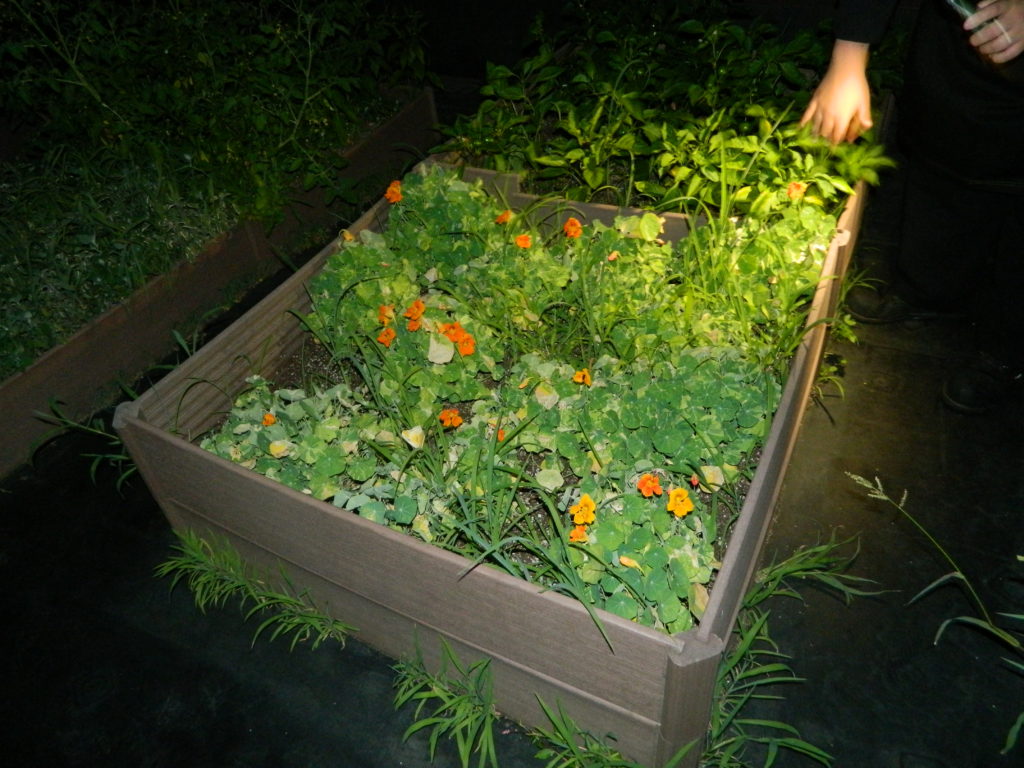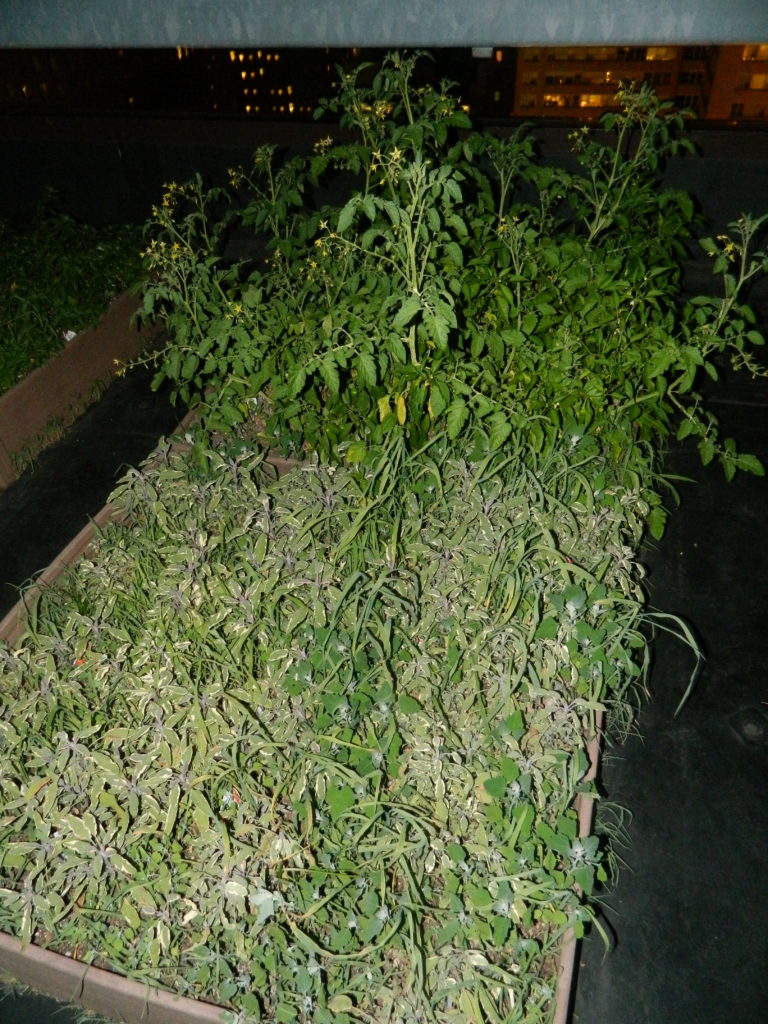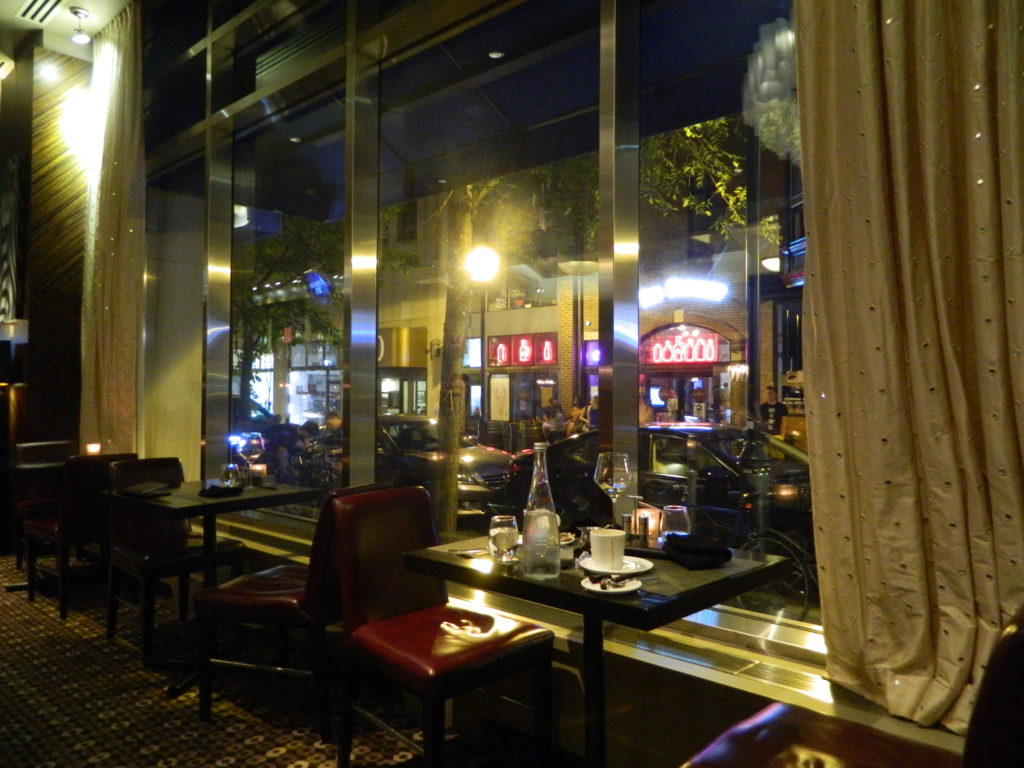 I have never gone to a restaurant, completed six courses and left feeling healthier. However, this was the case last week after eating one of the best meals of my life at the Liberté Urban Lounge in the Sofitel Hotel. The food was prepared by Executive Chef Luke Rogers. Let's backtrack just a bit before I dive into the dining experience.
When I first decided to feature a hotel series on Sugarpeel, I wanted to capture the unique differentiators that make some of the best hotels in Philly special. Each one that I cover will focus on something different- whether it is food, stay, services. I focused on the Liberté Urban Lounge in the Sofitel. Prior to confirming my reservation, I gave my dietary restrictions to Chef Luke, convinced that it would be an inconvenience. Nothing could be further from the truth. Chef Luke agreed immediately and began his homework and prep for my visit.
As a Celiac, Vegan, and allergy sufferer it is usually an anxious experience to dine out. I also have an unsettled feeling wondering if there is a cross contamination in the kitchen that will leave me fishing for my Epipen. The moment I entered the Liberté Urban Lounge and sat down there was a beautiful personalized menu with a series of courses specifically designed by the Chef. I had a wave of relief; knowing that I would not have to worry and cautiously eat my food.
Each server was kinder than the next. I would like to personally thank Michael, Kurtis, and Mary who were exceptionally attentive, knowledgeable, and a pleasure to meet. The courses utilized all of the fresh ingredients that I could eat. Chef Luke played with textures, complex flavors, and modern plating. He describes his cuisine as "refined yet approachable." Everyone should be able to experience a delicious meal.
Chef Luke leads by example by treating his staff with respect in order to foster a creative and healthy atmosphere in the kitchen. Fear is not the way to produce excellent food. To ensure this atmosphere, Chef Luke prefers a hands on approach by hiring each new employee, making sure that everyone is on the same page and works as a team. You will not see anyone throw a pan in his kitchen!
It was an overall inspiring experience as I often find myself struggling to create a satisfying meal without defaulting to something plain and flavorless.
The Sofitel is just minutes away from Rittenhouse Square, which is one of my favorite locations in the city. The park is beautiful, lively, and a great spot to people watch. Friends of Rittenhouse  provide a complete guide of the events and happenings in the square. If you are staying in the area of the Sofitel, make sure to visit Rittenhouse, which has something for everyone, every age. If you love shopping, walk on Walnut street in the shopping district for luxury boutiques.
Stay tuned for my next post including a video and detailed description of the scrumptious menu customized by Chef Luke at Liberté Urban Lounge!
Philadelphia offers a full spectrum of exciting attractions, exhibits, and cuisine. The city is a unique combination both celebrating and preserving its history while embracing the modern. Summer is the time for vacations and I wanted to introduce a new series including the hospitality industry in Philly. Whether you are planing a vacation or "staycation"  I will provide tips and coverage to ensure the perfect visit.
I am so excited to be sharing this new feature with you. The Philadelphia area has been my home for almost 20 years and I have found some truly interesting spots. There is never a shortage of things to see, places to visit, shop, eat, explore. The city has much more to offer than just cheesesteaks and the Liberty Bell.
First up is my review of the Liberté Urban Lounge located within the fabulous Sofitel Hotel. Stay tuned for The Ritz Carlton, The Rittenhouse, and Loews Philadelphia Hotel. Each one will focus on the differentiators that make them special and things to do in the surrounding areas.
Every lady needs a LBD hanging in the closet, but I suggest having more than one for each season. Material is an important factor to consider when choosing the right LBD. In the fall and winter, I love a knit sweater dress that can be worn with knee high boots and tights. A lighter fabric will keep the LBD in the summertime from appearing too heavy. Also, try to look for movement when shopping for a summer LBD.
I found a beautiful sleeveless A-Line dress at JCPenney that I love. The fabric is crepe with lace detail and a tassel belt. I wore a pair of heeled sandals, but you could absolutely opt for a pair of ballet flats.
Have fun and play around with makeup for this look. Bold lipstick shades are my favorite with a LBD. In this look, I am wearing a Charlotte Tilbury lipstick in Velvet Underground, a vibrant fuchsia.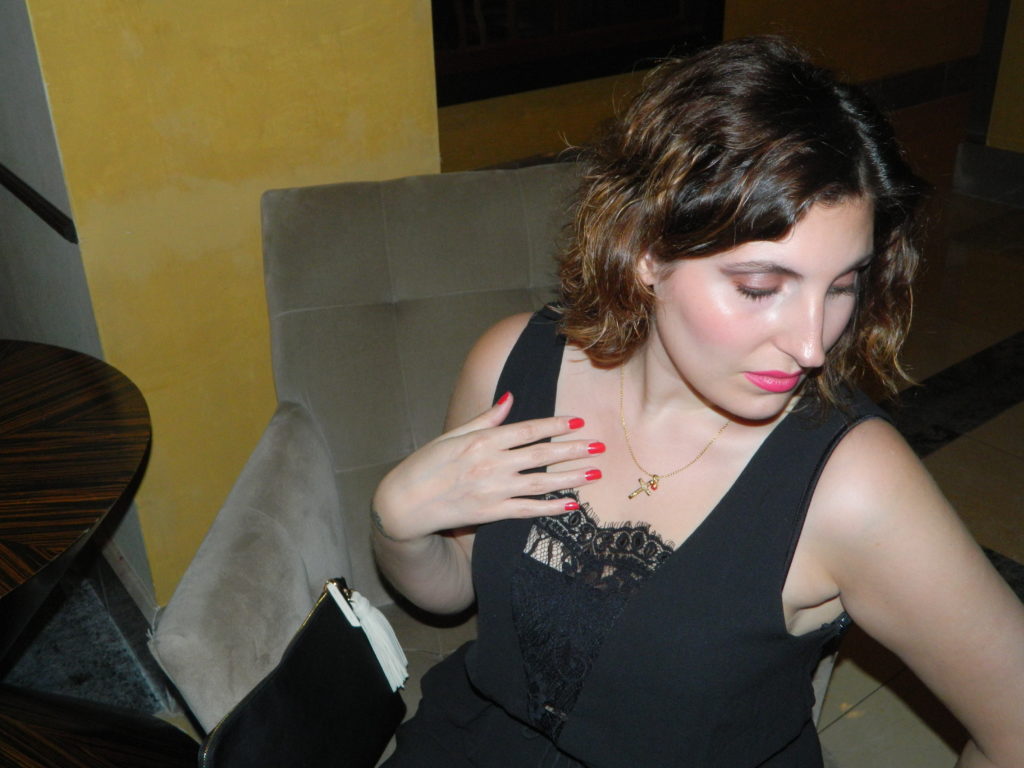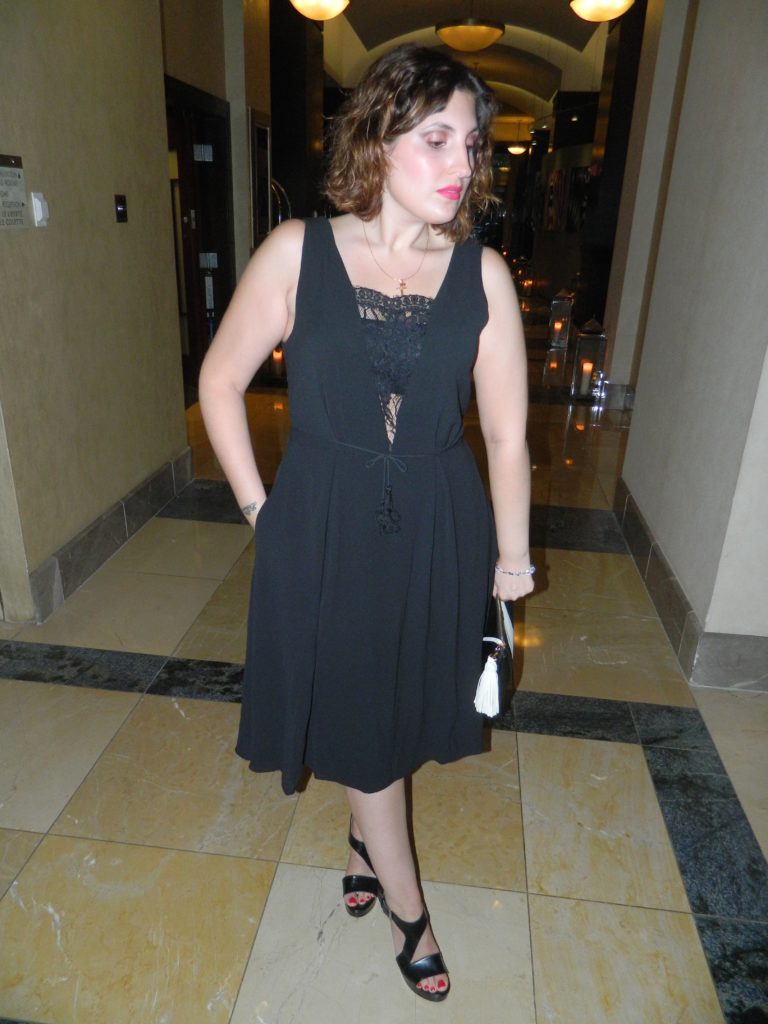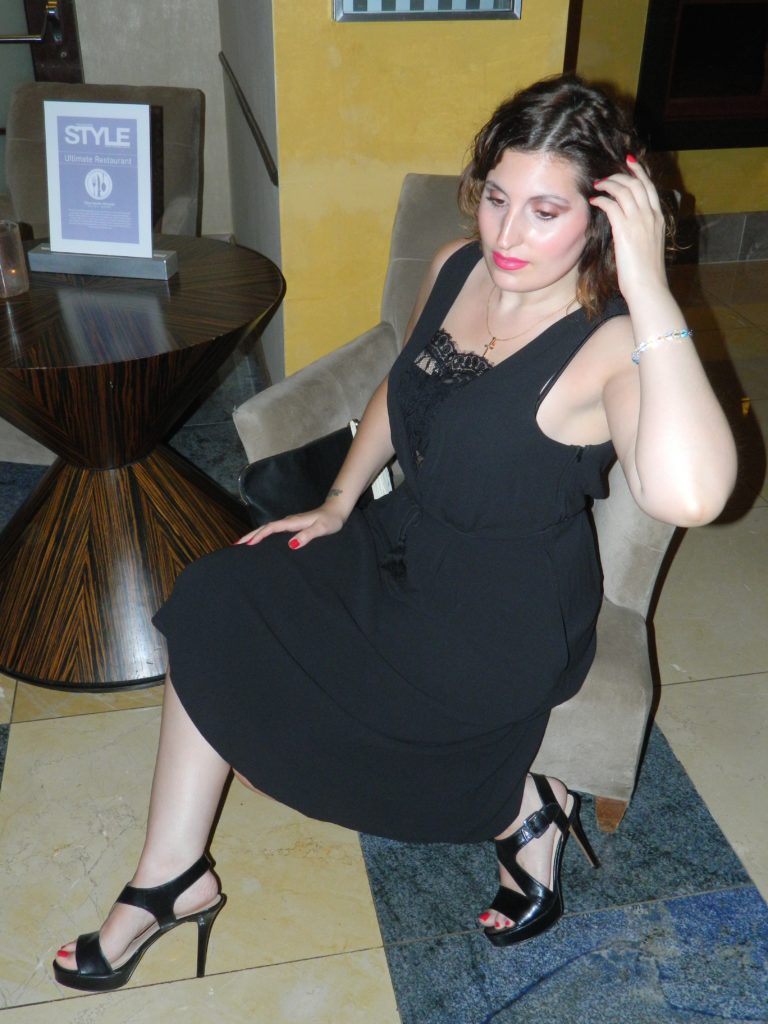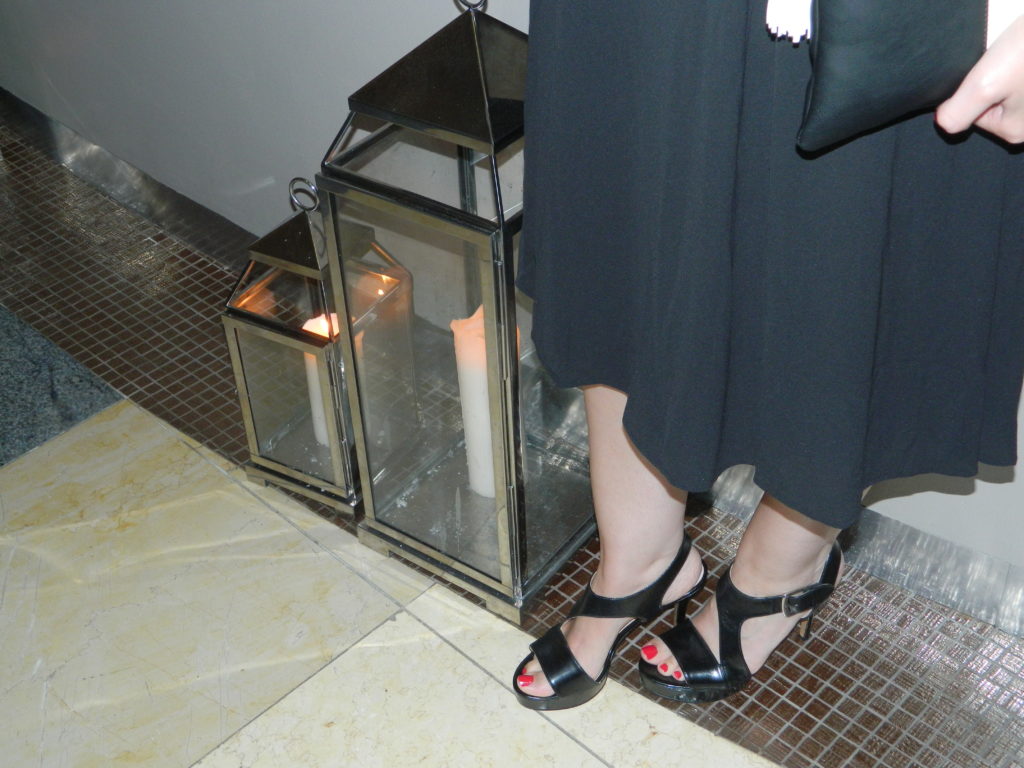 Happy Fourth of July! I hope everyone is having a safe and fun holiday weekend. I have some really delicious and simple recipe ideas that I would love to share with you. All would be wonderful to pack for the beach, a picnic, or if you are hosting a BBQ. If you have guests that suffer from Celiac disease or are vegans, these are the perfect recipes to offer.
My favorite kind of hummus…fresh and homemade. It is so simple to make hummus and the secret to making truly great hummus, fresh squeezed lemon. Using a white bean like Cannellini beans are an excellent alternative to traditional hummus. It creates a smoother, fluffier texture.
Ingredients:
1 can of chick peas
1/2 lemon
pinch of parsley
pinch of salt
1/2 teaspoon of curry powder
1 teaspoon of tahini paste
1 teaspoon of olive oil
How to:
Simply blend all ingredients at once until smooth and creamy. Use a blender or food processor.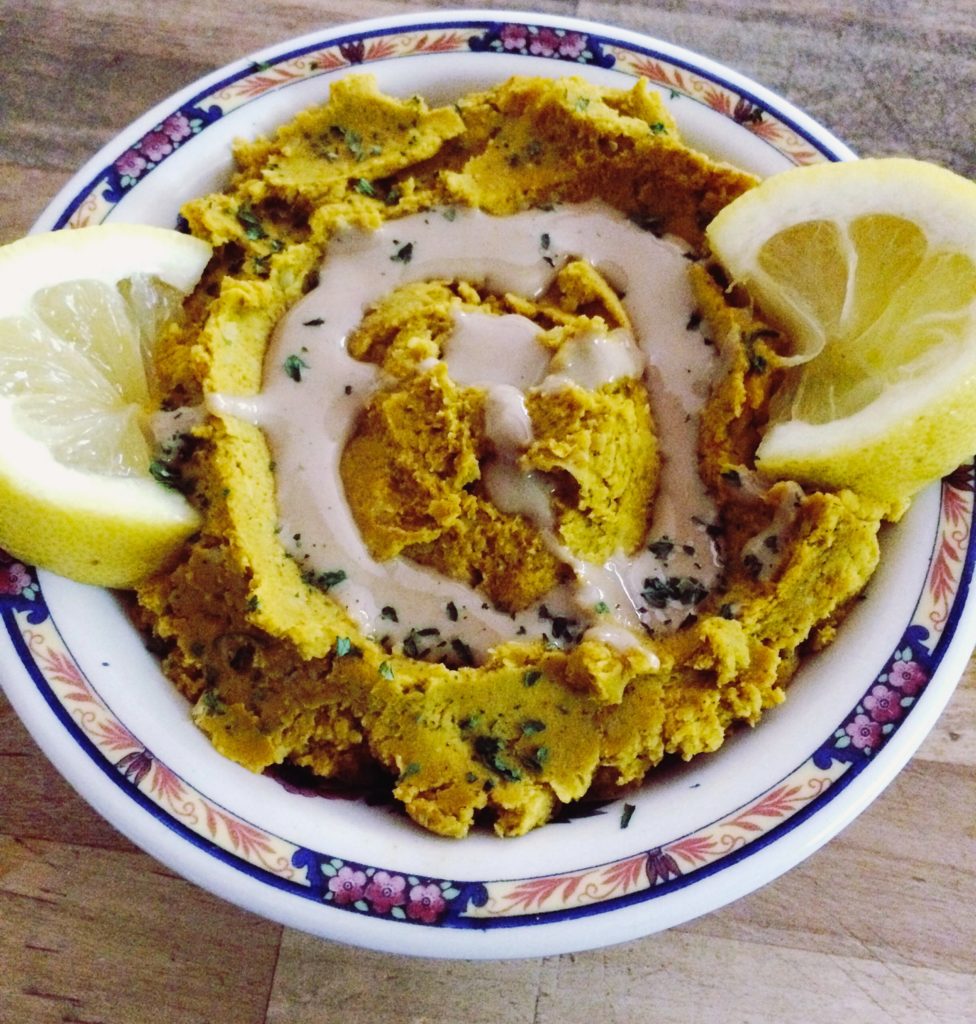 Glutenfree Vegan Potato Salad
Ingredients:
3 Yukon Gold Potatoes
1 celery stalk
8 black olives
1/4 red onion
1 teaspoon of turmeric
pinch of salt
pinch of parsley
1 tablespoon of Vegenaise
How to:
Boil the potatoes until they are fork tender. Drain and allow to fully cool. Chop the celery and red onion to small pieces. Finely chop the olives. Dice potatoes and add the celery, onion, and black olives. Stir in Vegenasise and spices. Serve and enjoy!
Mango Nice Cream (vegan)
Ingredients:
1 frozen ripe mango
How to:
Simply blend the frozen mango in a food processor until smooth. Serve and enjoy!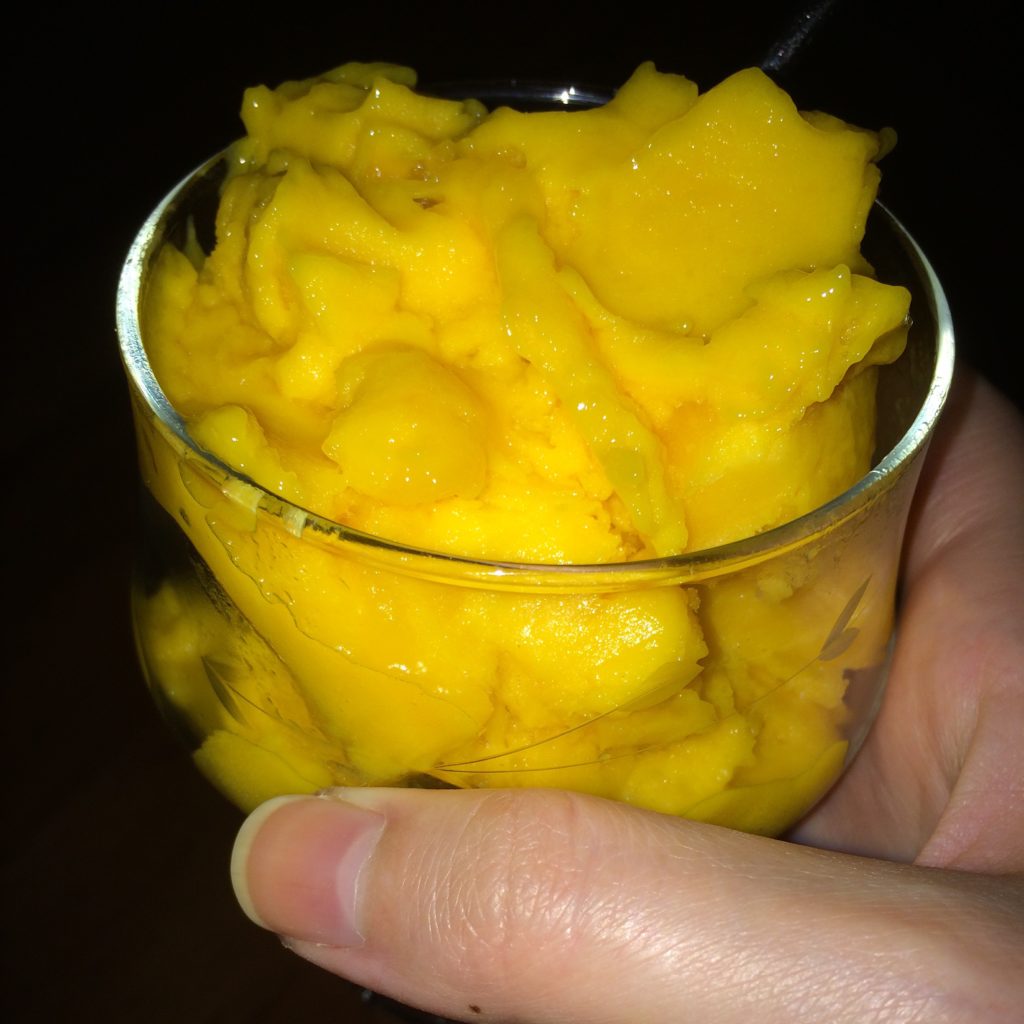 I am so excited for this upcoming event! Laini Cosmetics and Paula Hian are collaborating for a special beauty meets fashion event.
Laini Bianculli will be demonstrating how to properly apply bronzer and let's be honest that is quite the skill! It can feel intimidating to apply bronzer if you are not sure where or how to do so. Laini's gorgeous collection of brand new bronzing products are perfect for creating that sun kissed glow without any streaking. Laini offers a special curated collection, Beaches & Cream that has all of the bronzing products you will need for this summer and all year round- a must have to add to your makeup collection!
In the past, I had the pleasure of interviewing Paula Hian on her process, inspiration, and collections. She continues to create classic, timeless pieces with a unique and deft hand. Her new collection integrates geometric shapes and utilizes black and white color schemes.
Both women will be offering a giveaway that you do not want to miss. Join us for an evening out filled with laughter, drinks, and of course fashion and beauty!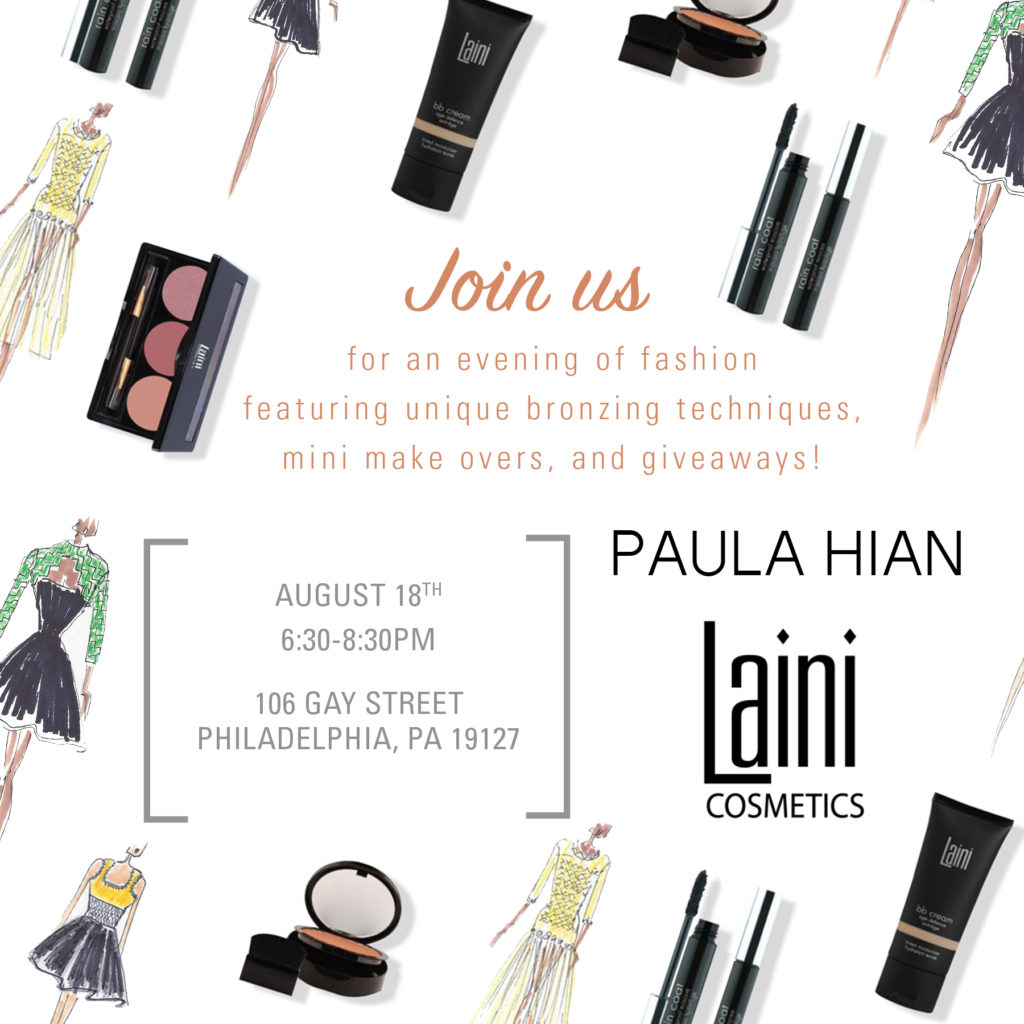 Copyright © Dandelion by Pexeto