It could be sweltering hot outside and I still crave soup. There is something comforting and filling about this type of meal. I like to make this vegan recipe for lunch time. I usually make a large pot and nibble all day long. I developed this healthy recipe after craving ramen noodle soup for months on end. It was time to take action. If you are suffering from celiac disease or simply on a gluten free diet this is the perfect option.
Here's how to make this delectable vegan soup recipe!
Ingredients:
2-4 oz of Thai rice noodles- depending how hungry you are
1/2 san marzano tomatoes
1/2 cup coconut milk
1/4 teaspoon of turmeric
pinch of basil
1 container of veggie broth
2 medium carrots
1 medium yukon gold potato
1 teaspoon olive oil
How to:
Begin by adding the olive oil to a pan. Add the potato and carrots on low heat until slightly caramelized. Pour in veggie broth with coconut milk and tomatoes. Add seasoning and let simmer until carrots and potato are fork tender. Begin boiling water and cook rice noodles. Add the noodles to the pot to finish cooking. Serve and enjoy!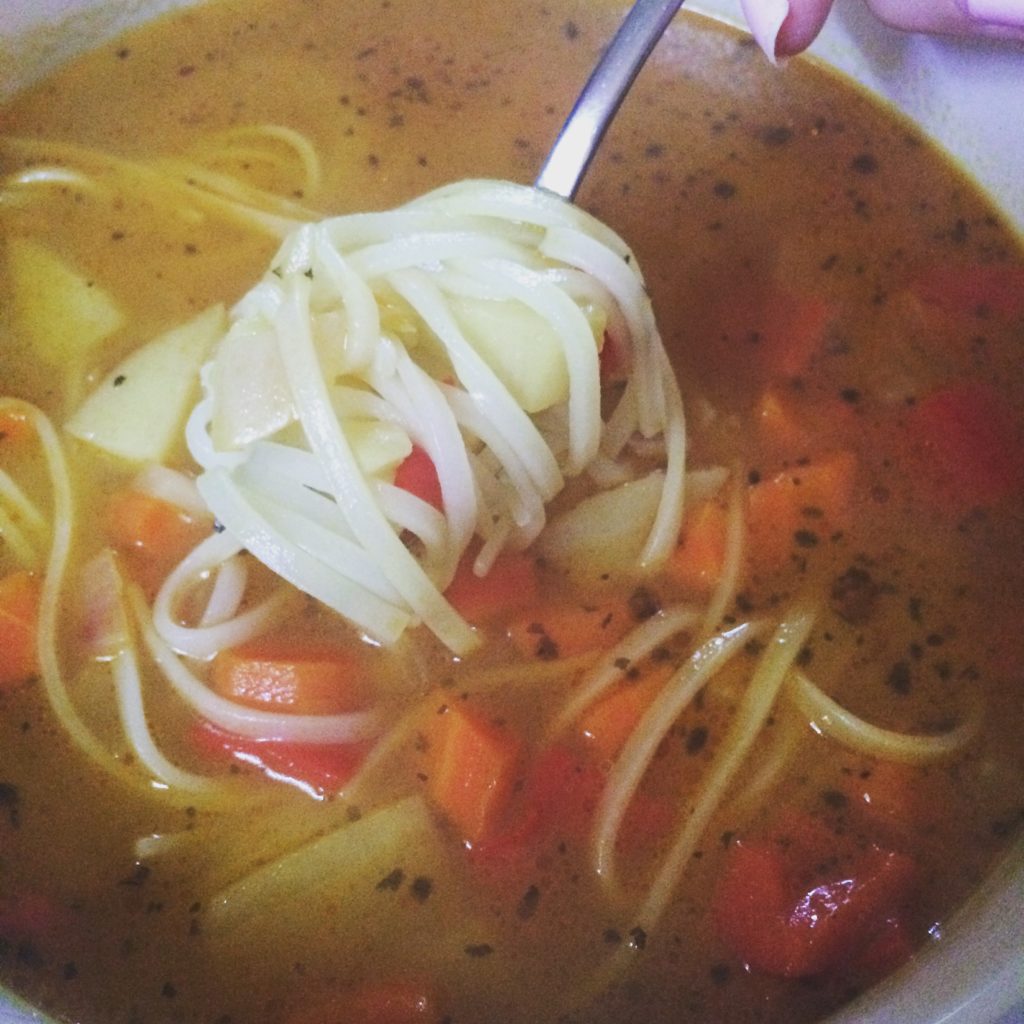 Spending the day at the beach requires packing of a few essentials. I always make sure to bring a snack, lunch, meal of some sort. The sun and swimming can zap your energy and it's important to remember to eat, even if you are too hot. I recommend cold fruits, sliced veggies, a light sandwich and definitely hydrate. Pack a couple bottles of water. One of my favorite all year round products is by Caudalie. The Grape Water spray is perfect for all skin types, especially dry or sensitive. This is a terrific product to pack for the beach to rehydrate skin without causing irritation.
As for sunwear, sunglasses should go without saying. If you are planning on doing any water sports, try to find a pair of polarized sunglasses, which will reduce the glare. Earlier in the spring, I posted my Topshop swimsuit and Nordstrom Cover-up for Miami, which I absolutely love! After the beach it is nice to wash off the sand and change into something light and comfortable, especially if you have a bit of a burn. Over my vacation, I chose a mini leopard halter dress in cool cotton with a simple pair of flip flops. This makes all of the difference after a long day in the sun!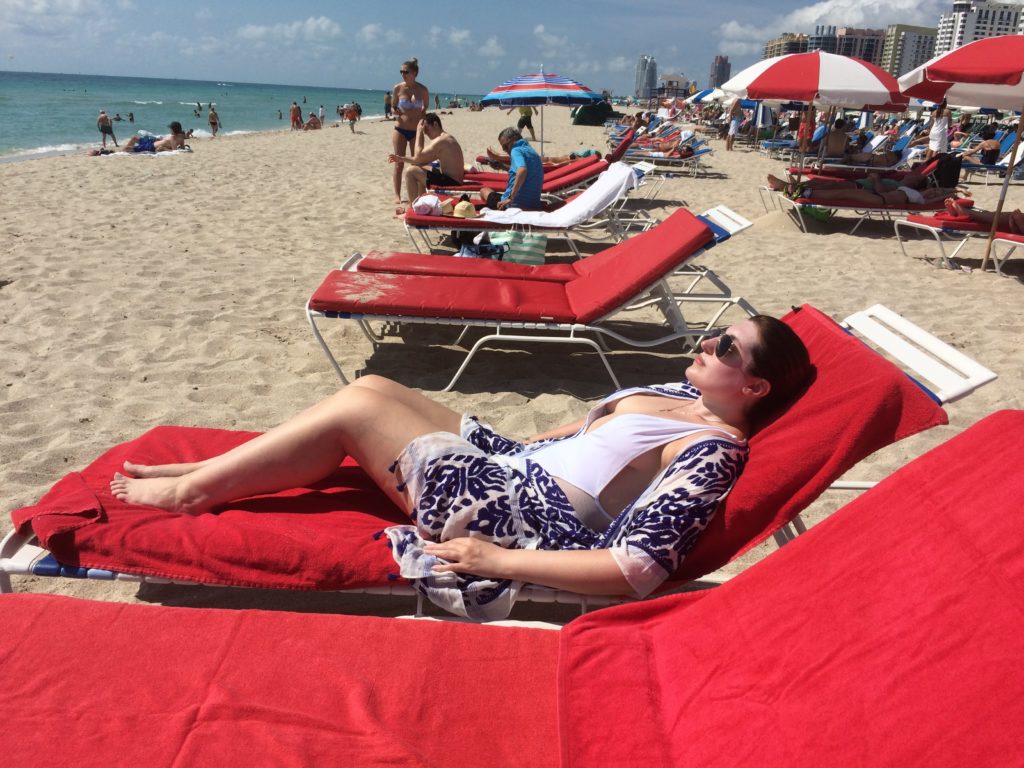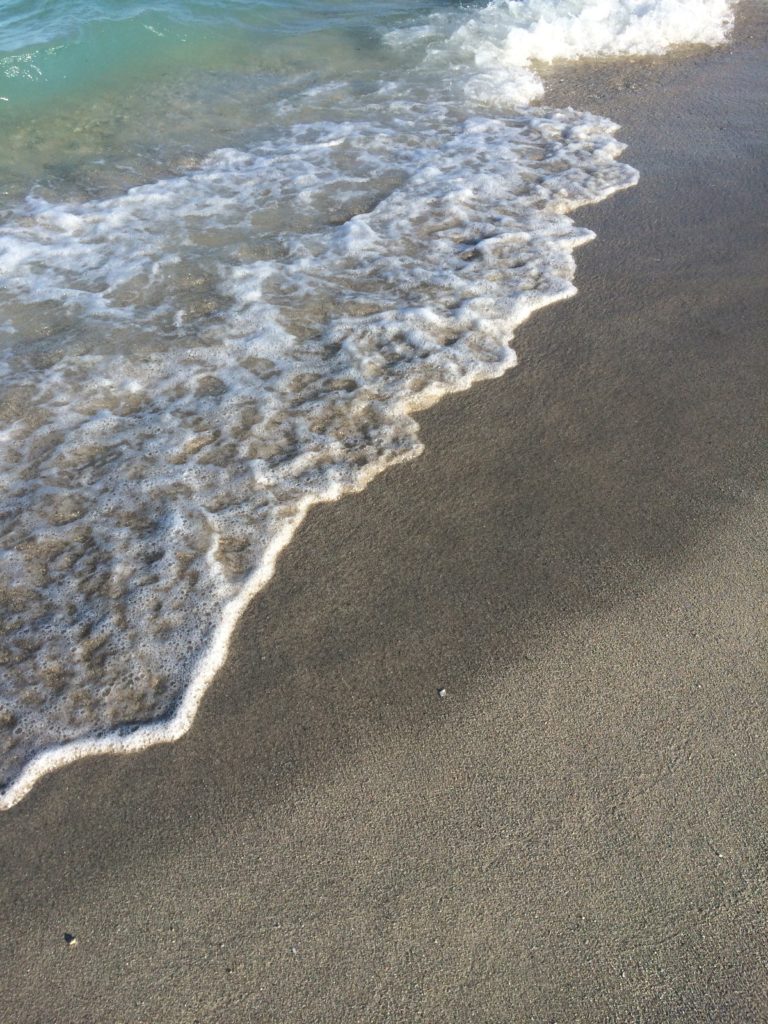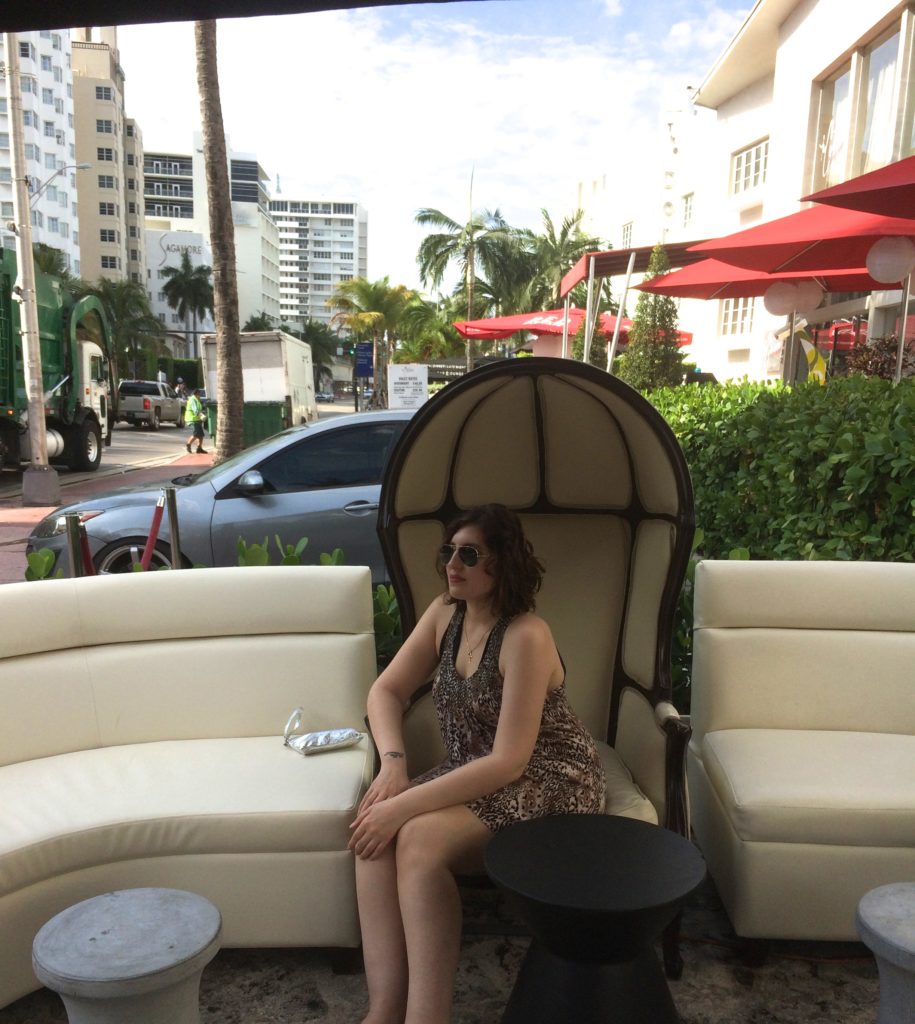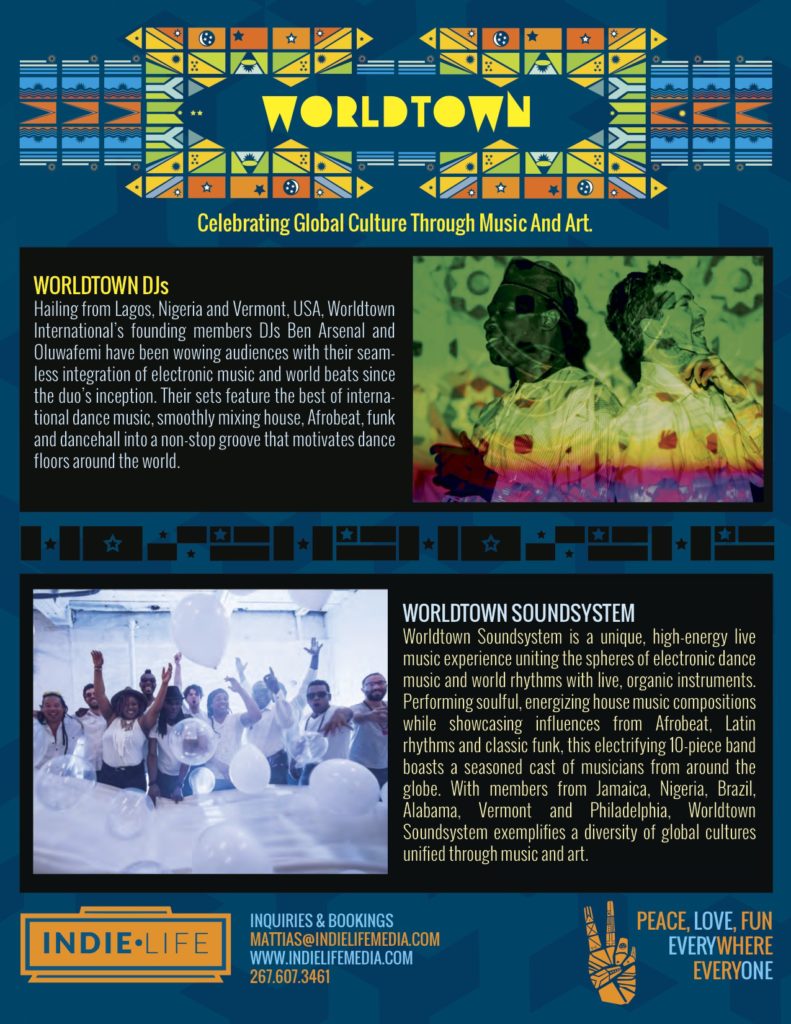 A couple of weeks ago I attended a  Worldtown Soundsystem concert at the Stratus Lounge in the Hotel Monaco for the first time. I was most impressed with this talented group of musicians.The music was energizing and fun, complete with a sax solo. The audience was up on their feet, enjoying the lively music and dancing-clearly longtime fans of Worldtown.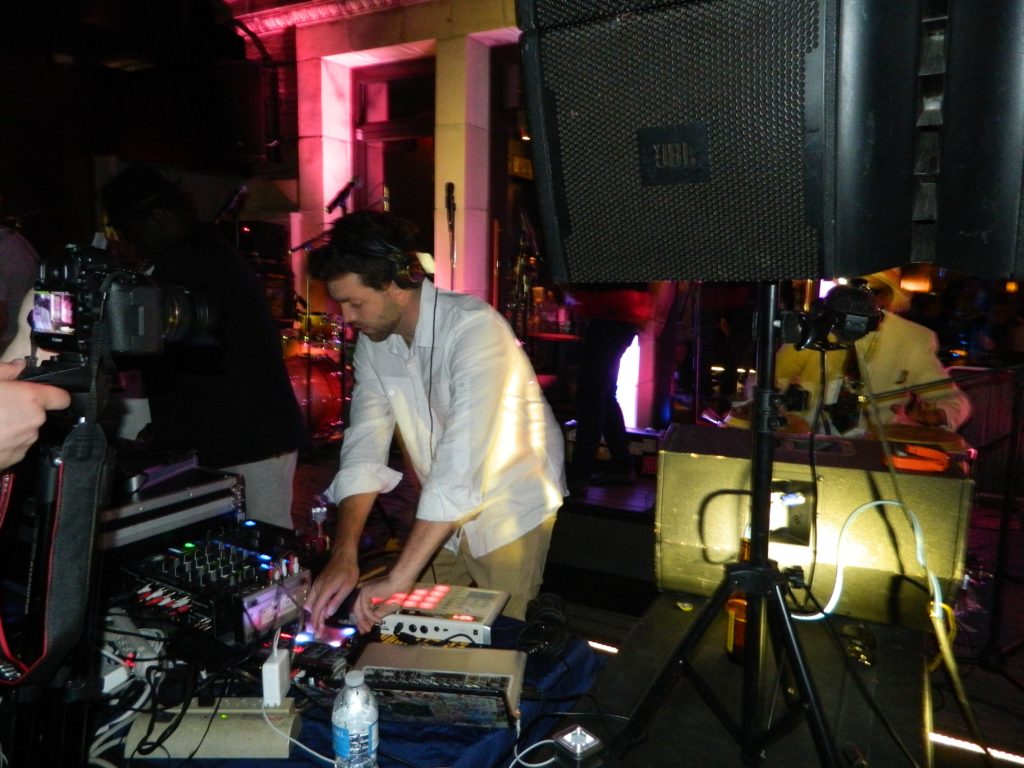 Check out my interview with Ben- Producer / DJ / Arranger
Please tell Sugarpeel readers how you all met?
Femi (the other co-founder of Worldtown) and I met through a mutual friend through the Temple U community. We were brought together as DJs. We hit it off on similar tastes in international music. From there, we connected with the Boom Room Studios owner and drummer, Gary Dann. In fact, that is where we had our first year anniversary in 2012. From that community we connected with a few of the other members and decided to take the loosely organized Worldtown SoundSystem live project to the next level.
What is the style of music of your new EP?
It is based on house music, but incorporates live elements. In fact, most of the recordings are solid takes of the whole band playing along with the DJ tracks (the way we perform at our live shows).
What inspires your music? Why House?
House is a universal music. It is played all around the world! We have always played dance music as DJs so why change styles when we know it works?!
Where is your dream venue to perform?
My dream venue would be outdoors at night on a beach.
I never purchased Lush products for myself prior to visiting Miami. Something about the store located on Lincoln Ave. I think it was the sweet fragrance wafting from the open doors that drew my attention. I was assisted by Mildred, who was so friendly and knowledgeable. She recommended a couple of products that I absolutely love.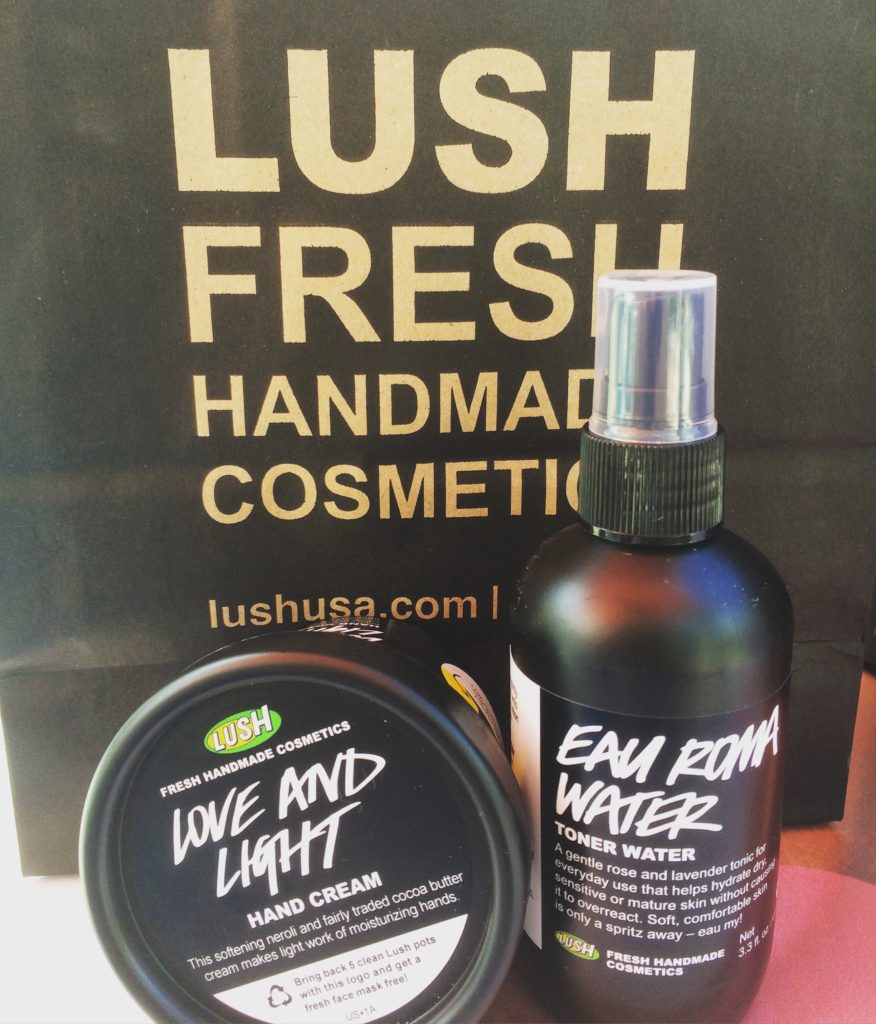 I purchased a hand cream, Love and Light a rich cream with luxurious ingredients including cocoa butter, jojoba and neroli oil. The texture is thick and smooth. I love wearing it right before bed. When I wake my hands are soft and silky. The smell of fresh citrus is invigorating.
The Eau Roma Water toner is perfect for dry or sensitive skin. There are only a few main ingredients including rose water and lavender. The tonic is cool and refreshing. It immediately soaks into the skin and quenches the thirst of dryness.
The body cream, skincare, and hair care products are equally as beautiful. I now have a running list of what I would like to try next!
I am not an athletic person. The idea of winning a game for instance sounds like fun, but I've never experienced that exact feeling. Shopping on a budget and making out like a bandit is probably the closest feeling to winning a sport championship. Searching for a fabulous find is like accepting a challenge. I can name a few great fashion pieces that I found for a steal and let me tell you, they are all the more sweeter knowing that I purchased them for an affordable price.
Last month I felt that feeling in my stomach. You know the one. That feeling that you get when the little retail devil tells you it's time to put your credit card to good use. I quickly obeyed my impulse and browsed online to see if something struck me. I wound up on Target's website. I must say that I am so much happier with the results online at Target than at the store. I always feel overwhelmed in the store. The atmosphere is crowded and the signature red color of the brand really does illicit this excitement and frenzy within the shoppers. It's much calmer to just click through with your mouse.
Anyway, I found a perfect summer dress, sandals, and clutch all for $50, which is pretty terrific. There are some tips to keep in mind when bargain shopping however. Avoid spending money for the sake of it. The price may be affordable, but that does not ensure quality or whether you actually wear it. Look for pieces that enhance your wardrobe and can be worn multiple times. Remember even if the price is right, if the top or skirt rips then you are out of that money and it was a waste even if affordable. Try shopping during the off season, mid season or at the end of the season.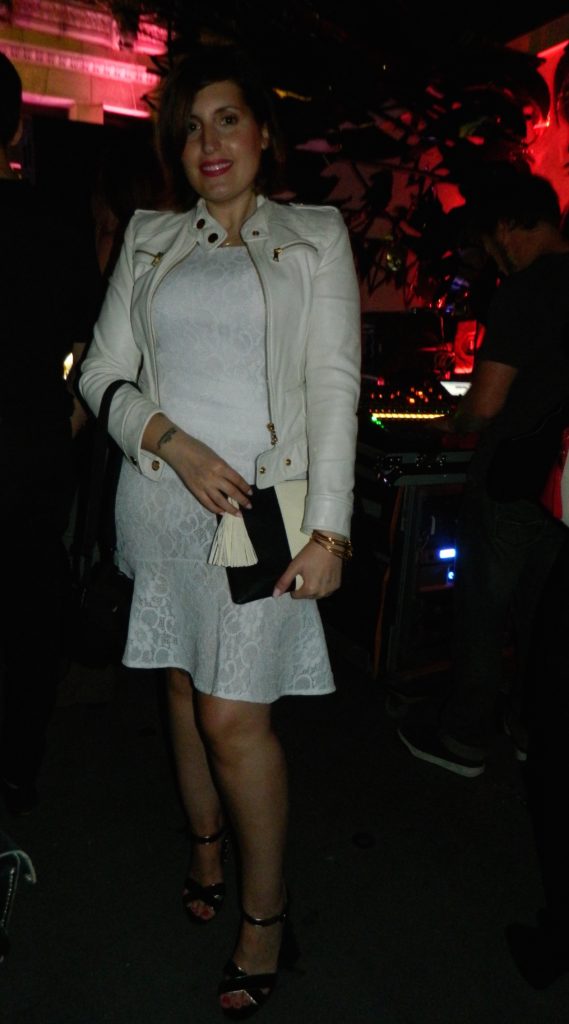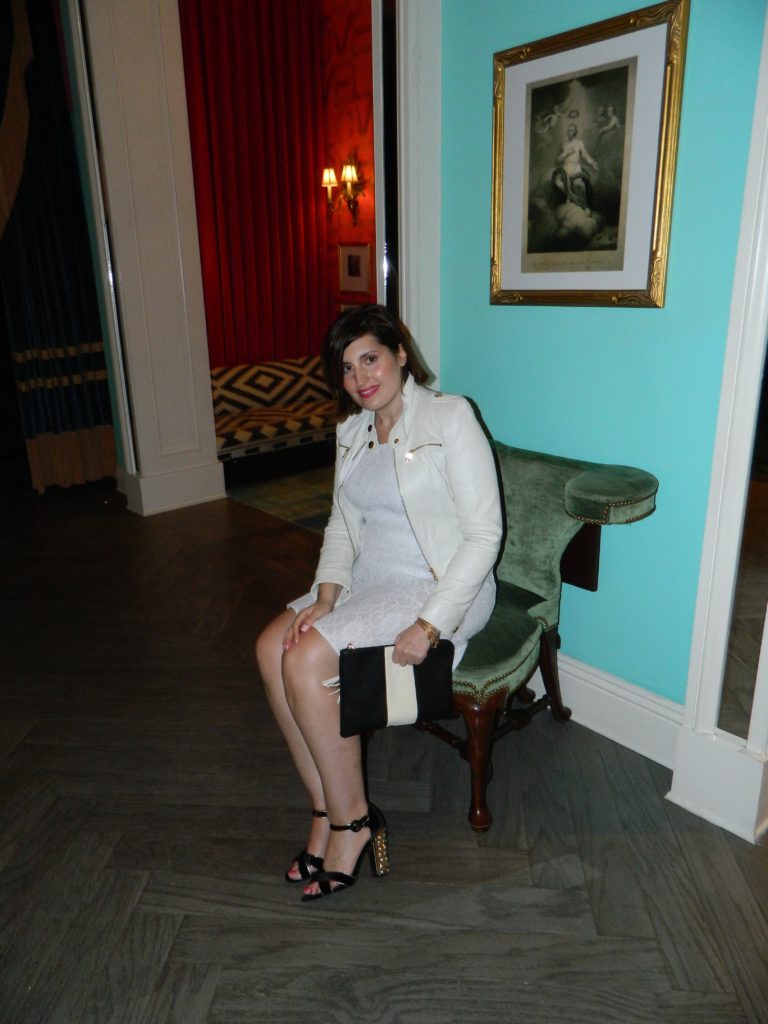 Over the past few years I have become something of a collector of Alex and Ani bracelets. Each message on the pendants and charms are positive. The company is eco conscious, made in America, and charitably minded, which is a main reason why I want to support the brand.
On my vacation in Miami, my Aunt Sharon and I purchased meaningful bracelets that were sentimental to us. Also, my aunt purchased the two of us the Miami bracelet to remember our fabulous trip! Each charm is unique and beautiful. Collecting the jewelry is customized for every taste and interest. I have a gold collection with my birthstone, astrological sign, flower from my birth month and many more. They can be stacked and worn in a group or alone and coordinate with most outfits.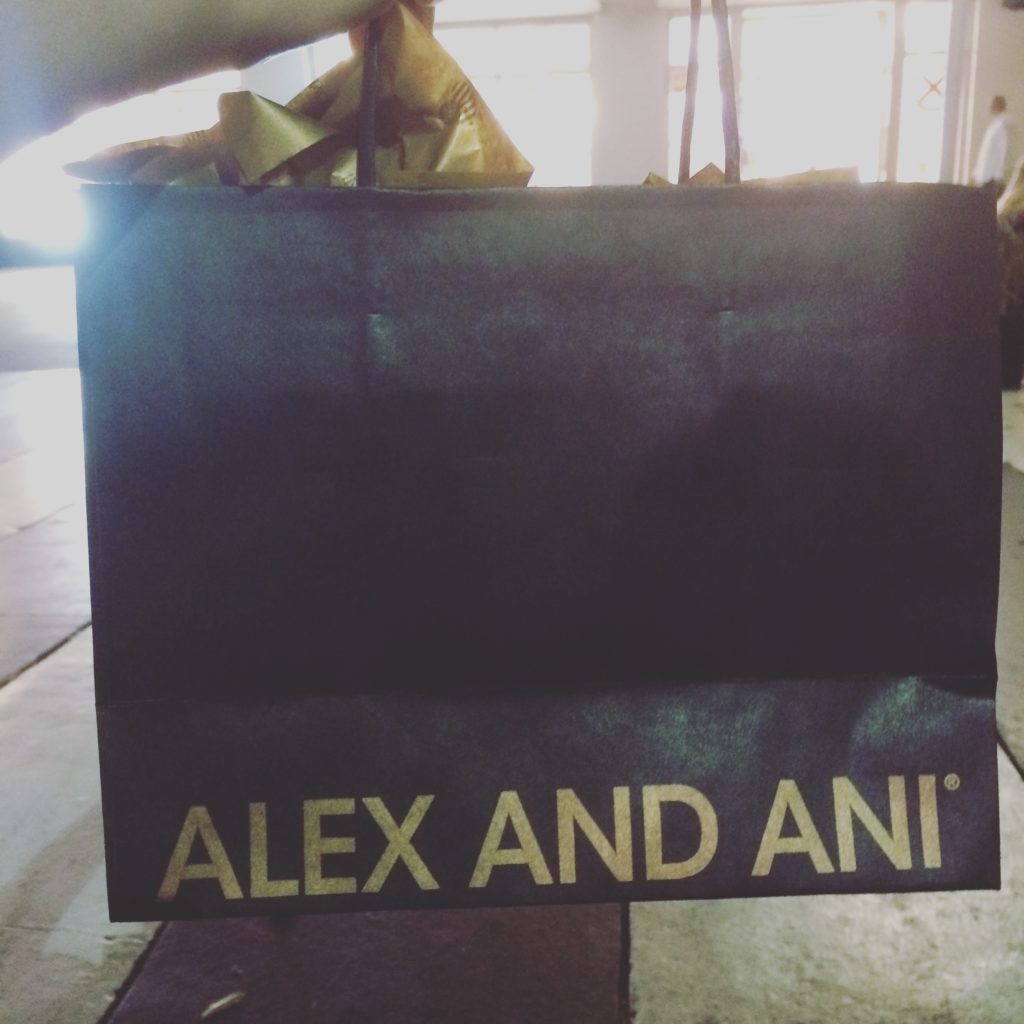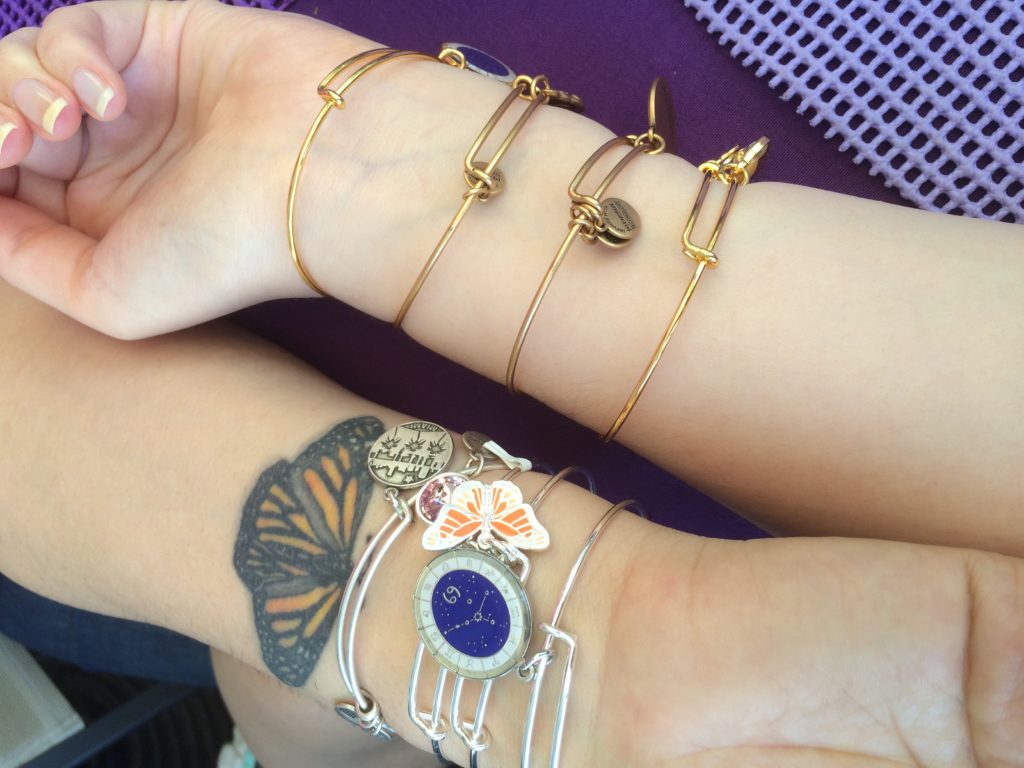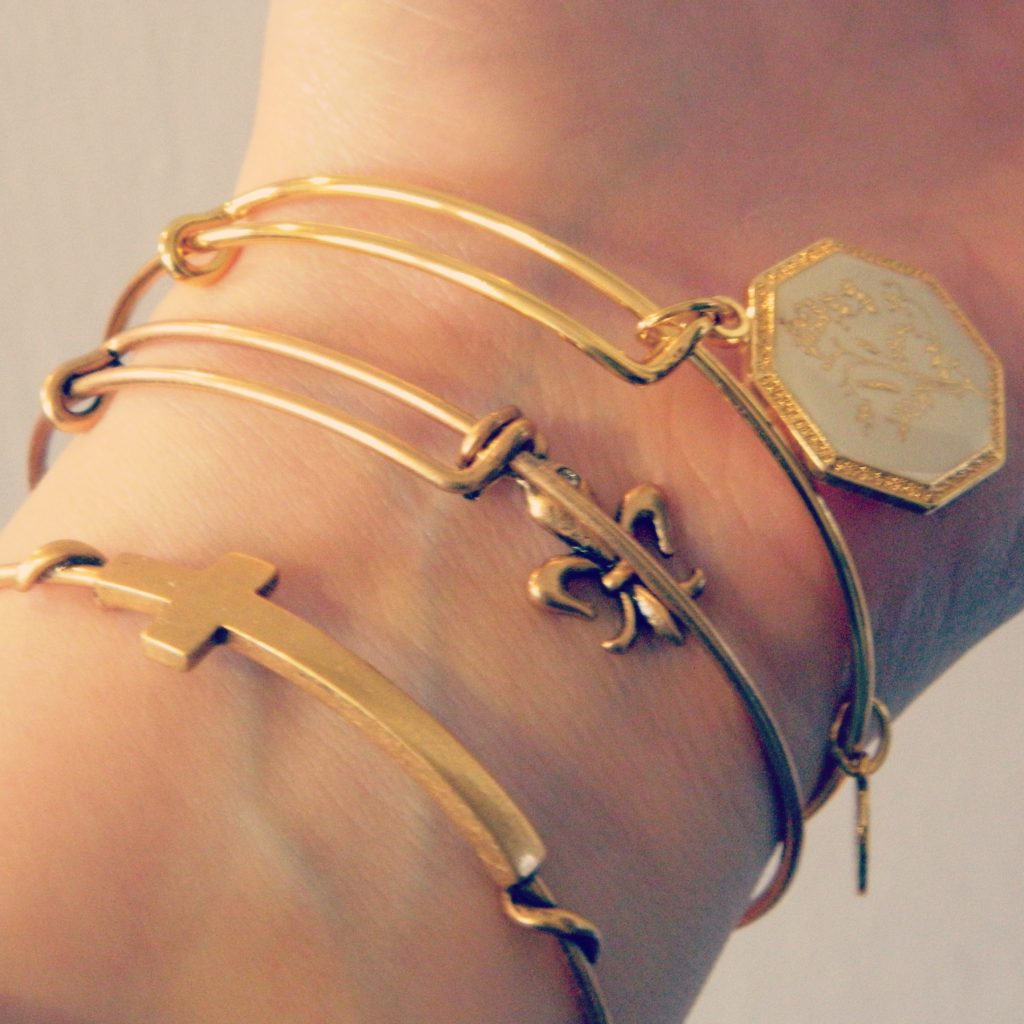 Body scrubs are a staple in my beauty routine. I try to apply them at least once a week all year round. Some are better than others and worth reviewing. Molton Brown is one of my favorite brands filled with a complete line of products that are effective. Every product delivers just as promised. The unique blends of ingredients and complex scents are exciting and invigorating.
One of the newest additions is the Fiery Pink Pepper Body Polisher. In true Molton Brown form the fragrance is delightful, unlike any other product on the market. The texture is creamy and powdery soft. The gentle beads remove all dead skin cells and coat the skin as the formula is very thick. After washing off the scrub, skin is unbelievably smooth without any residual product left behind.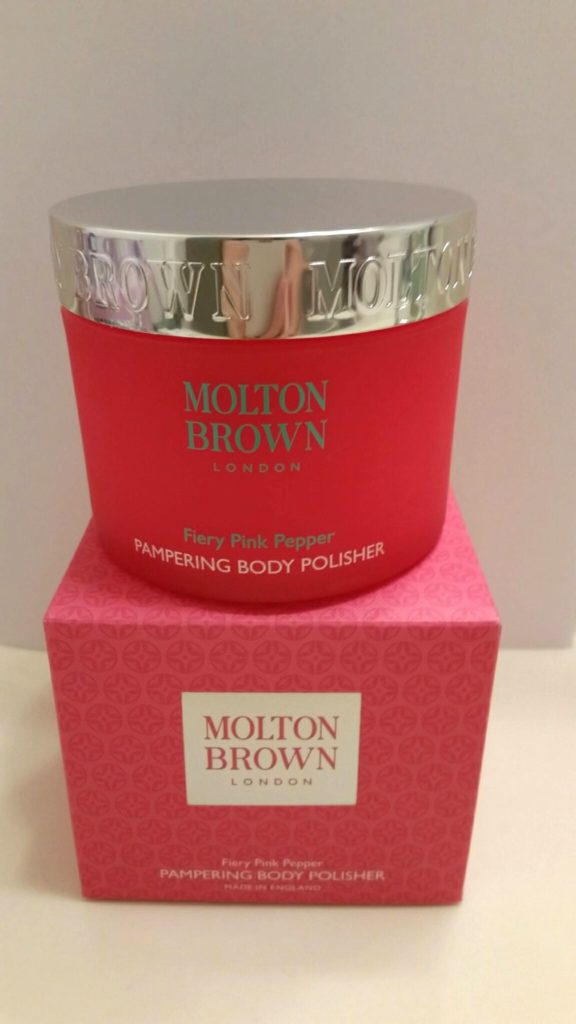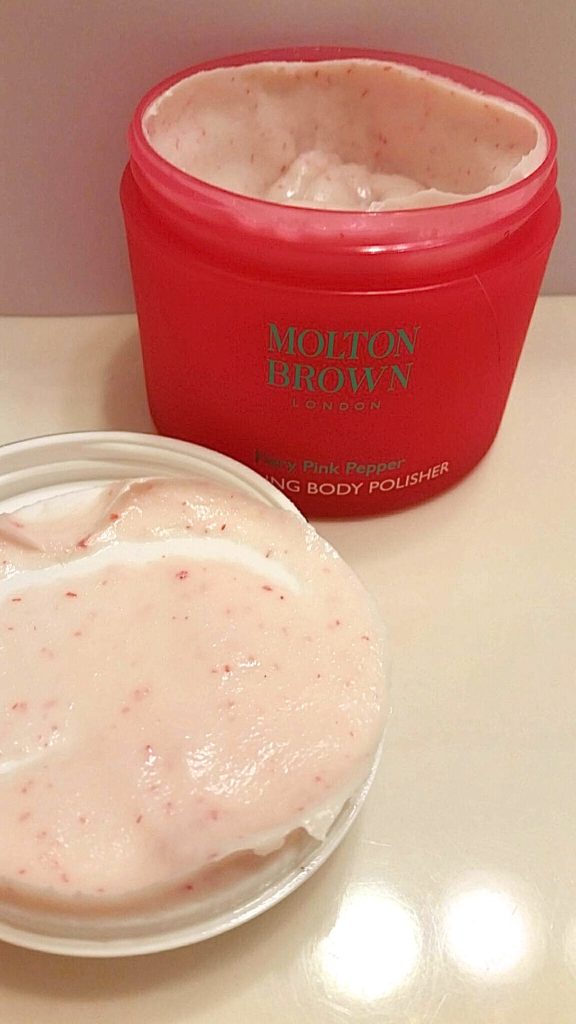 One of the main ingredients is Bamboo, an exceptionally beneficial skincare ingredient as it is antibacterial. Sophia Ruan Gushee author of  A-Z of D-Toxing: The Ultimate Guide to Reducing Our Toxic Exposures shares her insight into the tree and other ways it can be applied,  "Bamboo has become increasingly popular as a textile, and can be a great choice if you're trying to be mindful of both human and environmental health. While turning bamboo into fabric is energy-intensive, bamboo requires few (if any) pesticides during the growing process. Bamboo fabric also offers practical benefits: It's naturally quick-drying, absorbent, and antibacterial. However, not all bamboo is the same so, as always, read labels! Is the fabric 100% bamboo? If the bamboo fabric is particularly soft and silky, then what other type of fiber was incorporated? Were chemical treatments applied? Clues on labels that bamboo textiles may pose toxic exposures, like formaldehyde, include: Permanent press / durable press; anti-cling, anti-static, anti-wrinkle, and anti-shrink (especially shrink proof wool); waterproofing and stain resistance (especially for suede and chamois); perspiration proof; moth proof; mildew resistant; and color-fast."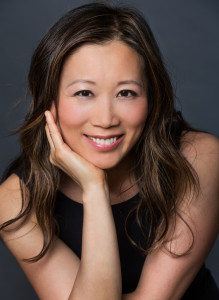 Make sure to purchase this amazing body polisher to add to your beauty routine, especially this summer to keep your skin feeling and looking silky and smooth.
International Illustrator, Wendy Buiter has partnered with fashion brand Mamme-Alla-Moda and created a limited edition t-shirt! This fabulous tee showcases Wendy's original "Ballerina Arms" artwork.
Wendy's art is so wearable as it is able to transcend from paper to clothing bringing life to the illustrations. "I want to fascinate people with my art and trigger their own creative side. I believe my signature style- fashionart, combines fine art with fashion in a seamless way" Wendy Buiter.
Make sure to purchase this shirt for the summer. It would be perfect to wear casually with jeans and sandals or dress up with a pencil skirt and heels.
This "Dancing Mom" tee is available in two styles, cap sleeves and short sleeve in 100% cotton.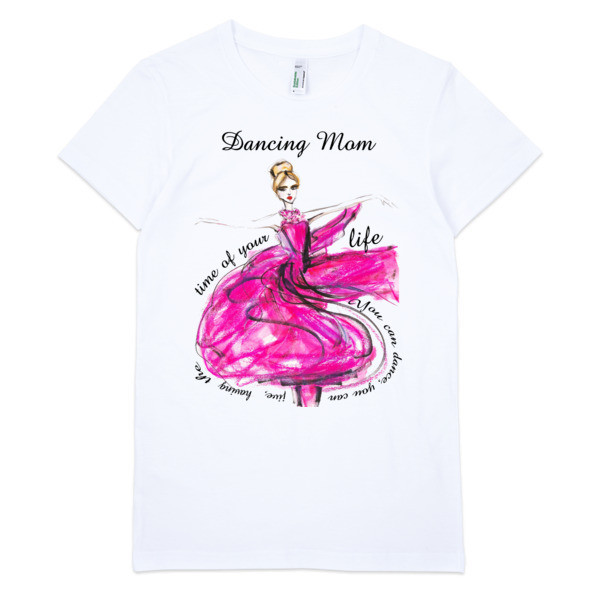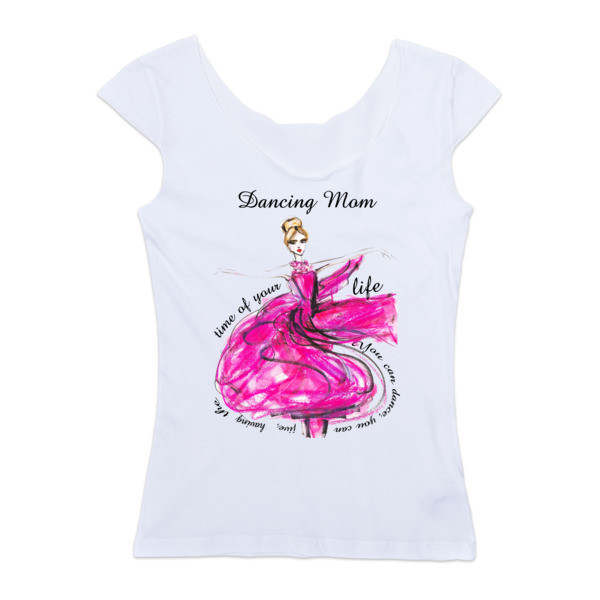 Copyright © Dandelion by Pexeto