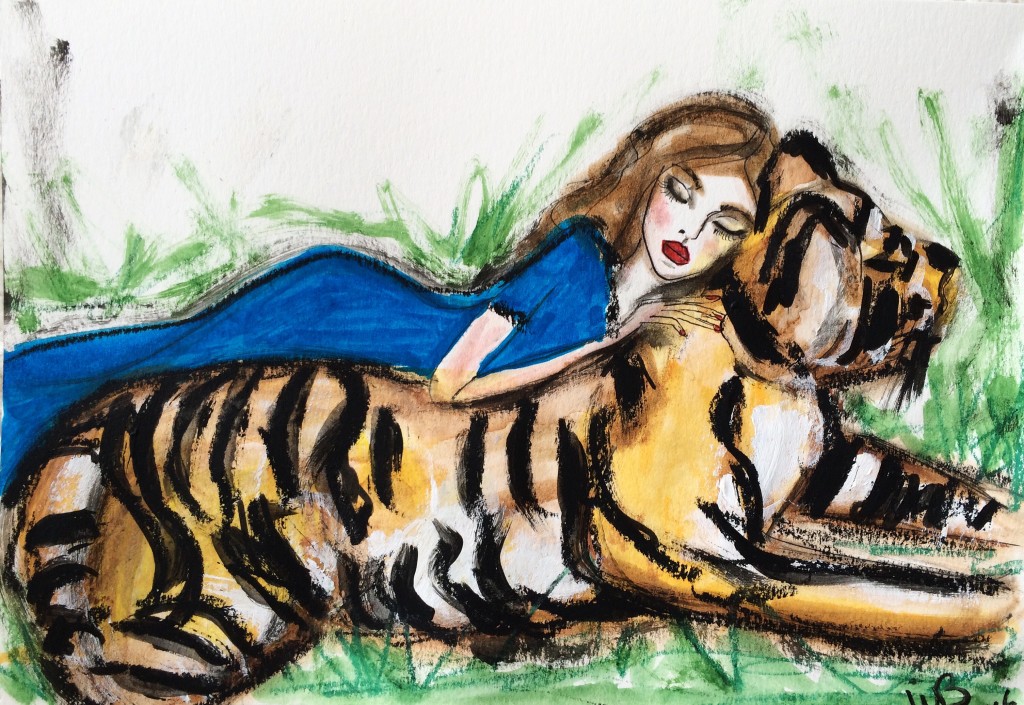 In just four short weeks, I will be visiting a place that I have wanted to see for quite some time. I have been following all of the updates, social media posts, and the website. The Zoological Wildlife Foundation is located in South Florida. This amazing Foundation is home of many exotic animals including Tigers, Snow Leopards, Clouded Leopard, Lemurs, and Wolves. ZWF was founded by Maria and Mario Tabraue to conserve and educate all visitors. The Foundation offers hands-on interactions and educational learning opportunities with these beautiful endangered and exotic animals.
I have been following three of the cutest capuchin monkeys in the world, Toby, Angelika, and Russel; three siblings that you should be following right now @Misstyflower These little darlings are highly intelligent and have been trained to assist the handicapped. They are absolutely precious and to be completely honest, watching some of their videos bring tears of joy to my eyes. Toby is the typical oldest child, caretaker, babysitter, leader; finishing chores throughout the house and making sure that his siblings are safe and happy. Russel a suspender wearing little boy, talking the ears off of his mama and papa about all of his adventures throughout the day. Angelika, fondly referred to as the drama queen of the family, is sweet and loves attention from her brothers and family. I am hoping that I will be able to meet these sweethearts when I visit.
Educational programs are available for those interested in learning more about these fascinating creatures including their habitat, nutritional diet, and much more. Guided tours are also available for teachers and students to get involved on a special field trip.
I encourage you all to visit the extensive ZWF website to learn ways that you can contribute to protect these animals and to find out more information to plan your visit to this magical five acre destination!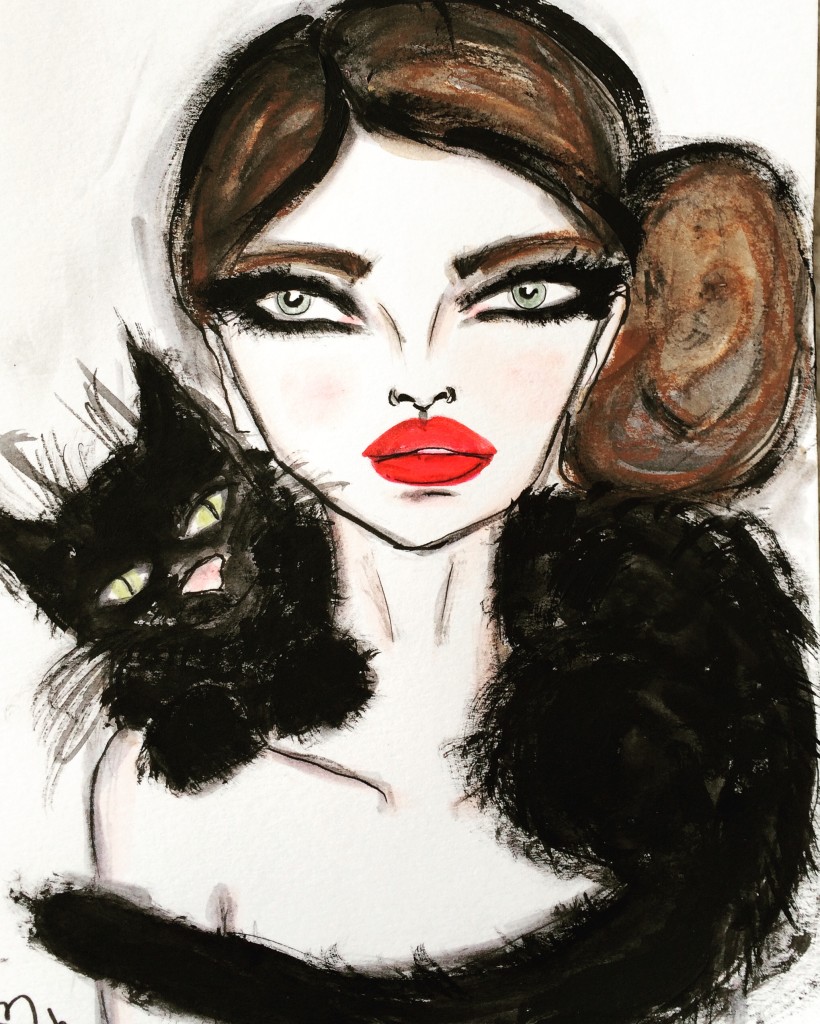 I hope that everyone had a wonderful weekend. I found this dress last month and was waiting for the perfect time to wear it. When I saw it online I knew I had to purchase. It reminded me of a modern take of a 60's style dress that Cher wore in the movie Mermaids. Remember that movie? Winona Ryder, Christina Ricci, the late and great Bob Hoskins. Cher plays the trendy, flaky mom looking fabulous throughout the entire film with her jet black hair and gorgeous makeup. It's definitely worth watching if you haven't already.
This 3/4 sleeved sheath dress with a colorful abstract pattern from Target was just the right dress to wear for Easter Sunday. I chose to wear a pair of blush colored scalloped vegan flats. I kept my jewelry simple with a pair of gold and ruby earrings.
I wanted to bring out the color in the dress by accentuating my lips. I wore the classic red lipstick, ruby woo from M.A.C. that my lovely friend, also named Ashley, gave to me. Eyes were kept simple with a sweep of shimmering pink all over the lid and crease in The 15 Minutes from Bare Minerals. As for my cheeks, they were shimmering and rosy achieved by wearing the Shimmer Bloc in pink mosaic from Laura Mercier.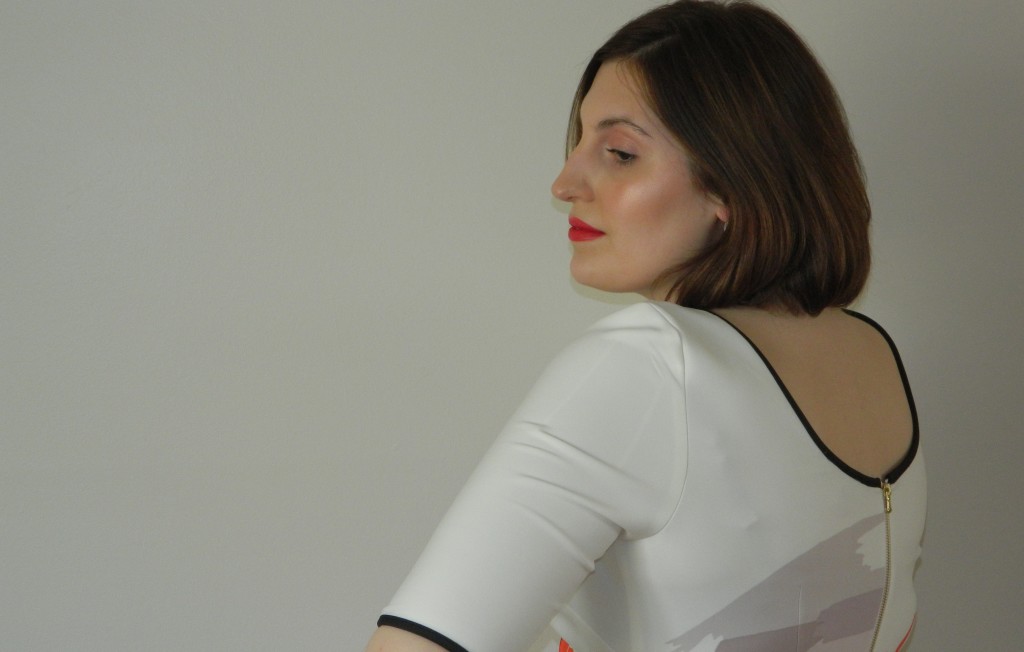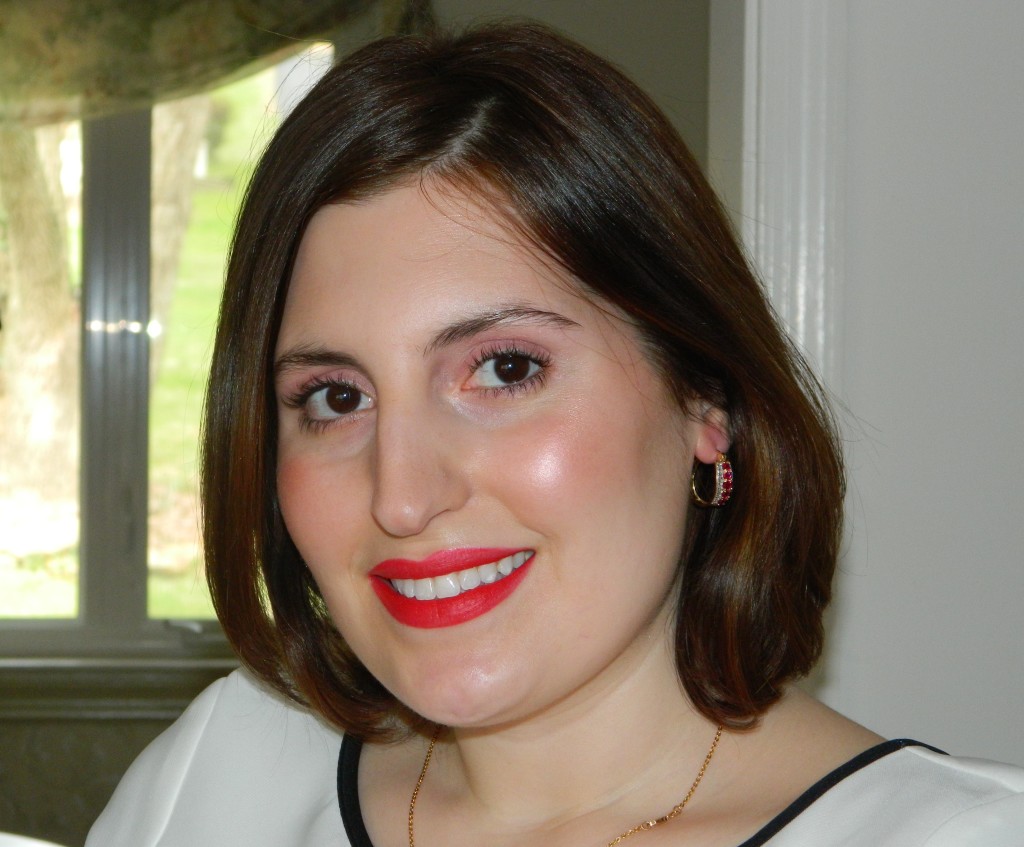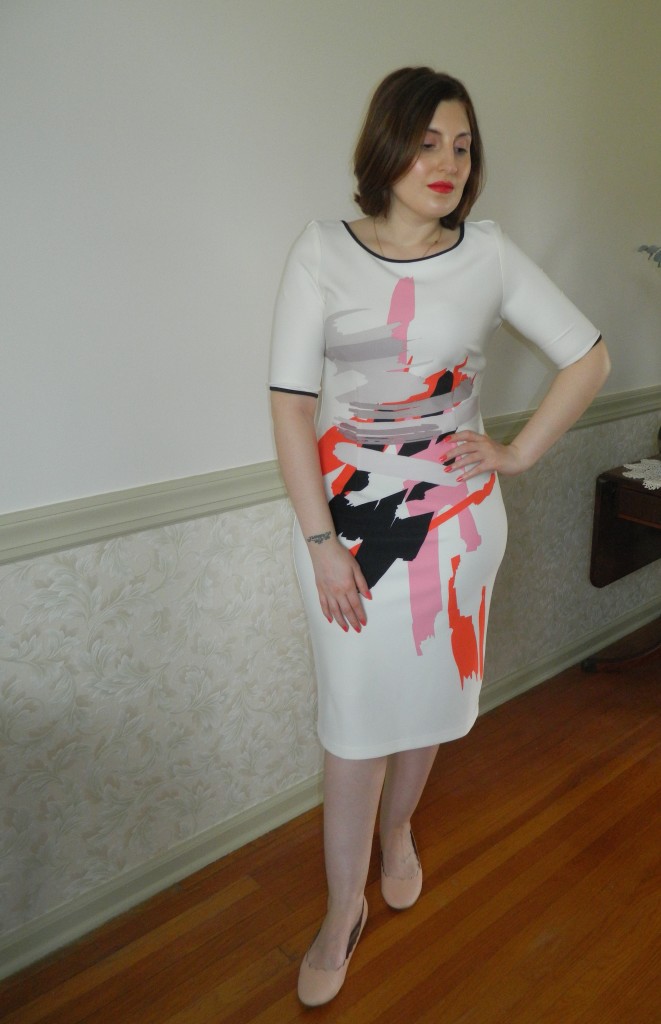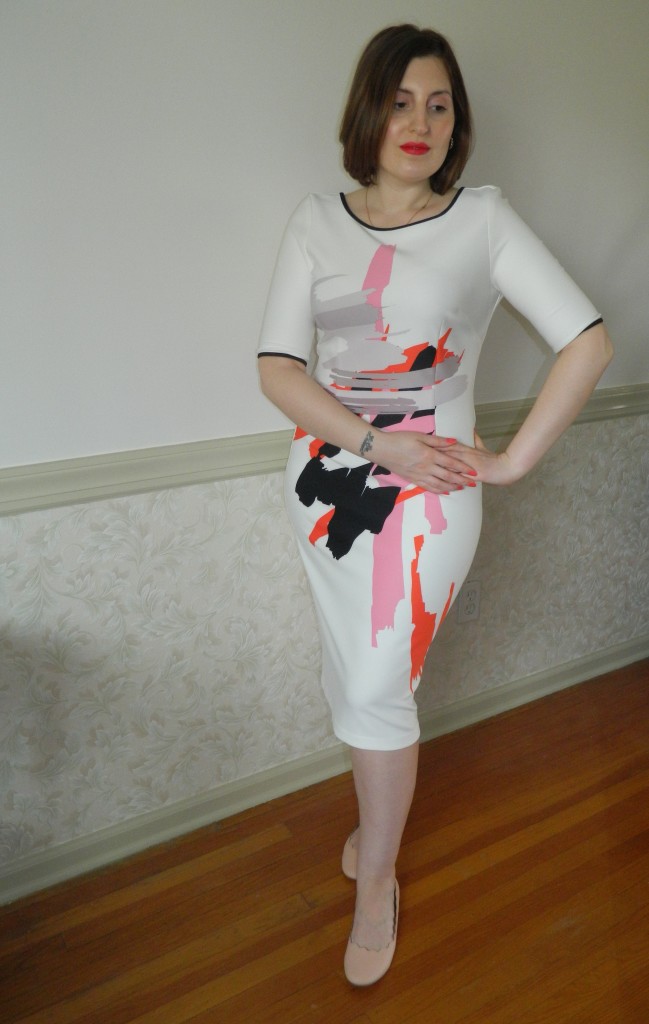 As you have seen on previous articles, Wendy Buiter is an extraordinary artist, a talented International Illustrator who has created several custom pieces specifically for Sugarpeel. Wendy is also a Makeup Artist and today she shows us how-to create a beautiful Spring makeup look using
Laini Cosmetics
!
I shaped my face with the
Cream Contour Palette
using the lightest (first from the left from the upper row) on my forehead and chin and the lightest-dark (first from the left lower row) right under my cheekbones.
The second color from the left from the upper row for my eyelid and the third from the left, middle row I made the crease shade using the
Nude Ambition palette
.
I curled my lashes. I believe this is an absolute must before applying mascara! *For an evening look I recommend using Laini Cosmetics false lashes, which are just perfect. They look natural, but also make the eyes pop. Followed by the
Inkjet Eyeliner pen
.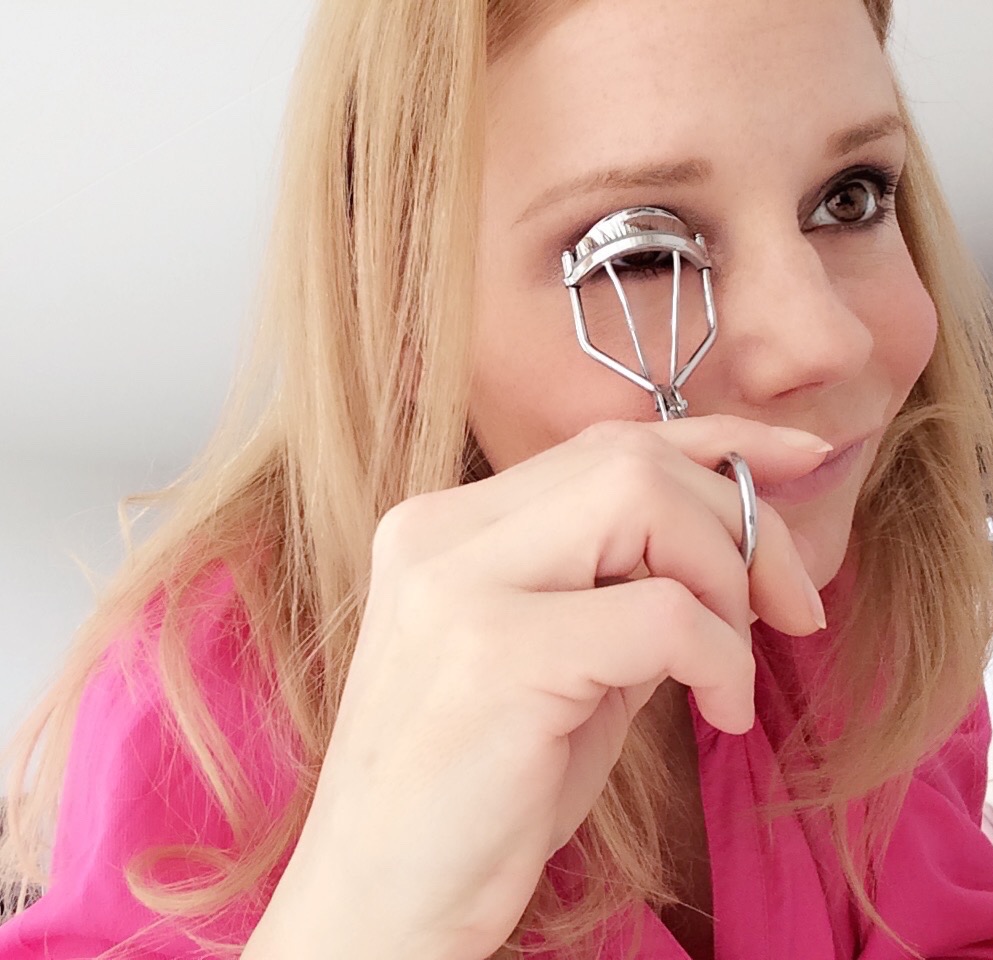 I used the Black Intense Lash Mascara. It has a very small brush so I could easily reach all lashes. I applied the ballerina pink color from the Bronzer Duet for blushing my cheeks. I applied the lipliner Cherish from the Classic Lip Collection (coming soon) to totally color in my lips, not just the lines, but the complete lips. This makes the color very long lasting. On top of that I used the Hot Lips (coming soon) lipgloss.
I loved all of my Laini Cosmetics make-up! It stayed perfectly during the whole day AND evening. My favorite product is the eyeshadow I used on my eyelids, it has a beautiful shimmer. The BBCream is just perfect as well!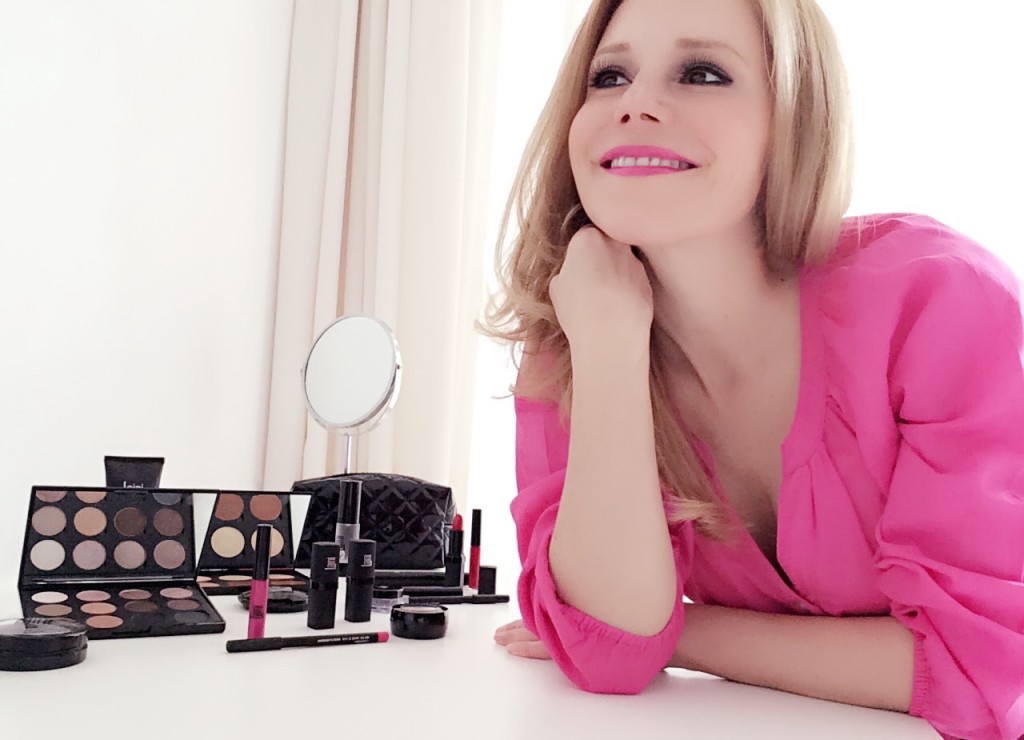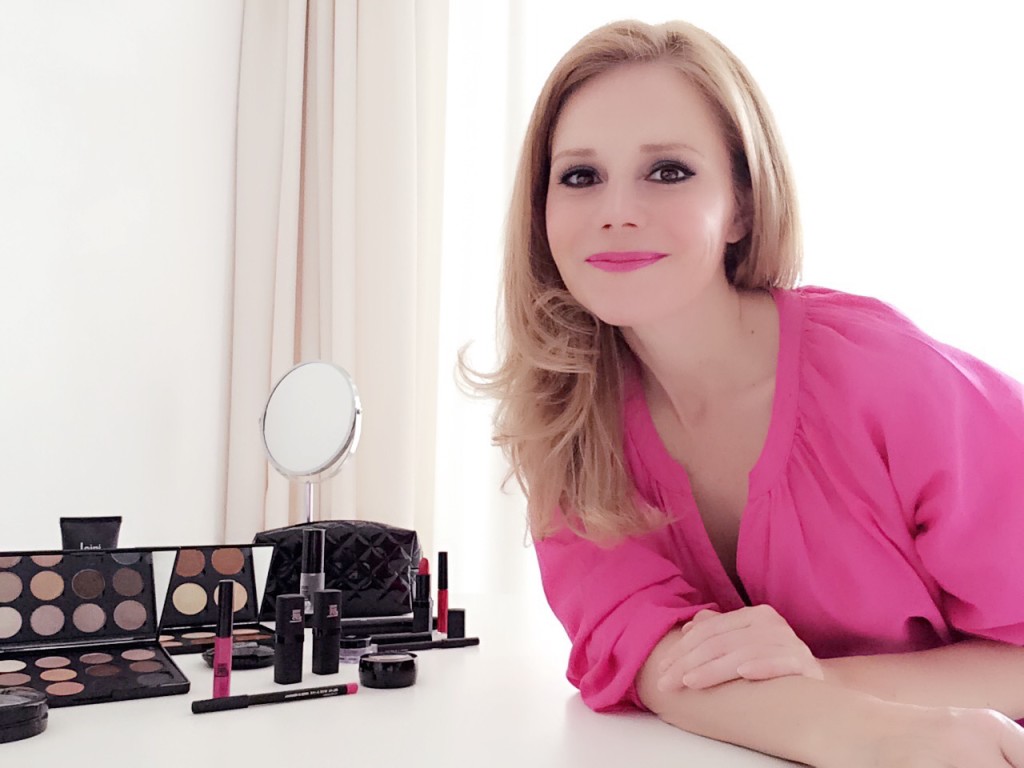 Feeling adventurous? Bored with your everyday makeup? Try wearing Laini Cosmetics purple lipstick in Bitchy. Oo that was catchy, it sounded like a cheesy commercial. Anyway, I wanted to change up my usual suspects of lipstick and try something new. In order to pull off this color with my new haircut I made sure to apply my BB cream, which is slightly warmer to add a bronzed look to my face. I kept my eyes simple with a shimmering golden light brown shade in the Independent palette from Laini Cosmetics. My cheeks were pink as I applied Ballerina Bronze just to the apples of my cheeks. I wore a blue outfit to complement the cool undertone in the purple lipstick.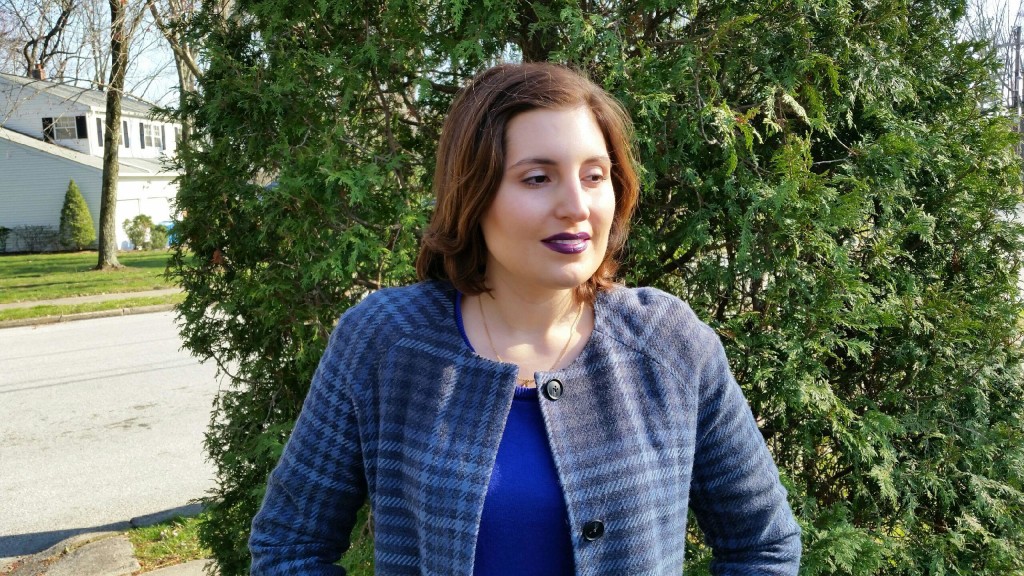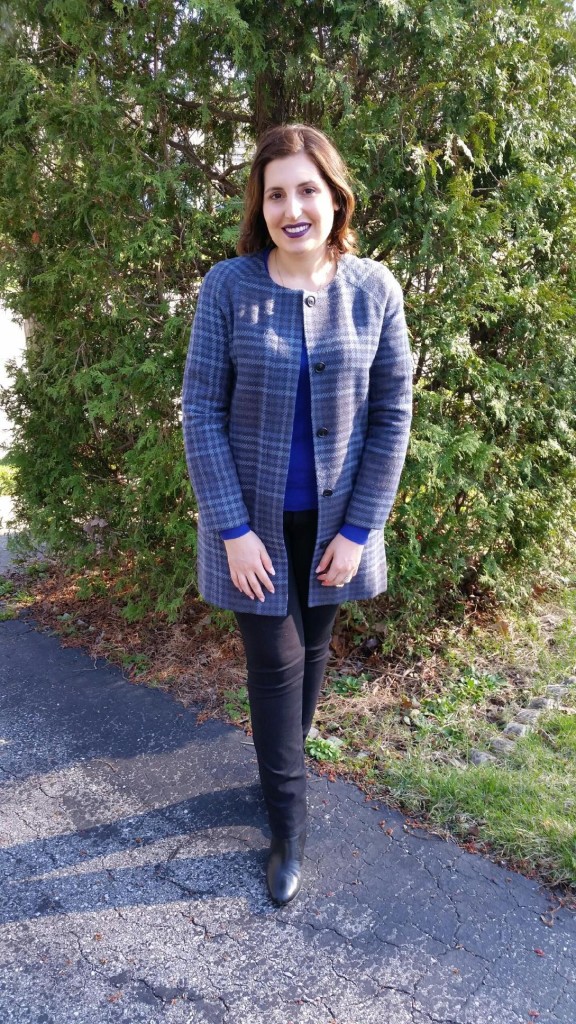 Today, I want to introduce a very special brand that is dedicated to creating the most stylish shoes, Italian made from eco friendly and vegan materials. Mink shoes offers a stunning collection with the highest quality from flats to heels made in the same factories that create Christian Louboutin, Chanel, Jimmy Choo, and Dolce & Gabbana. Rebecca Mink is credited with designing the first luxury vegan shoe on the market and has been creating for 16 years! Her shoes are stunning, fun, and sexy.
I discovered Mink Shoes after searching for vegan shoes on google actually. I was struck by the craftsmanship, attention to detail, and beauty of each Mink shoe. The entire selection is drool worthy. I am overjoyed to share with you Rebecca's lovely brand story of Mink Shoes.
What inspired you to develop Mink Shoes?
I was inspired to develop Mink because I love animals so much. I was a celebrity stylist and could not find any options that were non leather for the red carpet in the year 2000. You cannot now! I started Mink because I did not want to harm animals or compromise on the style, fit or quality in my shoes. I created what did not exist. My goal is to shift the paradigm of the way people see non leather shoes. Typically non leather shoes are not made in Italy, cheaper quality, fit bad, and are not stylish. I wanted to make fabulous vegan shoes available. Mink is focused on luxury vegan shoes handmade in Italy.
Please explain your custom and made to order Mink vegan shoe options.
Custom Couture is my favorite! No one in the world does what we do at MINK! We offer a service where we hand make your dream shoes! We can make any shoe you want in Italy. We started offering this to vegan celebrity clients with performance or unique needs. We now find that most clients want customization and we are headed more in that direction.
Where can Mink shoes be purchased?
Mink shoes sell out very fast! It is exciting … we are growing and expanding because the demand for vegan shoes is getting higher. We sell in vegan boutiques across many continents. If you email us at [email protected] we can see total inventory available. We are expanding our online site to offer direct to consumer worldwide.
There are misconceptions about vegan products- in terms of quality and style. Please explain how Mink shoes are created and made and what you think will surprise a non vegan?
Mink shoes are the opposite to what you think of a vegan shoe. Mink shoes are made in Italy, stylish, comfortable, sexy and vegan. Most people think that vegan products are not attractive because many in the past have not been. The market is growing and so are the options. Over the 16 years I built MINK I have seen a massive growth in conscious consumers. Everything is going in this direction. Clients are becoming more aware and this is exciting!
Rebecca's Favorites.
What is your favorite pair of Mink shoes?
I do not have one favorite Mink shoe. Because I am so close to design, development and production they are like my kids. I love them all equally. Each Mink shoe has a different mood.
What is your favorite beauty product?
My favorite beauty product is any vegan lipgloss with a wand applicator. I love my lipgloss!
What is your favorite clothing brand/label?
My favorite brand is Pucci. I am sad to say they are not vegan, but they do use many fabrics that are. I love color, shapes and the style of the 60's. They do this the best!
Where is your favorite place to travel?
My favorite place to travel is on a boat to any Island that has warm water! I love to be in the sea. Islands and boating life is my happy place. 🙂
Rebecca Mink, Founder and Owner of Mink Shoes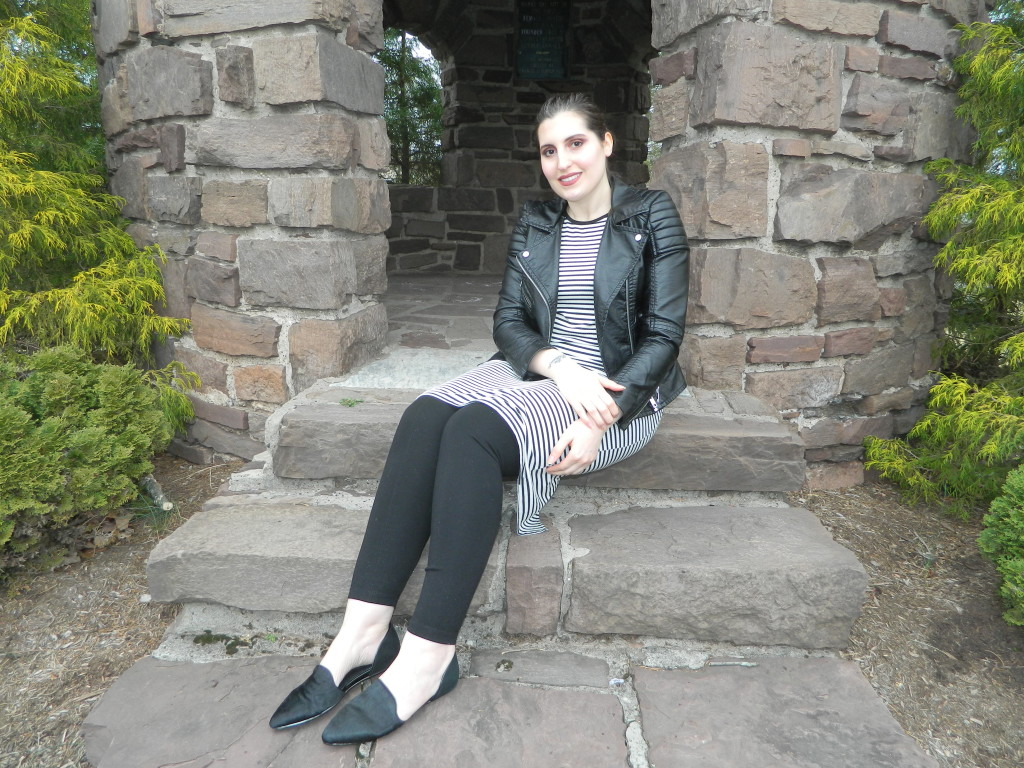 I tried to save my new makeup for vacation, but it was starring me in the face, taunting me to wear. What can I say? I needed to have a trial run before my trip. M.A.C. Burgundy Times Nine palette has yes, you guessed it, nine beautiful shades from matte to shimmer. These colors are perfect all year round and can be applied dramatically or as a more simple look.
In this look I chose to apply a dark matte shade to the crease and a shimmer on my lid. My eyes were strong and highly contrasted with my fair skin. I defined my brows using The Brows Have It palette by Laini Cosmetics. I applied a thin layer of a 3-in-1 color stick in Berry Glow to my cheeks by Mineral Fusion. To complete the look, I wore a beautiful matte lipstick in a raisin shade called Prosper by Laini Cosmetics. Similar shades Rio and Dolce.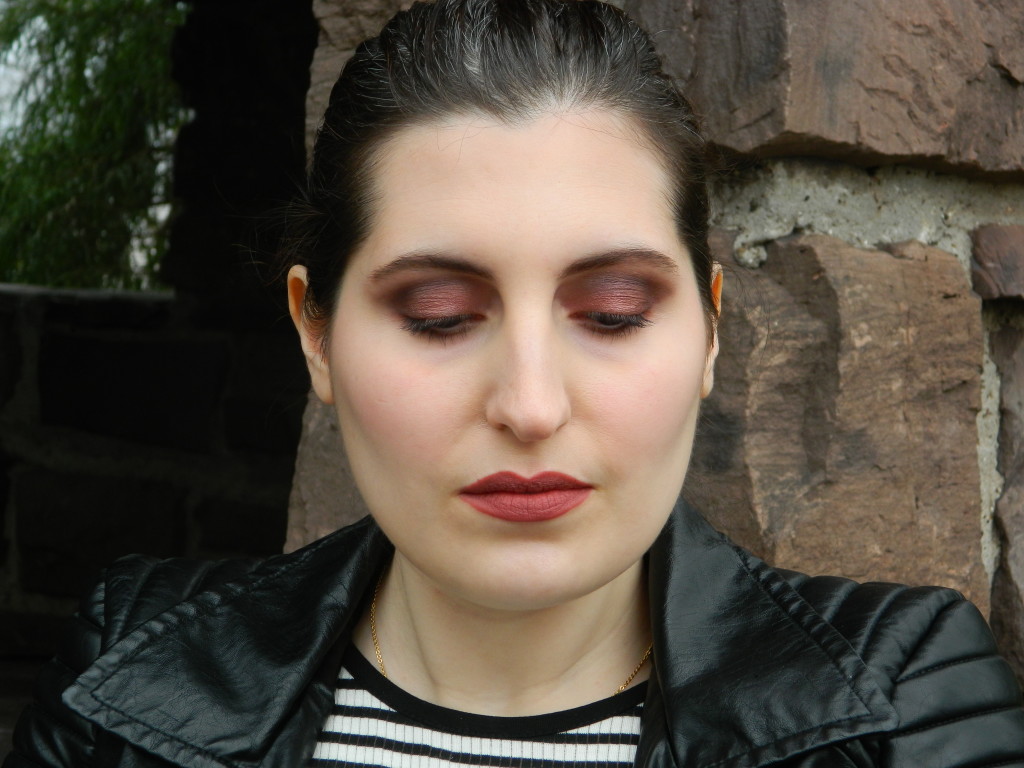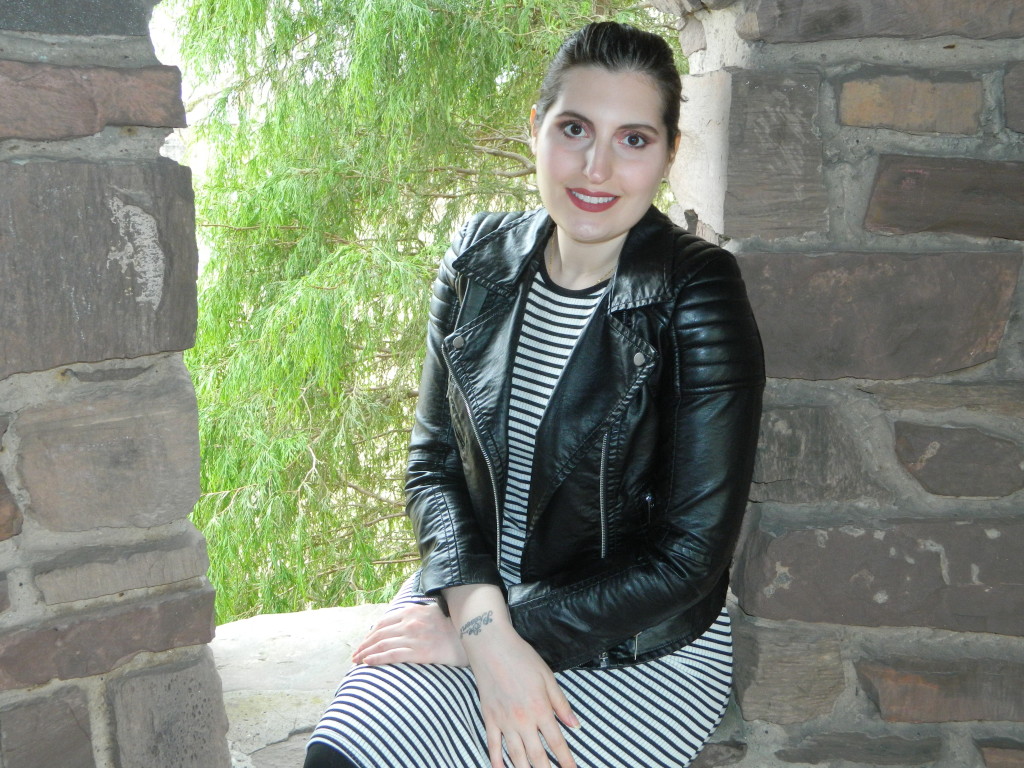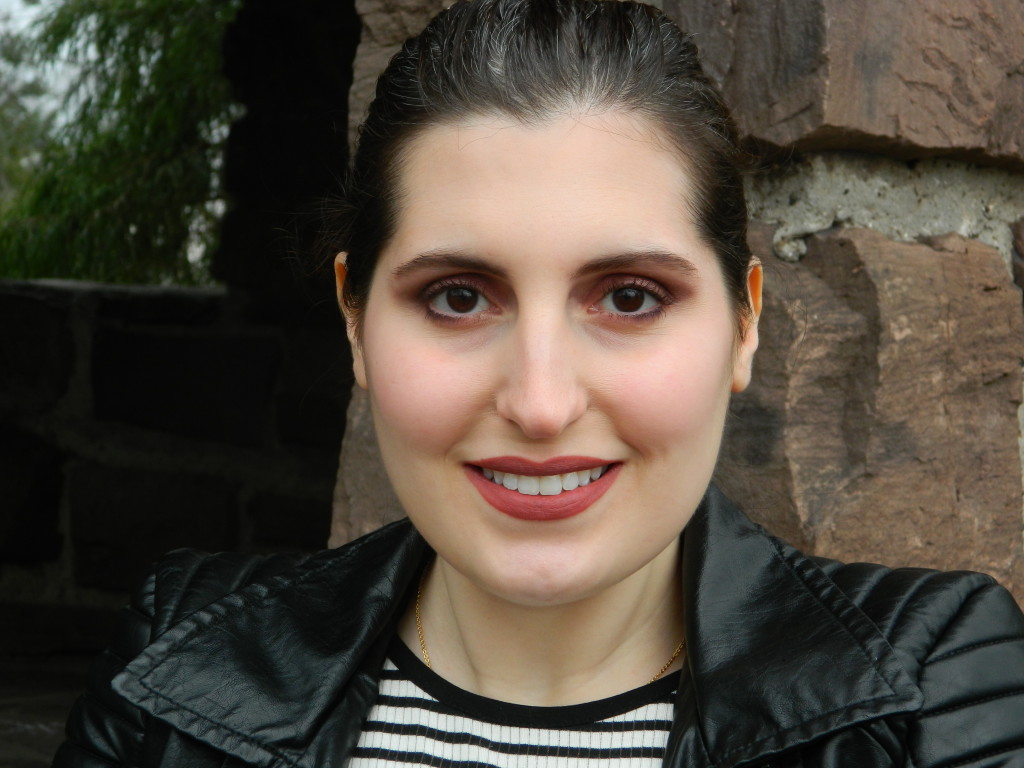 In the warmer months these colors would look stunning with a little bronzer and a contour application. The shimmer shades in the eyeshadow palette would be perfect with a touch of lipgloss for a daytime look.
Now that toiletries are done, time to move on to swimwear. I anticipate that beachwear will be most popular during my Miami vacation. If you are traveling on a beach vacation you are probably more concerned with which bathing suit to pack than anything else.
Here is a tip- pack multiple suits! You can always bring one set of accessories that can be worn with every suit, which is where you can save money. Depending on the trip, you may be on the beach and swimming in a pool. It is so much more convenient to alternate between swimsuits to avoid wearing out or stretching the same suit over and over again. Plus, who doesn't want to look fabulous on vacation?
I decided this year I would throw caution to the wind and try a white swimsuit. I'm banking on a reasonable tan so my pale skin doesn't give the white suit a run for its money. If you too are opting for a white suit, think of it as a blank canvas. Your accessories including your coverup can add a pop of color.
Other accessories to pack are a hat to avoid a sunburn, which can also be worn with a cute sundress. Sunglasses both for the beach that are more durable and a pair for your outfits. Make sure to pack a small clutch or wristlet, just large enough for the essentials on the beach. I always consider flip flops a must have for hanging around the pool and walking to the beach. I was lucky this year and found all of my swimwear and beach accessories at Nordstrom, which really made it a simple process.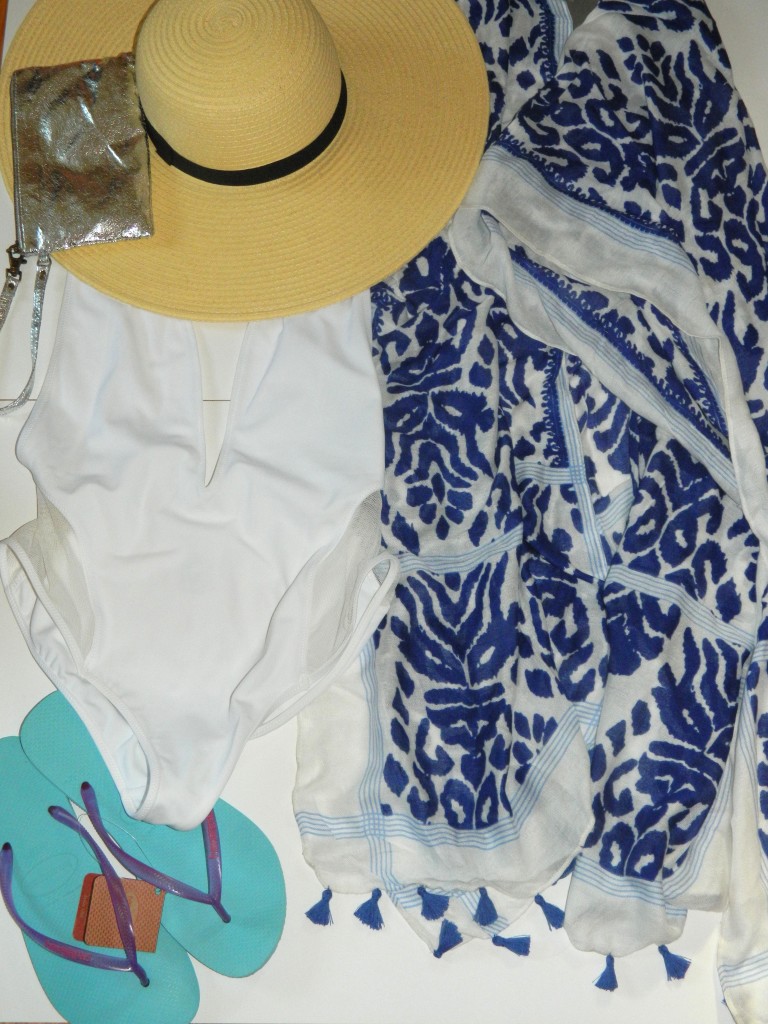 I have been working tirelessly to put together my suitcase for my upcoming trip to Miami. Packing as I have said before is something of a chore for me, not as bad as unpacking though. I find that the task is much easier when you work little by little. Start with one area like toiletries for instance. This will cut down on the stress. A checklist never hurts. Keeping organized is key to alleviating the pressure and to ensure that nothing is forgotten.
As of now I have the majority of the items I need and believe it is a good time to share some of my finds.
Tips to consider, when you can try purchasing travel sizes. It will reduce the weight of your suitcase. When you are visiting a warm climate and anticipate lying in the sun, make sure to protect your skin. Sun tan lotion is crucial. Make sure to pack gentle products in case you do get a sunburn. I love Dove body wash and after shower care including Palmer's Cocoa Butter Formula.
Keep in mind that makeup remover should be gentle as well. A sunburn, excessive makeup, saltwater, chlorine all can take their toll on your skin. My favorite makeup remover and face wash is Purity from Philosophy. Follow with an excellent and hydrating moisturizer like Kiehls Rosa Arctica.
If it is not necessary to blow out your hair on vacation then try embracing your natural hair. I am packing Alterna Bambo Beach Summer Ocean Waves.
As for makeup, pack a bronzing powder to accentuate your tan or apply as a healthy alternative to sun bathing. I am packing Laini Cosmetics bronzers, lipstick, and liquid shimmer. I am packing a small eyeshadow palette in Burgundy times nine from M.A.C. 
More to come. My bathing suit and cover up tips are next!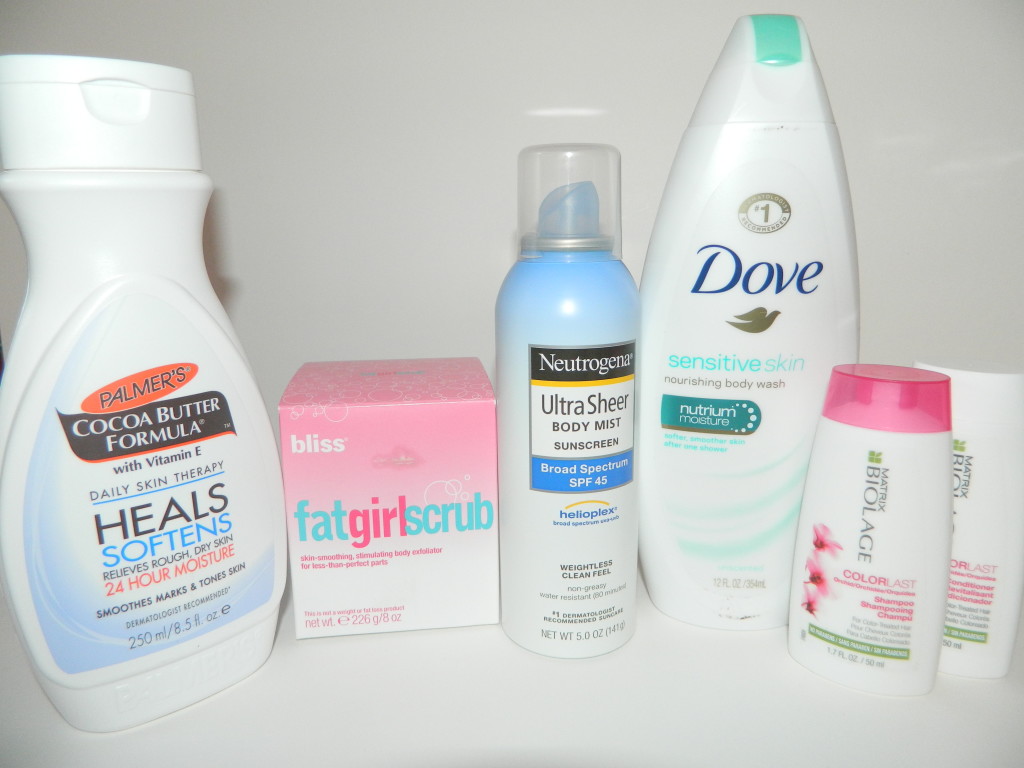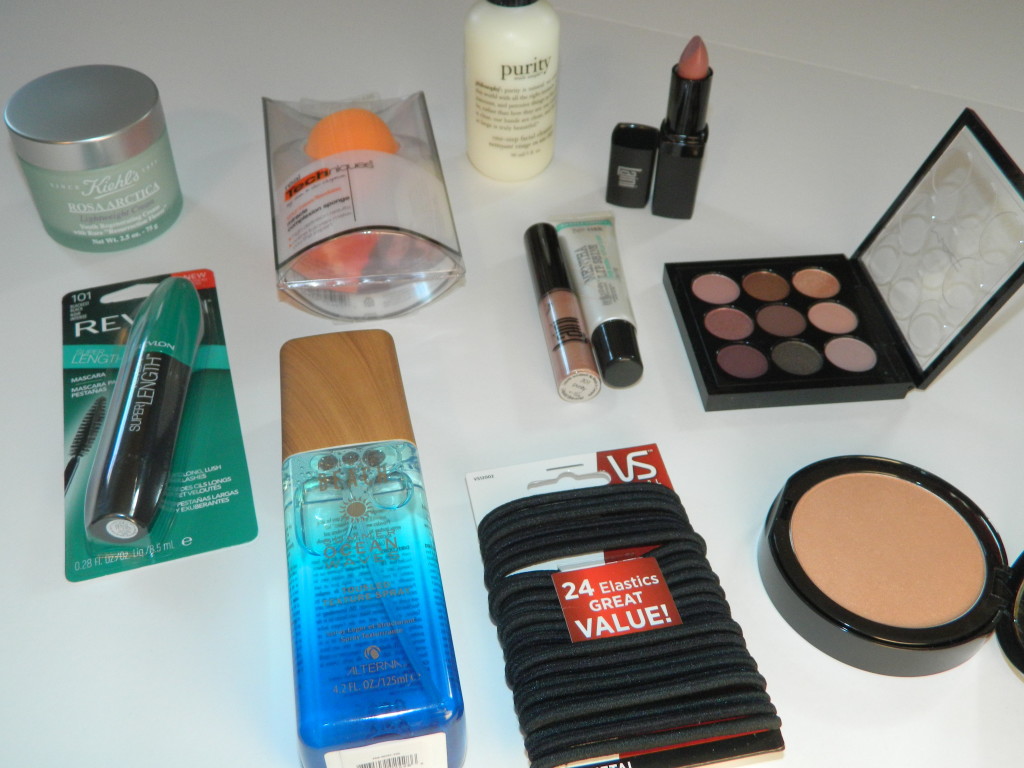 The weather has been brutal this winter ranging from below freezing to spring like sunshine. On those exceptionally chilly days, this particular piece of apparel has saved me from frostbite. I'm not really sure if I would have gotten frostbite, but I recently saw the movie Everest. A movie based on a true story of the climbers that experienced a deadly storm as they scaled Mount Everest. Watching the movie was enough of a terrifying experience, let alone actually enduring that type of treachery on your body. Anyway, after seeing the film, I definitely do not want frostbite.
I read several articles featuring this company that specialized in quality made clothing, more specifically hoodies. American Giant, was founded in 2011 and has developed a superior brand both in quality and customer service. They believe in manufacturing in the U.S. keeping costs down by eliminating elevated marketing budgets and building multiple storefronts.
Typically, a hoodie is not a winter wardrobe staple of mine. Hoodies can be oversized and unstructured. However, the hoodies from American Giant, like the classic full zip, is made with the highest quality cotton with reinforced elbow patches and tailored for the perfect fit. The classic fit is warm and soft, adding an insulated layer underneath your coat.
I chose to wear this fabulous zippered hoodie in Phantom Grey with a pair of navy cargo pants from H&M and a brightly colored scarf.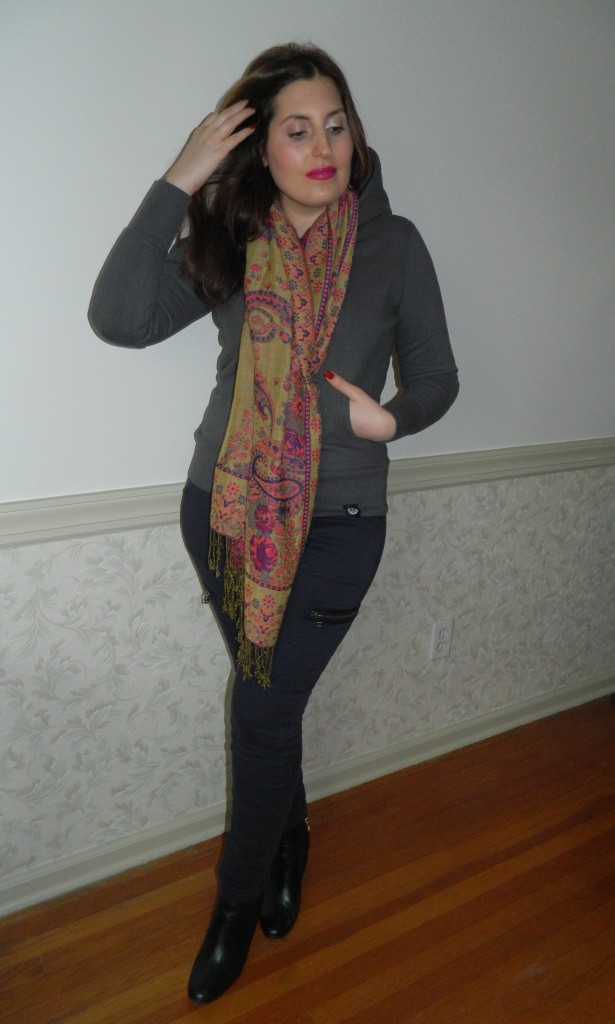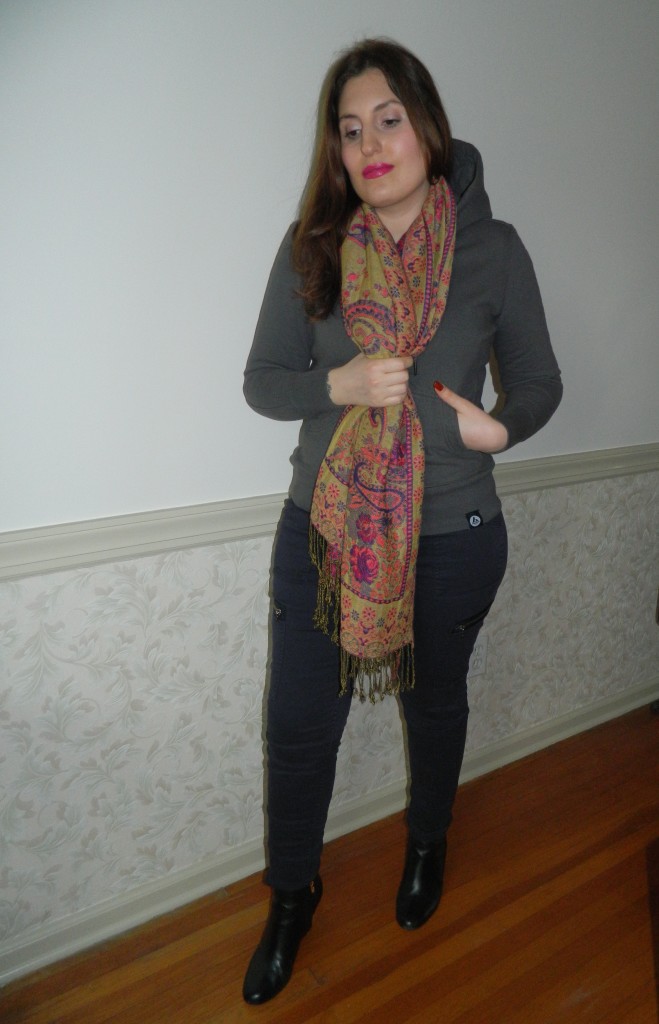 The first day of spring is just a few weeks away and you know what that means; spring cleaning! I cannot wait to sort through all of my bulky winter clothes and pack them away until next year. Although the results of the major overhaul are beautiful and sparkling clean, the process may leave a little bit to be desired. Cleaning products are dangerous chemicals that need to be handled with care.
Sophia Ruan Gushee, author of A to Z of D-toxing: The Ultimate Guide to Reducing Our Toxic Exposures offers a variety of easy alternatives to the common and unsafe cleaning products on the market.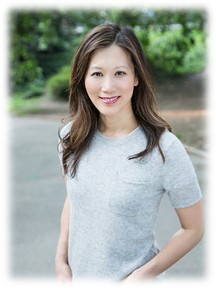 Baking Soda, effectively cleans grime, grease, and dirt. Baking Soda can be applied alone to the bathroom on sinks and toilets or added to a small amount of liquid soap. Scuff marks do not stand a chance with this kitchen cabinet go-to. Add a sprinkle of baking soda onto the scuff and remove with a warm damp cloth.
Castille Soap, which has the power to dissolve oil that can be lingering on surfaces and causing dirt to adhere to the oil. Add liquid castille soap to baking soda to clean stovetop and vent hood.
White Vinegar, something you may have remembered your grandparents using as an all purpose cleaner. White vinegar kills mold and bacteria, dissolves soap scum and can brighten white sheets. You can also run white vinegar through your coffee pot!
Hydrogen Peroxide is a natural bleaching agent and therefore can replace the toxic bleach in your home; great for tile surfaces and cleaning grout.
Copyright © Dandelion by Pexeto