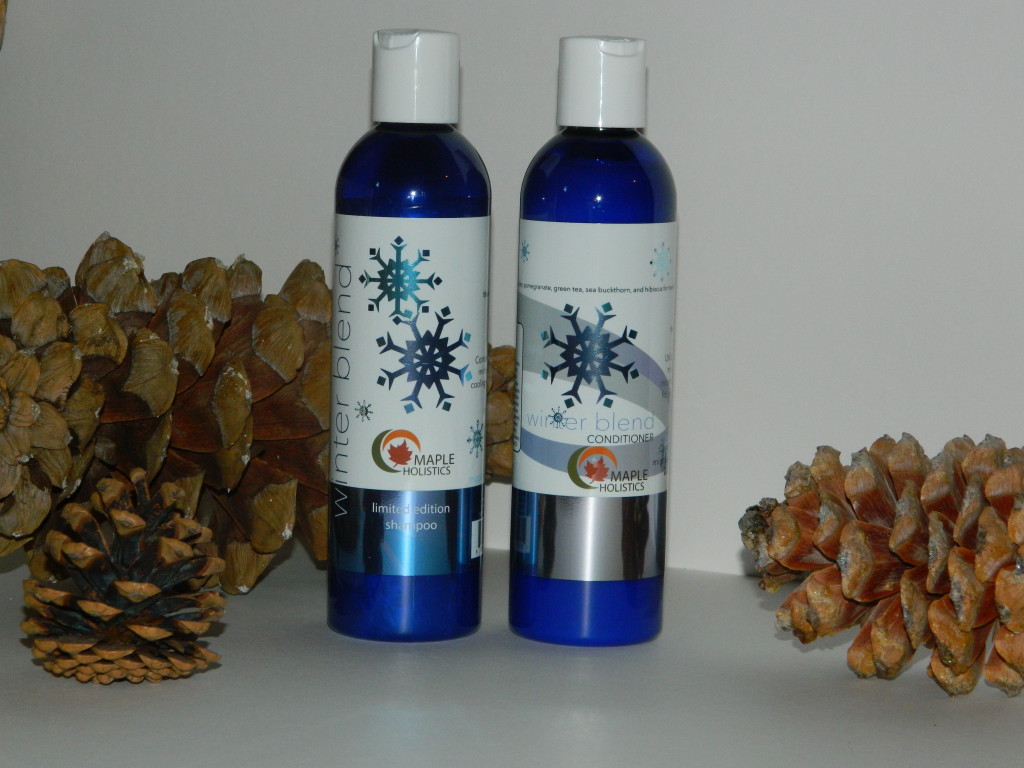 I am so excited to share these products with you. Maple Holistics is a natural beauty line complete with bath and body, skincare, and hair products all created with the utmost effectiveness in mind using quality natural ingredients.
So far, I have tried the Winter Blend Eucalyptus & Mint Shampoo with Bergamot Oil and the Natural Winter Blend Hair Conditioner & Treatment. Some of the main ingredients include, wild mint, bergamot mint, spearmint, peppermint, eucalyptus mint, jojoba oil, and botanical keratin. This fragrant combination arrests the senses, first in scent and then the tingly sensation that is created on the scalp. These ingredients offer multiple health benefits like increasing blood flow to the scalp, disinfectant properties of germs, anti-inflammatory, super hydration, frizz reduction, prevention of residue buildup, and anti-fungal properties.
Of course, when I read these benefits I thought they sounded like fabulous products. As I was using the shampoo I had very high hopes. I lathered my hair and was instantly impressed with the creamy texture, minty fresh fragrance, and cool sensation on my scalp. After the lather, I applied the conditioner and immediately felt any tangles fall smooth. I wanted to see the full results so I avoided using any products following the shower. I easily brushed my wet hair with a wide tooth comb and allowed to air dry. I cannot even begin to describe the results. My color was even improved! My hair was silky, shiny, and the products enhanced my natural texture. All of the hair spray and mousse that I used prior to washing, was completely removed leaving my hair lightweight, smooth, and incredibly hydrated. I have wavy and loose curl hair and after washing, my curls were defined and frizz free.
I have to say that now after using these products I hesitate to try any other haircare. The results were unbelievable- this is the way hair should look every time after shampooing. If you are someone who does not have the time to fuss with your hair after washing then these are the products for you. If you have all the time in the world then these are the products for you. All heat tools or styling will only be enhanced with these products. I absolutely recommend trying the Maple Holistics line!