Navy blue and beige are not very popular colors in my closet. I happened to find this fit and flare dress at Ann Taylor at the Philadelphia Premium Outlets. This dress simply struck me and even though it is not something I would typically buy, I had to try it on. I mean, who could resist a front zipper detail?! Needless to say once I tried it on I walked straight to the register. To my complete shock and awe it rang up at $25!!!!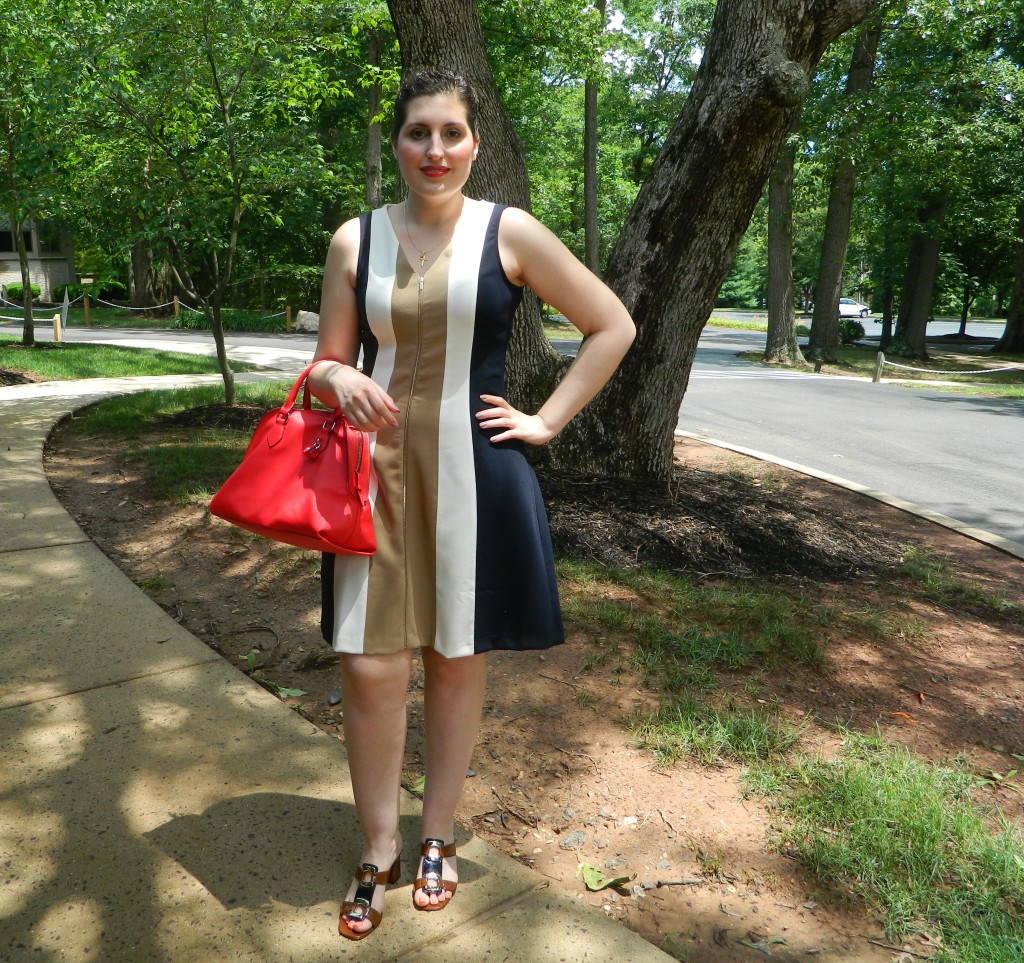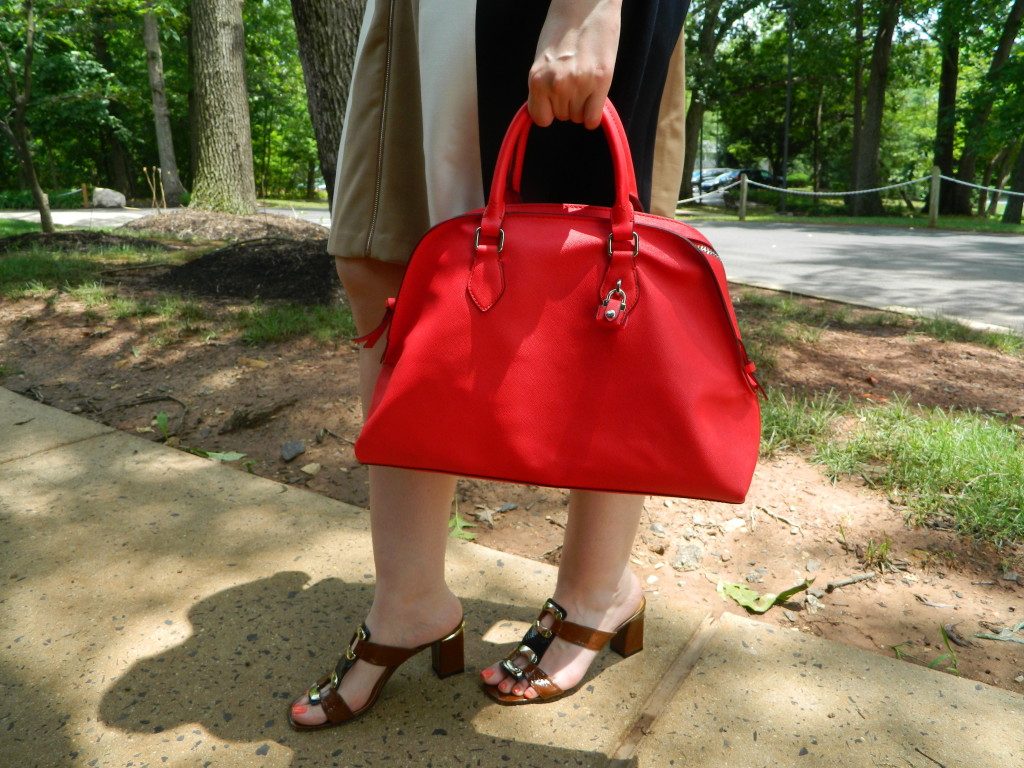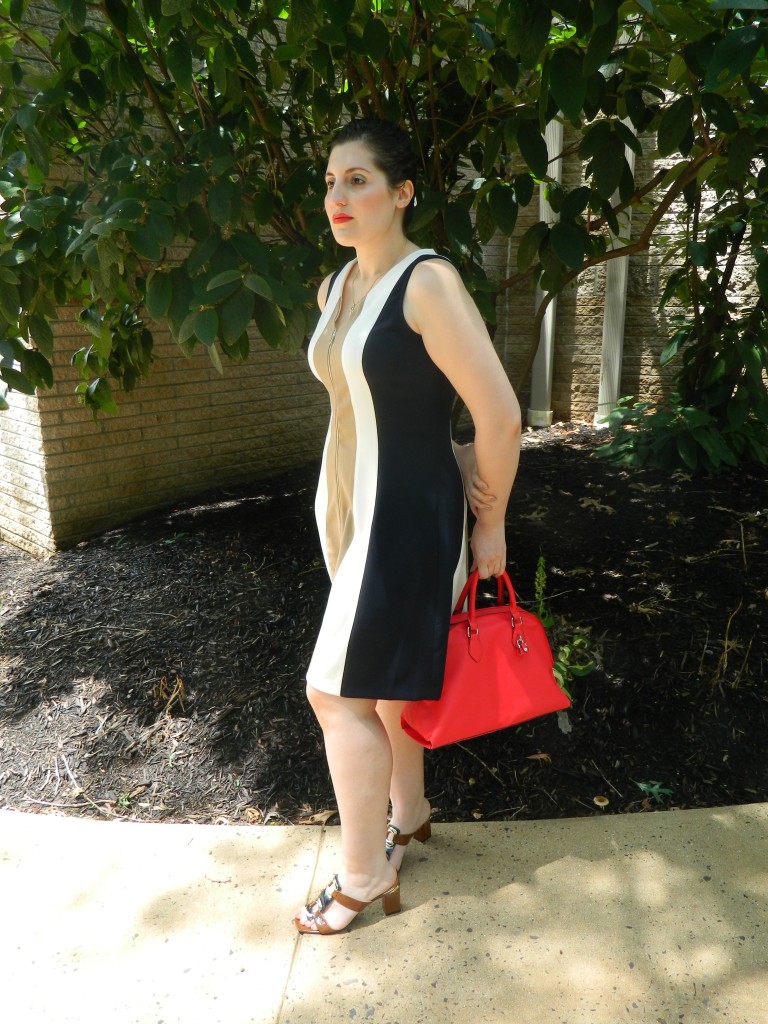 My accessories needed to pop against the neutral color blocking in the dress. The red bag breaks up the coordinating dress and shoes with a gorgeous burst of color. I chose a vegan red handbag with lock detail from Zara.
The shoes are a little older, but they matched the dress to a tee and I could not resist wearing these slip on Marc Jacobs sandals.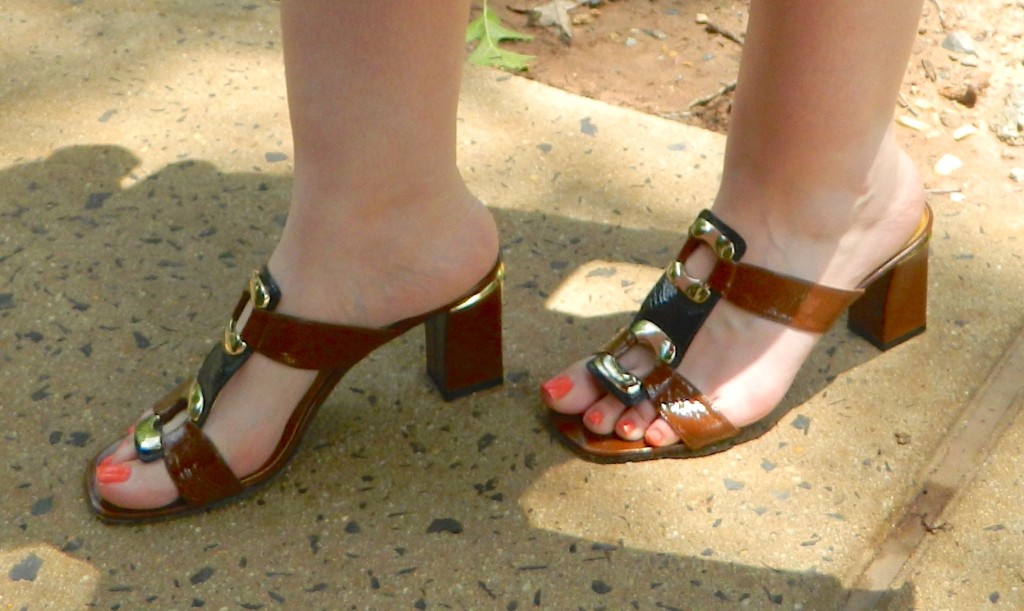 As a kid I was obsessed with jelly sandals along with so many others who shared the same sentiment. I was doing a little online browsing and noticed this pair of red floral cut out slides from Jeffrey Campbell. A flood of happy memories washed over me and I knew I needed these sandals.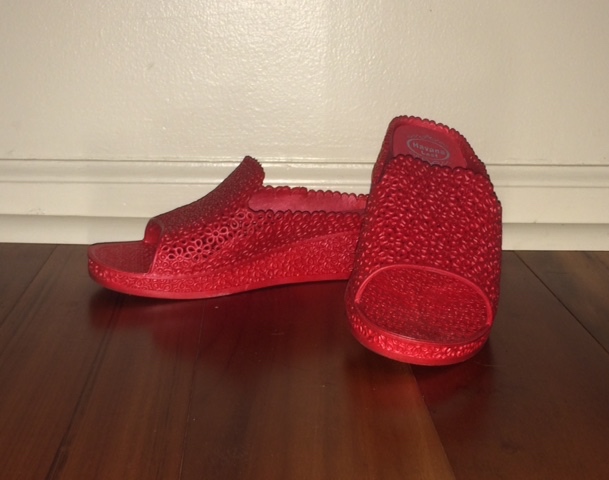 They were the perfect addition to an outfit I already had waiting in the wings. I wore these red beauties with a denim pencil skirt from Macy's and a beautiful white lacey split back tank from JCPenney, which complimented the pattern of the sandals.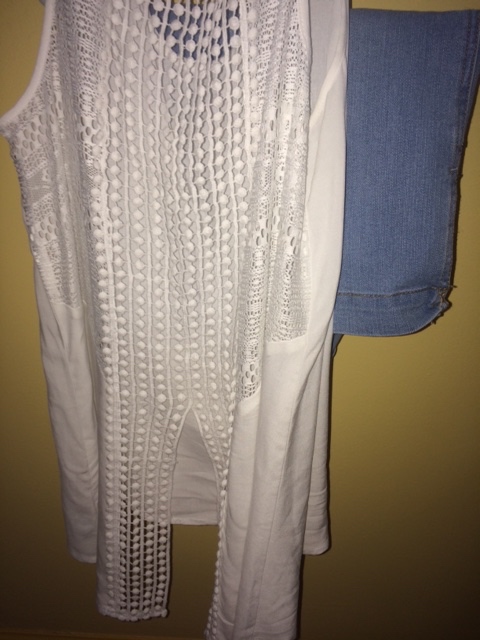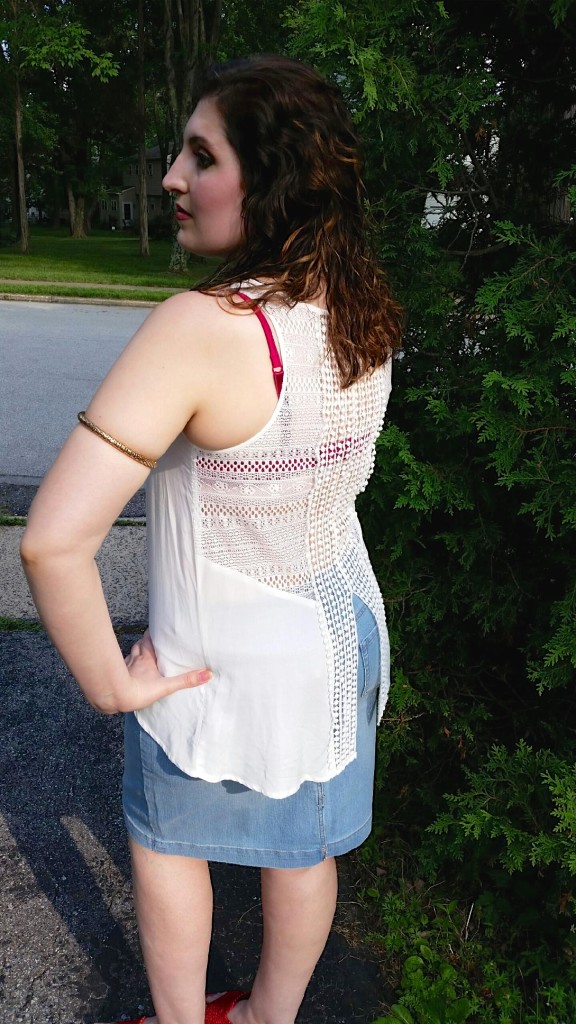 For my 30th birthday a couple of months ago, my family bought me a variety of tickets to some of my favorite things, like the Kinky Boots musical, which I posted last month. This past weekend it was the big New Kids on the Block concert with Nelly and TLC as opening acts. I cannot even describe how wonderful the concert. The energy was palpable and there was not an empty seat in the whole Wells Fargo Center.
Nelly opened and sang for an hour some of his biggest hits and crowd favorites like "Hot in Herre" and "Shake Ya Tailfeather."  You could not help but jump out of your seat, crazy fist pumping dancing and singing to the words- or trying to rap like Nelly.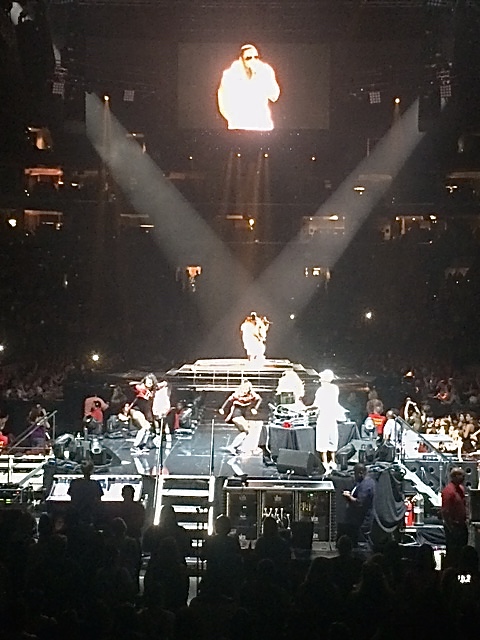 TLC was next and both Chilli and T-Boz thanked Philly as a special place to perform as it is the hometown of Lisa Left Eye (R.I.P). The most touching moment was a clip from Left Eye as she described how much she loved their hit, "Waterfalls." The women sang while photos of the group flashed on screen.
NKOTB entered the stage amidst a sea of smoke wearing black hoodies and coordinating outfits. The kids are all grown and still have amazing vocals. Jordan's voice, Donnie's swagger, Danny's break dance moves, Jonathan's killer smile and Joey's antics- he sang to Annie Lenox's classic hit "Sweet Dreams" as he ripped off his shirt and gyrated on stage. They sang hits all the way back from 1986. Throngs of women were screaming and singing along- thankfully no bras were thrown on stage, but it was definitely a close call. Even some of husbands and boyfriends in attendance were blown away by the performance. Pyrotechnics, costume changes, and synchronized dance moves were all part of the set. These guys have incredible showmanship and can back it up with even better voices. What an amazing night!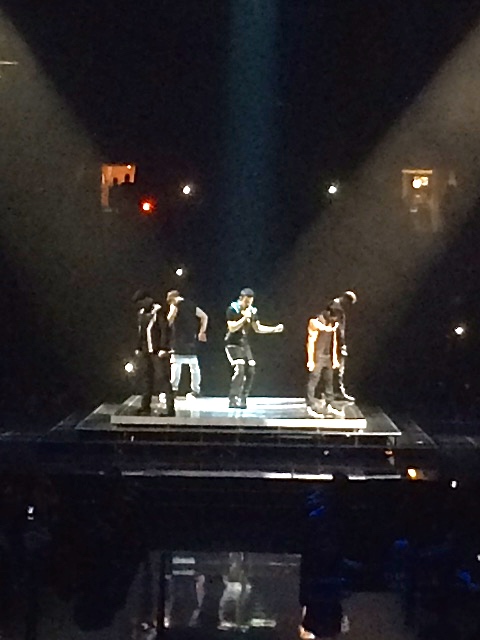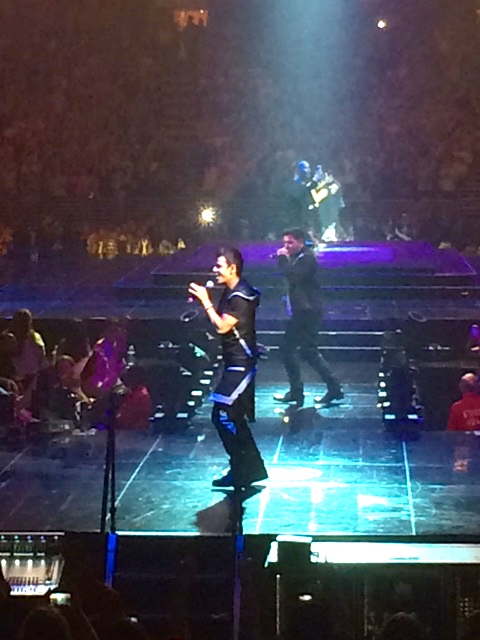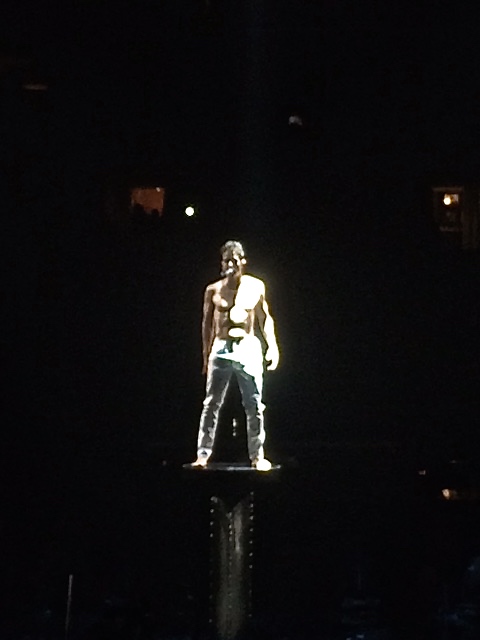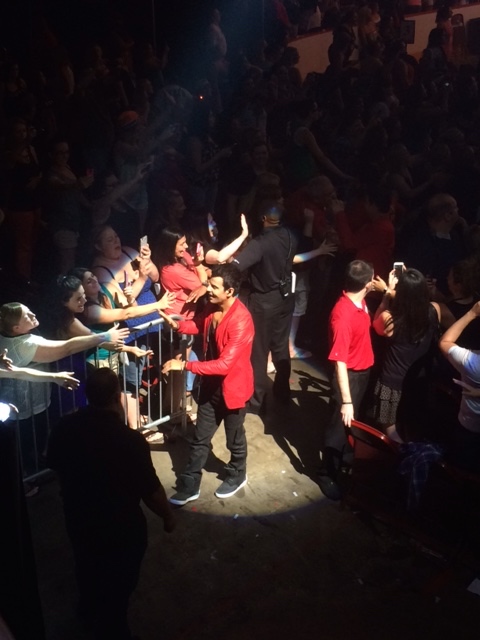 As Father's Day approaches many of you may be preparing to buy Dad some sort of tie or socks. I can remember buying my Dad a shirt as a child. I was so proud to pick out a shirt, it seemed so unique and grown up of me. One small problem. Clearly my fashion eye was much more bold as a kid. I was after all the queen of sequins and glitter. Nothing was subtle in my closet so it made sense that I chose a lime green and tied dyed pattern shirt for my Dad. He graciously accepted the gift and still has that very loud shirt to this day!
Here are some gift ideas (other than ties and socks) for your Dad!
Bath and body products from C.O. Bigelow. One of my favorite stores ever (and one of the oldest apothecaries). The cleansers, shampoos, and soaps are all amazing formulas and smell incredibly refreshing.
Concert tickets are a wonderful gift for your Dad and an outing for you both to go together. This summer in Philly both Brian Wilson and Paul McCartney are playing.
Sunglasses are a cool accessory for Dad and very practical for the summer season. I love the selection of frames at Hugo Boss.
Barnes & Noble each month features their favorite books in a particular genre. If your Dad is a history buff, for instance, this would be a good place to start to find a perfect summer read for Dad. Also a really unique idea is a subscription to The Distillations Magazine from The Chemical Heritage Foundation, focusing on science, culture, and history.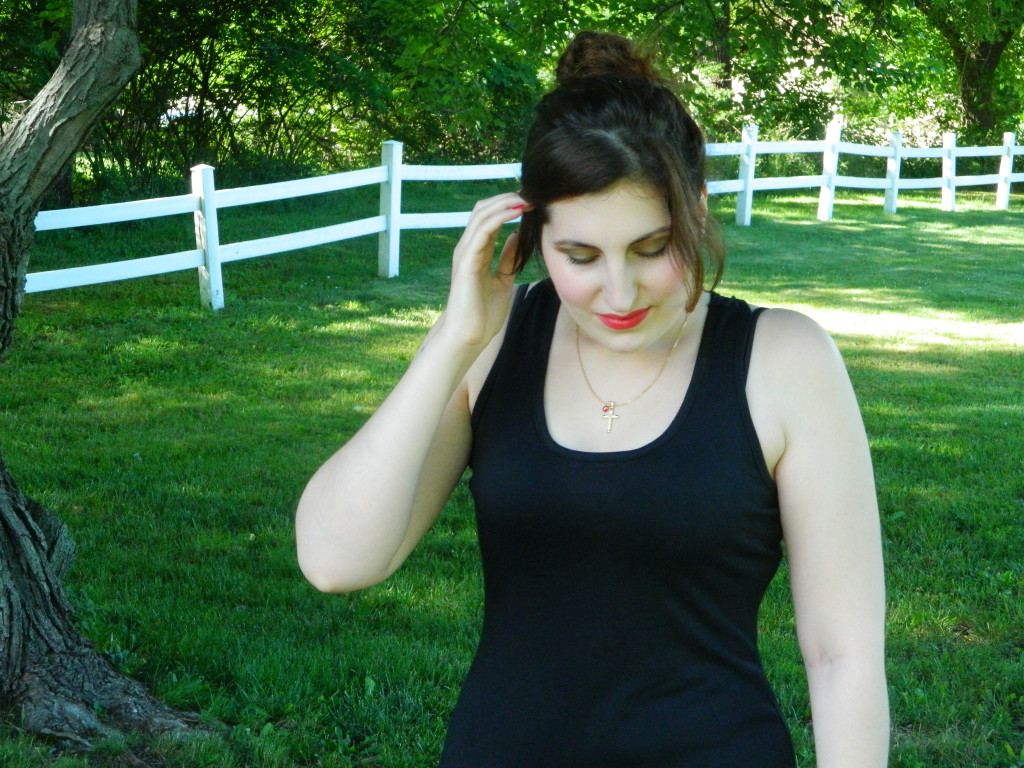 Another day, another maxi. I love a good tank dress. It is unbelievably comfortable and very lightweight, making it the perfect choice for these hot days. I wore this outfit to see Jurassic World over the weekend. I can remember waiting for the the first film, Jurassic Park to come out on VHS and running home from school to watch it. I was terrified, those raptors, that blood curdling roar of the T.rex, that poor goat! For those of us who saw the entire franchise it is a no brainer to see the latest stand alone Jurassic World. I enjoyed it tremendously- it paid homage to the originals and still offered a fresh perspective.
Anyway back to my look. I chose to wear my Candie's platforms with this black tank top dress, however this dress would be perfect with a pair of slip on sneakers as well.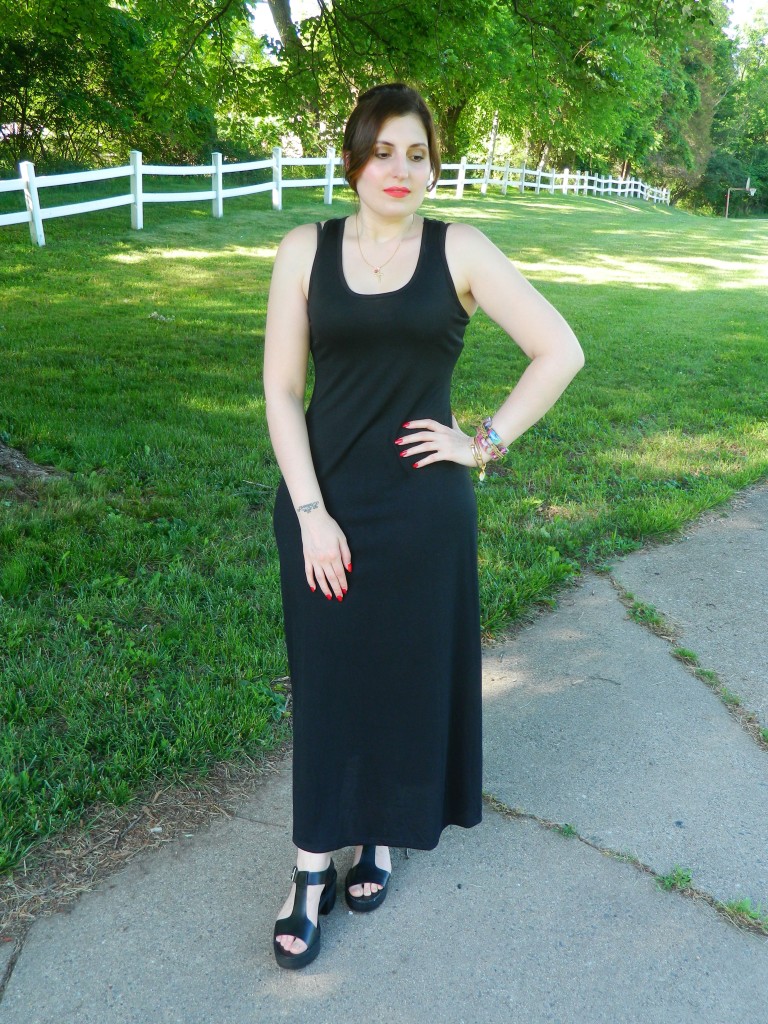 As for accessories, I am wearing multiple bracelets, a Kara Ross bangle, an Alex and Ani bangle, and a gold bangle that I received as a gift from my godmother years ago.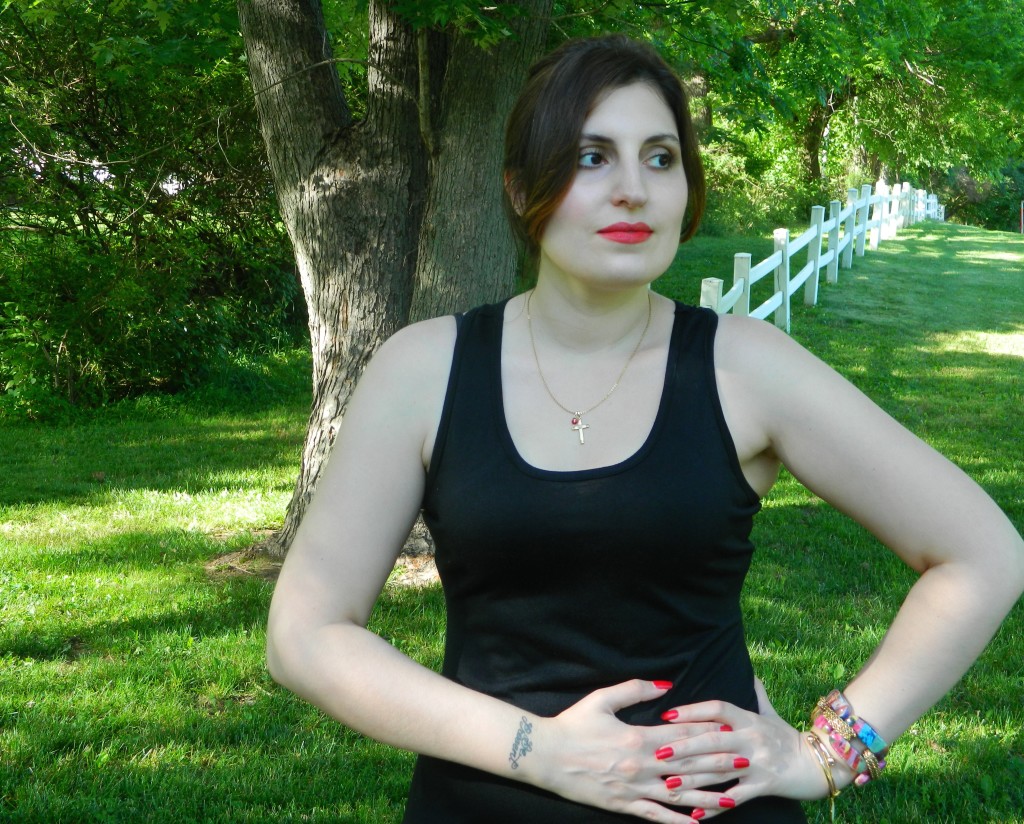 I chose red as my makeup look- a classic duo with an all black outfit. I am wearing vegan and cruelty free, Crimson Clay red polish and Future Red from NARS limited edition Guy Bourdin collection. A similar color would be the Laura Mercier Creme Smooth Lip Color in Red Amour.
I have assembled some of my favorite lipsticks for summer. These pink, peach, coral, and berry shades are perfect with sun kissed skin and vibrant clothing shades.
3 in 1 stick by Mineral Fusion in both Terra Cotta and Berry Glow. This product is multi- purpose and creates a beautiful sheen of color- soft and long lasting.
NARS Velvet Matte Lip Pencil is a non drying lipstick that is smooth and creamy. I love two particular shades in this collection, a classic blue base red called Dragon Girl and a red orange called Red Square.
Clinique Long Last Lipstick in Runaway Color is incredibly rich in texture and luxurious. The color is a vibrant peachy coral and incredibly long lasting.
Clarins Multi-Blush in Grenadine can be used as blush or lipstick. It is a powdery soft finish with a bright rose color.
Nyx cosmetics has a wonderful selection of Matte Lipstick that is still very silky and hydrating. Street Cred is a beautiful raspberry coral.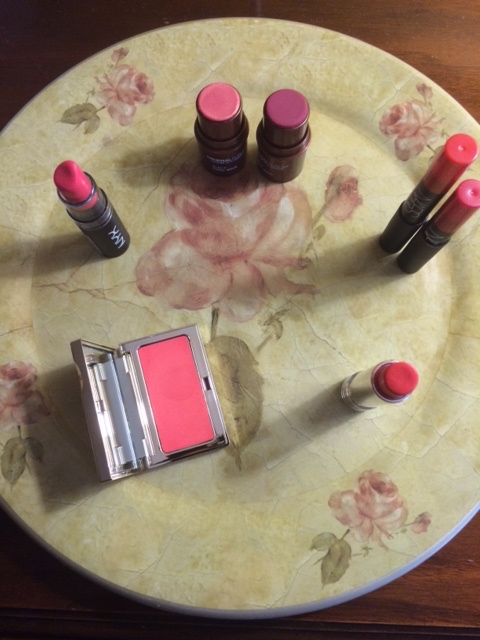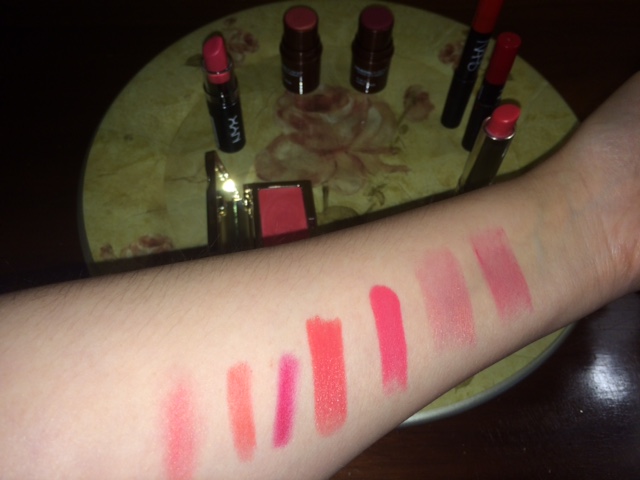 I already posted what I wore on Friday night, but did not mention where I wore that printed maxi dress. On Friday night I went to see Pitch Perfect 2 with one of my friends at an old stomping ground. We went to see the film at the Clearview Anthony Wayne theater on Lancaster Ave, a street that we frequented often in high school during 8th period, shopping and grabbing a coffee. Anyway after the first movie was so hysterical we had to see the sequel. I won't give any spoilers away, but I did enjoy the movie and was happy that I saw the conclusion to the lives of the ladies.
Radio 104.5 every year has a summer block party which features free concerts! A few years back it was Awolnation and Imagine Dragons, one year Of Monsters and Men, this year the line up was just as good. Held at Penns Landing in Philadelphia, each person needed a ticket to avoid overcrowding. The first band that I saw was Big Data followed by Mister Wives and New Politics. All of the bands were awesome live. Big Data lead vocalists looked sharp and Johnny Cash-esq in all black. Alan was wearing red kicks- for a pop of color of course. They closed their set with Dangerous, which got the crowd even more amped. The electronic beats and dual flawless vocals with Lizy Ryan was a treat for the crowd.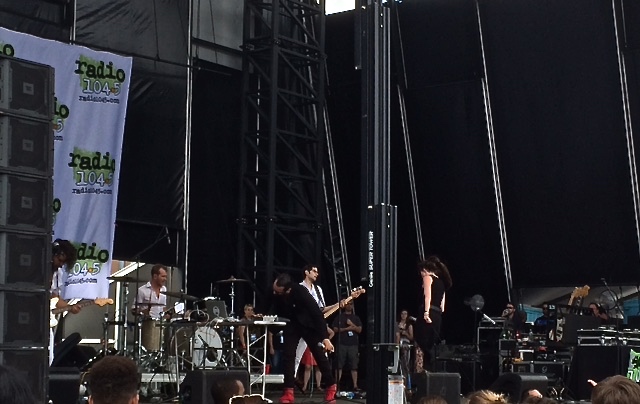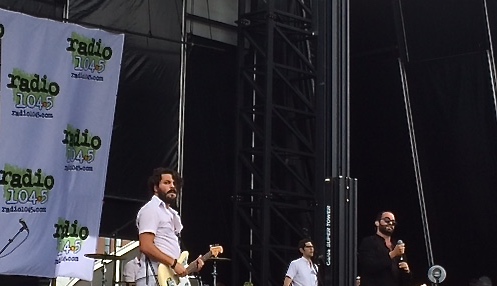 Mister Wives was the surprise of the day for me. I was sadly and shamefully unfamiliar with their music prior to the concert. Then Mandy Lee came out with powerhouse vocals that rivaled Grace Potter and got everyone's attention! The entire performance was energetic and lively.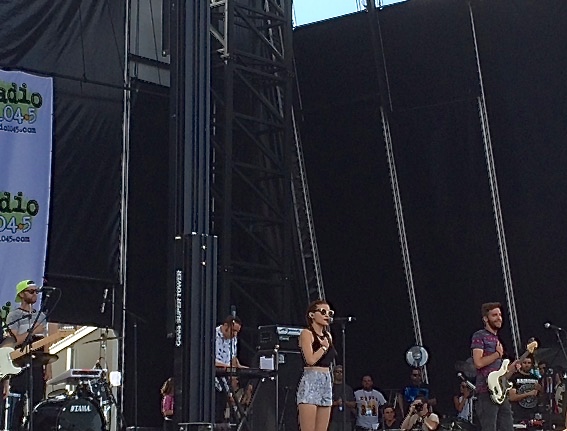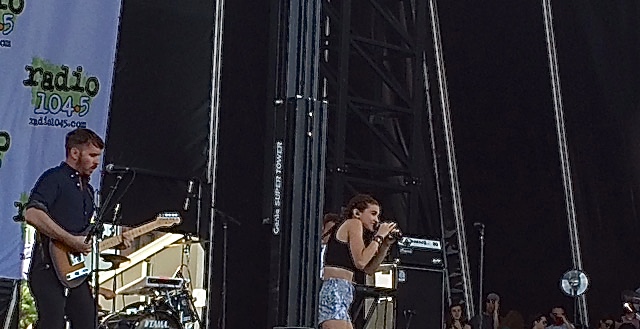 New Politics thundered onto the stage, complete with crowd surfing, breakdancing, and killer drum and guitar solos. Drum sticks and picks soared into the crowd and left everyone scrambling. David Boyd's vocals pierced the audience with crowd favorites like Yeah Yeah Yeah and Harlem.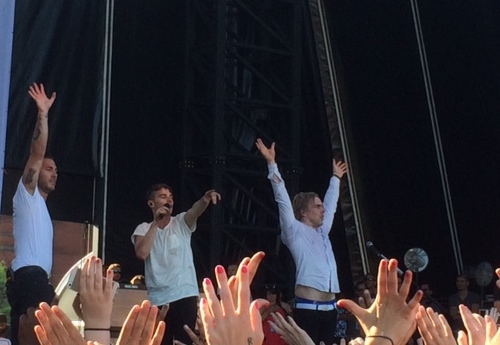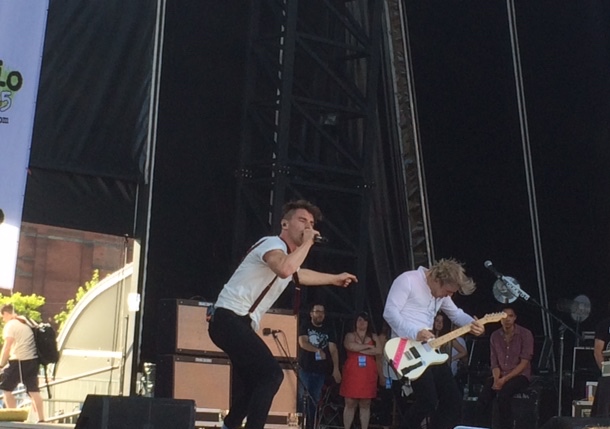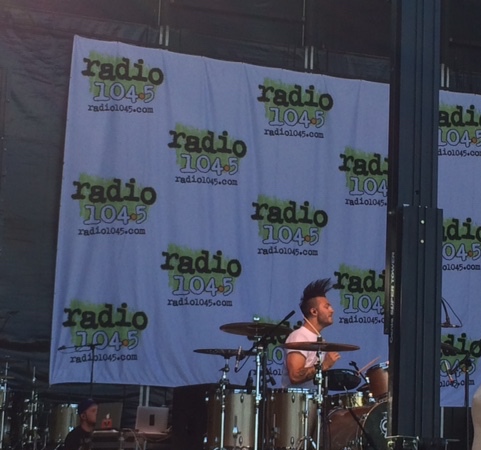 The next Radio 104.5 free concert is July 12th, make sure to get a ticket!
Wearing another one of my fabulous finds from Walmart. I just could not pass up this maxi dress- cinched waist, detailed top, side slit- what more could you want from a $10 dress?! I paired the look with one of my favorite shoes, simple black mules purchased at Zara last summer. With a dress this affordable, you can spend a little more on the accessories. I am wearing my Alex and Ani Fortune's Bliss Sweet Pea Charm Bangle.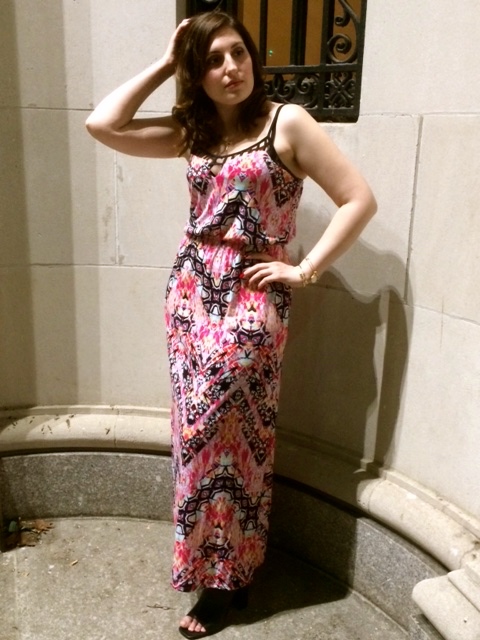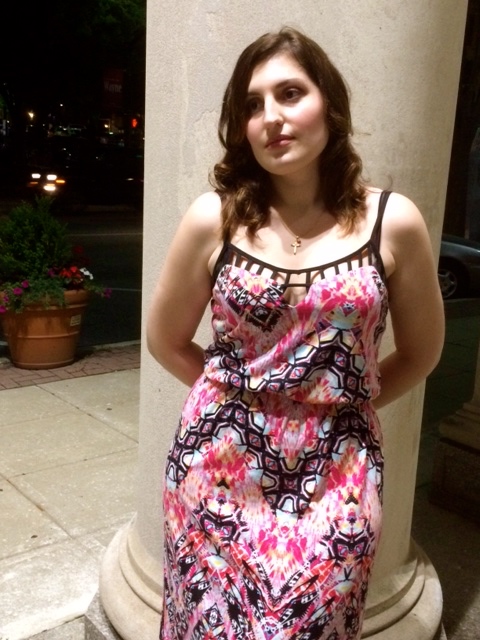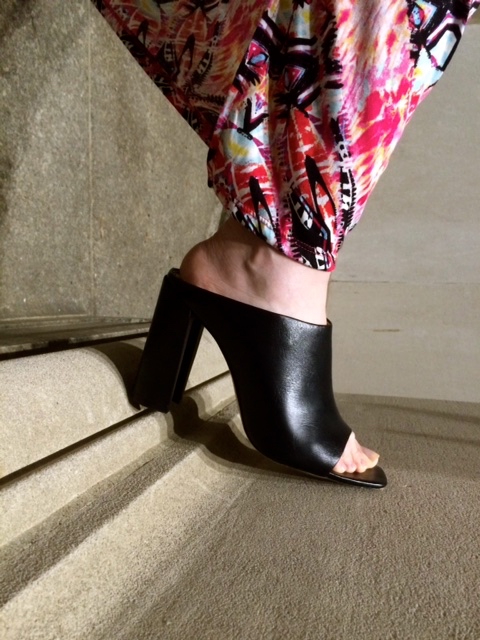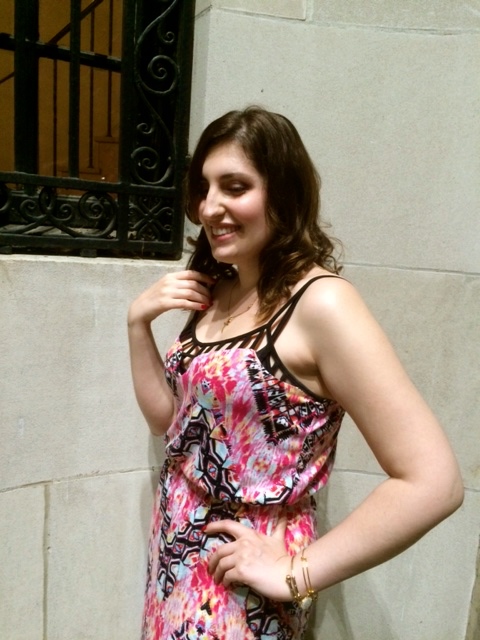 I kept my makeup look simple, with jewel tones. I wore the Density eyeshadow trio and 3 in 1 stick in Berry Glow by Mineral Fusion. My lips needed a little moisturizer so I wore the Black Honey Almost Lipstick. It is my eyelashes that were really impressive. I tried for the first time last night the Za Za Zu mascara from Nyx cosmetics. This mascara lengthened and created volume, did not drop any black under the eye, and stayed on all night looking flawless. One of the best drugstore purchases!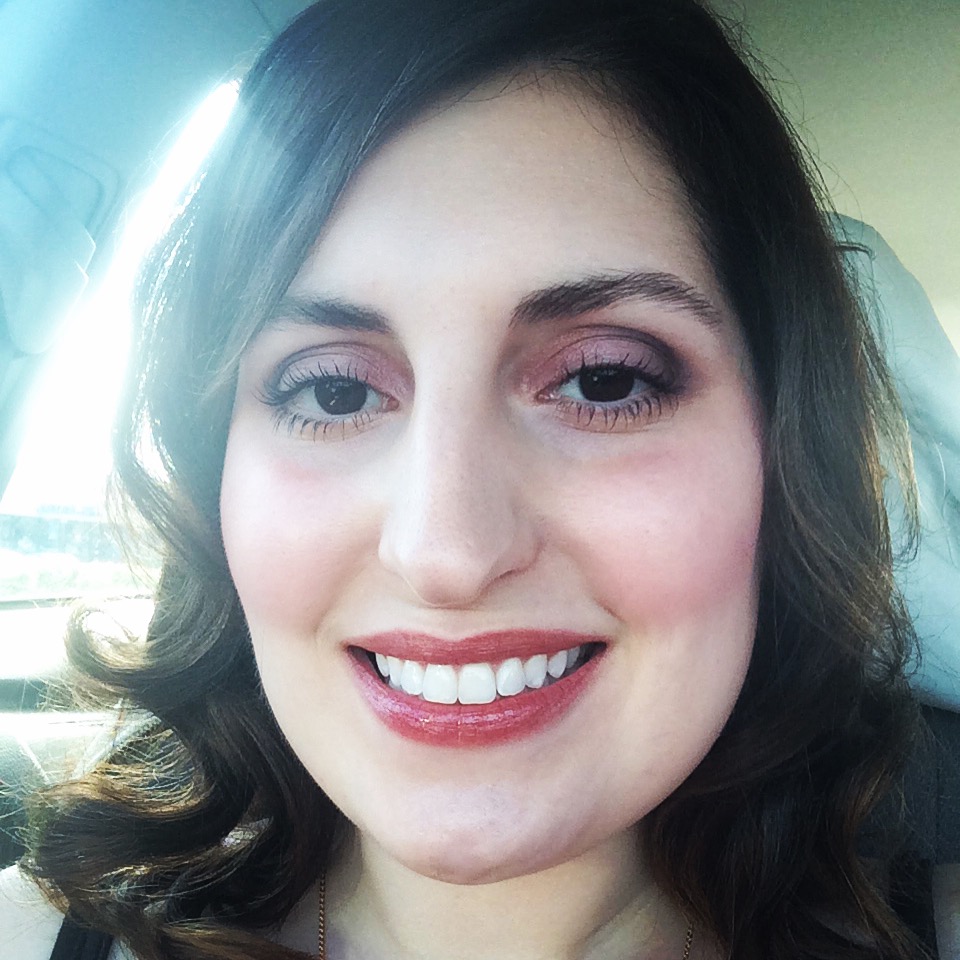 I like to change up my skincare regimen every so often. There are some products that I cannot live without, but I do try to shake up the routine. A few months ago I had a wonderful experience with the rare earth pore cleansing masque from Kiehl's so I decided to look for a moisturizer. I just ran out of my Kinerase advanced lotion (which is amazing) and wanted to try something new as I have been using that line for years. After a little research, I chose the Kiehl's Rosa Artica Lightweight Cream. The cream is an anti-aging moisturizer and can be applied twice daily, however I typically use a very light coat during the day and apply more liberally at night. The scent is of fresh lavender and therefore is very soothing. The texture is slightly tacky- not in an off putting way, just a little goes a long way or else it does not fully sink into the skin. Some of the ingredients include Vitamin E, glycerin, and white birch extract. After applying the cream, my skin is instantly hydrated and appears smooth and plump- in the sense that fine lines look filled in and reduced.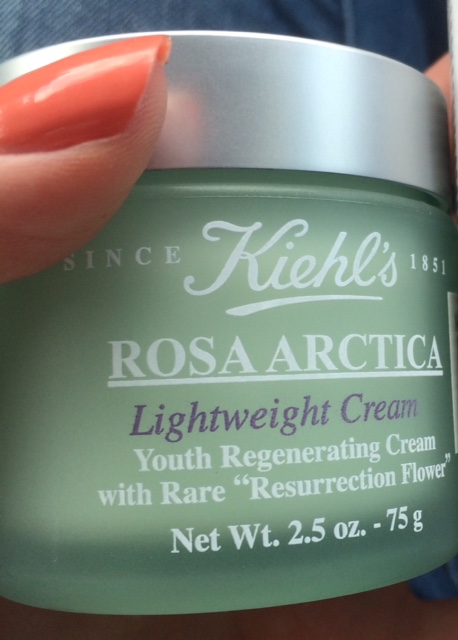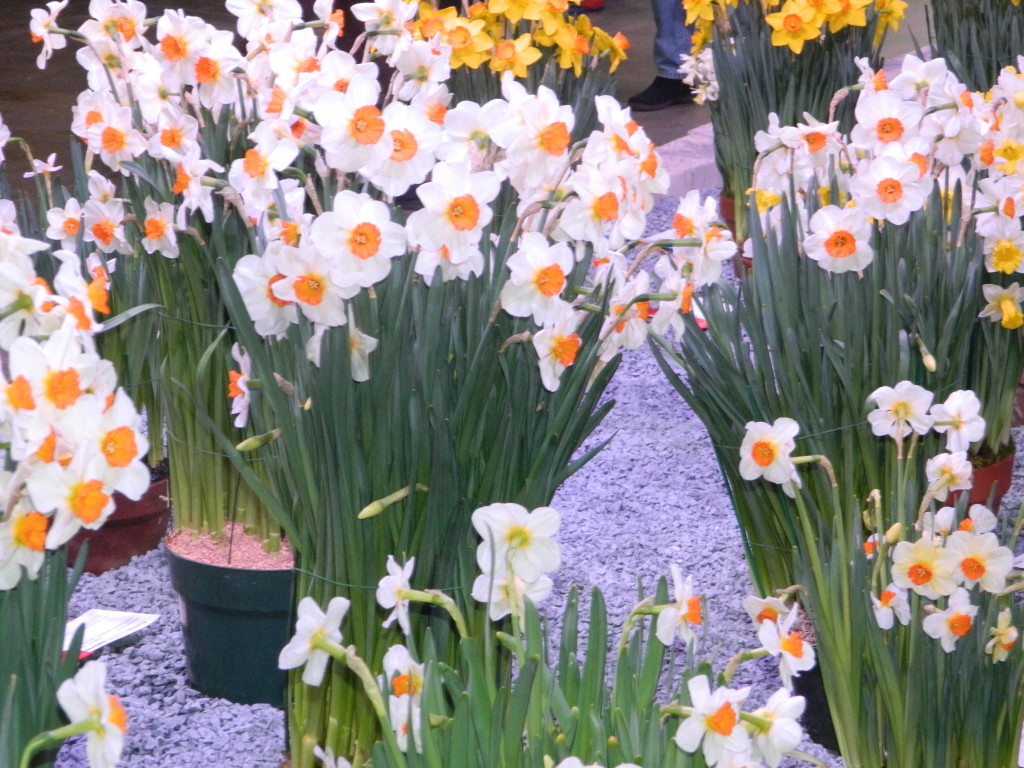 Wedding season is upon us- and by us I mean those who have more weddings and wedding related functions to go to this summer than any other single event- like a vacation for instance. I have round up some of my favorite dress looks for summer weddings as a helpful guide for those ready to pull your hair out from the expense of the season- I mean blessed event.
For an evening wedding, a black gown is now a very elegant and appropriate choice. Cap sleeve dress
For an outdoor wedding or warm location ceremony this tie knot maxi dress 
For a traditional church wedding, this blush pink ladylike bodycon dress
For anything in between, this pleated sleeveless dress
Copyright © Dandelion by Pexeto