Lady Gaga at The Grammy's 2015
Last May, a good friend took me and my sister to see Lady Gaga in concert for the first time in Philadelphia. It was awesome! The concert was fun and energetic. The fans were sweet and lively. The majority of them dressed in elaborate costumes. Her vocals were incredible and she sang all of her hits from her previous albums. At the risk of embarrassing my younger, much cooler sister, I could not resist dancing a bit at my seat.
Did you see Gaga last night at the Grammy's? She walked arm in arm with the legendary Tony Bennett, a man I had the privilege of meeting when I was in high school. He looked dapper as usual, but Gaga really did shine wearing a Brandon Maxwell silver gown. The two collaborated on an album called Cheek to Cheek and won the Grammy for Best Traditional Pop Vocals.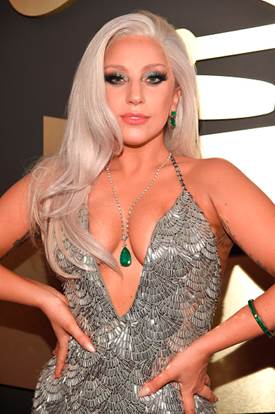 Now for her makeup. Her gorgeous beauty look was created by celebrity makeup artist, Sarah Tanno.  Here's how to achieve this look!
Eyes:
Shiseido Shimmering Cream Eye Color in Tin (SV810) was applied all over her eyelids.
Shiseido Shimmering Cream Eye Color in Mist (WT901) was added just to the inner corners of her eyes.
Shiseido Shimmering Cream Eye Color in Caviar (BK912) was applied to the outer corners using a smudge technique and also onto the lash line.
Shiseido Luminizing Satin Eye Color Trio in Lido (GR412) the above products are cream eyeshadow so they were set with the satin color.
Shiseido Smoothing Eyeliner Pencil in Black (BK901) was applied to both the top and bottom lashes.
Shiseido Perfect Mascara Defining Volume in Black (BK901) finished her eyes with two coats.
Face:
Shiseido White Lucent Power Brightening Mask applied to her face, followed by NEW Shiseido Bio-Performance Glow Revival Serum and then applied Shiseido Bio-Performance Advanced Super Restoring Cream
Shiseido Radiant Lifting Foundation SPF 17 was applied to the center of Gaga's face and then blended outward.
Shiseido Sheer Eye Zone Corrector in Natural (103) applied under her eyes only.
Shiseido Translucent Loose Powder set the entire face makeup.
Using the Shiseido MAQuillAGE Dramatic Mood Veil Blush in RD100, Shiseido Bronzer in Medium (2) was applied to her cheeks to create a contoured look then Sarah used MAQuillAGE Dramatic Mood Veil Blush in RD100 to blend, which is unavailable. Instead try using Shiseido Luminizing Satin Face Color in Starfish (OR308) and Petal (RD103)
Lips:
Shiseido Smoothing Lip Pencil in Hazel (BE701) first outlined her lips.
Shiseido Lacquer Rouge in Carnelian (RD309) completed the look.
Copyright © Dandelion by Pexeto