In 2007 I became a vegetarian after reading Fast Food Nation in my sociology class, junior year of college. Surprisingly, it was very easy for me to omit meat from my diet. The omission is not the problem per say. The difficulty lies in how to replace the protein to ensure a well balanced diet. Protein is crucial for your body to function properly, hair growth, etc. I also removed gluten so I transitioned into becoming a Vegan. Eliminating dairy helped my system overall.
Here are some of my favorite meals and snacks as a guide. There are so many options if you are skeptical and considering a Vegan diet. Maintain your sugar level by eating consistently throughout the day with healthy snacks and homemade meals.
Breakfast:
I usually like something sweet in the morning. For an alternative to oatmeal, try cream of buckwheat (from the rhubarb plant, not wheat, gluten-free) by Pocono brands. I add a dash of cinnamon and one tablespoon of enjoy life chocolate chips to the buckwheat while I stir so it melts. Then I finish with dried cranberries for a tart finish.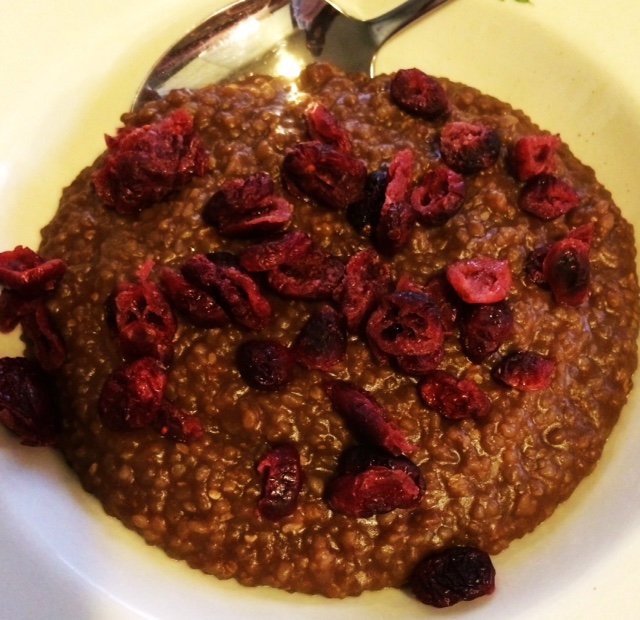 Lunch:
A salad is always a possibility for lunch. You can eat quite a large amount of vegetables for very little calories, which allows you to add some healthy fixings. I love adding artichoke hearts or cucumbers. Now, that it is winter though, I tend to crave something warm and hearty. I found delicious King Soba noodles on Amazon. They are 100% buckwheat noodles and hold sauce and toppings incredibly well. I have tried many recipes using these noodles as a base. Below is my mediterranean take with a drizzle of olive oil, sautéed cherry tomatoes, fresh parsley, and green olives.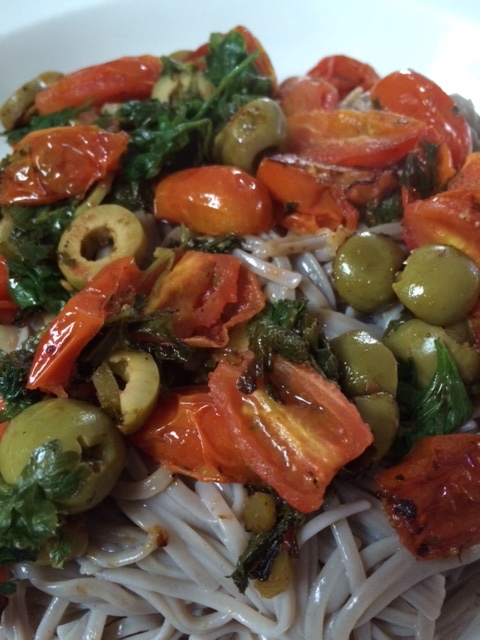 Dinner:
Quinoa is a main staple of protein for me. This versatile, gluten-free, grain can be eaten warm or cold. Quinoa is very simple and fast to cook. It can be boiled in water or with vegetable broth for extra flavor. For those of you unfamiliar with Quinoa, it is similar in size to couscous, but firmer in texture. It is fairly bland, which makes it a blank palette to absorb any seasonings. I typically buy Ancient Grain brand, which can be found at a number of grocery stores. Try seasoning the quinoa with salt and pepper. Sauté fresh or frozen green beans in olive oil and garlic. Then add a little mozzarella shredded dairy-free Daiya cheese.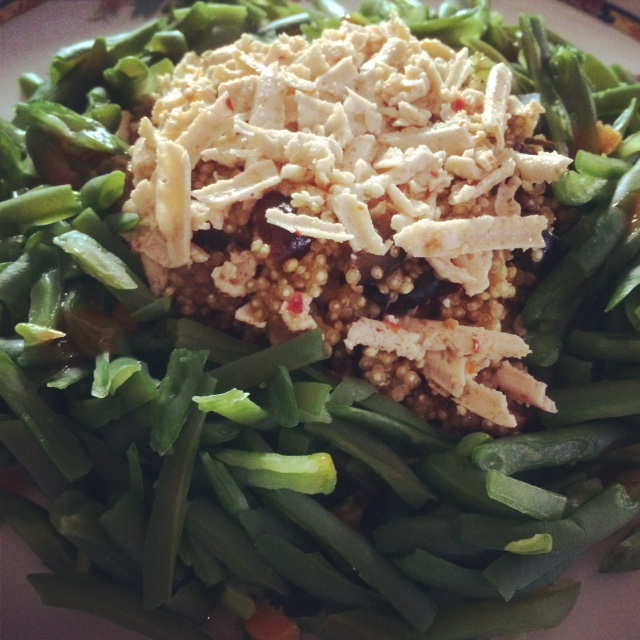 Snacks:
Fruits and Vegetables are exceptional snack options throughout the day. Frozen berries are high in anti-oxidants and keep fresh in the freezer for months. Frozen grapes are a good option too or dust a banana with unsweetened cocoa powder for a sweet treat.
When you are feeling like you need a little energy boost try making a delicious protein shake using half a bottle of Zico chocolate coconut water, one cup of unsweetened flax milk, ice, and one scoop of Now Sports pea protein.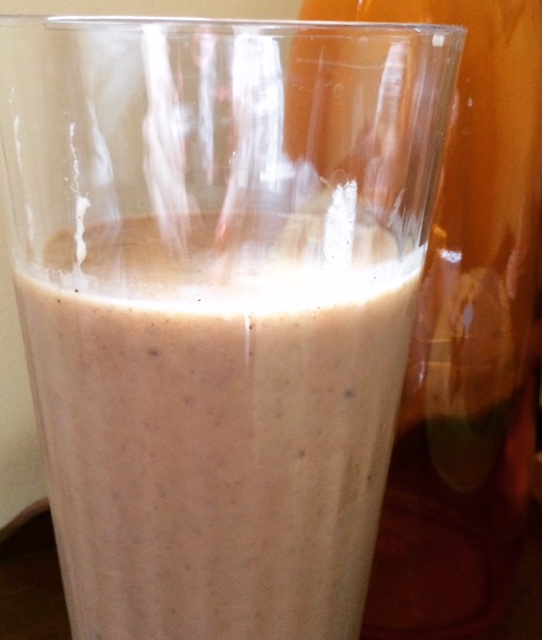 During the colder months, instead of coffee or tea, try heating a mug of fresh apple cider. This will fill your belly and warm you up.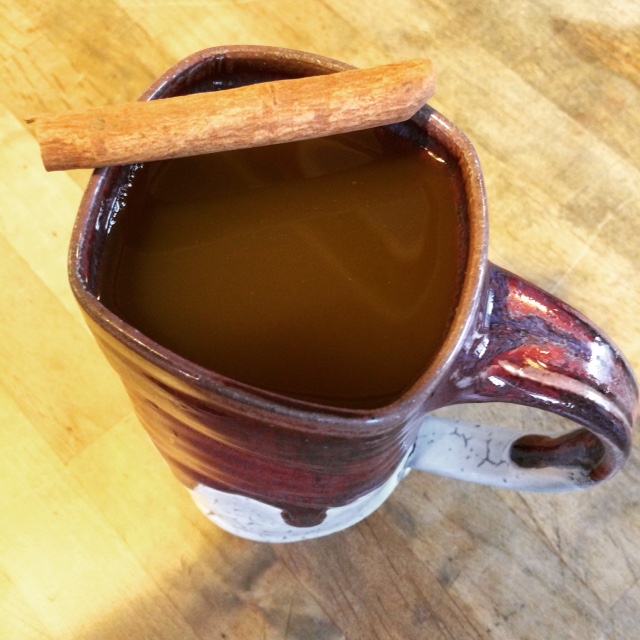 For more food pictures, please follow me on Instagram at ashleybasla