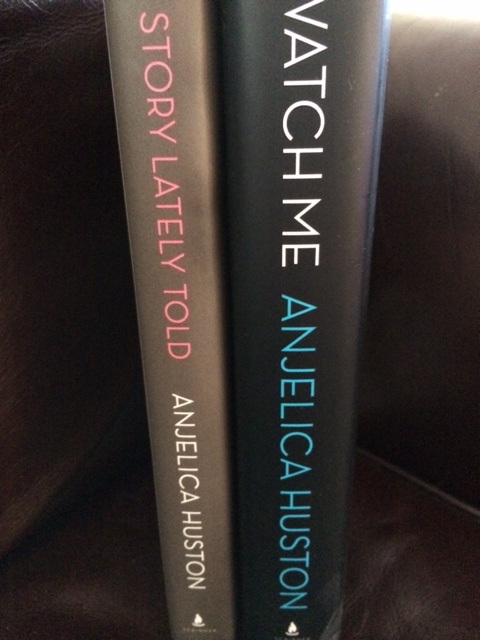 Lavender soothes to sleep, tea tree is effective for alleviating skin conditions like psoriasis and eczema, aloe relieves and calms sunburn. Plants have the power to heal. Over Christmas I received an exceptional book from my brother called National Geographic Guide to Medicinal Herbs. I am a firm believer in a holistic approach for many ailments. I am not suggesting to ignore medical advancements, but I do think that with all the pharmacological options, it is easy to just take a pill. There are alternatives, healthy alternatives with far less risk of side effects found in these medicinal herbs. The book is broken down into sections including the Respiratory and Digestive systems. It is amazing how long certain cultures have relied on the healing properties of the resources readily available in nature. The majority of these plants and herbs can now be found right at the grocery store, spice shops, or can be home grown. It is so simple to add a dash of this or a bit of that to flavor a meal and reap the helpful benefits. This book is filled with practical suggestions and remedies.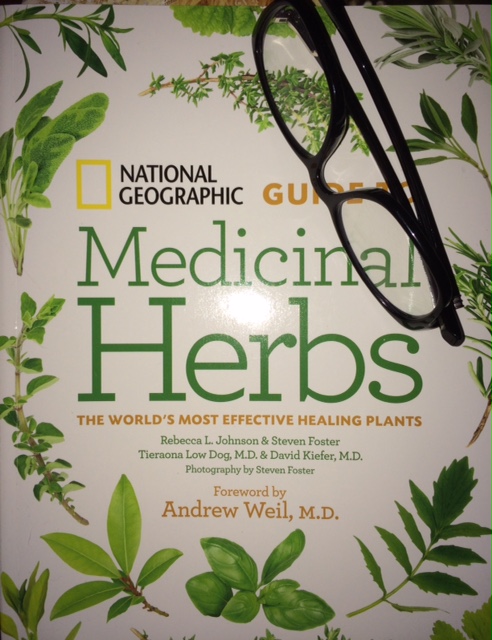 The New England Patriots and the Seattle Seahawks will be playing in the Superbowl this weekend and as thrilling as I find football, I am more concerned with everything else. I am looking forward to the halftime performance by Katy Perry and the incredible Idina Menzel singing the Star Spangled Banner.
Of course, the best part about Sunday's big event for me, is the food! I want to share a very simple, very delicious, and addicting snack- perfect for the Superbowl. Here is a healthy, vegan, and gluten free alternative to the traditional smothered in butter popcorn recipe.
Ingredients:
Popcorn- air popped (I leave the cup size up to your discretion- a large bowl approximately 8 cups)
1 tablespoon extra virgin coconut oil
1 teaspoon paprika
1 teaspoon sea salt
1 teaspoon chili powder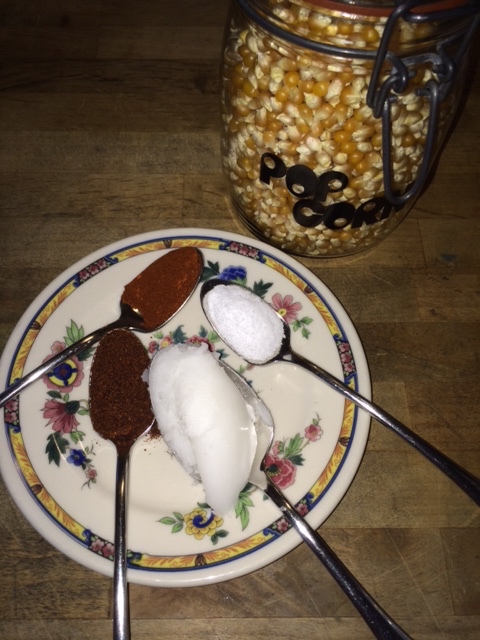 How-to:
Pop the corn. Melt the coconut oil and pour over the popcorn, add the seasonings and stir.
The coconut oil is just as rich and flavorful as butter. When sprinkled with the smokiness of the paprika and the spicy Chili the popcorn is a savory and delicious treat.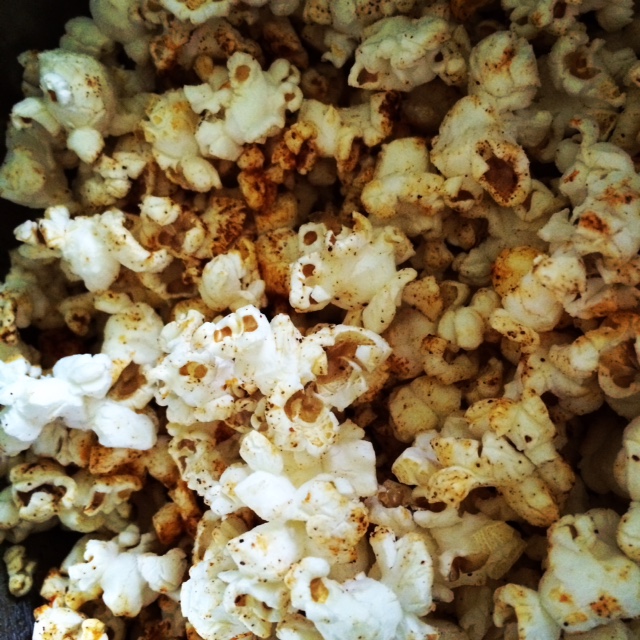 Enjoy!
Full disclosure, I am a Vegan and just posted a Vegan sample menu. These leather pants are vintage and sentimental. I purchased these pants when I was 15 years old and kept them in the back of my closet for all these years. I bought them at the Banana Republic outlet in Lancaster, PA for $100! They were quite the steal and I could not part with them. I wore them only one time to my sophomore dance with a white button down and heels, inspired by Sharon Stone's look to the Oscars in 1998. Actually this entire look was a great deal. My Aldo black flats were $19.99, Ralph Lauren leopard top from Lord & Taylor was $29, and a $75 vintage faux fur coat that I purchased at a Philadelphia flea market. The city was unbearably, painfully cold this past Saturday so layering was essential. If it was not for the recent gray skunk streak in my hair I would have stayed home in pajamas, but I needed a good dye job. Immediately after taking pictures in Rittenhouse park, I walked over to the Barnes & Noble Starbucks for a much needed hot tea.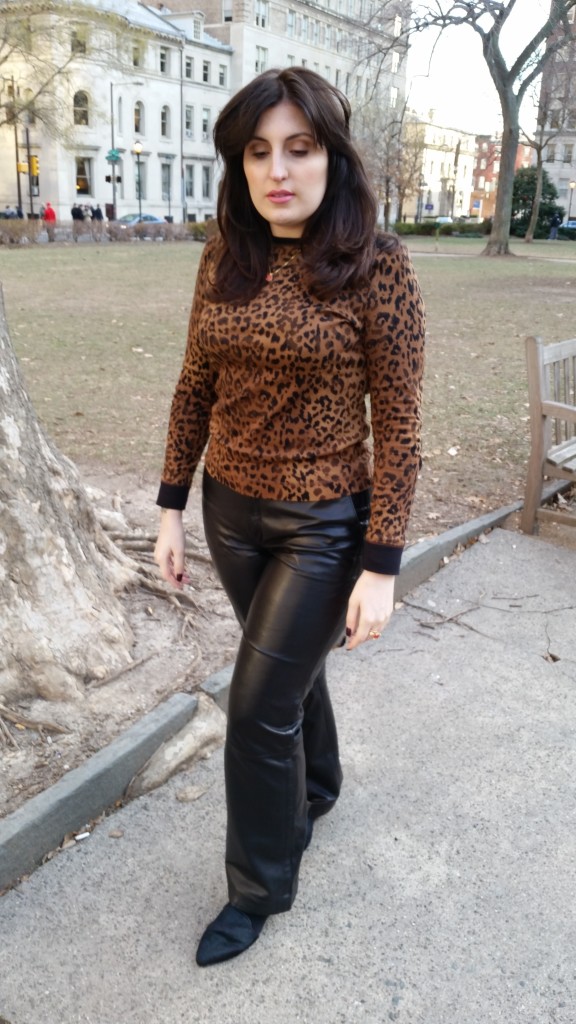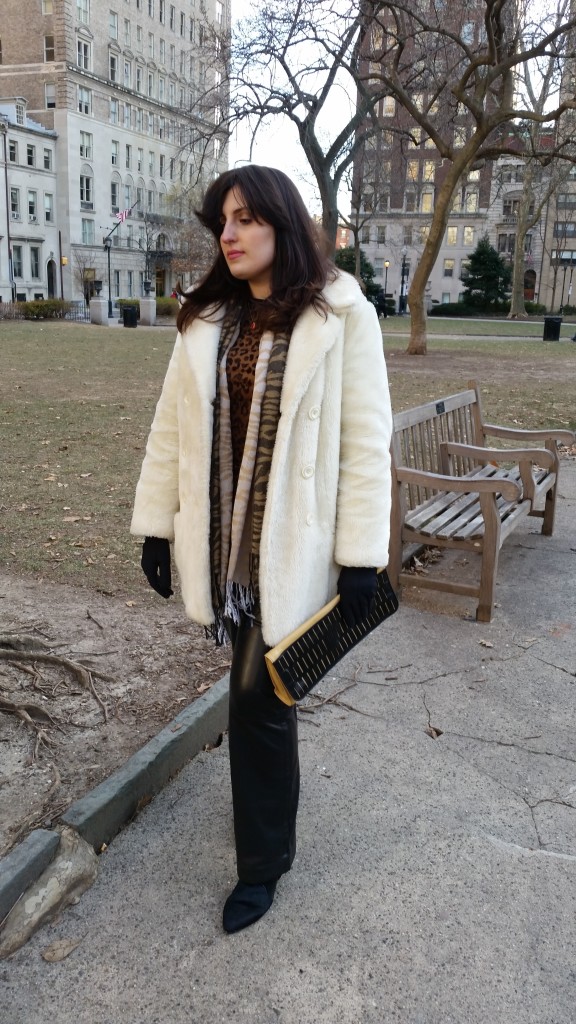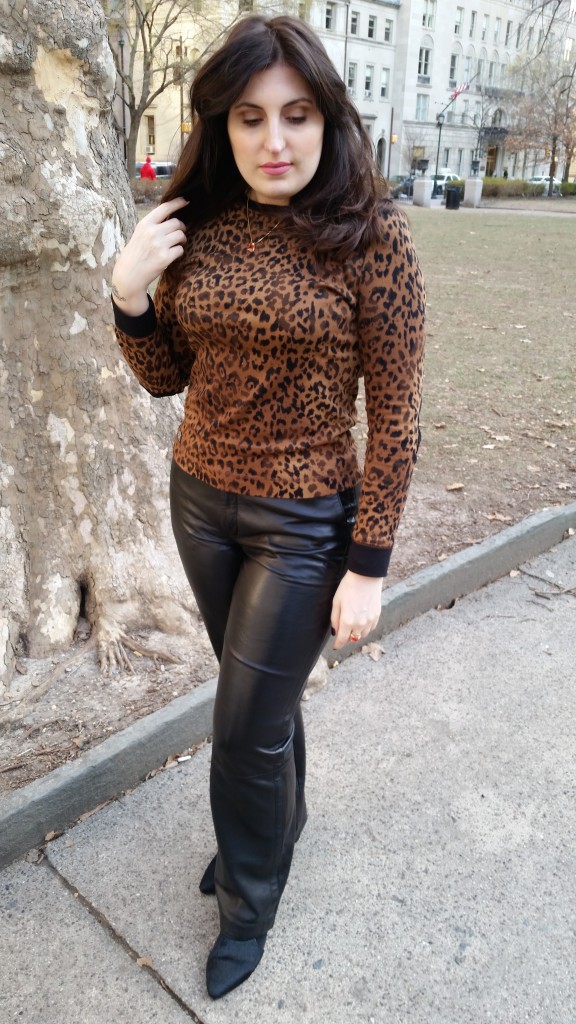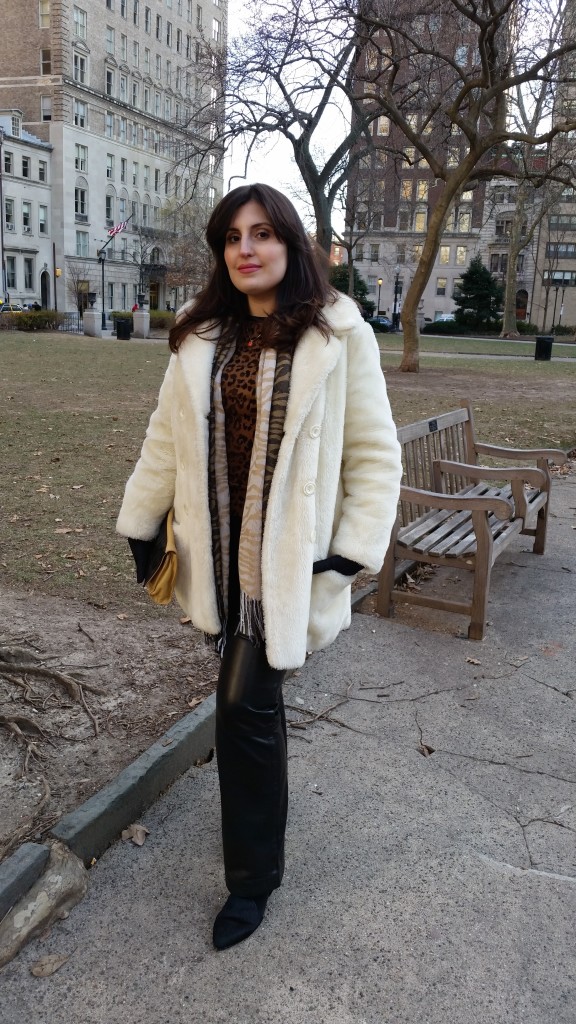 My grandmother inspired this post. She asked me, quite innocently, if I posted a blog featuring drugstore makeup. I have in the past, but it has been a little while. In honor of my grandmother, I decided to do some bargain beauty shopping. I love a good deal, a great beauty bargain. On a trip to Ulta, I browsed the makeup aisles searching for a gold nugget, on the hunt for something new to try. The Nudes Palette from Maybelline caught my eye. 12 fabulous colors from gold to chocolate brown for $9.99!! Are you kidding me? It was a no brainer. A matching lipstick was next on my list. I was drawn to the NYX Extra Creamy Round lipstick and found it difficult to decide on just one shade. I finally picked Rose.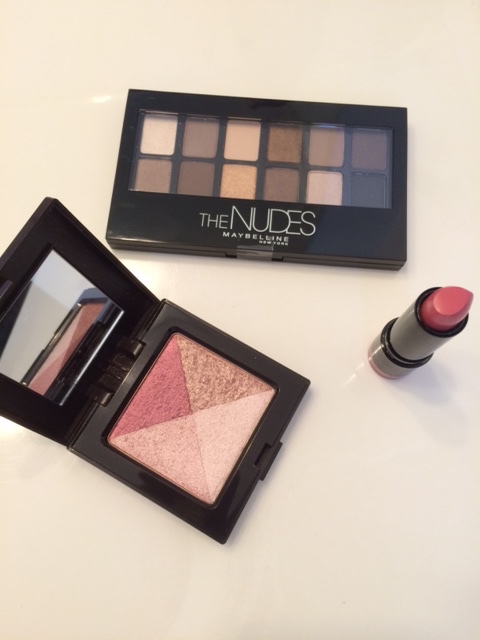 I am happy to report that both products were great finds. The nudes eyeshadow were highly pigmented and long lasting without the use of a primer. The NYX lipstick is smooth, rich, and moisturizing. Rose is a complimentary color to the nude palette. I recommend choosing a shade similar to your natural lip color if you are planning to create a smokey eye. I also used the Shimmer Bloc in Pink Mosaic by Laura Mercier on my cheeks for a natural flushed look. Mascara is Maybelline Volum' Express Colossal in Black.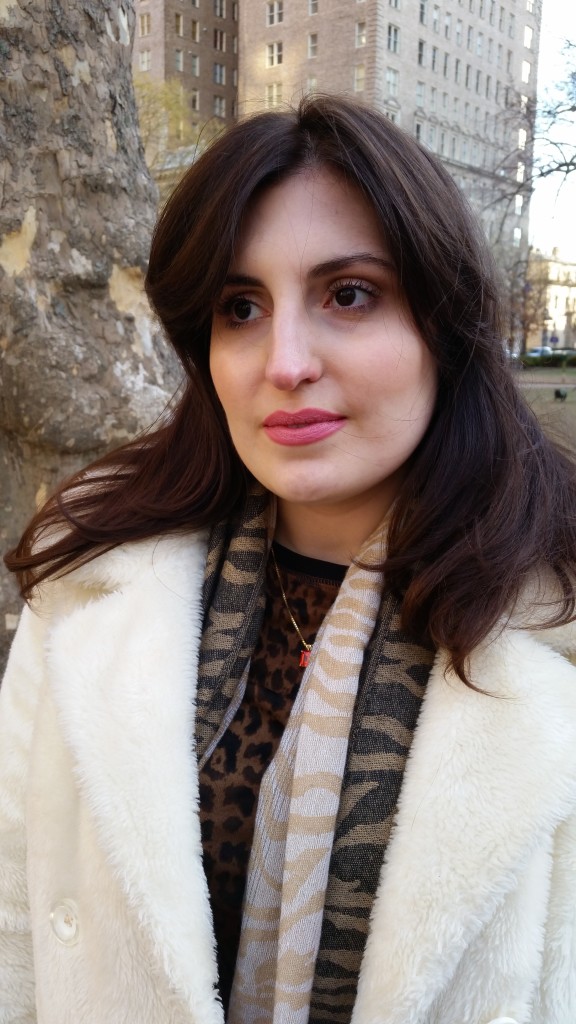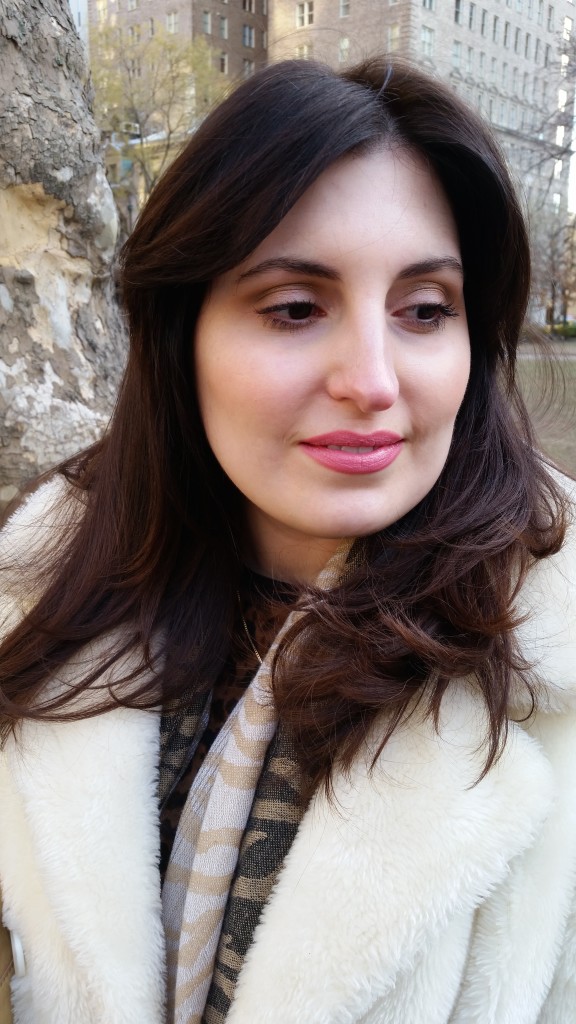 Another blustery day in Philadelphia, but I am not complaining too loudly as my relatives in Syracuse are experiencing well below freezing temperatures. I have been layering and making an attempt at staying warm. Pants and jeans are my best friends these days. Changing up the tops keep the bottoms looking like a new outfit. Here are some knitwear and top ideas for those days when you just want to wear your favorite pair of jeans. Try a rich color or a mixed media top for interest. Add a fun accessory like a pair of chandelier earrings or a set of bangles. Sweaters below are from Victoria's Secret and Macy's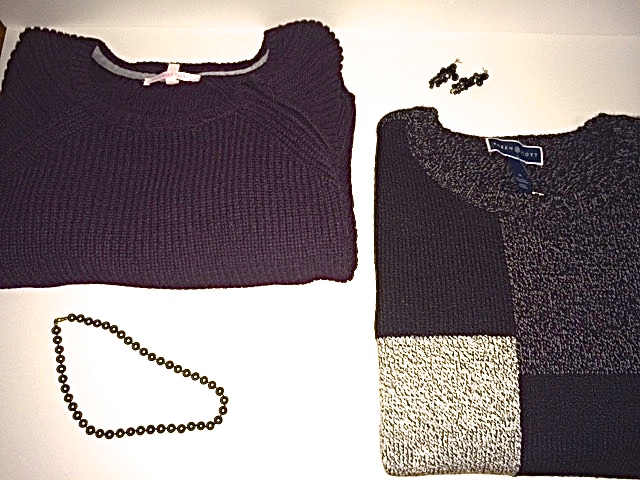 Last night the Golden Globes premiered and as usual the Red Carpet was filled with memorable fashion and beauty moments. Nominees and presenters excitedly showed off their diamonds, jewels, and elaborate gowns.
Nominated for Best Director for her film, Selma, Ava DuVernay looked stunning and classic. She wore a beautiful long sleeved, form fitting navy gown by Zac Posen. Her hair was swept over her forehead, which showcased her dangling blue earrings.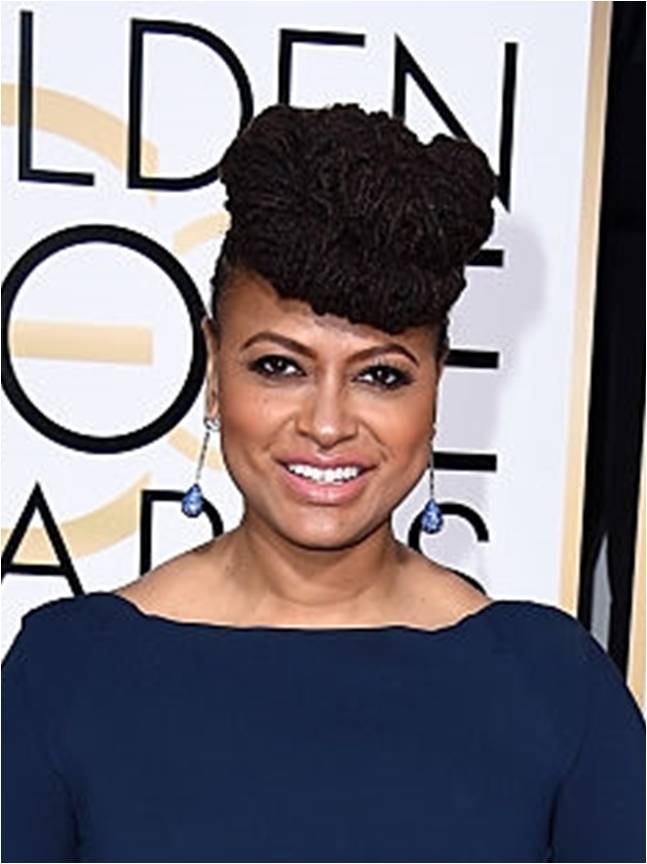 Her makeup look was created by Uzo, Lead Makeup Stylist for NARS. Her brows were strong and defined. A chocolate smokey eye was achieved using shimmer eyeshadow in Fez and for her lips, Uzo applied Raquel from the audacious lip collection.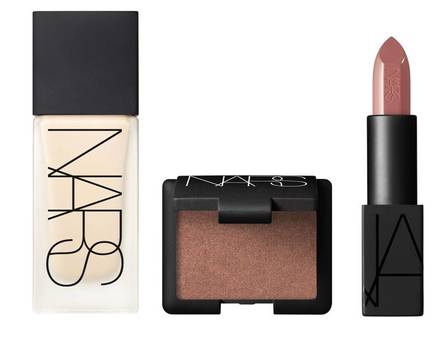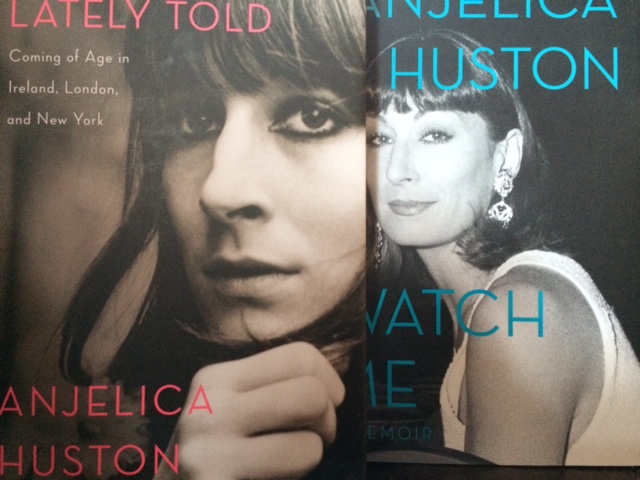 A true style icon and legendary actress, Anjelica Huston has penned a two part memoir series. In 2013, I read A Story Lately Told: Coming of Age in Ireland, London, and New York in just about one sitting. I could barely put it down. Her writing style is descriptive, intriguing, and almost dream like. She suffered tragedies during these years, turbulent relationships, opulence, and a modest lifestyle. She remains genuine and candid. Her tone is never of entitlement. During these years she is trying to navigate her own way and as the reader we are instantly mesmerized by her journey.
Part two, Watch Me: A Memoir was released late last year and I received it as a Christmas present. I am so anxious to crack open the book and read all the juicy details about her relationship with one of my favorites, Jack Nicholson. She delves into her acting career and some of her most famous roles. As a child, one of the first movies I saw with Anjelica Huston was The Witches (based on the Roald Dahl book). You remember this movie right? The one where a young grandson, Luke and his eccentric grandma go on a witch hunt, literally. Ms. Huston, of course is the grand high witch, but she is just so beautiful with her signature bob and unbelievably chic wardrobe, who cared if she turned children into mice?!
If you are looking for a good read, especially during the winter season to curl by the fire, I recommend this memoir.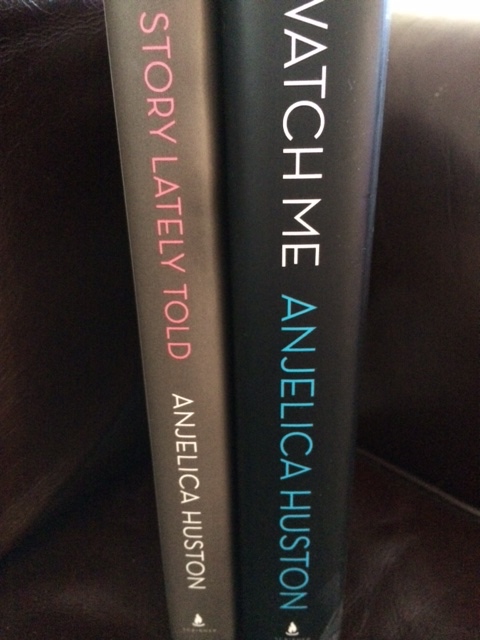 I first smelled Wood Sage & Sea Salt from Jo Malone when it was advertised in Vogue. I usually resist pulling back the seal, but was intrigued by the combination. The herbaceous notes of sage mingled with the fresh and light citrus fragrance is invigorating. Jo Malone describes this scent as reminiscent of the salt spray from breaking waves, the epitome of walking along the beach, breathing in the sand, dunes, and sea. The best adjective I can find is intoxicating. One spritz is not enough, it is addicting. You will want to make sure the fragrance lingers all day on your clothes too.
Jo Malone attends to every detail in the purchasing of your cologne process. I chose to order my bottle directly from the website. The shipping and gift wrapping is complimentary and you receive two samples of your choice. I picked Peony and Blush Suede and Orange Blossom from the floral category. My delivery was wrapped beautifully in their signature black and cream tissue paper. If the woodsy category is typically not the type of perfume you enjoy, I suggest sampling Wood Sage & Sea Salt. It will surprise you at how delicate and refreshing it smells, perfect for layering with citrus lotions like grapefruit from C.O. Bigelow.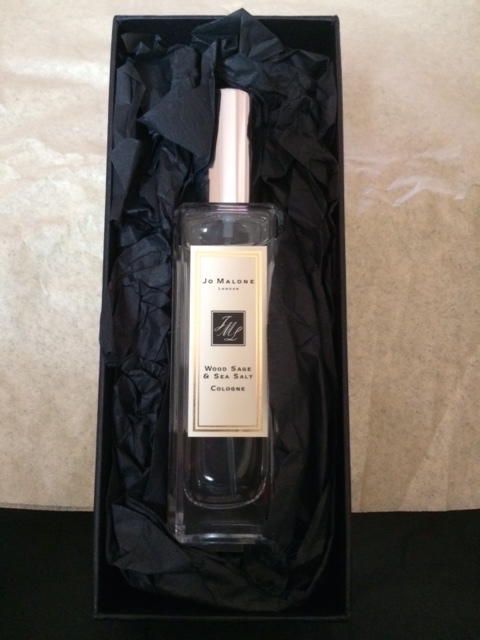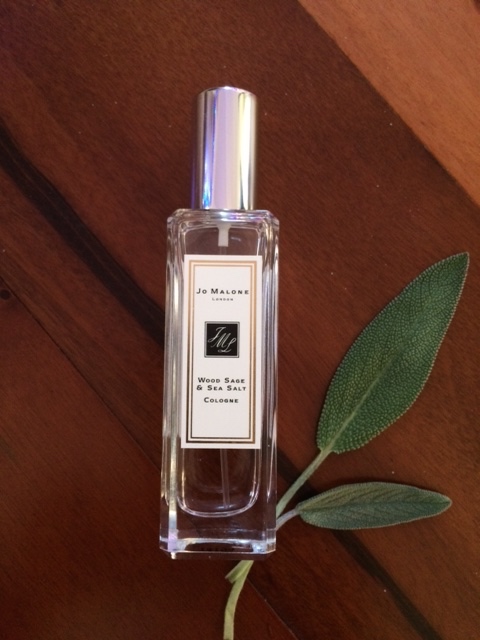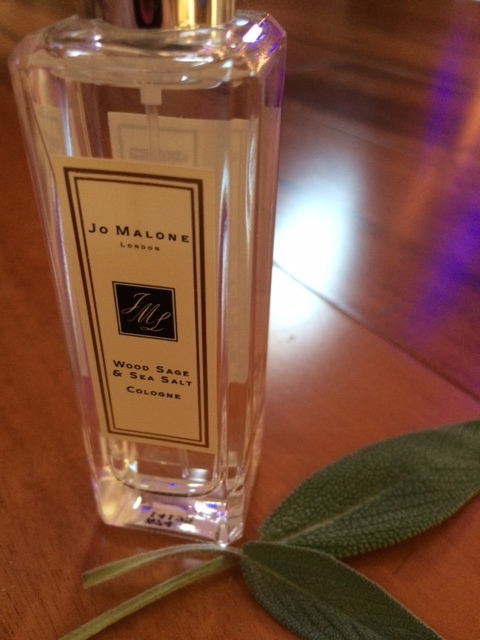 This post is to rectify the fact that I probably sounded like a real curmudgeon about New Year's Eve celebrations. First off, I hope that you all had a safe and fun holiday! I tried something a little different this year. Yes, I planned to stay home and chill, but I ended up going out in the early evening. I visited the Reading Terminal Market for recipe inspirations. The Market is one of the first places that I can remember exploring when my family moved to Philadelphia, 16 years ago. It is one of the best ways to gain a sense of the city. It has an interesting flavor, a melting pot of cultures, and traditional foods. Walking through the usually crowded market is exciting, full of people all making unique purchases from seafood to homemade candles. The vendors are ready to share tips and suggestions, making the whole experience a sensory overload.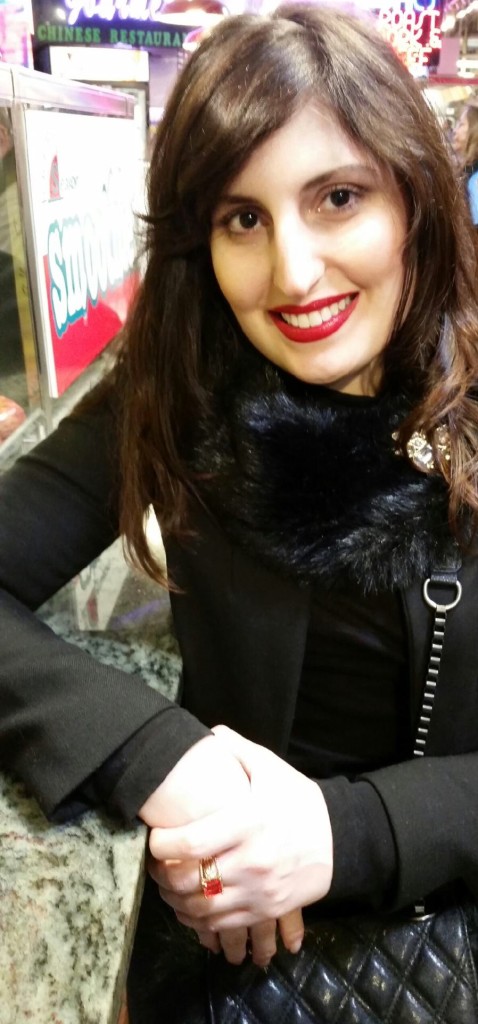 Herbiary, a small, holistic shop, carries essential oils, homemade soaps, and a variety of herbs. I purchased a bag of fragrant lavender buds, which I have earmarked for a vegan dessert…more to come.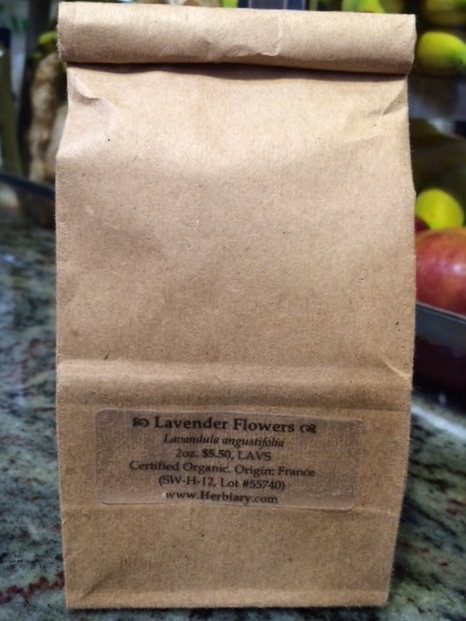 Four Seasons Juice Bar is the fastest service juicer I have ever seen. There is no hemming and hawing, mulling over all of the different concoction possibilities. Regulars stroll up to the counter and order their favorite recipe. Go ready with your juice in mind. The result is a fresh and delicious, perfectly blended drink of healthy ingredients. I ordered a carrot, apple, lemon, ginger. And then decided I needed another- apple, beet, and carrot. Why not? It was New Year's Eve…TreatYoSelf!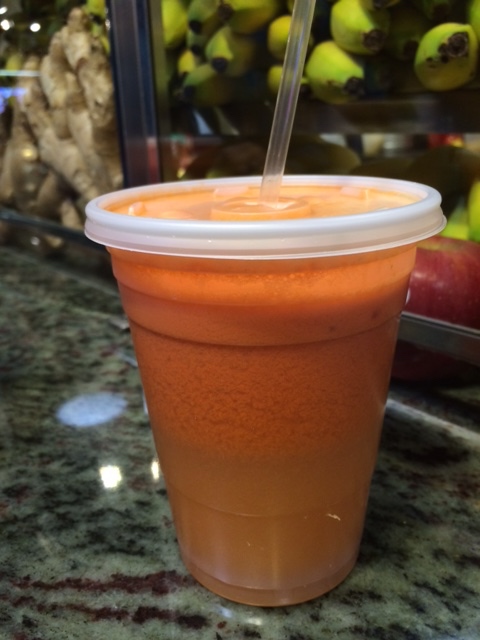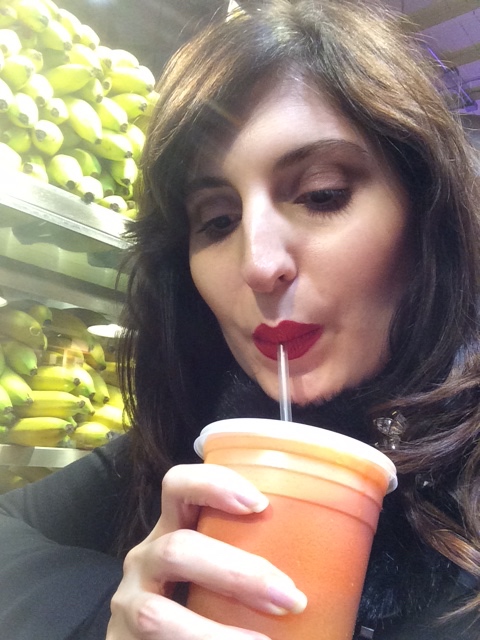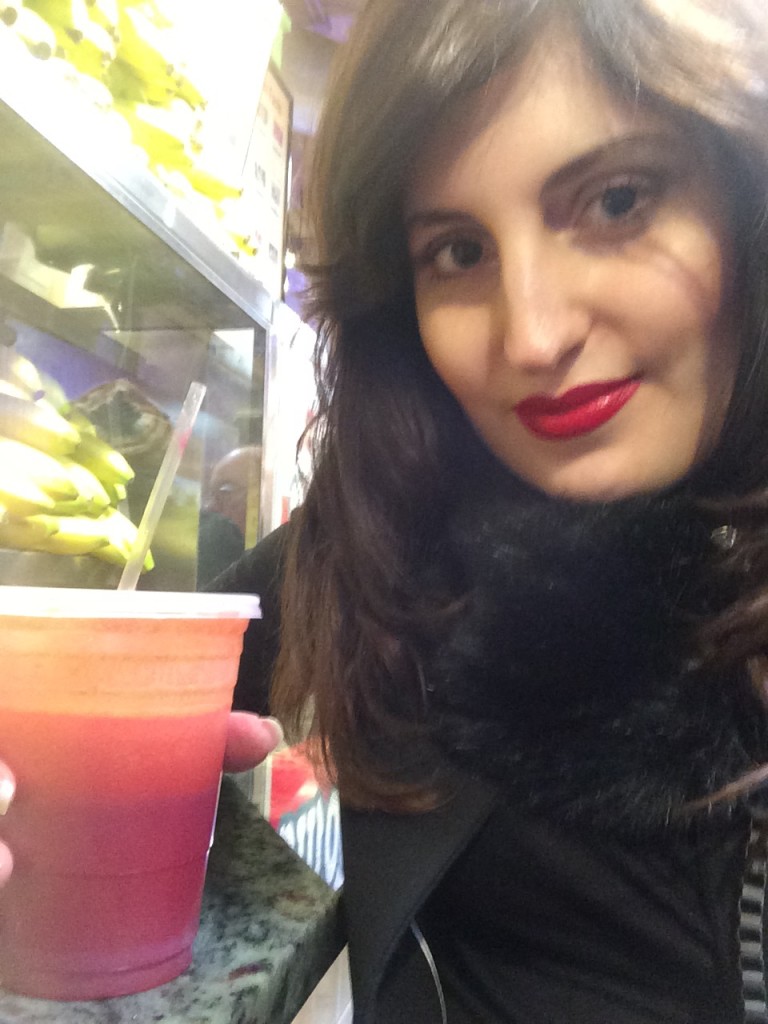 Market Blooms is a difficult vendor to walk by without sniffing absolutely everything in a shameless way. The sweet fragrances of all the flowers, eucalyptus, and plants are sure to brighten any day. Purchase a bouquet as a gift or just a beautiful centerpiece for your home!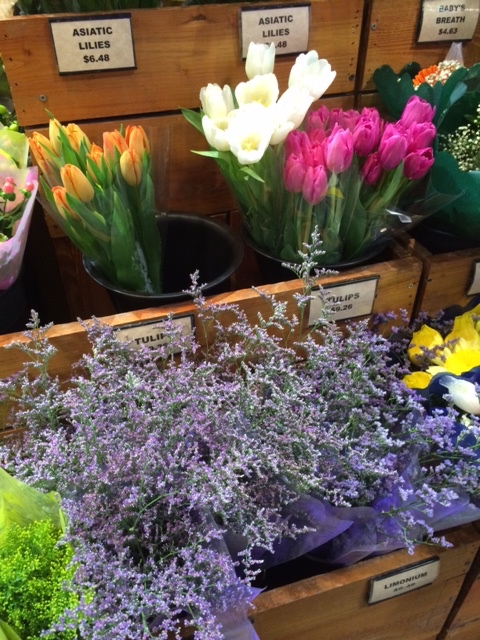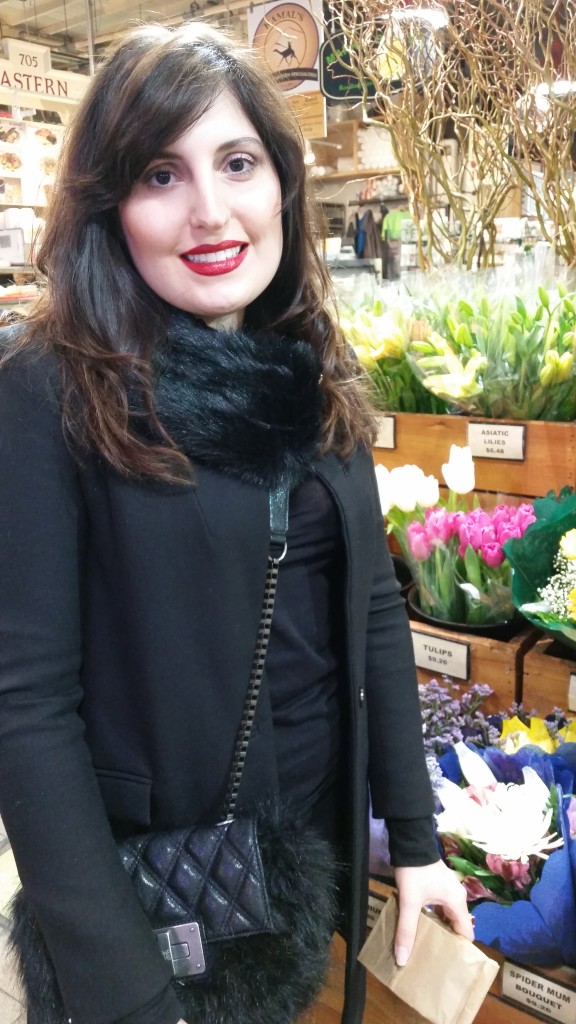 Copyright © Dandelion by Pexeto