The prestigious Academy Awards aired last night, with the glamorous celebrities making their appearance on the red carpet. Ellen Degeneres hosted after a 7 year hiatus and brought the laughs. My favorite part was when she asked the likes of Meryl Streep and Julia Roberts if they wanted to order a pizza and returned after the commercial break with pizzas. Most of the stars were good sports, taking a slice and even Harvey Weinstein pitched in $200 towards the bill.
I have to say, I really did enjoy most of the gowns. In my opinion, very few missteps. Beauty was overall kept simple allowing the gowns to shine.
Rosie Huntington-Whiteley arrived at the Vanity Fair after party in a gorgeous Cushnie Et Ochs lavender-blue gown, shiny tresses parted down the middle, and a stunning face.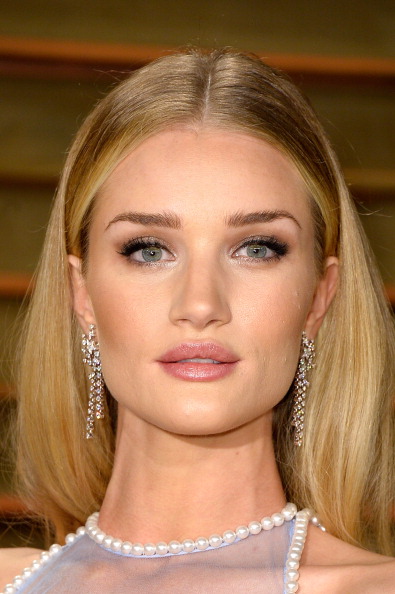 Monika Blunder created her beauty look using Laura Mercier products. Here's how:
Face
She applied Laura Mercier Oil Free Primer to entire face. Then Laura Mercier Smooth Finish Flawless Fluide (which will be available Fall 2014).
Laura Mercier Camouflage Powder Brush was used to apply  Laura Mercier Secret Camouflage to even skin tone
Laura Mercier Finishing Eye Brush was used to apply  Laura Mercier Secret Concealer #2 under Rosie's eyes
Laura Mercier Loose Setting Powder in Translucent was applied to set makeup and ensure long wear all night
Laura Mercier Matte Radiance Baked Powder #3 was applied with the  Laura Mercier Bronzer Brush
Laura Mercier Shimmer Bloc in Golden Mosaic gave the final glow to her skin
Eyes
Laura Mercier Eye Basics in Buff was applied to the entire lid
Laura Mercier Sateen Eye Colour in Baroque was applied to entire eyelids using the Laura Mercier All Over Eye Colour Brush
The Laura Mercier Matte Eye Colour in Café au Lait was used to define her eyes
Laura Mercier Kohl Eye Pencil in Stormy Grey was used to create a cat eye and then the Laura Mercier Smudge Brush was used to smudge the line to avoid looking too sharp
With the Laura Mercier Pony Tail Brush  Laura Mercier Caviar Stick Eye Colour in Cocoa was applied to create a smoky eye
Laura Mercier Baked Eye Colour in Ballet Pink was applied using the Laura Mercier Pony Tail Brush only to the inner corners of her eyelids
Laura Mercier Matte Eye Colour in Café au Lait was applied with the Laura Mercier Eye Crease Travel Brush to the lower lashline
Laura Mercier Long Lash Mascara was applied to lashes
Laura Mercier Brow Grooming Brush and  Laura Mercier Eye Brow Pencil in Ash Blonde were used to define eyebrows
Lips
Laura Mercier Lip Pencil in Baby Lips lined her lips then Laura Mercier Crème Smooth Lip Colour in Royal Orchid was applied for the finishing touch