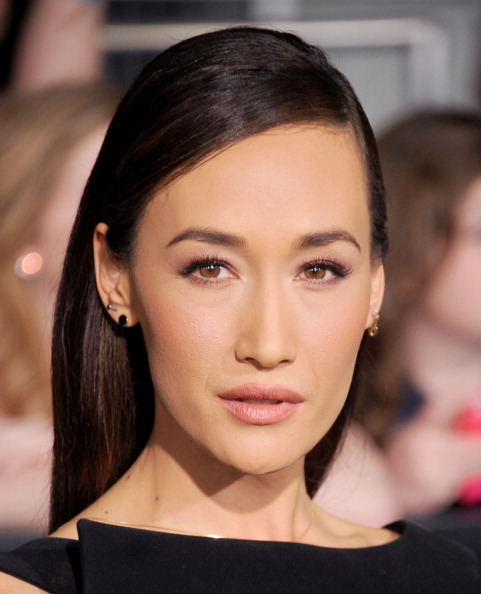 Maggie Q looked absolutely perfect for spring at the Divergent premiere last night. Makeup Artist, Mai Quynh created a modern, yet classic look using purple and pink shades.
Face:
Mai applied RéVive Sensitif Renewal Cream and  Laura Mercier Foundation Primer over entire face.
Using a damp sponge, Mai then applied Laura Mercier Smooth Finish Flawless Fluide Fondation, which will be available in September.
Laura Mercier Secret Camouflage Concealer in SC-5 was applied under Maggie's eyes and around her nose.
Using the Laura Mercier Powder Brush, Mai applied Laura Mercier Mineral Pressed Powder in Golden Suntan just on the T-zone (area includes forehead, nose and chin).
To Maggie's forehead, cheeks, and chin, Mai applied Tarte Mineral Powder Bronzer in Park Avenue Princess
Finally, Laura Mercier Second Skin Cheek Colour in Violet Orchid was used onto the apples of her cheek.
Eyes:
From lash line to crease, Mai applied  Laura Mercier Caviar Stick Eye Colour in Amethyst.
Laura Mercier Sateen Eye Colour in Kir Royal and Laura Mercier Matte Eye Colour in Coffee Ground were blended together and applied from lash to crease and then to her lower lash line.
Eyes were completed with two coats of Lancome Definicils mascara in black.
Lips:
Mai applied Laura Mercier Crème Smooth Lip Colour in Rosewood. 
I am embarrassed to admit, but it was not until fairly recently that I realized the importance of makeup brushes. I guess recently is a relative term if you take into consideration that I have been applying makeup since middle school. Anyway, the sponge applicators and your fingers are not enough. They are limited in terms of results and effect. Good brushes are made with hair not synthetic bristles and will last if cleaned properly. Make the investment, you will not regret it.
NARS is releasing a brand new 16 piece Artistry Brush set on April 1, 2014. For those of you who have yet to purchase a set of brushes, hold off until April and splurge! They will make all the difference when applying makeup.
Check out the sneak peak below. Thank you to NARS for the image.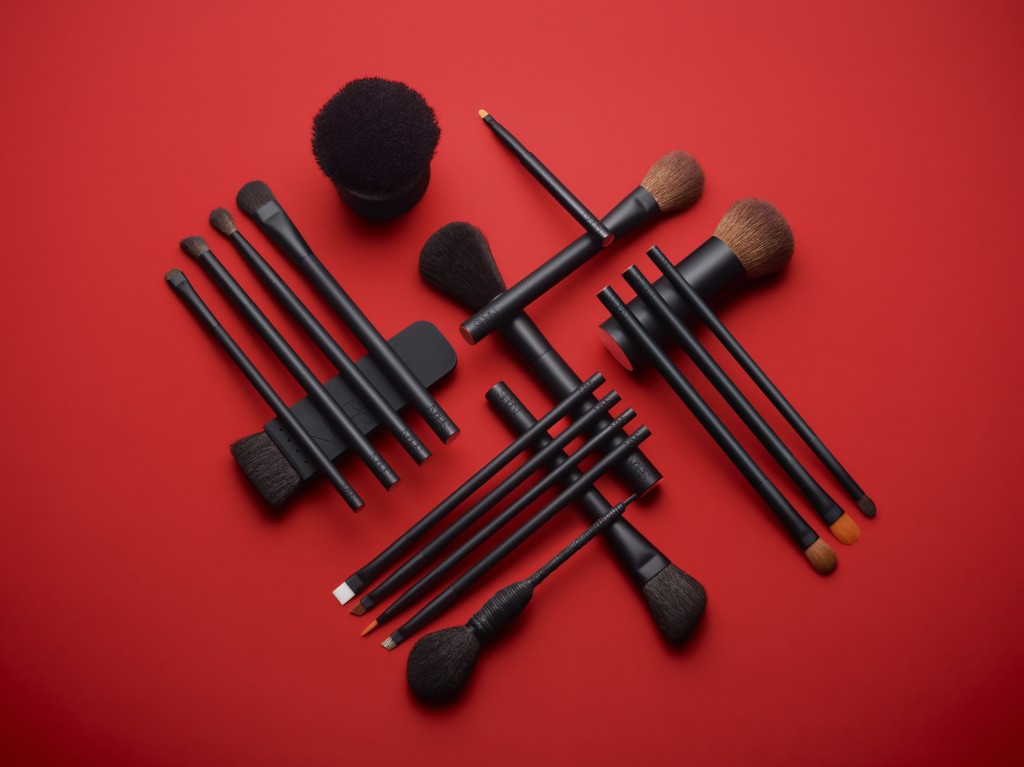 RéVive skincare is one of my favorites, the texture, the fragrance, and most importantly the effectiveness. Moisturizers and serums are the most obvious anti-aging skincare, but additional products complete the total beauty regimen. Washing your face 2x daily and when removing makeup can be drying. Why not nourish your skin as well as well as clean?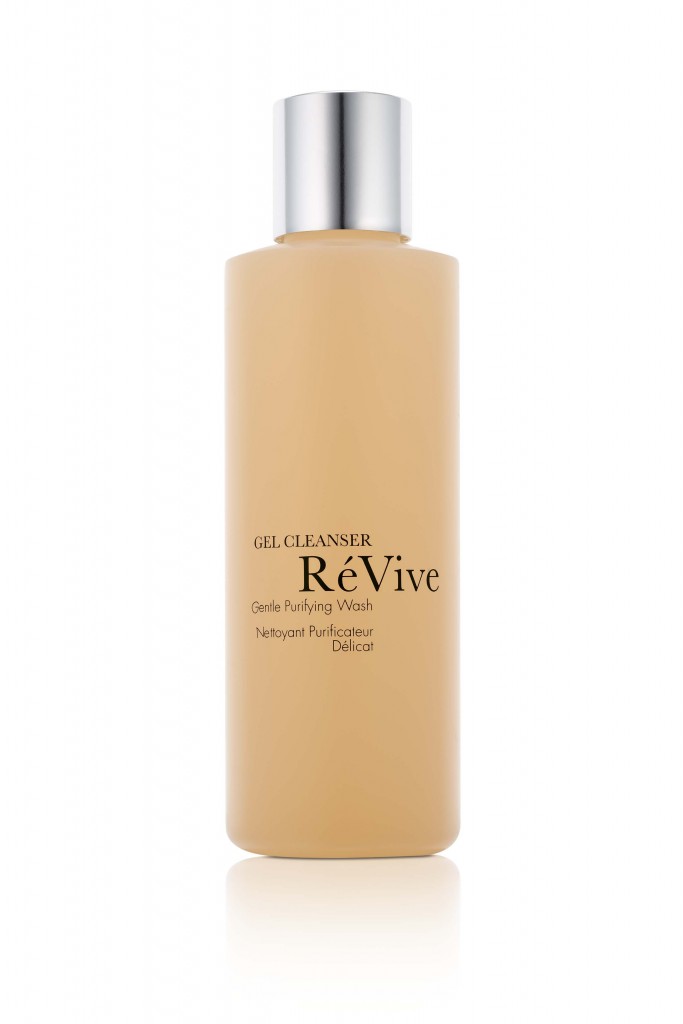 The Gel Cleanser has a mild, delicate fragrance- slightly floral with a texture similar to aloe. This thick and creamy cleanser thoroughly coats the skin, soothes, and rejuvenates. Makeup is completely removed without drying skin.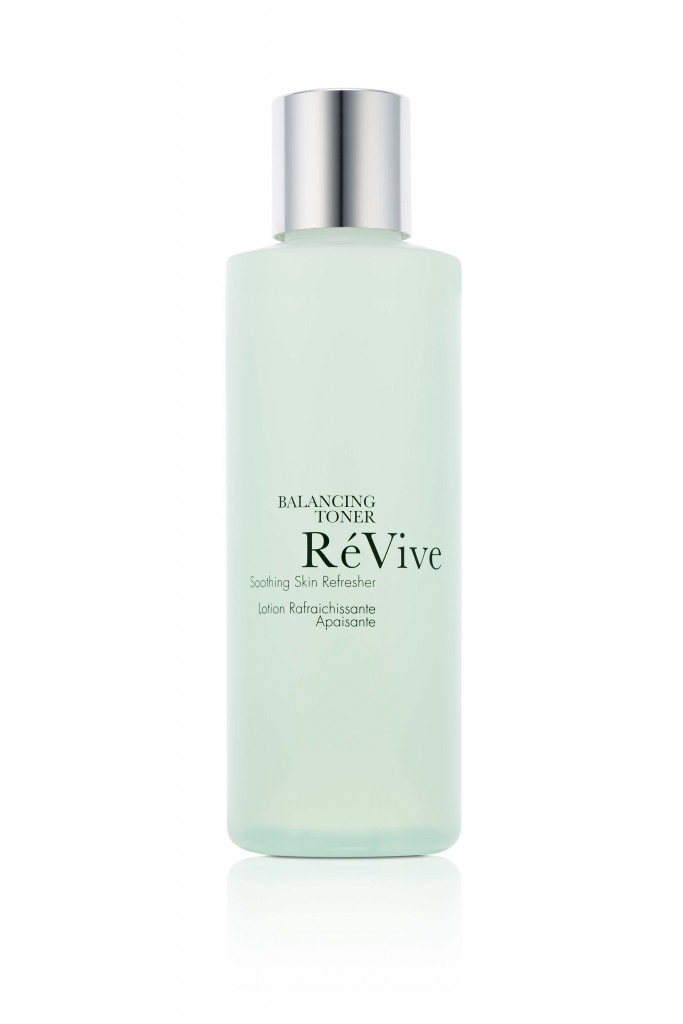 The Balancing Toner should be applied after the Gel Cleanser for maximum results. This refreshing lavender toner soaks into skin and immediately tightens the face. Once the skin is cleaned and prepped, be sure to follow with a moisturizer, use one with an SPF during the day like the INTENSITÉ CRÈME LUSTRE DAY.
The prestigious Academy Awards aired last night, with the glamorous celebrities making their appearance on the red carpet. Ellen Degeneres hosted after a 7 year hiatus and brought the laughs. My favorite part was when she asked the likes of Meryl Streep and Julia Roberts if they wanted to order a pizza and returned after the commercial break with pizzas. Most of the stars were good sports, taking a slice and even Harvey Weinstein pitched in $200 towards the bill.
I have to say, I really did enjoy most of the gowns. In my opinion, very few missteps. Beauty was overall kept simple allowing the gowns to shine.
Rosie Huntington-Whiteley arrived at the Vanity Fair after party in a gorgeous Cushnie Et Ochs lavender-blue gown, shiny tresses parted down the middle, and a stunning face.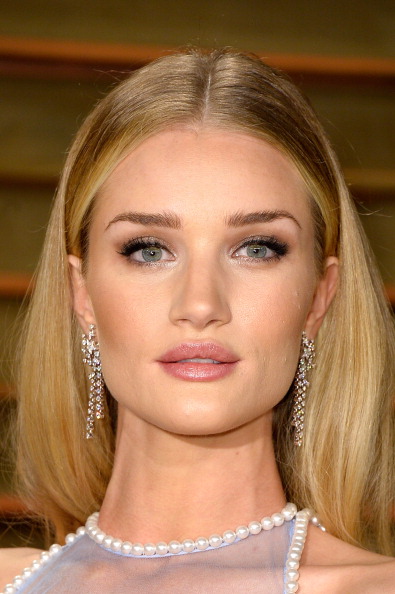 Monika Blunder created her beauty look using Laura Mercier products. Here's how:
Face
She applied Laura Mercier Oil Free Primer to entire face. Then Laura Mercier Smooth Finish Flawless Fluide (which will be available Fall 2014).
Laura Mercier Camouflage Powder Brush was used to apply  Laura Mercier Secret Camouflage to even skin tone
Laura Mercier Finishing Eye Brush was used to apply  Laura Mercier Secret Concealer #2 under Rosie's eyes
Laura Mercier Loose Setting Powder in Translucent was applied to set makeup and ensure long wear all night
Laura Mercier Matte Radiance Baked Powder #3 was applied with the  Laura Mercier Bronzer Brush
Laura Mercier Shimmer Bloc in Golden Mosaic gave the final glow to her skin
Eyes
Laura Mercier Eye Basics in Buff was applied to the entire lid
Laura Mercier Sateen Eye Colour in Baroque was applied to entire eyelids using the Laura Mercier All Over Eye Colour Brush
The Laura Mercier Matte Eye Colour in Café au Lait was used to define her eyes
Laura Mercier Kohl Eye Pencil in Stormy Grey was used to create a cat eye and then the Laura Mercier Smudge Brush was used to smudge the line to avoid looking too sharp
With the Laura Mercier Pony Tail Brush  Laura Mercier Caviar Stick Eye Colour in Cocoa was applied to create a smoky eye
Laura Mercier Baked Eye Colour in Ballet Pink was applied using the Laura Mercier Pony Tail Brush only to the inner corners of her eyelids
Laura Mercier Matte Eye Colour in Café au Lait was applied with the Laura Mercier Eye Crease Travel Brush to the lower lashline
Laura Mercier Long Lash Mascara was applied to lashes
Laura Mercier Brow Grooming Brush and  Laura Mercier Eye Brow Pencil in Ash Blonde were used to define eyebrows
Lips
Laura Mercier Lip Pencil in Baby Lips lined her lips then Laura Mercier Crème Smooth Lip Colour in Royal Orchid was applied for the finishing touch
Copyright © Dandelion by Pexeto